This post was originally published here on March 6, 2015. I've since updated the photos and text to better showcase how deliciously decadent these little desserts really are!
St. Patrick's Day is just around the corner. And even though I'm not Irish, I like to celebrate this very special day in the best way that I know how. By using an ungodly amount of Irish cream, Irish whiskey and/or stout beer in my kitchen.
Go big or go home. Right?
I sure do hope that you're on board with this plan. Because today I want to talk about this supremely decadent Baileys Chocolate Mousse with Whiskey Caramel Sauce and Whipped Cream. I'm feeling all the feels over these babies. And I have an inkling that you're going to love them, too!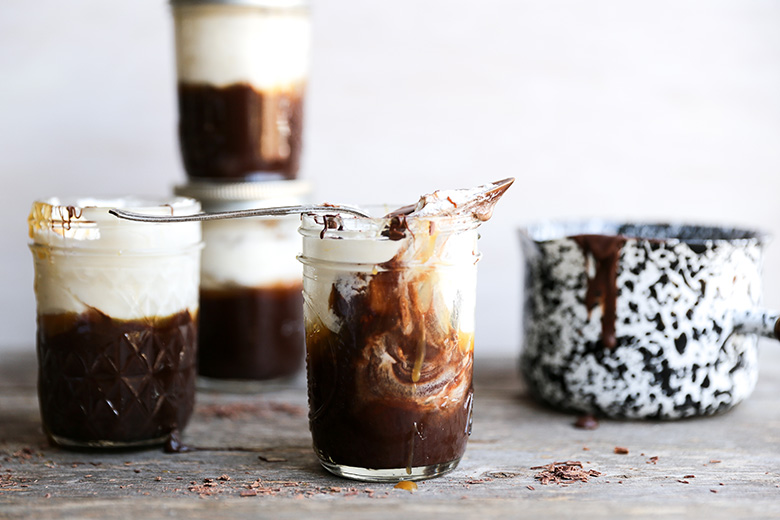 So let me just mention right away that these little triple-layer desserts are no-bake. Yes. It's true. Absolutely no ovens are required to make these babies. Which is pretty darn awesome. And kind of a safety requirement, too. Because we probably shouldn't operate our ovens while using (= drinking) all of the above alcohols. It's just common sense.
The base for these desserts is an adaptation on this blender chocolate mousse recipe from Food52 that I've been making for a couple of years now. All you have to do is toss the ingredients into your blender and whiz everything together into creamy, dreamy oblivion. Seriously, it couldn't be any easier. The addition of the Irish cream just takes it even more over the top.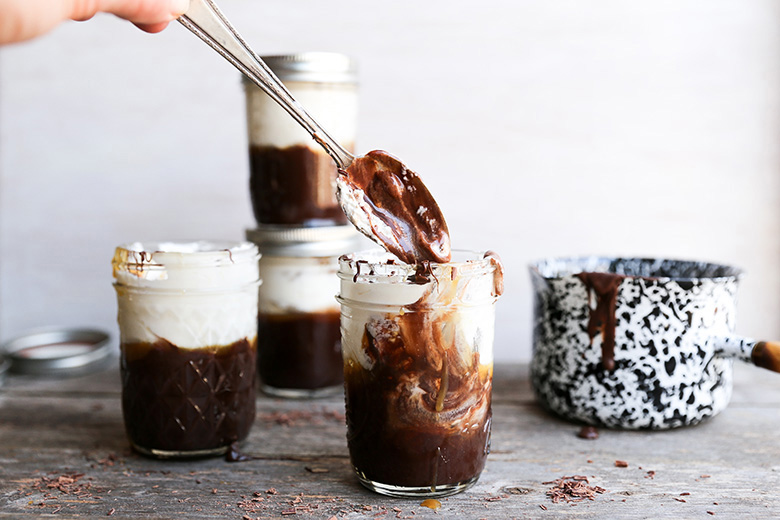 The mousse takes a couple of hours to set up. But during that time you can get to work preparing the homemade caramel sauce and whipped cream. Both of which contain a little splash of Irish whiskey. A very good idea, if I do say so myself.
So even though I'm not Irish, I certainly feel like it when I'm eating this Baileys Chocolate Mousse with Whiskey Caramel Sauce and Whipped Cream. And I think that's a pretty good compromise.
Do you want more boozy St. Patrick's Day themed desserts? Then check out my Guinness Popsicles with Irish Cream Soaked Brownies!
Cheers,
Liz
Ingredients
For the Baileys Chocolate Mousse
6 ounces dark chocolate, chopped
1 tsp. vanilla extract
1/3 cup water
3 tablespoons Baileys Irish Cream
4 tsp. sugar
2 egg whites

For the Whiskey Caramel Sauce
1/2 cup sugar
1/4 cup water
3 tablespoons room temperature butter, cubed
2 tablespoons heavy whipping cream
2 tablespoons Irish whiskey
Sea salt

For the Whiskey Whipped Cream
1/2 cup heavy whipping cream
1 tablespoon sugar (granulated or powdered will both work)
1 tablespoon Irish whiskey
Instructions
Make the mousse. Add the chopped chocolate and vanilla extract to your blender. Bring the water to a boil. Add the Baileys and sugar to the hot water, stirring until the sugar is dissolved. Pour this hot liquid mixture over the chocolate in your blender and let it sit for about 30-60 seconds, partially melting the chocolate. Cover and blend on high for 30 seconds. Add the egg whites and blend again on high for about 60 seconds. Divide the mousse into four small serving containers, making sure the containers are big enough that there is room at the top for the caramel sauce and the whipped cream. Cover and refrigerate until the mousse set up, at least 2 hours or up to overnight.
While the mousse is setting, make the caramel sauce. Spread the sugar in the bottom of a heavy-bottom saucepan. Pour the water over the sugar and swirl the pan gently to moisten the sugar evenly with the water. Heat over medium-high heat. Allow the mixture to cook without stirring. It will bubble quite vigorously. If it's not cooking evenly, you can gently swirl the pan, but avoid stirring if possible. After 5-8 minutes, the mixture will turn a deep caramel color. Once it gets to this stage, quickly but carefully remove it from the heat. Whisk in the cubed butter. Then gradually whisk in the heavy whipping cream and whiskey until smooth. Stir in the sea salt, starting with just a pinch, adding in more as necessary to suit your taste preferences. Once the sauce has cooled slightly, it can be transferred to a small container and stored in your refrigerator for 2-3 weeks.
Make the whipped cream. Place the bowl of your mixer and the whisk attachment in your freezer for about 5 minutes to chill. Remove them from the freezer, immediately add the heavy whipping cream and start whisking on high. Once the cream starts to thicken, add the sugar. Continue whisking until soft peaks form. Add the whiskey and whisk until combined. Whipped cream is best when it's used immediately, but it can be stored in the refrigerator for a couple hours if necessary.
Finish assembling the desserts. Spread about 1-2 tablespoons of the whiskey caramel sauce (if the sauce has been refrigerated, you can microwave it briefly to soften it) on top of the set mousse. If you don't use all the caramel sauce, you can refrigerate it and save it for another use. Then divide the whipped cream evenly over top of the caramel sauce layer. Serve and enjoy!
https://www.floatingkitchen.net/baileys-chocolate-mousse-with-whiskey-caramel-sauce-and-whipped-cream/
I made us popsicles with beer and brownies.
Can I get a "hallelujah" from the audience, please? Because I think these boozy frozen treats definitely deserve some collective praise. They are just that freaking awesome.
I dreamed these babies up a couple of weeks ago when I was brainstorming recipe ideas for St. Patrick's Day. And I'm not ashamed to admit that I've eaten almost every single one of them by myself. And sometimes, I even dip them in a pint of cold stout beer before consuming them. I highly recommend you try that out too. You won't be sorry.
If you wanted to shout out "hallelujah" again at this point, I wouldn't blame you. Go right ahead. I'll wait…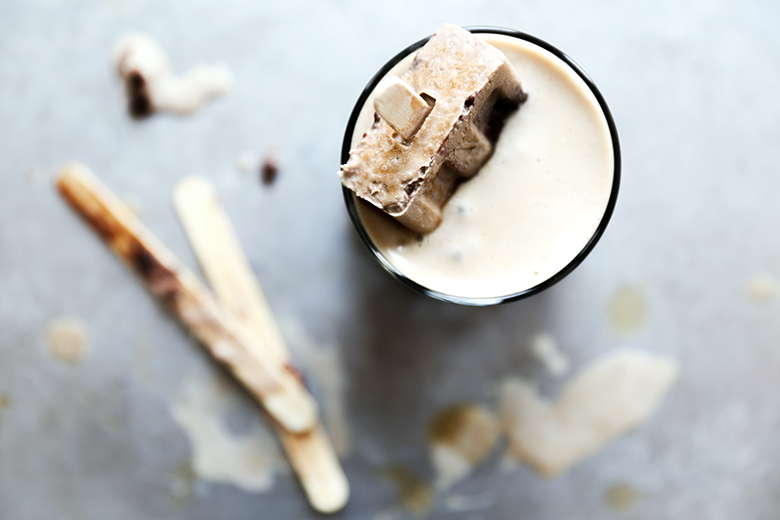 These Guinness Popsicles with Irish Cream Soaked Brownies aren't overly sweet. And they definitely taste like beer. Which is a very good thing, in my humble opinion. There are way too many recipes out there that contain alcohol that you can't even detect in the final product. I want my beer-sicles to taste like beer, damn it! I don't think that's too much to ask.
For the brownies, just make up a batch of whatever your go-to recipe is. Or if you're not feeling it, you could even buy a couple of brownies from your favorite bakery and use those instead. I won't tell.
Make sure to stock up your freezer with these Guinness Popsicles with Irish Cream Soaked Brownies before St. Patrick's Day rolls around! And grab a couple of extra beers while you're at it. For dipping, of course.
Cheers,
Liz
Ingredients
2 cups brownie chunks
1/4 cup Irish cream
12 ounces Guinness stout beer
1 cup heavy cream
1/2 cup whole milk
1 tablespoon chocolate syrup
Instructions
Spread the brownie chunks out into a 8 X 8-inch baking dish. Pour the Irish cream over top, tossing the brownie chunks around to make sure they are all coated. Set aside for a couple minutes to allow the Irish cream to soak into the brownies.
Meanwhile, add the Guinness, heavy cream, milk and chocolate syrup to a large bowl. Whisk to combine. Set aside.
Assemble the popsicles. Add some brownie chunks to each of the popsicle molds, almost filling the molds to the top. But don't packed them in. You want space between the pieces. You can use a popsicle stick to gently push the brownie chunks down into the molds, if necessary. Slowly pour the Guinness mixture into each of the molds, filling the molds until the liquid reaches the top.
Transfer the molds to your freezer for about 1 hour to partially set the popsicles. Then insert wooden popsicle sticks into each mold. Continue to freeze the popsicles until solid, about 6 hours. The popsicles will be slightly softer than regular popsicles due to the alcohol content.
Remove the popsicles from their molds before serving. Running a little warm water over the molds will help to loosen them, if necessary.
https://www.floatingkitchen.net/guinness-popsicles-with-irish-cream-soaked-brownies/