This post was originally published here on January 16, 2015. I've since updated the text and photographs. I hope you try out this satisfying vegan, gluten-free recipe!
Never have I been so enthusiastic about a "regular" Monday.
As a creature of habit, I love my routine. So it feels good to be getting back into a normal schedule. A typical 5-day work week? Bring it on. I'm ready to put all the Holiday shenanigans behind me!
Today I'm excited to talk about one of my favorite foods ever: sweet potatoes.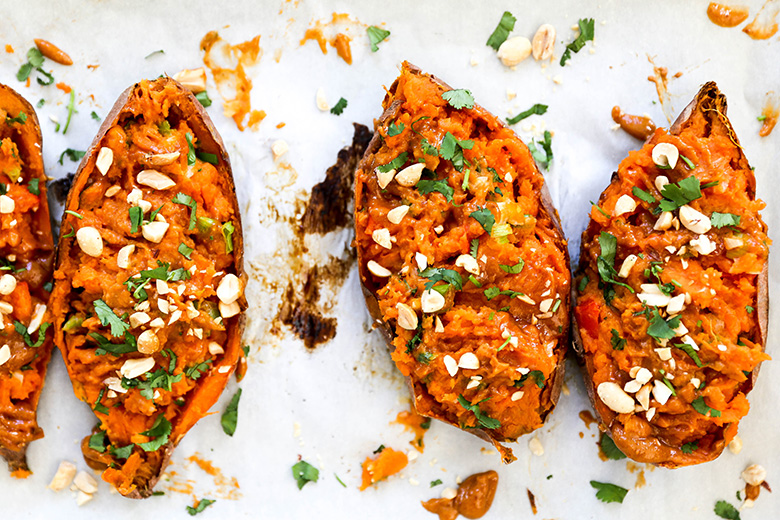 Seriously. What's not to love about these fabulously orange tubers? Nutritious, easy, satisfying, savory, sweet, etc. They might even be worthy of an "if I'm ever stuck on a desert island" type of status.
I could go on and on about my love for sweet potatoes. But I won't. I'll just say this: go and make these Thai Stuffed Sweet Potato Skins as soon as humanly possible.
I'm no stranger to piling things on top of roasted sweet potatoes. It's one of the best ways to take a humble sweet potato half and turn it into a full meal. Breakfast, dinner and everything in between. Sweet potatoes are a go-to food item for me during the Winter months.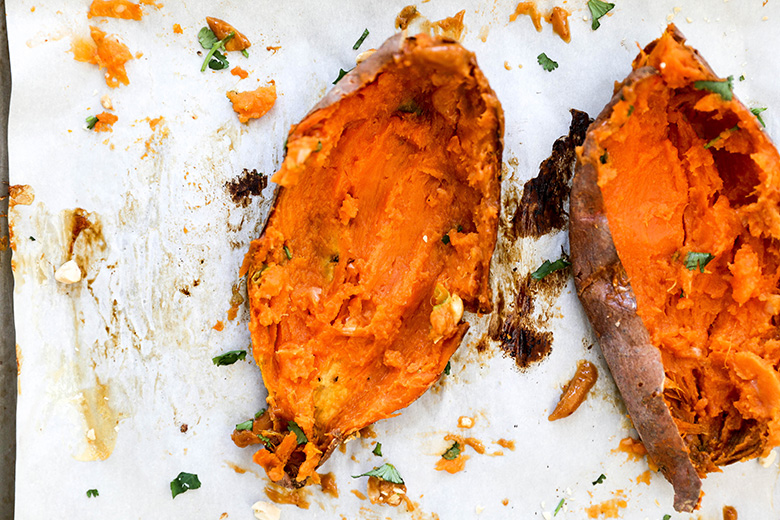 Today's recipe is one that I know you'll want to make often. It's got a little heat from the Sriracha sauce. Some sweetness from the peanut butter. And just the right amount of zip from the fresh ginger, garlic and lime. And as an added bonus, this recipe is both vegan and gluten free. Which makes it a dish that everyone can enjoy (and if you have a peanut allergy, you can substitute the peanut butter/peanuts with almond butter/almonds!).
I love having these Thai Stuffed Sweet Potato Skins for dinner. But they are also a nice addition to a game day spread, if that's your thing (ya'll know I hate sports and I'm just here for the food!).
Cheers,
Liz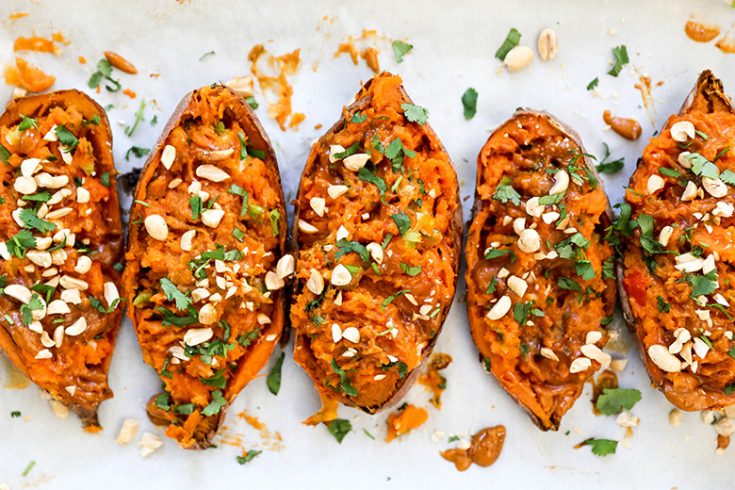 Thai Stuffed Sweet Potato Skins
Yield: Makes 6 halves
Prep Time: 10 minutes
Cook Time: 1 hour 25 minutes
Total Time: 1 hour 35 minutes
Ingredients
For the Sweet Potatoes:
3 medium sweet potatoes, scrubbed
2 tablespoons Sriracha sauce
1/2 tsp. salt
1 tablespoon extra-virgin olive oil
1 red pepper, seeded and chopped
3 garlic cloves, peeled and minced
1 tablespoon peeled and minced fresh ginger
4 scallions, white and light green parts thinly sliced
1/4 cup fresh cilantro, roughly chopped
For the Peanut Sauce:
1/4 cup peanut butter
1 tablespoon Sriracha sauce
1 tablespoon tamari or soy sauce
1 tablespoon agave syrup
Juice from 1 lime
For Garnish:
Fresh cilantro
Roasted peanuts
Instructions
Pre-heat your oven to 400 degrees.
Prick the sweet potatoes all over with the tines of a fork. Then place them on a rimmed baking sheet and roast in your pre-heated oven for 55-65 minutes, or until the sweet potatoes are soft. Remove and set aside to cool. Leave your oven on.
Once the sweet potatoes are cool enough to handle, cut them in half lengthwise. Using a spoon, scrape out the flesh and transfer it to a medium bowl, leaving a small amount of the flesh attached to the sides and bottom of the sweet potatoes (this will help the potato skins retain their shape/structure). Place the sweet potato skins back on their baking sheet and set aside.
Add the Sriracha sauce and salt to the sweet potato flesh and blend everything together using your hand mixer. Set aside.
In a small skillet over medium heat, warm the olive oil. Then add the red pepper, garlic and ginger and cook, stirring occasionally, for 2-3 minutes. Add the scallions and cook for 2-3 minutes more. Remove from the heat. Then fold this mixture into the sweet potato flesh. Fold in the cilantro.
Spoon the filling back into your reserved sweet potato skins. Transfer the baking sheet to your pre-heated oven for about 10 minutes to re-warm the stuffed sweet potato skins.
Meanwhile, combine all the ingredients for the peanut sauce in a small bowl. Add 1-2 tablespoons of water to thin the sauce to your desired consistency.
Remove the stuffed sweet potato skins from the oven. Transfer to serving dishes and drizzle with the peanut sauce. Top with fresh cilantro and chopped peanuts, if desired. Enjoy immediately.
Leftovers can be stored in an airtight container in your refrigerator for 1-2 days.