This post was originally published here on January 21, 2015. I've since made a couple small modifications to the recipe. And I've updated the text and photographs. Enjoy!
I'm ready for a real vacation.
But unfortunately, that's not happening. So for now, I'll have to settle for a vacation in my kitchen in the form of one of these pretty green Tropical Cilantro Pineapple Smoothies. Mega island vibes for just a few dollars spent at the grocery store. Seems do-able.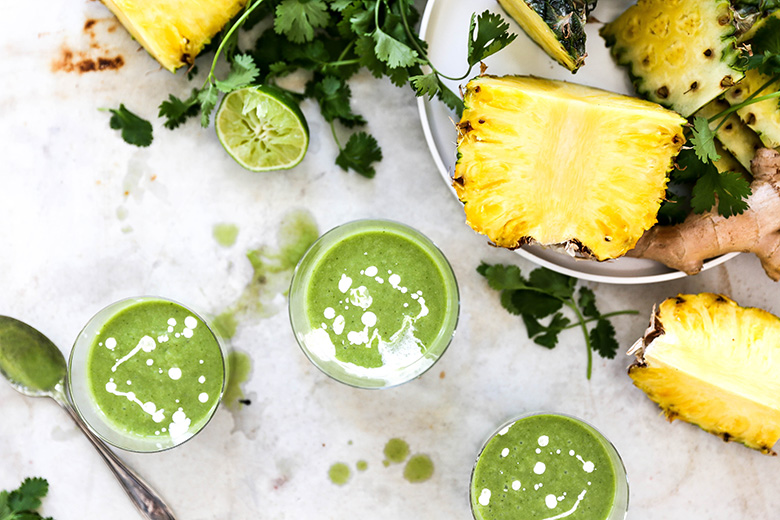 If you're a cilantro hater, then just consider this recipe a "thank you, next". Because there is A LOT of cilantro in these smoothies. And if you can't handle a few sprigs on your tacos, then you definitely won't want to be drinking one of these babies. Even I, as a bona fide cilantro lover, was skeptical at first. Using over a cup of cilantro for just two smoothies seemed like an awful lot. But trust me, it works.
The herby-ness of the cilantro (and the zing from the fresh ginger and lime juice) is offset by the sweetness from the pineapple and banana. As with most smoothie recipes, you'll want to use fruit that's just at the point of being overripe. It's your best bet for generating maximum flavor. Finding/having overripe bananas isn't usually a problem for most people, but pineapple can be more challenging. If you can't find a "good one" at the grocery store, you can substitute an equal amount of canned, drained pineapple in a pinch.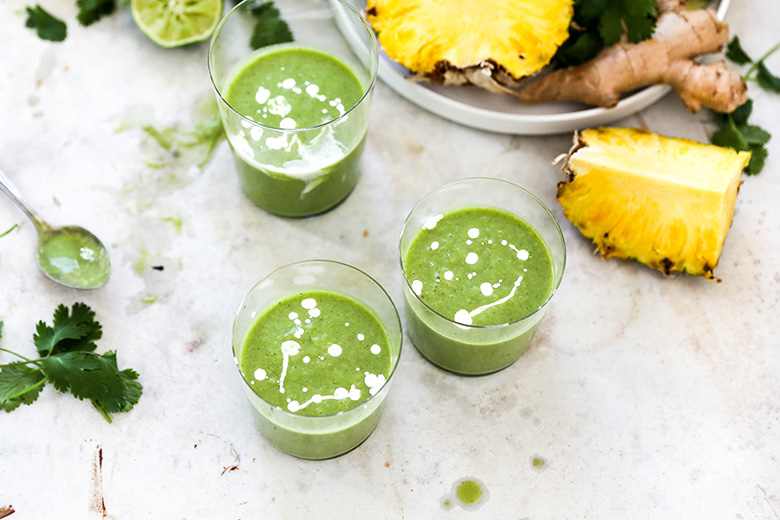 The coconut milk brings all the ingredients together into a luscious, creamy drink. And brings all those feel good tropical vibes even closer to home. Heck, you might even want to add a colorful umbrella. Or a splash of rum if it's past noon. No judgments from me!
Cheers,
Liz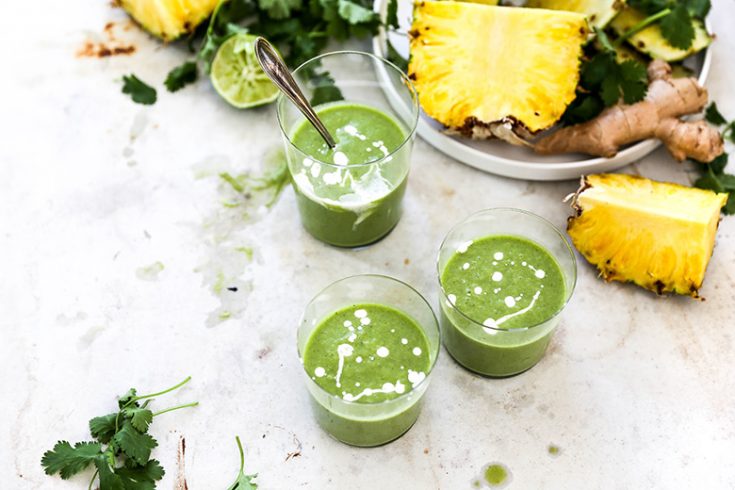 Tropical Cilantro Pineapple Smoothies
Yield: 2 servings
Prep Time: 5 minutes
Total Time: 5 minutes
Ingredients
2 cups peeled, chopped fresh pineapple
1 frozen banana, peeled and chopped
1 – 1 1/2 cups fresh cilantro
1-inch piece fresh ginger, peeled and chopped
1 tablespoon fresh squeezed lime juice
1 (14-ounce) can light coconut milk
Instructions
Add all the ingredients to your blender. Blend on high until smooth.
Divide the smoothie between two glasses. Enjoy immediately.