Summer fruit seems to get all the attention. Each year, people go a little bit crazy in the head over farm stand peaches, juicy watermelons and just-picked blueberries.
And let's not even get started on fresh cherries. Those things could cause rioting in the streets.
Admittedly, I'm guilty of this behavior as well. I've certainly noticed that I tend to have a preference for Summer fruits over those that are available during other times of the year. And in the cooler months, my focus shifts more towards root vegetables and hearty greens. Some weeks, I think I could almost forgo fruits entirely.
But I've come to appreciate that there are so many delicious "fruity" offerings in the Winter. And this year, I'm determined to take advantage of them all. Luckily for me (and for you!), my Winter Fruit and Yogurt Breakfast Bowls with Gingerbread Granola are a great way to do just that. Loaded with persimmons, pomegranates and grapefruit segments, these bowls will have you falling in love with Winter fruits all over again.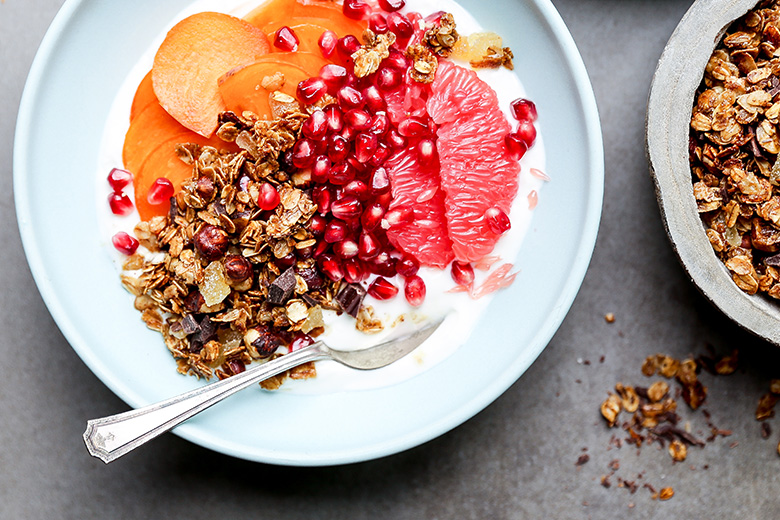 Granola is a food that I like. And I eat it often. But it's not something that I typically go crazy over. Until now, that is. I absolutely COULD NOT STOP eating this gingerbread granola. It's spiced just right. And the chunks of candied ginger and dark chocolate are to die for. I guarantee you're going to find yourself making it over and over again (even when it's not "gingerbread season" anymore). Oh and did I mention that it takes less than 10 minutes to prepare?!?! Seriously. Stovetop granola FOR THE WIN. Why have I been wasting so much time baking granola in the oven all these years. Not sure I'll ever go back to making it that way again.
I'm sharing these Winter Fruit and Yogurt Breakfast Bowls with Gingerbread Granola as part of our monthly #eatseasonal recipe round-up organized by Becky from Vintage Mixer. If you're finding yourself in a cooking rut, look no further than Becky's December Produce Guide, which has a ton of inspiring recipes that take advantage of this months fruits and vegetables. Oh and a bunch of my blogging friends have created new recipes as well, which you can find linked below. Go check 'em all out!
Cheers,
Liz
Winter Fruit and Yogurt Breakfast Bowls with Gingerbread Granola
Ingredients
For the Granola
1 1/2 cups old-fashioned oats
1/2 cup hazelnuts, roughly chopped
1/2 tsp. ground ginger
1/4 tsp. ground cinnamon
1/8 tsp. ground cloves
1/8 tsp. ground nutmeg
1/4. tsp. salt
2 tablespoons unsalted butter
2 tablespoons maple syrup
1 tablespoon molasses
1/2 cup roughly chopped candied ginger
1/2 cup roughly chopped dark chocolate

For the Yogurt Bowls
Non-fat Greek yogurt
Peeled and segmented pink grapefruit
Sliced Fuyu (non-astringent) persimmon
Pomegranate arils
Instructions
In a dry non-stick skillet over medium heat, combine the oats, hazelnuts, spices and salt. Cook, stirring constantly, until the mixture is fragrant and toasty, about 2-3 minutes. Add the butter, maple syrup and molasses and cook for about 2 minutes more, stirring constantly to make sure everything is evenly coated and doesn't burn. Remove the skillet from the heat. Transfer the granola to a parchment paper-lined baking sheet to cool. Once fully cooled, stir in the candied ginger and dark chocolate. The granola can be used immediately, or stored in an airtight container for up to 1 week.
To assemble the breakfast bowls, add the yogurt and fruit to your bowls. Top with some of the granola. Enjoy immediately.
http://www.floatingkitchen.net/winter-fruit-and-yogurt-breakfast-bowls-with-gingerbread-granola/
December Eat Seasonal Recipes
Roasted Persimmon Ice Cream by Cafe Johnsonia
Pomegranate Vinaigrette by Joy Food Sunshine
Potato Leek Soup with Italian Sausage by Completely Delicious
Winter Greens with Pomegranate Seeds and Olives by Letty's Kitchen
Asian Kale Power Salad by She Likes Food
Crunchy Apple-Pear Salad with Pomegranate, Pine Nuts & Yogurt by Simple Bites
Pesto Pasta with Crispy Brussels Sprouts and Bacon by Vintage Mixer
Mini Cranberry Orange Cheesecakes with Gingersnap Crust by Flavor the Moments
Beet and Root Vegetable Tian with Apple Cider Reduction by Food for my Family
I confessed last week to being on a bit of a squash bender. Now I'm having a similar problem with apples. I've got apples tucked into every nook and cranny of my refrigerator. Along with a gallon of fresh apple cider that I'm trying to drink up before it starts fermenting.
Not that I would necessarily complain if that happened. I'm never one to turn away from a little unintended giggle juice.
So it's been apples all day, every day. As a snack with peanut butter. Chopped up and tossed into salads. And in smoothie bowls that are reminiscent of a slice of my Mom's famous homemade apple pie.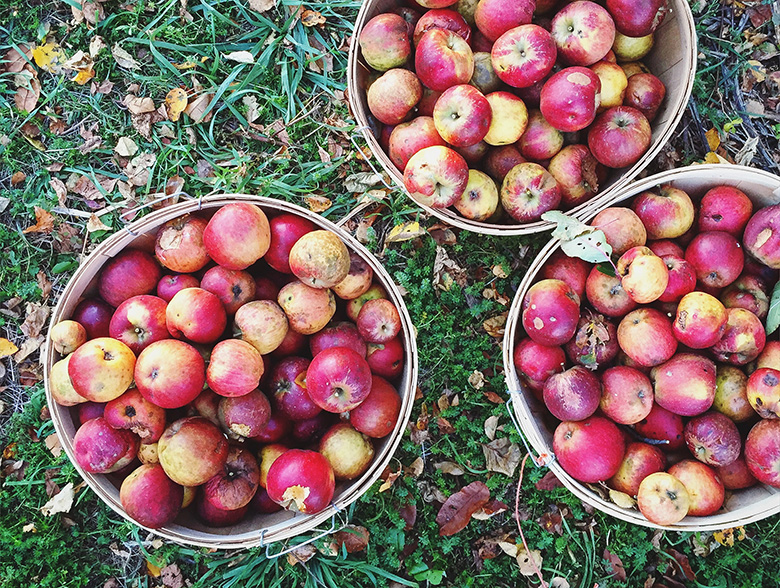 Now, before we go on any further, I want to make it very clear that this Apple Pie Smoothie Bowl recipe is not intended to replace a slice of real apple pie. No. That would be very wrong. Instead, think of this as your morning fix of Fall flavors. Pie should still come later on in the day. Okay?
I almost always use a frozen banana to help thicken my smoothies and smoothie bowls. But I wanted this recipe to taste strongly of apples. I didn't want any sneaky banana flavors taking over. So instead of a banana, I opted to use some Greek yogurt and soaked raw cashews for substance. I think this allows the flavors of the apple and apple cider to really shine. And you get the full aromatic effect of all the cozy Fall spices that are in there as well.
Because apple pie usually benefits from a drizzle of salted caramel sauce, I topped my Apple Pie Smoothie Bowl with a little spoonful as well. This addition definitely takes this smoothie bowl over the top. But if you're having this for breakfast, you might want to skip this part. Just a suggestion. I'll leave it up to your discretion.
Cheers,
Liz
Ingredients
For the Smoothie
1/4 cup raw cashews
7 ounces non-fat Greek yogurt
1 large red apple, cored and chopped
1/4 cup fresh apple cider
2 dates, pitted and chopped
1/4 tsp. ground cinnamon
1/8 tsp. ground nutmeg
1/8 tsp. ground ginger

For Topping
Chopped apple
Granola or nuts
Salted caramel sauce
Instructions
Place the cashews in a small bowl and cover them with water. Let them soak at room temperature for about 1 hour. Then drain them.
Add the soaked cashews to your blender along with all the other smoothie ingredients. Blend on high until smooth. Pour into a bowl. Add the toppings of your choice. Enjoy immediately.
http://www.floatingkitchen.net/apple-pie-smoothie-bowl/