I am SO excited about today's savory waffle recipe. In my eyes, it's a real winner for brinner!
That was a terrible rhyme. I'm sorry.
But more importantly, I want to know if you're excited about it. Because when I put a teaser photo up on Facebook last week, a lot of people were like "what have you done to waffles?" or "waffles are vehicles for maple syrup, not vegetables.", etc.
This was not the response I was expecting to get. I definitely thought savory waffles were kind of a thing now. Am I wrong?
So tell me. Are you into the idea of  savory waffles? Or not? Be honest (but polite, please!). Your input will help me to plan out my future cooking endeavors. Thanks in advance!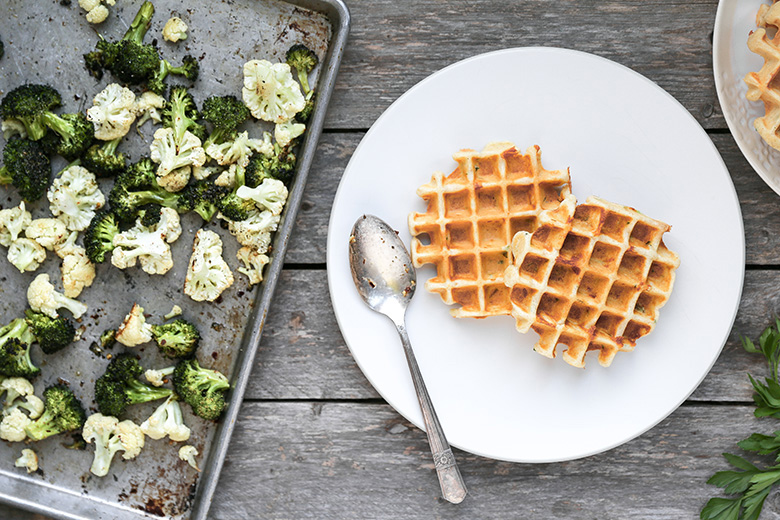 For now, we're going to proceed with today's recipe for Savory Waffles with Roasted Broccoli and Cauliflower as initially planned. So if you're grossed out by the idea of a savory waffle, then I guess just look away for the time being. Sorry about that.
I don't do breakfast for dinner (= brinner) very often, but when I do I typically go savory (I like to reserve my sweet tooth for things like ice cream and chocolate mousse!). And these savory sour cream waffles with cheddar cheese, scallions and fresh parsley really hit the spot. I topped mine with a mixture of roasted broccoli and cauliflower (both in season right now), but asparagus would also be an excellent choice. And if you wanted to add an egg, a dollop of ricotta cheese or a few shakes of hot sauce, those would all be good options as well. The waffle is really just a blank canvas for your favorite toppings!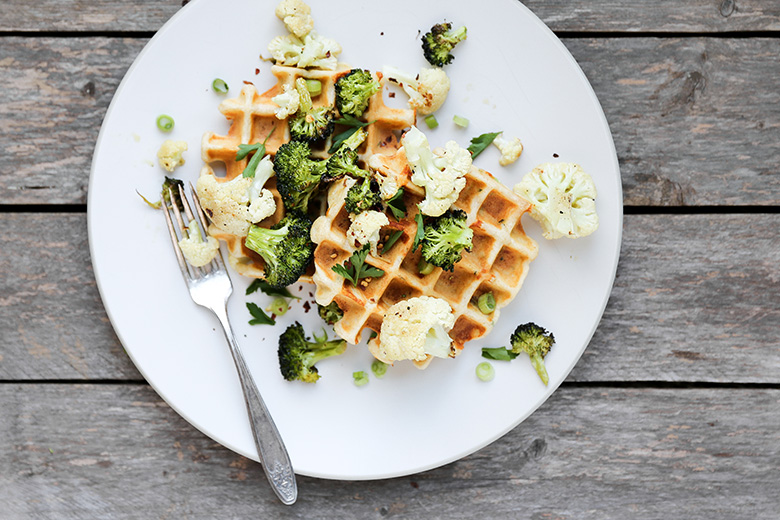 For me, two waffles topped with about 1 1/2 cups of the roasted vegetables is a perfect serving size for dinner. But you could certainly add a side salad (or additional vegetables) if you're feeling extra hungry. Since I'm a single lady, I inevitably end up with leftover waffles. But lucky for me, they freeze beautifully. All you have to do is place them in a single layer on a baking sheet in your freezer to freeze. Once the waffles are frozen, transfer them to a zip-closure bag for longer storage. Then when a craving strikes, just pop one in the toaster or your oven to thaw. Easy peasy!
This whole meal comes together in under 30 minutes, which makes it perfect for this months addition of 30 Minute Thursday. Hooray! For more quick and easy dinner ideas, scroll down below and check out the recipes that some of my blogging friends whipped up this month. I know you'll find lots of inspiration for those busy weeknights!
Cheers,
Liz
Recipe adapted from my Peaches and Cream Waffles
Savory Waffles with Roasted Broccoli and Cauliflower
Ingredients
For the Vegetables
3 cups broccoli florets
3 cups cauliflower florets
2 tablespoons extra-virgin olive oil
1/2 tsp. salt
1/2 tsp. black pepper
1/4 tsp. red pepper flakes
1 tablespoon fresh squeezed lemon juice

For the Waffles
1 cup all-purpose flour
1/4 cup whole wheat flour
2 tsp. baking powder
1/4 tsp. salt
2 eggs
1/2 cup sour cream
1/2 cup plus 1 tablespoon whole milk
6 tablespoons melted butter, cooled to room temperature
1/4 cup shredded cheddar cheese
2 scallions, white and light green parts thinly sliced
2 tablespoons fresh parsley, chopped
Instructions
Pre-heat your oven to 400 degrees. Toss the broccoli and cauliflower florets together on a large rimmed baking sheet with the olive oil, salt, black pepper and red pepper flakes. Transfer to your pre-heated oven and roast for 20 minutes, stirring once halfway through. Remove the baking sheet from the oven and sprinkle the lemon juice over the roasted vegetables. Cover to keep warm and set aside.
Meanwhile, pre-heat your waffle iron on the medium-high setting. Spray the cooking surfaces with non-stick cooking spray.
In a large bowl, whisk together the flours, baking powder and salt. Then add in the eggs, sour cream and milk, whisking until mostly incorporated. Next drizzle in the melted butter, whisking until all the ingredients are fully combined. Fold in the cheddar cheese, scallions and parsley. Scoop the batter into your pre-heated waffle iron (I used 1/3 cup of batter in each 4-inch well of my waffle maker) and close the lid. Cook for 3-4 minutes, until the waffles are crisp and golden browned. You may have to adjust the amount of batter and the cooking time, depending on the size of your waffle iron. Carefully remove the waffles and set them on a wire rack. Cover to keep warm.
To serve, top waffles with some of the roasted broccoli and cauliflower mixture. Sprinkle with additional sliced scallions and chopped parsley, if desired. Enjoy immediately.
Notes
1. If you don't have whole wheat flour on hand, you can use all-purpose flour.
http://www.floatingkitchen.net/savory-waffles-with-roasted-broccoli-and-cauliflower/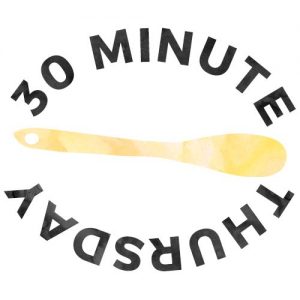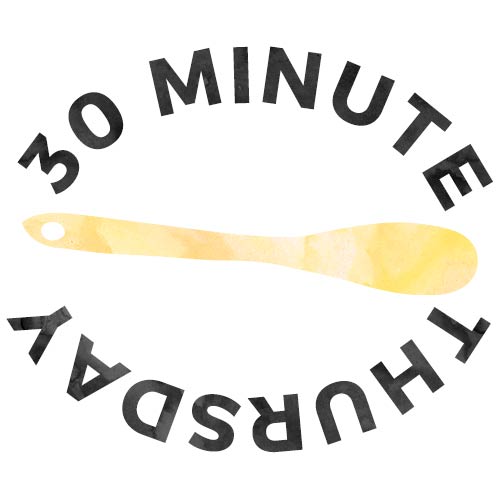 One Pot Teriyaki Chicken and Rice from The Recipe Rebel
30 Minute Pad Thai from Bake.Eat.Repeat.
Arugula and Prosciutto Puff Pastry Pizza from Pumpkin 'N Spice
30 Minute Shrimp Scampi from My Kitchen Craze
Crispy Black Bean and Sweet Potato Tacos from She Likes Food
20 Minute Healthy Taco Salad from Kristine's Kitchen
30 Minute Skillet Pasta Primavera from Flavor the Moments
Avocado toast is a food that I just can't quit.
I know a lot of folks are feeling kind of "over it" lately. It's achieved Kardashian-level celebrity status, right up there with kimchi, smoothie bowls and those Starbucks Pink Drinks. But to me, avocado toast isn't just the latest trend. To me, avocado toast is pure comfort food. It's the food that I eat when I'm stressed and rushed and struggling to find the time to prepare a "real meal". And it's the food that I eat when I just don't feel like eating. Like this past week, when my heart felt heavy and my house seemed unbearably empty. Avocado toast was the only thing that actually tasted really good to me.
Today's version includes one of my favorite curious little fruits: kumquats. They are in season right now, so keep your eyes peeled for these sweet-sour gems that look just like miniature oranges.
And speaking of peels, you can eat them. Yup. Not need to peel kumquats (thank goodness because that would be a laborious task!). In fact, the peel is actually the sweeter part of the fruit. It's the center that packs a pucker-inducing punch!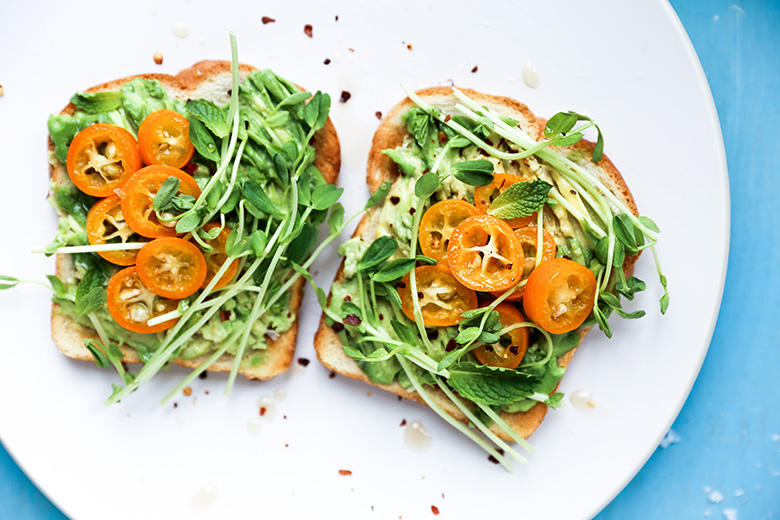 Last year, I made a Spicy Kumquat and Whipped Ricotta Crostini. And a couple of weeks ago, I spotted these gorgeous Kumquat Honeycomb Tartines from Alanna at The Bojon Gourmet. So it's been on my mind to create a new version of kumquats on toast.
To that end, I asked my Mom for a few kumquats for a recipe and, of course, she brought me an ENTIRE CASE. Not that I was particularly surprised by this. Because my Mom always goes above and beyond the call of duty (it's one of her most endearing qualities). But a case of kumquats is A LOT to try and get through. So I've been making plenty of dishes with kumquats this week (I might just have to share another one soon!), as well as making pickles, marmalades and chutneys.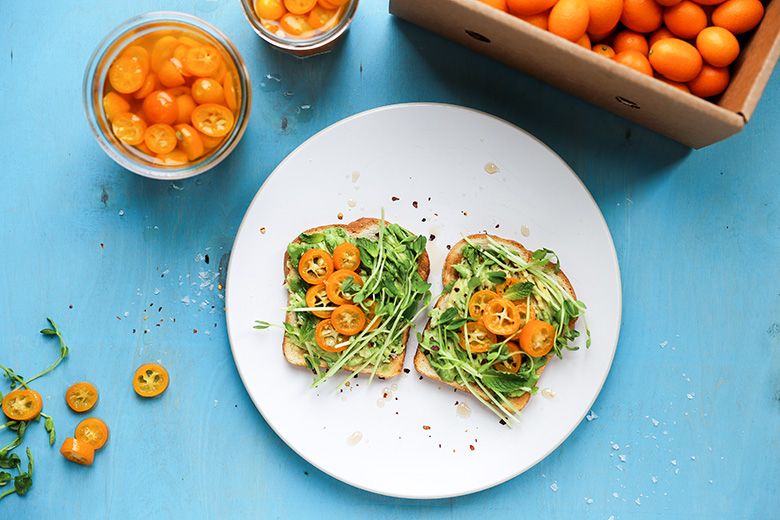 These quick-pickled kumquats are exactly as they are named: pickled kumquats that can be made very quickly. I start by slicing each kumquat into 3-4 slices. No need to discard the seeds, but I do remove and discard the tiny woody stem that is sometimes found on the end. Then I boil them briefly to soften the peel and take away some of the bitterness. Finally, I combine the kumquat slices with a easy rice vinegar brine and pop them in the refrigerator to chill. Within an hour, they are ready to consume!
If quick-pickles are known as "quickles", then are quick kumquat pickles known as "kuickles"?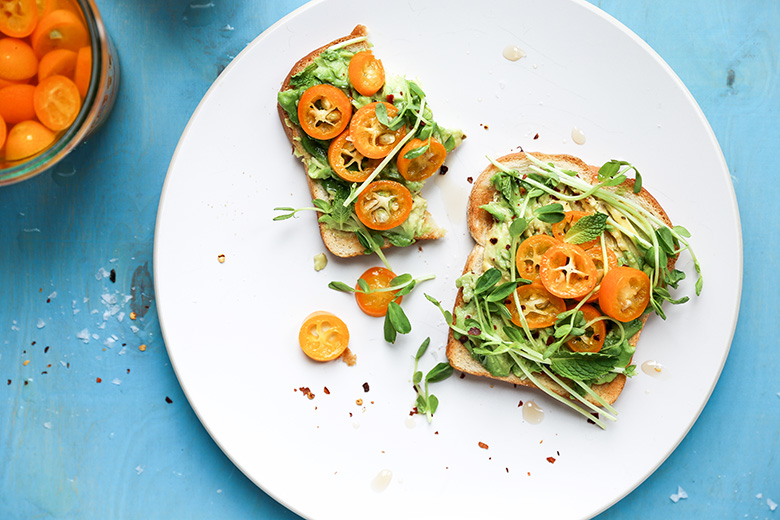 Because I have so many kumquats, I made myself a couple jars of these quick-pickled kumquats. But you can certainly scale the recipe down, if you prefer. The quick-pickled kumquats should last for a week, maybe more, in your refrigerator.
This Quick-Pickled Kumquat Avocado Toast is just one in which you can enjoy your "kuickles". Try them on sandwiches, with grilled chicken or fish, or add them to a cheese platter. Or simply eat them straight out of the jar!
Cheers,
Liz
Quick-Pickled Kumquat Avocado Toast
Ingredients
For the Kumquats
4 cups kumquat slices
1 cup warm water, plus more for boiling the kumquat slices
1 cup rice vinegar
2 tablespoons maple syrup
1/4 tsp. salt
1/4 tsp. black pepper

For the Toast
1 avocado
2 slices of bread, toasted
Salt
Red pepper flakes
10-14 slices pickled kumquats
1/2 cup pea shoots or sprouts
Fresh mint leaves
Maple syrup
Instructions
Add the kumquat slices to a medium pan and cover them with about 1-inch of water. Bring to a simmer and cook for 10 minutes. Drain the kumquat slices, discarding the cooking liquid. Divide the drained kumquat slices between two jars (or more or less, depending on what size jars you have) with re-sealable lids.
Stir together the warm water, rice vinegar, maple syrup, salt and black pepper. Pour this mixture into the jar(s) over the kumquat slices, filling the jar(s) to the top. You can discard any leftover liquid. Seal the jar(s) and transfer them to your refrigerator to chill for 1 hour. A longer refrigeration time is okay, too. The quick-pickled kumquats can be stored in your refrigerator for a week, if not longer.
To make the toast, cut the avocado in half. Remove and discard the seed. Scoop out the flesh and place it on the toasted bread. Mash the avocado flesh down with the tines of a fork. Sprinkle with a pinch of salt and red pepper flakes. Top with some pickled kumquat slices, pea shoots and a few fresh mint leaves. Drizzle with a little maple syrup, if desired. Enjoy immediately.
http://www.floatingkitchen.net/quick-pickled-kumquat-avocado-toast/