This post was originally published here May 29, 2015. I've since updated the text and photographs. I hope you try out these fun adult "beer-sicles!".
I'm popping in with popsicles!
And these popsicles are extra special because they contain beer!
So we should probably call them beer-sicles, right?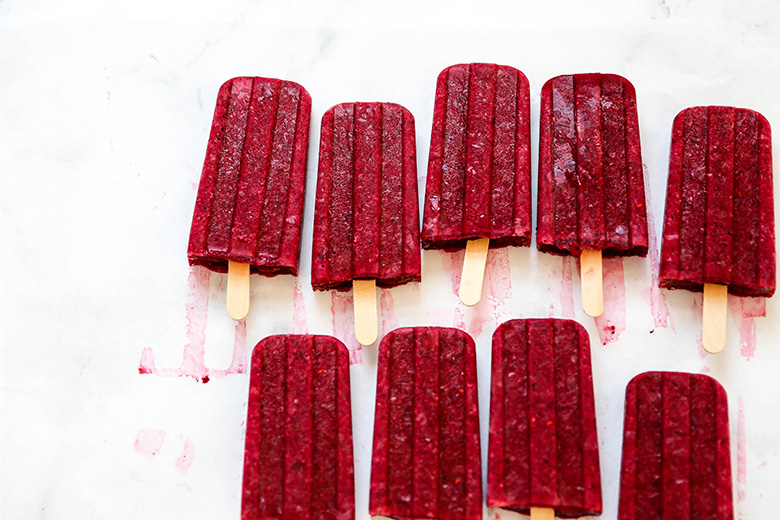 Here's the skinny on these Mixed Berry Sour Ale Popsicles. The first step is making a rosemary-infused simple syrup. Once that's cooled, add it to your blender along with 2 cups of mixed berries and 1 cup of sour ale. Blend everything together until smooth. Then pour the mixture into your popsicle molds and wait for them to freeze.
Seriously. That's it. Your freezer does most of the heavy lifting here. The hardest part is having enough patience to wait for them to firm up!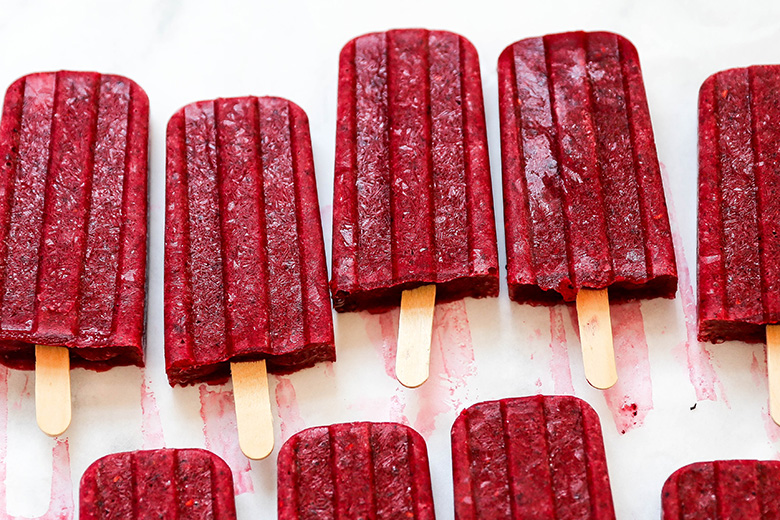 I used a combination of strawberries, raspberries and blueberries for these popsicles. But you can use whatever berries you have on hand. And in whatever proportions you like, too (just keep them to 2 cups total). You can even use frozen mixed berries for this recipe!
Sour ales often have fruity undertones, so despite their pucker-inducing qualities, they work really well as an ingredient in dessert recipes. I picked a local-to-me sour ale that was brewed with raspberries, which really helped to bring home the berry-liscious flavors in these popsicles. The best advice I can give you for choosing a sour ale for this recipe is simply to make sure that it's a beer you enjoy drinking on its own. Make total sense, right? If you do that, everything should work out great!
These Mixed Berry Sour Ale Popsicles would be so fun to serve for Memorial Day Weekend. I really hope you try them!
Cheers,
Liz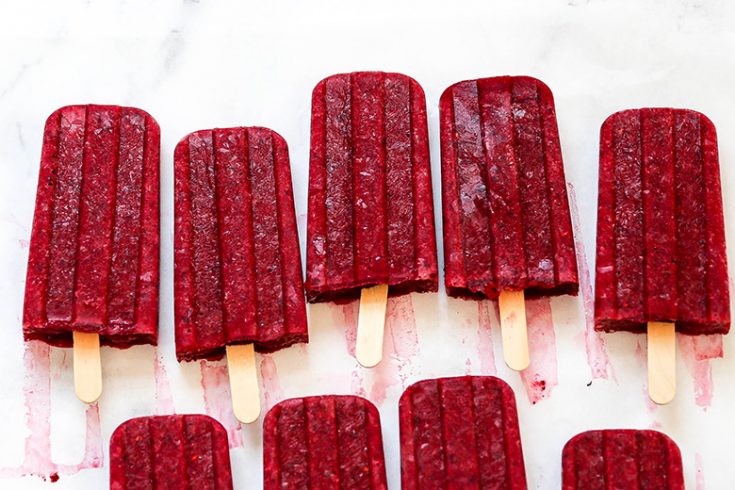 Mixed Berry Sour Ale Popsicles
Yield: Makes 10-12 popsicles, depending on your mold
Prep Time: 5 minutes
Cook Time: 5 minutes
Additional Time: 8 hours
Total Time: 8 hours 10 minutes
Ingredients
1/4 cup water
1/4 cup granulated sugar
1 sprig fresh rosemary
2 cups mixed berries, thawed if frozen
1 cup sour ale
Instructions
In a small saucepan, bring the water, sugar and rosemary sprig to a simmer. Cook until the sugar is completely dissolved, about 2-3 minutes. Then remove the saucepan from the heat and allow the simple syrup to cool to room temperature. Once cooled, remove and discard the rosemary sprig.
Add the cooled simple syrup, berries and sour ale to your blender. Blend on high until smooth. Then divide the mixture evenly between your popsicle molds, filling each mold about three-quarters of the way full. Insert popsicle sticks and place your molds into your freezer. Freeze until the popsicles are completely firm, about 6-8 hours.
Once completely frozen, the popsicles can be removed from their molds and enjoyed. You can run a little warm water over the outside of the molds to help release the popsicles, if necessary.