Pizzelles are on my short list of must-make cookies each Christmas. I love their crisp texture and delicate snowflake-like appearance. And I especially love that they stay fresh for up to three weeks…not that I can ever get them to last that long!
I've always wanted to share a pizzelle recipe here on the blog. But I've hesitated in the past because making them does require a special piece of equipment: a pizzelle press. And I hate to share recipes that may be inaccessible to many people. But with everything that's been going on this year, I'm really digging my heels into some of my favorite Holiday recipes and traditions. I may not be able to make pizzelles in person with my Mom right now (Zoom pizzelle session, anyone?), but I can still make pizzelles on my own and reflect on the great memories of those days we spent together in the kitchen.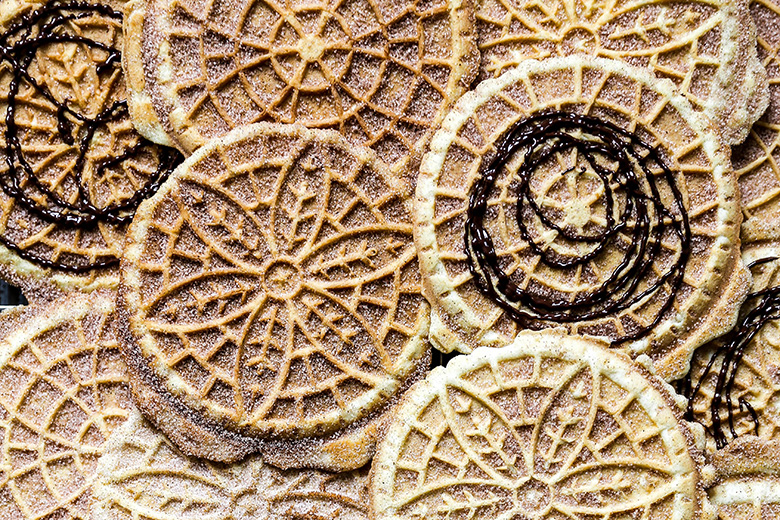 We've traditionally kept our pizzelles simple, flavored with either vanilla or almond extract and finished with a dusting of powdered sugar. But I wanted to give mine some extra sparkle this time. So I coated them with a shimmering layer of cinnamon and sugar. Which instantly reminded of the flavors of a churro. And thus, Churro Pizzelles were born!
The key to getting the cinnamon and sugar to stick is to toss the pizzelles into the coating mixture IMMEDIATLEY after you take them out of the press. Seriously. Don't hesitate. Because once they cool, the coating mixture won't adhere. My pizzelle press (I have an older version of this model) makes two pizzelles at a time, so I make sure to spread the coating mixture out onto a plate/tray that will easily hold both at the same time. I know pizzelles look fragile, but they are actually pretty sturdy little cookies. So you can grab them and toss them into the coating mixture without fear of breaking them. I repeat: don't hesitate!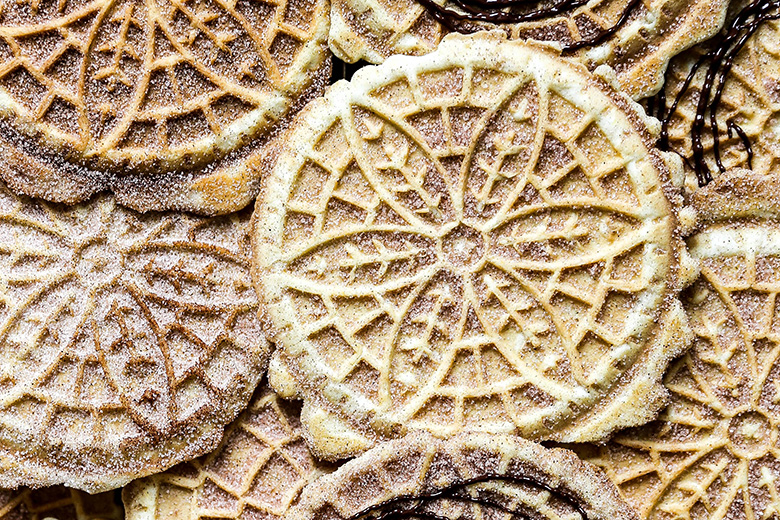 If you've ever made waffles before then you know that the first couple of rounds are typically spent dialing in the iron temperature, amount of batter and cooking time. The same goes with making the pizzelles. The first ones might not come out beautiful. But that's ok. Those are the cookies that I like to call the "chefs prerogative"!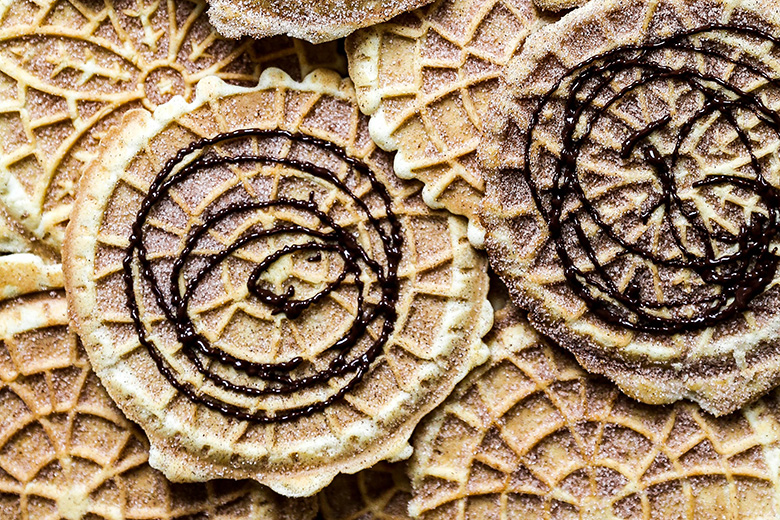 To make these Churro Pizzelles even more reminiscent of churros, you can drizzle them with either melted chocolate or dulce de leche after they've cooled. Both are fun variations to try. And they make these treats even more over the top!
Cheers,
Liz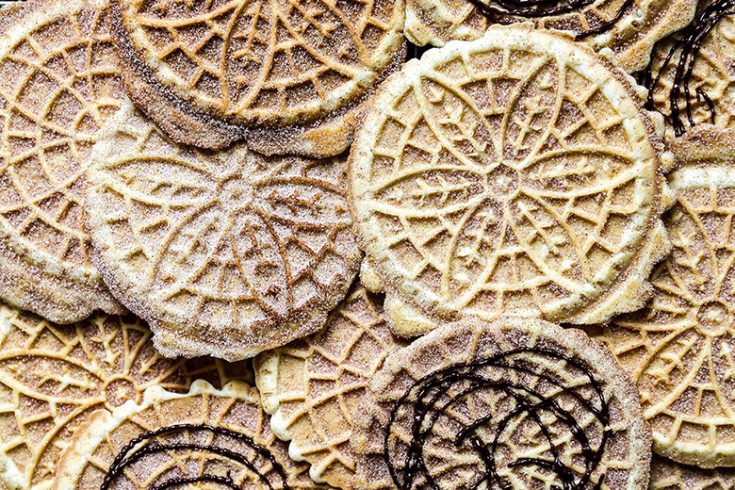 Churro Pizzelles
Yield: Makes 2 1/2 dozen
Prep Time: 10 minutes
Cook Time: 30 minutes
Total Time: 40 minutes
Ingredients
For the Pizzelles:
3 eggs, at room temperature
3/4 cups granulated sugar
1/2 cup (8 tablespoons) butter, melted and cooled, plus more for brushing the pizzelle press
2 tsp. vanilla extract
1 3/4 cups all-purpose flour
2 tsp. baking powder
1/4 tsp. ground cinnamon
For the Coating:
1/2 cup granulated sugar
1 1/4 tsp. ground cinnamon
Instructions
In your stand mixer fitted with the paddle attachment, beat together the eggs and sugar until well combined. Add the melted butter and vanilla extract and beat to combine. Then sift in the flour, baking powder and cinnamon, beating until the batter is smooth and no more white streaks remain. Set aside.
Combine the ingredients for the coating and spread it out onto a plate/tray that's large enough to fit two pizzelles at the same time. Set aside.
Pre-heat your pizzelle press. My model has temperature settings ranging from 1-5 and I pre-heat it between settings 4-5.
Brush the pre-heated plates with melted butter. Place about a tablespoon of the batter in the center of each plate and close the lid. Cook until the pizzelles are lightly golden brown, about 1 minute. The exact cooking time will vary based on your pizzelle press.
Use a fork to remove the cooked pizzelles from the press and IMMEDIATELY add them to the coating mixture. Use a spoon to help cover the tops with the coating mixture. The pizzelles will firm up very quickly as they start to cool. Once they do, they can be easily picked up and placed on a wire rack to finish cooling.
Repeat with the remaining batter, brushing the plates with butter as necessary to prevent the batter from sticking. I usually only need to butter the plates every 2-3 times.
Drizzle the cooled pizzelles with melted chocolate or dulce de leche, if desired.
Pizzelles can be stored in an airtight container at room temperature for 2-3 weeks.