This post was originally published here July 7, 2016. I've since adjusted the recipe slightly. And I've updated the photographs and text to reflect those changes. I hope you try out these loaded veggie dogs!
How about a veggie dog that actually contains vegetables?
Is this a novel ideal? Probably not. But for some reason, I don't see too many of them out there. So here is my offering to the internet: Grilled Mushroom, Pepper and Broccolini Veggie Dogs. It's Summer in a bun!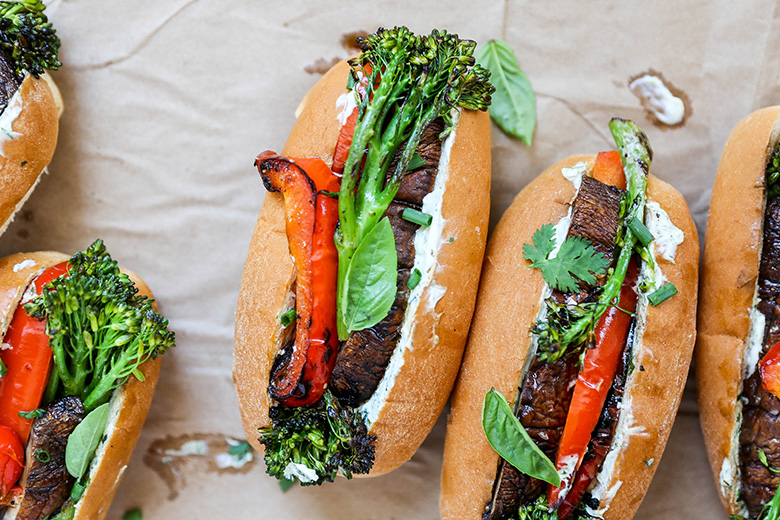 There have certainly been a lot of improvements to the taste and texture of commercially available meat substitutes over the years. I do eat them on occasion. And I can't deny that they are very convenient. But sometimes I want to see real, whole vegetables in my sandwich. And that's when these Grilled Mushroom, Pepper and Broccolini Veggie Dogs come in very handy. And while they aren't as simple as unwrapping a pre-packaged veggie dog and tossing it on the grill, they are still very easy. And more than worthy of the extra few minutes of prep work.
I love this trio of vegetables, because they strike a nice balance of flavors, textures and colors. The Portobello mushrooms have a hearty, meaty bite to them. While the red pepper and broccolini maintain some of their characteristic crunch. But you can certainly use the recipe below as more of a guide and swap in some of your other favorite vegetables. Zucchini or yellow squash (cut into batons) would work well. And asparagus, too. Just keep the size and shape of your buns in mind when making your choices and you can't go wrong!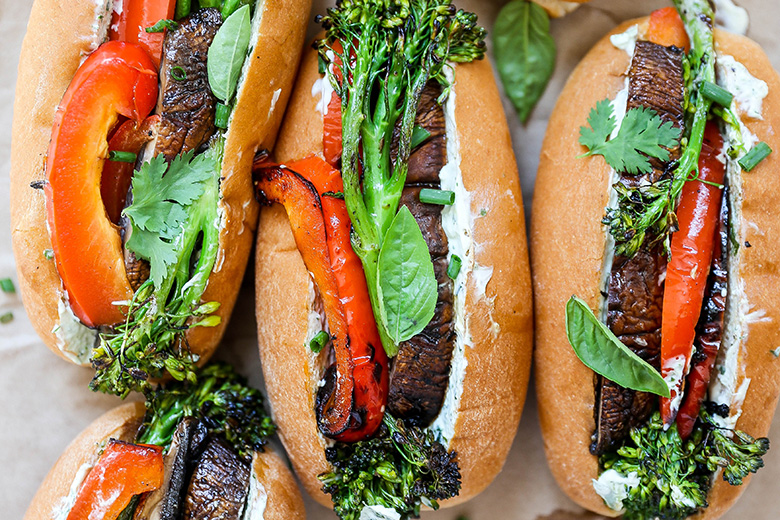 I'm not a huge condiment person, but this herb yogurt sauce is the perfect creamy addition to these veggie dogs. I added almost every herb at my disposal (chives, basil and cilantro), so it tastes super fresh. Dill or parsley would also be a nice touch. I think anything goes at this point. It's late Summer and all our gardens are exploding. So just toss everything in!
I'm all about using my grill as much as possible this month. And I hope you are, too! If you give my Grilled Mushroom, Pepper and Broccolini Veggie Dogs a try, please let me know. I'd love to hear about it!
Cheers,
Liz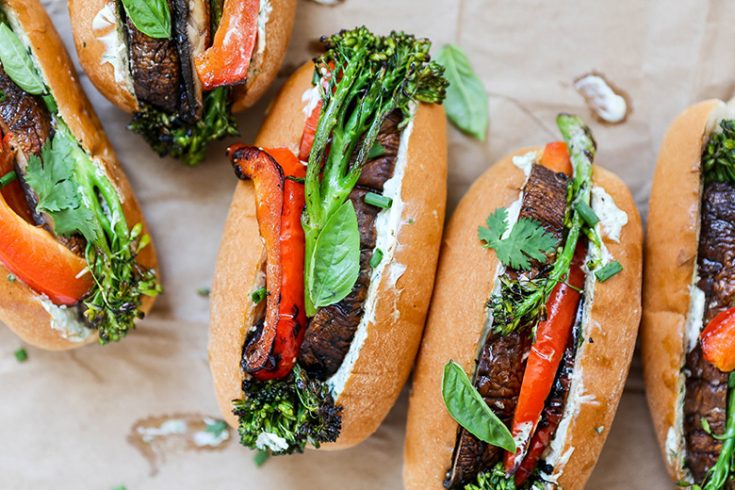 Grilled Mushroom, Pepper and Broccolini Veggie Dogs
Yield: Serves 6-8
Prep Time: 10 minutes
Cook Time: 10 minutes
Total Time: 20 minutes
Ingredients
For the Herb Yogurt Sauce:
1 cup full-fat Greek yogurt
1 garlic clove, peeled and chopped
2 tablespoons fresh chives, roughly chopped
1 tablespoon fresh basil, roughly chopped
1 tablespoon fresh cilantro, roughly chopped
1/2 tsp. salt
1/2 tsp. black pepper
For the Veggie Dogs:
3 tablespoons extra-virgin olive oil
2 tablespoons balsamic vinegar
1/2 tsp. salt
1/2 tsp. black pepper
2 medium Portobello mushrooms, stems removed and caps wiped clean
1 red pepper, quartered and cored
8 ounces broccolini, ends trimmed
6-8 top-sliced hot dog buns
Fresh herbs, for garnish
Instructions
Add all the ingredients for the herb yogurt sauce to the bowl of your food processor fitted with the blade attachment. Process until the garlic and herbs are finely chopped. Transfer the sauce to a clean container and refrigerate it until you're ready to use it.
Pre-heat your grill to medium-high.
In a small bowl, whisk together the olive oil, balsamic vinegar, salt and pepper. Then brush this dressing onto all sides of the prepared vegetables.
Add all the vegetables to your grill. Cook the broccolini and red pepper for approximately 2-3 minutes per side. They should be crisp-tender and starting to blacken in a few places. Cook the mushrooms for approximately 5-6 minutes per side. They should be more tender.
As the vegetables cook, remove them from the grill and set aside. When finished, slice the red pepper and mushrooms into strips.
To serve, spread some of the herb yogurt sauce onto the hot dog buns. Fill each hot dog bun with a mix of the grilled vegetables. Top with additional herbs, if desired. Enjoy immediately.