This post was originally published here March 16, 2015. I've since updated the text and photographs. This is one of my favorite ways to enjoy seasonal asparagus!
This blog post should really be titled "How to Eat an Entire Pound of Asparagus by Yourself". Because that's basically what ends up happening every time I make this recipe. This is my all-time favorite way to prepare asparagus. And I know you're going to love it, too!
And it's super easy. All you need to do is (1) roast some asparagus spears, (2) make a quick pesto while the asparagus cooks, and (3) combine the two together. Done.
The pesto uses mint and pistachios (instead of the more tradition basil and pine nuts), which is a combination that I absolutely adore for Spring. It tastes super fresh. And I've found it to be really versatile, too. Which is great because you'll likely have some leftover from this recipe. I've used it for roasted potatoes, carrots, grilled chicken and of course, pasta! This pesto can do it all!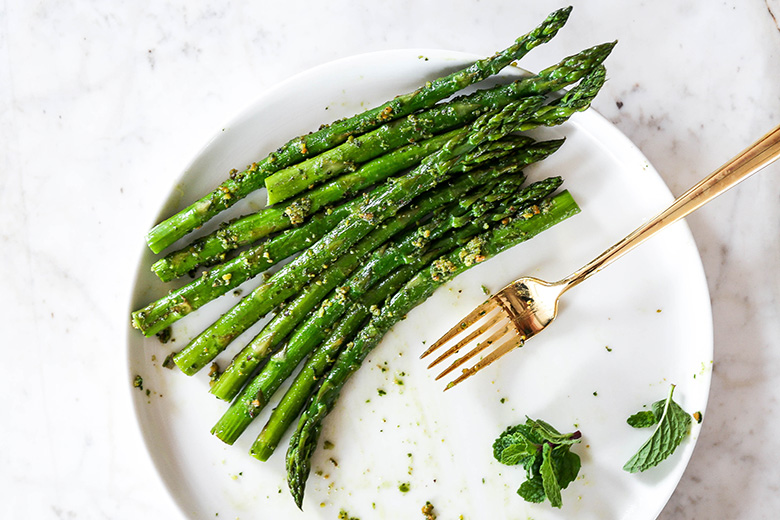 Oh and surprise it's vegan! Which I guess isn't much of a surprise because I put the word "vegan" in the title. But you get what I'm trying to say. Most traditional pesto recipes contain Parmesan cheese. But not this one. And I promise if I didn't tell you upfront, you probably wouldn't even be able to guess that the cheese was missing. So don't knock it until you try it!
I almost always use roasted, salted pistachios for this pesto recipe, because that's what I keep in my pantry. But if you have unsalted pistachios, you might want to add more salt. It's always a good idea to give the pesto a taste first (after step 4), then adjust as needed.
I hope you give this Roasted Asparagus with Vegan Pistachio-Mint Pesto a try this Spring!
Cheers,
Liz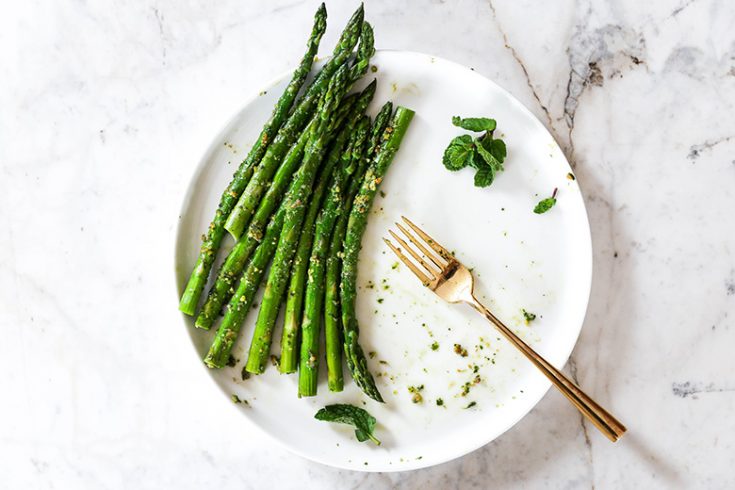 Roasted Asparagus with Vegan Pistachio-Mint Pesto
Yield: Serves 4-6
Prep Time: 10 minutes
Cook Time: 15 minutes
Total Time: 25 minutes
Ingredients
For the Asparagus:
1 lb asparagus, trimmed
1 tablespoon extra-virgin olive oil
1/4 tsp. salt
1/4 tsp. black pepper
For the Pesto:
1/2 cup shelled pistachios
1 garlic clove, peeled
Zest from 1/2 lemon
1/2 tsp. salt
1/4 tsp. black pepper
1 cup packed fresh mint leaves
About 1/3 cup extra-virgin olive oil
Instructions
Pre-heat your oven to 425 degrees.
Toss the asparagus on a rimmed baking sheet with the olive oil, salt and black pepper. Transfer to your pre-heated oven and roast for 10-12 minutes, or until crisp-tender. Remove and set aside.
Meanwhile, in a small skillet over medium heat, lightly toast the pistachios until they become fragrant, about 1-2 minutes. Remove from the heat and allow to cool slightly.
In the bowl of your food processor with the blade attachment, pulse together the toasted pistachios, garlic, lemon zest, salt and black pepper until a coarse meal is formed. Add the mint and process until finely chopped. Stop to scrape down the sides of the bowl. Then with your food processor running, slowly stream in the olive oil until your desired consistency is reached, using more olive oil if you prefer a thinner pesto. Transfer the pesto to a clean container.
While the asparagus is still warm, gently toss it with about 2 tablespoons of the pesto. You can add more pesto, depending on your taste preferences. Serve immediately.
Leftover pesto can be stored in an airtight container in your refrigerator for several days. Or frozen for longer storage periods. Drizzling a thin layer of olive oil over the surface of the pesto will help to preserve the color/taste during storage.