This post was originally published here May 31, 2013. I've since updated the text and photographs. I hope you try out this easy, crowd pleasing dinner!
These might be some of the best tacos I have ever made. But sadly, they were a victim of my early days of blogging. Bad lighting, bad styling, bad photography and bad writing. These poor tacos saw it all.
In fact, the only thing about them that wasn't bad was how they tasted.
So today, I'm resurrecting them from their ancient burial grounds ( = the blog archives of 2013). And I'm giving them a second chance at life.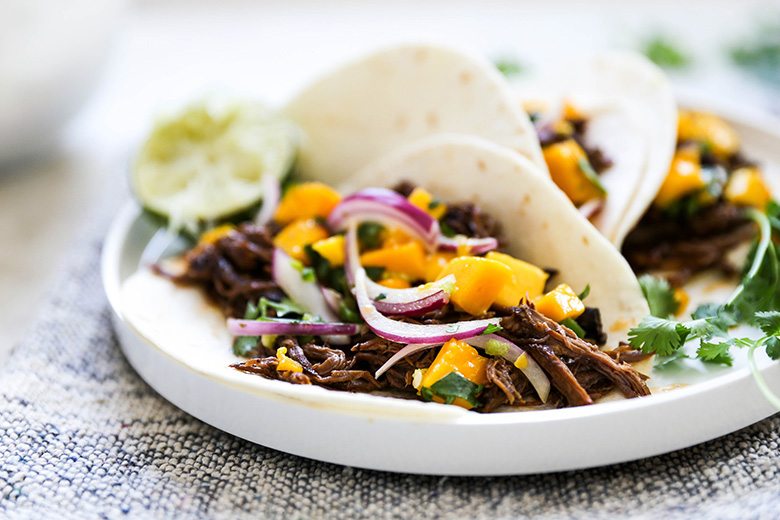 I was initially motivated to re-make these Slow Cooker Chipotle Barbecue Beef Tacos with Mango Salsa after wrapping up a freelance project last week that resulted in me being the proud owner of a case of perfectly ripe honey mangoes (also sometimes called champagne mangoes). Not wanting to waste any of my precious stash, I decided to give this recipe a second go around. And damn. My mind was blown.
I've said this several times before, but I'll say it again. Food blogger brain is definitely a real thing. I have no other way to explain how I simply forget about the existence of entire recipes from time to time.
Anyways.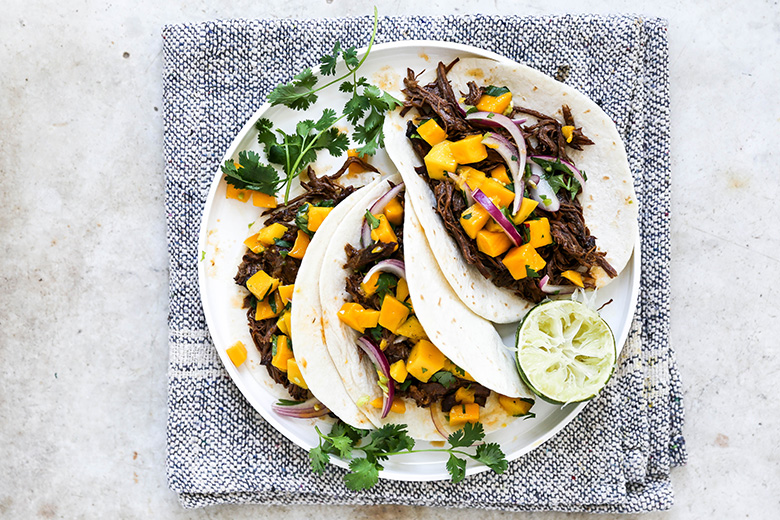 These Slow Cooker Chipotle Barbecue Beef Tacos with Mango Salsa are so perfectly balanced on every level. The fatty mouthfeel (yes, this is a good thing!) of the beef, the heat from the barbecue sauce, the sweetness from the mango, the acidity from the fresh lime. I could go on. Trust me. It's all in there. And you get it all for a pretty marginal amount of work, too. Less than 30 minutes of prep time on either end of this recipe is all it takes. The slow cooker does the rest. Meaning you can totally achieve this dinner on a weeknight. AND your house won't get stifling hot from using your oven. That's a win all around.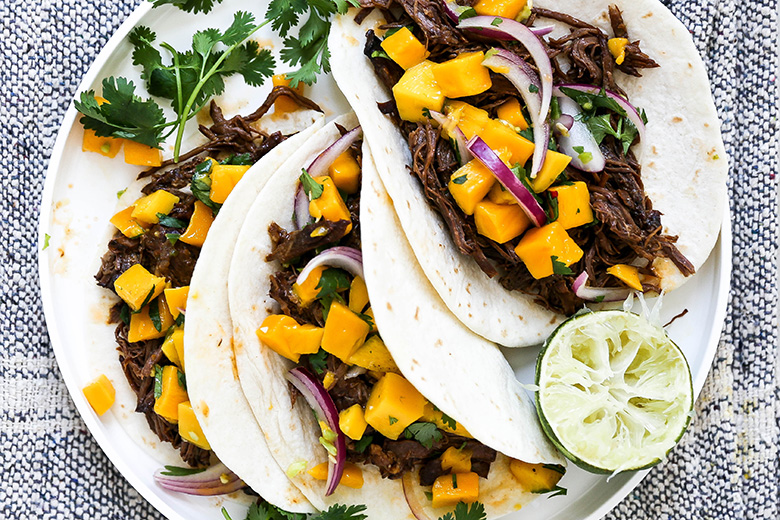 Corn tortillas used to be my ride or die (and it's what you'll want to use for serving if you're gluten-free). But I'm actually really enjoying flour tortillas lately. There is something about their softness and pliability that is appealing to me. So that's what shown in these photographs. Feel free to use either type. Or go totally rogue and try crunchy, hard taco shells!
Cheers,
Liz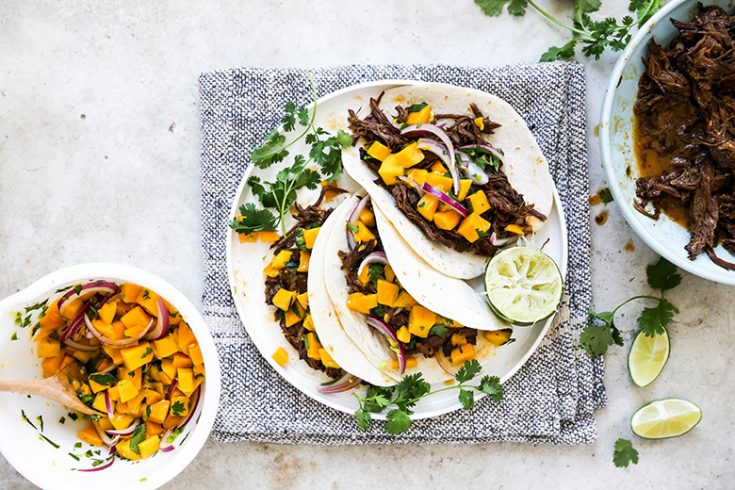 Slow Cooker Chipotle Barbecue Beef Tacos with Mango Salsa
Yield: Serves about 6
Prep Time: 30 minutes
Cook Time: 10 hours
Total Time: 10 hours 30 minutes
Ingredients
For the Chipotle Barbecue Beef:
1 boneless beef roast (about 3 lbs), trimmed of excess fat
1 tsp. salt
1-2 tablespoons vegetable oil
2 cups diced onions
6 garlic cloves, peeled and minced
1 cup ketchup
1/3 cup packed brown sugar
1/4 cup apple cider vinegar
2 tablespoons Worcestershire sauce
2 tablespoons chipotle peppers in adobo, chopped
1 tablespoon chili powder
1 tsp. black pepper
For the Mango Salsa:
2 honey mangoes, peeled, pitted and diced
1/2 cup thinly sliced red onion
1/2 jalapeño pepper, diced
1/3 cup fresh cilantro, roughly chopped
Zest and juice from 1 lime
For Serving:
Corn or flour tortillas, warmed
Instructions
Place the beef roast in your slow cooker (a 4 quart-sized insert or larger will work) and season with the salt. Set aside.
To make the barbecue sauce, warm the vegetable oil in a large non-stick skillet over medium-high heat. Add the diced onions and cook, stirring frequently, until softened, about 5-7 minutes. Add the garlic and all the remaining ingredients, stirring to combine. Let the sauce simmer for about 5-7 minutes, stirring occasionally while it cooks. Remove the skillet from the heat.
Pour the barbecue sauce over the beef roast. Place the lid on your slow cooker and turn it on. Cook the beef roast until it's completely tender and can be easily pulled apart with two forks, about 10 hours on the "low" setting or 6 hours on the "high" setting.
Once the beef roast has finished cooking and is completely tender, shred it apart into smaller pieces using two forks. There will initially be excess cooking liquid in your slow cooker, but the shredded beef pieces will absorb most of it within 30 minutes.
Combine all the ingredients for the salsa in a small bowl. Cover and refrigerate it until you're ready to use it.
To serve, fill the warmed tortillas with some of the shredded beef and top with the mango salsa. Enjoy immediately.
Leftover shredded beef and mango salsa can be stored in separate airtight containers in your refrigerator for up to 2 days.