This post was originally published here January 4, 2016. I've since adjust the recipe slightly. And I've updated the text and photographs to reflect those changes.
Welcome to "orange food season"!
I wish I could say that the above statement is a joke. But I think we all know there is some truth behind it. Butternut squash, sweet potatoes, pumpkin and carrots will be frequenting our kitchens for the next several months. And while I'm certainly going to miss sun-ripened tomatoes, tender baby greens and juicy watermelons, I'm also here for these other foods. It's all par for the course.
I'm also strapping on my boots today for soup season. Are you ready???
I have a serious soft spot in my heart for puréed soups. Not that I don't love a good chunky, hearty stew. But silky, puréed soups have always appealed more to me. And I really think they are some of the most versatile and easiest types of soups to make. Any recipe where I don't have to be super precise about chopping the ingredients neatly is a win for me. It's all going into the blender in the end anyway, so no need to be exact!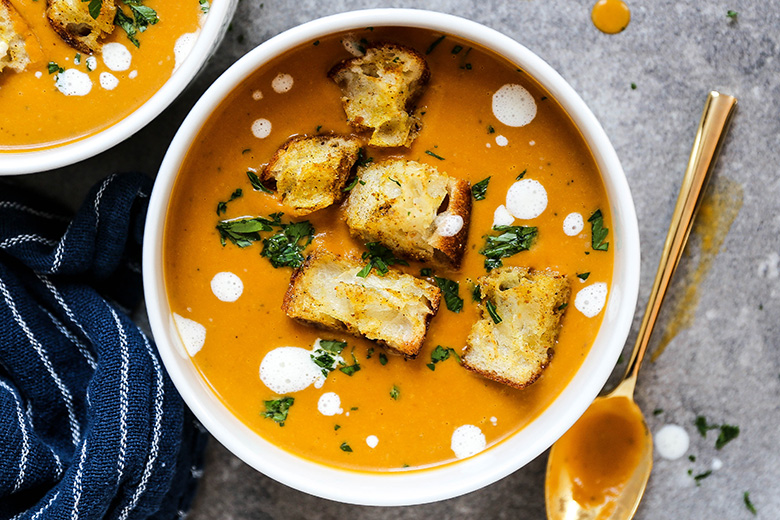 This Creamy Sweet Potato, Pear and Leek Soup with Spiced Croutons is a total breeze to make. You can have it done in about 45 minutes, so it's very do-able for a weeknight dinner. Serve it up with a big green salad and you've got the perfect low-fuss Fall meal. I'm also of the opinion that the leftovers are even better (the flavors from the spices and other aromatics become more pronounced overtime), so I frequently find myself enjoying it for lunch the next day, too.
And because I have a rule about no naked soups, I never skip out on making these spiced croutons! They really do so much for both the taste and texture of this soup. Just pop them in the oven while the ingredients for the soup are simmering on your stovetop and you're good to go!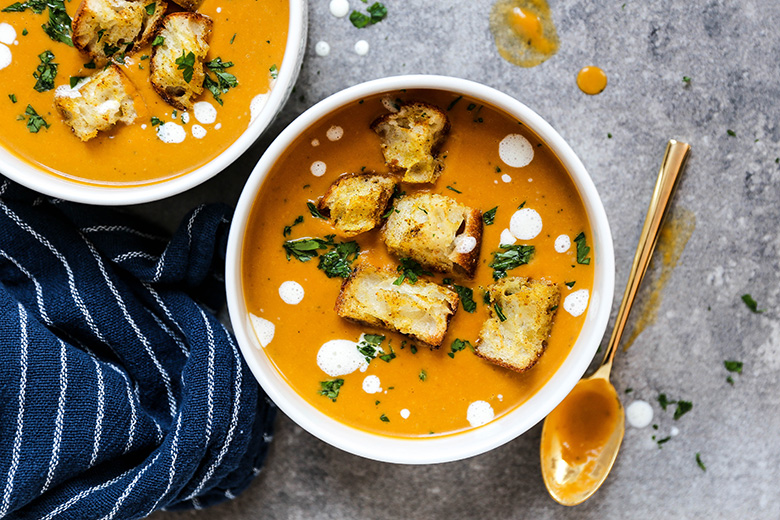 Before I send you on your way to soup heaven, I've got a couple quick notes on the ingredients. First, you could substitute an equal amount of peeled and cubed butternut squash for the sweet potato, if you prefer. You could also use an apple (any variety) instead of the pear. And don't forget to wash your leeks really well before using them. Leeks are grown in sandy soil and the sand tends to get trapped in their layers. So unless you want some unexpected crunchies in your soup, give your leeks a good rinse under cool running water.
Cheers,
Liz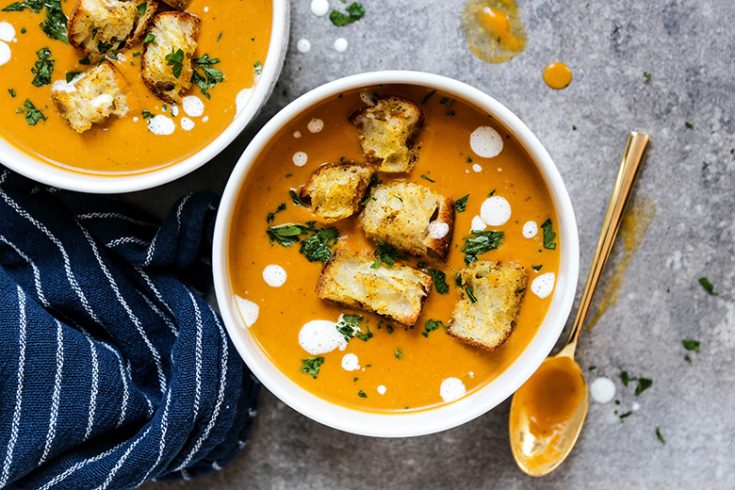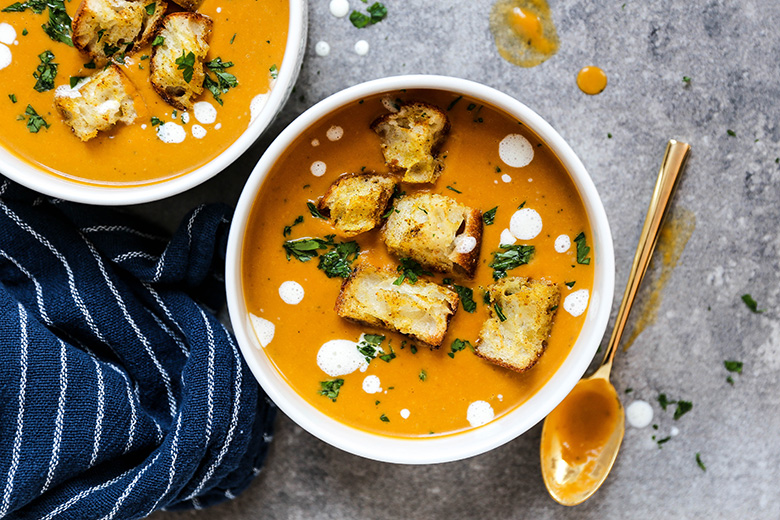 Creamy Sweet Potato, Pear and Leek Soup with Spiced Croutons
Yield: Serves about 4
Prep Time: 15 minutes
Cook Time: 45 minutes
Total Time: 1 hour
Ingredients
For the Soup:
2-3 tablespoons extra-virgin olive oil
4 cups peeled and cubed sweet potatoes
1 cup thinly sliced leeks
1 pear, cored and chopped
2 garlic cloves, peeled and minced
1 tablespoon peeled and minced ginger
1 tablespoon tomato paste
1/2 tsp. salt
1/2 tsp. black pepper
1/2 tsp. curry powder
1/4 tsp. paprika
4 cups vegetable stock
1 cup heavy cream
2-3 tablespoons fresh parsley, minced
For the Croutons:
4 cups cubed bread (a rustic Italian or French loaf works best)
3 tablespoons extra-virgin olive oil
1/2 tsp. curry powder
1/4 tsp. black pepper
1/4 tsp. paprika
1/4 tsp. ground ginger
1/4 tsp. garam masala
Instructions
In a large stockpot over medium heat, warm 2 tablespoons of the olive oil. Add the sweet potatoes, leeks and pear. Cook, stirring occasionally, for 7-8 minutes. If the bottom of the pot starts to get dry, add the remaining tablespoon of olive oil.
Stir in the garlic, ginger, tomato paste, salt, pepper, curry powder and paprika. Cook for an additional 2 minutes, or until fragrant. Then stir in the vegetable stock, scraping up any browned bits from the bottom of the pot with a wooden spoon. Cover the pot with the lid so it's slightly ajar and bring the soup to a simmer. Cook until the sweet potatoes are very soft, about 20-30 minutes. Then turn off the heat and allow the soup to cool slightly.
Once cool enough to handle, purée the soup using an immersion blender, blender or food processor with the blade attachment. Work in batches as necessary and be careful when transferring warm liquids.
Return the puréed soup to your pot and re-warm it over low-medium heat. Stir in the heavy cream. Taste and adjust for salt and pepper, if necessary. Cover to keep warm.
Meanwhile, pre-heat your oven to 400 degrees. In a large bowl, toss the bread cubes with the olive oil and all the spices. Spread the coated bread cubes out onto a rimmed baking sheet. Transfer to your pre-heated oven and bake until the bread cubes are dry and slightly crisp, about 10-15 minutes. Remove from the oven and set aside.
To serve, ladle the warm soup into bowls. Top with the croutons and fresh parsley. Enjoy immediately.