Question: why is Taco Tuesday such a widespread event, but Taco Thursday isn't?
Seriously. Why is this? As far as I can tell, both days should be equally acceptable days to consume tacos. They both start with the letter "T", thus satisfying the important requirement that the food we're eating must start with the same first letter of that of the day it's being consumed. And HELLO, the more days that we get to enjoy tacos, the better. Right?!?!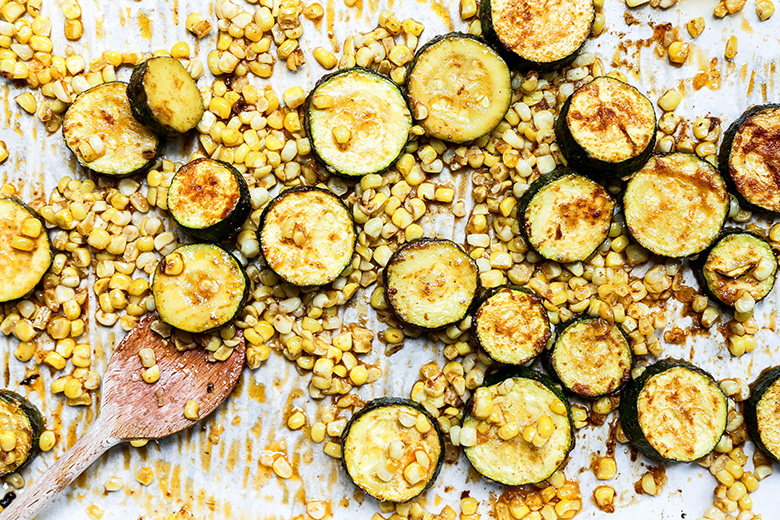 This all seems fairly straightforward to me. So as far as I'm concerned, today is Taco Thursday. And to celebrate, I'm sharing the recipe for these crazy easy Chipotle Zucchini and Corn Tacos.
It's also 30 Minute Thursday, meaning that these babies can be made in just about 30 minutes. Which makes them ideal for a low stress weeknight dinner, even on the busiest of work/school nights.
Oh and did I mention that you only need one baking sheet and one bowl for this recipe? Yeah. That's a pretty sweet bonus, if you ask me.
For more quick and easy recipes, check out the links below!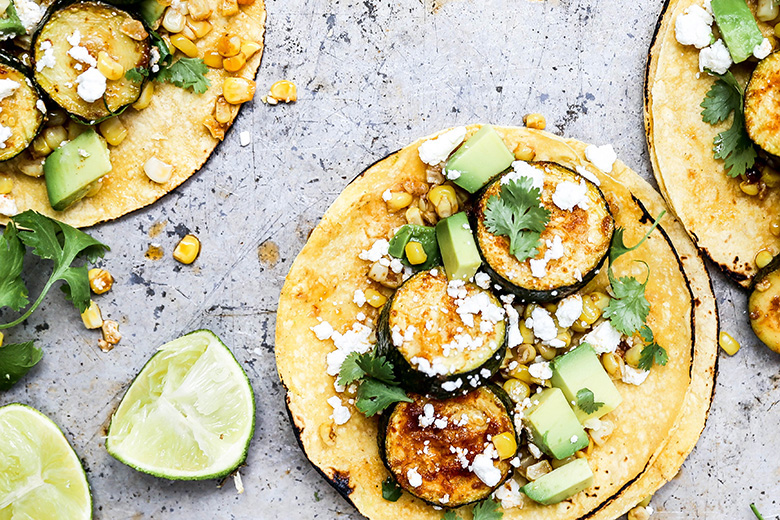 The filling for these tacos is pretty simple (but definitely not short on flavor!). And I narrowed down the toppings to just a few of my favorite things, like avocado, crumbled goat cheese and cilantro. But feel free to get crazier with the toppings if you want. Or maybe add some black beans if you want a more "stick to your ribs" version of this recipe. Whatever you do, just make sure you get out there and celebrate Taco Thursday!
Cheers,
Liz
Ingredients
For the Filling
2 medium zucchini, sliced into rounds
2 1/2 tablespoons extra-virgin olive oil, divided
2 tablespoons adobo sauce (from a can of chipotle peppers in adobo sauce)
1 tsp. salt, divided
1/4 tsp. ground cumin
2 ears fresh corn, husks and silks removed

For Serving
Corn tortillas, warmed or grilled
Diced avocado
Crumbled feta or goat cheese
Fresh cilantro
Lime wedges
Instructions
Pre-heat your oven to 400 degrees. Line a rimmed baking sheet with parchment paper and set it aside.
In a medium bowl, toss together the zucchini slices, 2 tablespoons of the olive oil, the adobo sauce, 1/2 tsp. of the salt and the cumin until the zucchini is well coated. Spread the zucchini slices out into a single layer on the parchment paper-lined baking sheet. Then transfer them to your pre-heated oven to roast for 15 minutes.
Meanwhile, slice the kernels off the corn cobs and add them to the same bowl you used to toss the zucchini. Add the remaining 1/2 tablespoon of olive oil and 1/2 tsp. salt, tossing to combine. After the zucchini has roasted for 15 minutes, carefully remove the baking sheet from the oven and add the corn kernels, tossing to combine and flipping the zucchini over to the second side. Place the baking sheet back in your oven to roast for an additional 10 minutes. Then remove and cover to keep warm.
To assemble the tacos, fill each tortilla with a spoonful of the roasted zucchini and corn. Then top with diced avocado, cheese, cilantro and a squeeze of fresh lime juice. Enjoy immediately.
https://www.floatingkitchen.net/chipotle-zucchini-and-corn-tacos/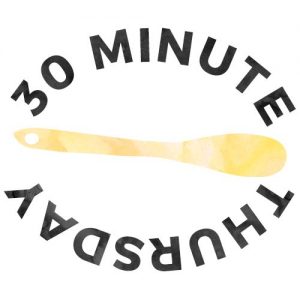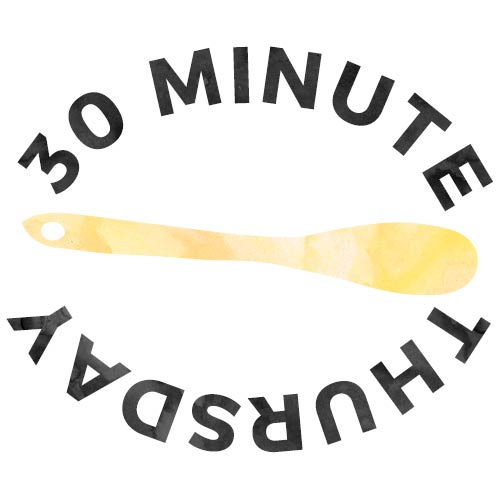 Chicken and Spinach Pesto Quesadillas from Pumpkin 'N Spice
One Pot Baked Ziti from The Recipe Rebel
One Pot Chicken, Broccoli and Rice Casserole from Kristine's Kitchen
One Pot Italian Sausage Pasta from Savory Nothings
Peanut Chicken Stir Fry from Bake.Eat.Repeat.
SaveSave
SaveSave
SaveSave
SaveSave
SaveSaveSaveSave
On Sunday, I leave for a 14-day trip to Portugal.
Please know that I tried to write that first sentence for about 10 minutes. But nothing poetic or eloquent ever came from my keyboard. I also didn't want to risk "burying the lead", as they say. So I just put it out there. A simple statement of fact. And I couldn't be more excited.
Portugal is a place that I've never visited. And this trip is for a duration of time I haven't "allowed" myself to take off in years. My only recent vacations have been work-related. And while those can certainly be fun and relaxing in their own way, let's be honest, they aren't true vacations by any measure.
So. Portugal here I come. I'm meeting a girlfriend and we're taking in the whole country. I can't wait to eat the food (obviously), see the beaches, learn about the people and so much more.
My goal is not to work while I'm overseas. But I will be around on Instagram, sharing tidbits here and there when the Wi-Fi allows. I hope you'll follow along. And if anyone has any last minute must-see/must-do/must-eat suggestions, please drop me a line and let me know. I'd love to hear about them!
With my trip fast approaching, my mind has become an exceedingly busy place. I'm consumed with all the usual everyday stuff. Plus, I'm trying really hard not to forget anything essential, like my passport or camera. Lists and sticky notes have become my life.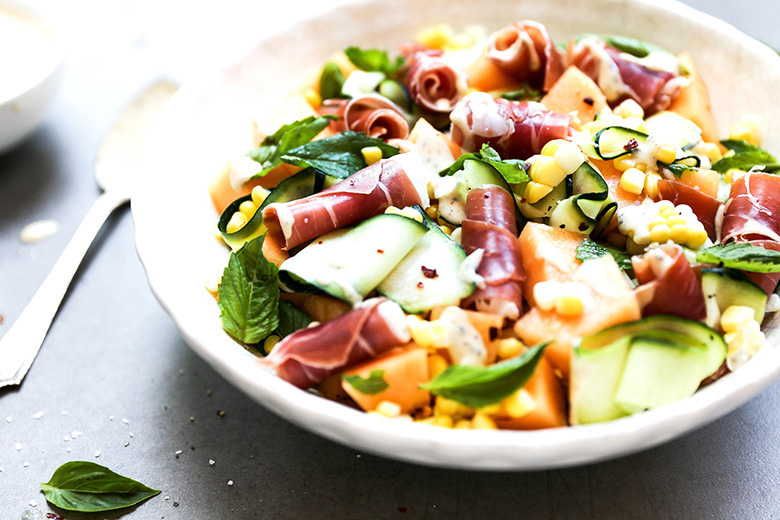 The only other thing taking up real estate in my brain these days is this Corn, Zucchini and Cantaloupe Salad with Prosciutto and Fresh Herbs. It's a recipe that I created a couple of weeks ago, and I can't stop making it, eating it and thinking about it. It's the best of Summer, filled to the brim with wonderful seasonal produce. And it has just enough salty prosciutto to make it feel kind of luxurious. Prosciutto is an item that I don't buy often, as I've given up most pork products over this last year. But I must admit, it tastes mighty fine in this salad. It was certainly worth the splurge.
I've recently become kind of obsessed with this buttermilk dressing from Stonewall Kitchen, and it's what I used in my version of this salad. But any buttermilk or ranch dressing would provide an excellent creamy component. So just use your favorite homemade or store bought version. It's all good!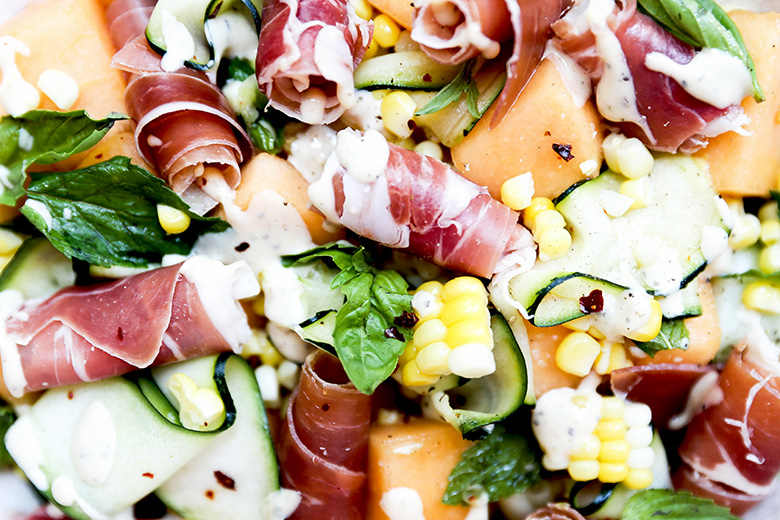 This Corn, Zucchini and Cantaloupe Salad with Prosciutto and Fresh Herbs is a snap to toss together, so I'm sharing it as part of our monthly 30 Minute Thursday recipe round-up (links below for more quick and easy recipes!). I hope you get the chance to give it a try before Summer's over.
OK, friends. I'm out for a couple weeks. Stay cool and safe. I'll be back towards the end of August!
Cheers,
Liz
Ingredients
4 cups cubed cantaloupe
2 ears of cooked corn, kernels sliced off
1 medium zucchini, trimmed and peeled into ribbons
2 tsp. extra-virgin olive oil
1/4 tsp. salt
1/4 tsp. black pepper
1/4 tsp. red pepper flakes
1/4 cup fresh basil leaves, torn
1/4 cup fresh mint leaves, torn
3 ounces prosciutto, cut into strips and rolled
About 2-3 tablespoons buttermilk dressing
Instructions
Add the cantaloupe, corn kernels and zucchini ribbons to a large bowl. Drizzle with the olive oil and sprinkle with the salt, black pepper and red pepper flakes. Toss to combine. Add the basil and mint leaves, tossing gently to combine.
Transfer the salad to a serving bowl or plate. Add the rolled prosciutto. Drizzle with the buttermilk dressing. Serve immediately.
https://www.floatingkitchen.net/corn-zucchini-and-cantaloupe-salad-with-prosciutto-and-fresh-herbs/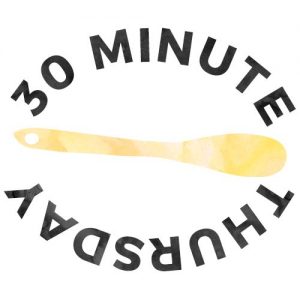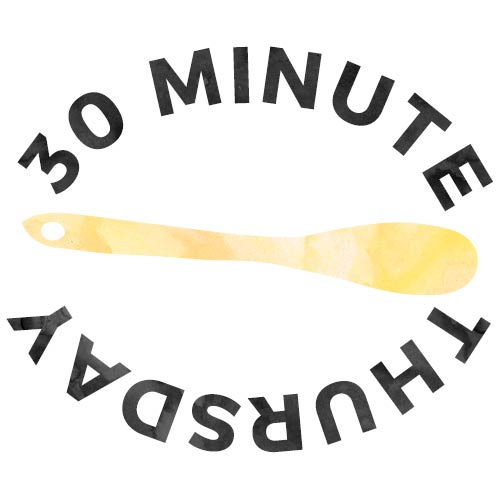 Guacamole Pita Pizzas from She Likes Food
Italian Chicken Salad from Pumpkin N' Spice
Quinoa Corn Chowder from The Recipe Rebel
Teriyaki Salmon Foil Pockets from Life Made Sweeter