This post was originally published here June 24, 2013. I've since adjusted the recipe instructions slightly. And I've updated the text and photographs. So go ahead and stock your freezer with these delicious ice cream sandwiches!
Today is the last day of my 30's.
Yes. You read that correctly. Tomorrow I turn the big 4-0. And the only way I really want to celebrate is with ice cream.
Well, technically I'm celebrating with ice cream tucked between two chocolate cookies.
Homemade ice cream sandwiches hold a special place in my heart. My Mom always keeps them in her freezer, continually re-stocking her supply whenever she bakes up a fresh batch of chocolate chip cookies. Because my Dad and I get very cranky if there aren't any ice cream sandwiches after dinner. Which I know sounds totally "extra". But we're just a family who knows what we like. And we really like having homemade ice cream sandwiches available to us at all times!
So in honor of my milestone birthday, I knew that ice cream sandwiches would be the way to go. Yes, I love cake. Who doesn't? But ice cream sandwiches just seemed more fitting, given my families long-standing history with them.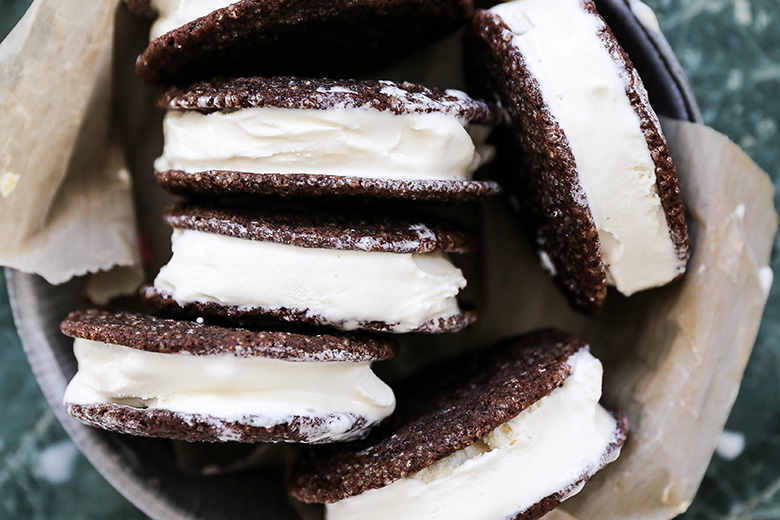 My Mom always makes the most classic version: chocolate chip cookies with vanilla ice cream. And it's a winner. But I decided to change it up slightly by swapping out the chocolate chip cookies with these GIANT soft chocolate sugar cookies, flavored with orange zest and cardamom. Because I'm a grown up now (or I will be tomorrow when I turn 40!), and grown ups eat cookies with subtle hints of orange zest and cardamom. Right?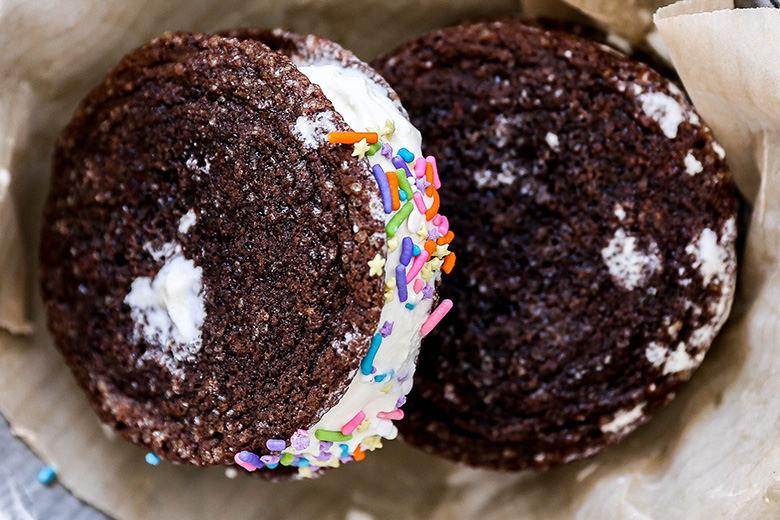 These cookies bake up BIG and soft. They spread out a lot during baking, so don't try and fit more than 6-8 on your baking sheet at one time. The recipe also makes close to 3 dozen cookies, so if you want to freeze part of the cookie batter for a later date (after step 2), that is an option.
I use approximately 1/2 cup of ice cream for each sandwich. I like vanilla with these cookies, but whatever flavor is your favorite will surely be delicious. So feel free to change it up as you wish! And you can also roll the assembled sandwiches in sprinkles, nuts, chocolate chips, etc. to create even more variety!
Cheers,
Liz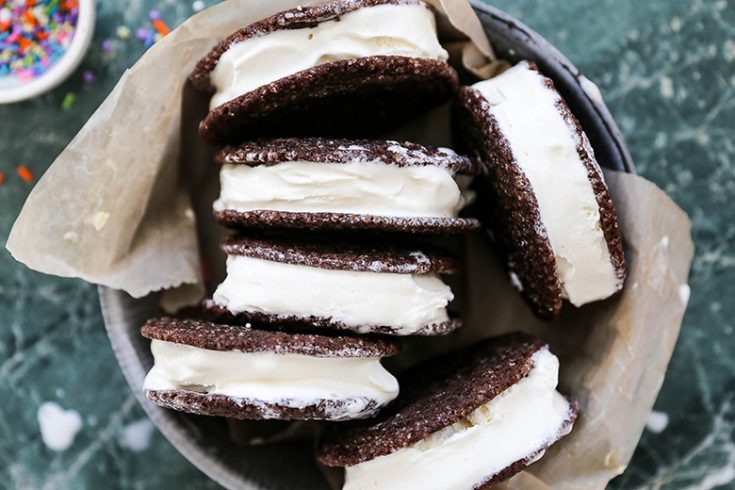 Soft Chocolate Sugar Cookie Ice Cream Sandwiches with Cardamom and Orange
Yield: Makes 16-18 ice cream sandwiches
Prep Time: 1 hour
Cook Time: 10 minutes
Additional Time: 3 hours
Total Time: 4 hours 10 minutes
Ingredients
1 1/4 cups (20 tablespoons) unsalted butter, softened at room temperature
2 cups granulated sugar
2 eggs
2 tsp. vanilla extract
Zest from 1 orange
2 cups plus 2 tablespoons all-purpose flour
3/4 cups unsweetened cocoa powder
1 tsp. baking soda
1 tsp. ground cardamom
1/2 tsp. salt
1/2 cup large-grain or decorating sugar (I used turbinado)
1/2 gallon vanilla ice cream
Instructions
In your stand mixer fitted with the paddle attachment, beat the butter and granulated sugar on medium-high speed until light and fluffy, about 3-4 minutes. Stop to scrape down the sides of the bowl as necessary. Add the eggs, vanilla extract and orange zest and beat to combine.
In a medium bowl, whisk together the flour, cocoa powder, baking soda, cardamom and salt. Gradually add the dry ingredients to your mixer, beating on low speed until everything is well incorporated. Cover and refrigerate the cookie dough for at least two hours or up to overnight.
Pre-heat your oven to 350 degrees. Line your baking sheets with parchment paper. Place the large-grain/decorating sugar in a shallow bowl.
Roll the dough into balls, using about 1 1/2 tablespoon of cookie dough per ball. Then roll each ball in the large-grain/decorating sugar, coating all sides. Place the dough balls about 2-inches apart on your parchment paper-lined baking sheets.
Transfer the baking sheets to your pre-heated oven and bake the cookies for 6 minutes. Then rotate the sheets and bake for an additional 5-6 minutes. The cookies should look set around the edges but still slightly underdone in the centers. Remove the baking sheets from your oven and allow the cookies to cool completely on their baking sheets. Then transfer them to a wire rack.
Once all the cookies are baked, take your ice cream out of the freezer and let it soften slightly so that it's easier to scoop.
Flip half the cookies over and spread them out onto a baking sheet. Place about 1/2 cup of ice cream in the center of each cookie. Then top with a second cookie, pressing down slightly. Immediately transfer the ice cream sandwiches to your freezer to firm up. Once they are firm, you can wrap them individually in aluminum foil for storage.