This post was originally published here December 17, 2015. I've since adjusted the recipe instructions slightly. And I've updated the text and photographs to reflect those changes. This festive kale salad with add a touch of color to your Holiday table!
I'm taking a little cookie break to bring you this super festive Christmas Kale Salad with Fennel, Pomegranate, Oranges and Spiced Pecans. It's all dressed up in red and green for the Holidays. And it's ready to bring some color and cheer to your next gathering!
I love a big kale salad this time of year. There is just something that feels right about the deeply green, slightly bitter taste of kale leaves during the Wintertime. I'll save the sweet, tender lettuces for Summer. Because right now, I'm craving the satisfying chew that comes with kale!
Kale salads can also withstand a bit of advance preparation or travel, because their sturdy leaves are not as prone to wilting. Which makes them a nice option for the Holidays, when you might be bringing a dish to a family or friends house. Or you might not have perfectly nailed the timing on your Christmas dinner and the salad gets left hanging out for a bit. I've been there.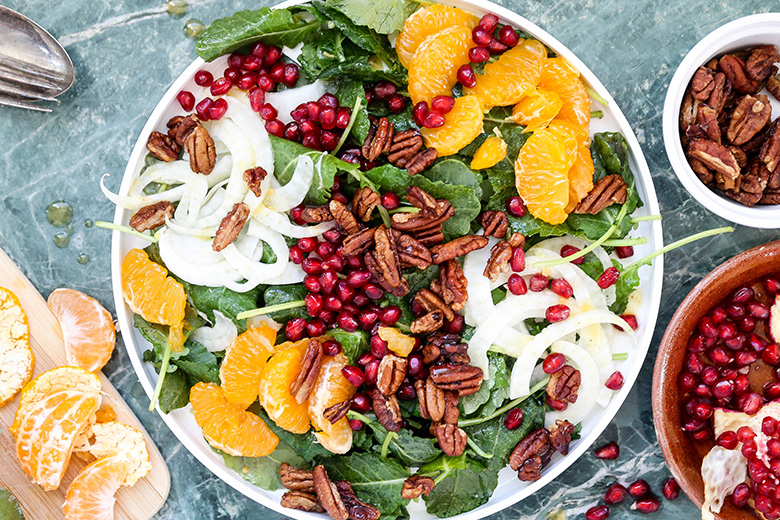 This Christmas Kale Salad with Fennel, Pomegranate, Oranges and Spiced Pecans is a breeze to make. Start by making the spiced pecans, which are just pecans roasted with a combination of maple syrup, brown sugar, cinnamon, salt and a pinch of cayenne pepper. The pecans really make the salad feel extra special. And your house will smell great as they roast! You can prepare the pecans up to a week in advance. But be warned that if you do that, you might just end up eating them all on their own. They are very good for snacking!
For the base of this salad, I like to use baby kale leaves. I prefer their texture and appearance to "grown up" kale. And they make preparing this salad even easier (no greens to chop!). But if you can't find them, you can certainly just chop up some larger kale leaves into bite-sized pieces. Or in a pinch, try baby spinach.
This vegan, gluten-free salad is finished with a combination of thinly sliced fennel (as thin as you can manage!), mandarin orange segments and pomegranate arils. These are some of my favorite Wintertime salad additions. Because they add a lot of color, flavor and texture to my salads. And they're all in season right now and readily available at most grocery stores.
Cheers,
Liz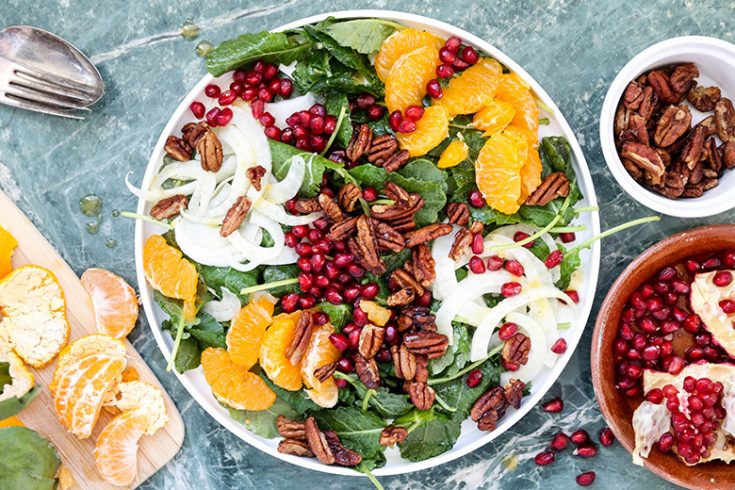 Christmas Kale Salad with Fennel, Pomegranate, Oranges and Spiced Pecans
Yield: Serves about 6
Prep Time: 20 minutes
Cook Time: 10 minutes
Total Time: 30 minutes
Ingredients
For the Spiced Pecans:
1 cup pecans (I used a mix of halves and pieces)
1 1/2 tablespoons maple syrup
1 tablespoon melted coconut oil
1 tsp. brown sugar
1/4 tsp. salt
1/4 tsp. ground cinnamon
1/8 tsp. cayenne pepper
For the Dressing:
3 tablespoons extra-virgin olive oil
3 tablespoons maple syrup
2 tablespoons Dijon mustard
1 tablespoon apple cider vinegar
1/2 tsp. salt
1/2 tsp. black pepper
For the Salad:
8 cups baby kale leaves
1 large fennel bulb, trimmed and thinly sliced
3 mandarin oranges, peeled and segmented
1 cup pomegranate arils
Instructions
Pre-heat your oven to 375 degrees. In a small bowl, combine all the ingredients for the spiced pecans, tossing until the pecans are well coated. Spread the pecans out onto a rimmed baking sheet and bake in your pre-heated oven for 10-12 minutes, stirring once halfway through the cooking time. Remove from the oven and immediately spread the pecans out onto a piece of parchment paper to cool. Once cooled, the pecans can be used immediately or stored in an airtight container at room temperature for 5-7 days.
In a small bowl, whisk together all the ingredients for the dressing until well combined. Set aside.
Add the kale to a large bowl. Drizzle about half the dressing over the kale, tossing to coat. Let sit at room temperature for about 10 minutes. Then add the sliced fennel, orange segments, pomegranate arils and spiced pecans. Toss again, drizzling in more dressing, if desired. Enjoy immediately.