This post was originally published here February 27, 2017. I've since updated the photographs and text. These vegan, gluten-free salad bowls are one of my go-to meals. I hope you try them!
This space has been rather devoid of salads lately. Which is weird. Because thanks to a steady groove of preparing big batches of vegetables, grains and salad dressings at the start of each week, I'm having more salads right now than ever before. Even more than I typically eat in the Summer (I know!).
These Roasted Vegetable and Quinoa Salad Bowls have been a staple of mine this past Winter. I've probably eaten one of these bowls (or a similar version of one) 5 out of 7 days of the week, every week since January. That sounds like a lot as I type out the words and do the math in my head. But I guess it's proof that they're good. And I hope you're convinced to try them.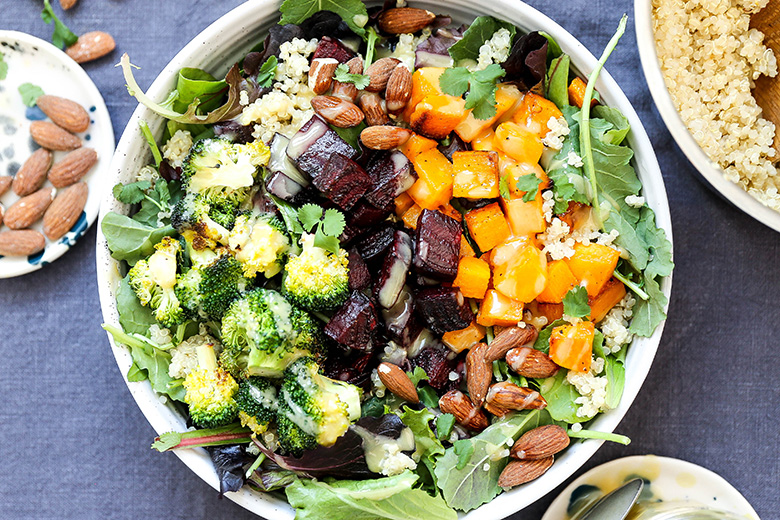 There are a couple different steps to making these bowls, but as always, I've tried to streamline the process wherever I can. For example, the vegetables can all be roasted on the same baking sheet (hooray for fewer dishes!). But just make sure you give the sweet potatoes and beets a bit of a head start, then add the broccoli as your nearing the end of the cooking time. This ensures the broccoli doesn't get overcooked. Or worse yet, that the sweet potatoes and beets end up undercooked. I like to keep the three vegetables mostly separate from each other on the baking sheet so that the juices from the beets don't stain the sweet potatoes or broccoli. I guess this could be considered overly fussy. But it does make for a prettier presentation in the end. And I'd be lying if I said I didn't like pretty foods.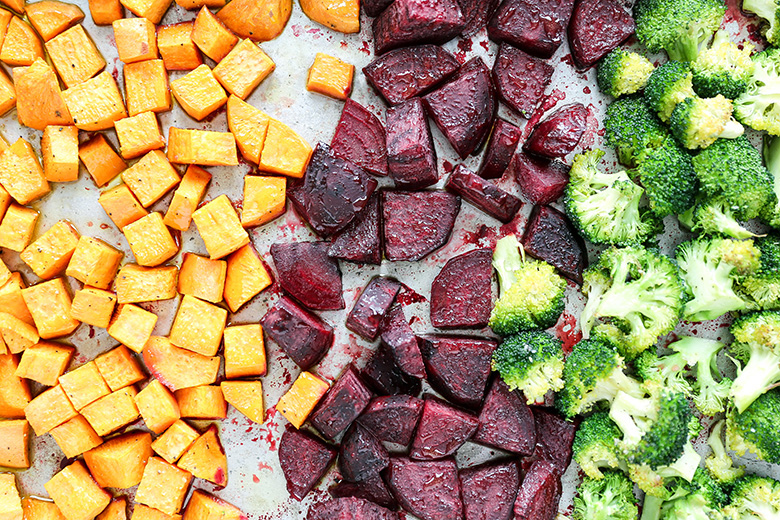 While the vegetables are roasting you can get all the other steps done, like making the tahini-based dressing and cooking the quinoa, if you haven't done so already. And from that point on, it's just assemble and eat!
One reason I continue to reach for salad bowls like these is because of how easy they are to customize to your liking or to what you currently have in your refrigerator. Other vegetables that I like to use include butternut squash, cauliflower or brussels sprouts. And grains like rice (gluten-free) or farro (not gluten-free) often make an appearance as well.
Cheers,
Liz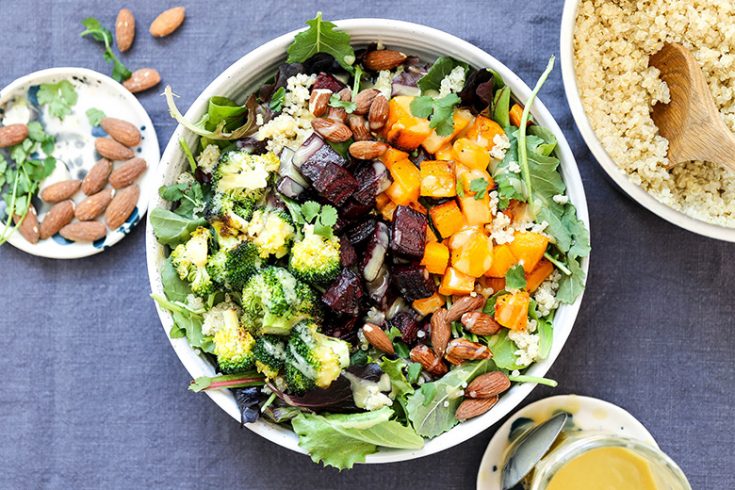 Roasted Vegetable and Quinoa Salad Bowls
Yield: Serves 2
Prep Time: 5 minutes
Cook Time: 25 minutes
Total Time: 30 minutes
Ingredients
For the Salad:
1 medium sweet potato, peeled and cut into 1-inch cubes
1 medium beet, trimmed, peeled and cut into 1-inch cubes
2 cups broccoli florets
Extra-virgin olive oil
Salt
Black pepper
4 cups mixed greens
1 cup cooked quinoa
1/4 cup almonds
1 tablespoon fresh cilantro
For the Dressing:
1/4 cup extra-virgin olive oil
2 tablespoons tahini paste
2 tablespoons fresh squeezed lemon juice
1 tablespoon maple syrup
1/4 tsp. salt
Instructions
Pre-heat your oven to 400 degrees.
In a medium bowl, toss the cubed sweet potatoes with about 2 tsp. of olive oil and a pinch of salt and pepper. Add them to one side of a large rimmed baking sheet. Repeat this process with the cubed beets, adding them to the same rimmed baking sheet next to the sweet potatoes, but keeping them somewhat separated so the color of the beets doesn't bleed into the sweet potatoes. Transfer the baking sheet to your pre-heated oven and roast for 10-12 minutes.
Add the broccoli florets to the same bowl and toss them with about 2 tsp. of olive oil and a pinch of salt and pepper. Remove the baking sheet from your oven and add the broccoli florets next to the beets. Then return the baking sheet to your oven and roast everything for an additional 10-12 minutes. Remove and set aside to cool to room temperature.
Meanwhile, in a small bowl stir together all the ingredients for the dressing until smooth. If the dressing is too thick (this can depend on your brand of tahini paste), you can add a tablespoon of water to thin it.
To assemble the bowls, divide the greens and cooked quinoa evenly between two bowls. Top with the roasted vegetables, almonds and cilantro. Drizzle with the dressing. Serve immediately.