And I'm back! Did you miss me?
I'm going pretend you're all collectively nodding your heads in affirmation.
My trip was totally awesome. And as badly as I want to formulate a better opinion than that, my brain just isn't allowing for me to do so at this very moment. As I sit down to write this post, I've only been home for a single full day. So naturally, I need a little more time to decompress and organize my thoughts (and I'm going to need a lot more time to finish doing my laundry!). But hopefully, I'll be able to share some recommendations and photographs here relatively soon-ish. In the meantime, you can check out the pictures I posted on Instagram. Portugal is a wonderfully beautiful place, with vibrant cities and breathtaking beaches, and I highly recommend adding it to your travel bucket list!
Summer was still very much alive in Portugal. But here in the states, I'm already catching whiffs of back-to-school and pumpkin mania. Ummm…nope! It's still hot as Hades outside. And late Summer produce is at it's peak. So I'm in no rush what-so-ever to start Fall. Which is why I'll be face-planting into this Easy Skillet Peach-Basil Cobbler for the foreseeable future.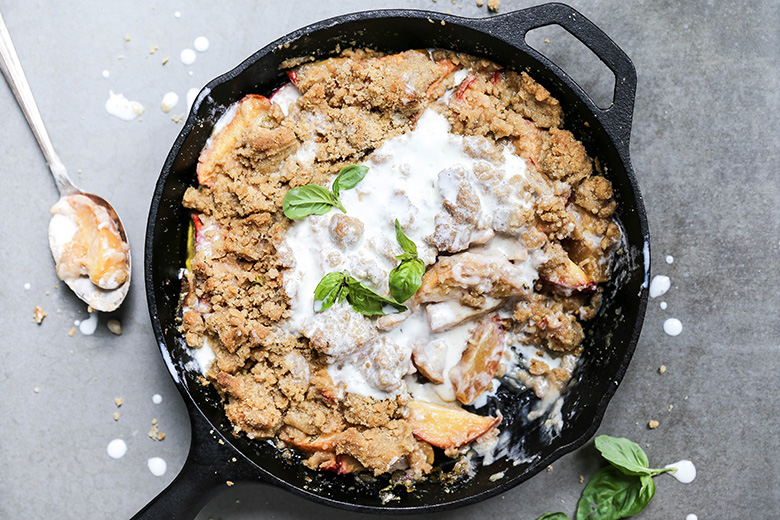 I tested out a couple versions of this cobbler before I left for my vacation, and they were all a big hit. Honestly, I don't think you can go wrong with peach cobbler during peach season. It's an easy target to hit, even if you don't consider yourself to be a "baker", per se.
The basil adds a subtle herby undertone and makes this recipe feel kind of sophisticated and fancy. Even though it's totally not either of those things. This cobbler is 100% rustic. And if you wanted to just dig straight into the skillet (after letting a big scoop of vanilla ice cream get all melty in the middle) and forgo bowls all together, I think no one would fault you for that. That's totally what I did.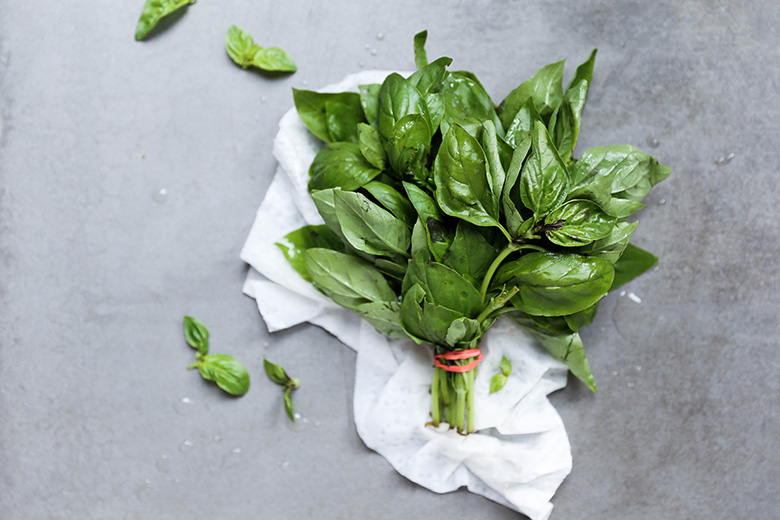 I streamlined the recipe as much as possible to cut down on the number of dishes (only 2 bowls and one skillet!) and ingredients (only 8!) required. Because I wanted as few obstacles as possible standing between us and this Summer dessert. In short: there are no excuses not to make this easy recipe before Summer is over. Go do it!
Cheers,
Liz
Recipe adapted from Bon Appétit
Ingredients
For the Crust
1 cup all-purpose flour
2/3 cups packed brown sugar
1/2 tsp. ground cinnamon
1/2 tsp. salt
1/2 cup (8 tablespoons) unsalted butter, cubed and chilled

For the Filling
2 tablespoons unsalted butter
2 1/2 lbs peaches (about 6-7 large peaches), ripe but firm
1/2 cup packed brown sugar
1/3 cup fresh basil leaves, thinly sliced
2 tablespoons all-purpose flour
2 tablespoons fresh squeezed lemon juice
1/2 tsp. salt
Instructions
Pre-heat your oven to 350 degrees.
To make the crust, whisk together the flour, brown sugar, cinnamon and salt in a large bowl. Add the cubed butter and use your fingers to squeeze/rub the butter into the dry ingredients until clumps form. Place the bowl in your refrigerator while you prepare the remaining ingredients.
Add the remaining 2 tablespoons of butter to a 10-inch cast iron skillet and place it in your oven to melt.
Meanwhile, slice the peaches into wedges, discarding the pits. Add the peach wedges to a large bowl along with the remaining filling ingredients, tossing to coat.
Carefully remove the cast iron skillet from your oven and swirl it gently to coat the sides in the melted butter. Add the peaches, spreading them out evenly (your skillet will be full). Top with the crust mixture.
Bake the cobbler in your pre-heated oven for 25-30 minutes, or until the crust is browned and the filling is bubbling. Remove and set aside to cool.
You can serve the cobbler warm or at room temperature. Serve with vanilla ice cream, whipped cream or Greek yogurt, if desired.
https://www.floatingkitchen.net/easy-skillet-peach-basil-cobbler/
I hope you're currently experiencing a heat wave, there is ample space in your freezer and you've got your favorite popsicle molds at the ready (since everyone always asks me, this is mine). Because it's officially Popsicle Week! The (unofficial) best week of the Summer!
This is the fifth installment of Popsicle Week, an event organized by Billy from Wit & Vinegar. Last year, bloggers contributed over 100 creative and unique popsicle recipes. And from the sound of things, this year is shaping up to be just as big and delicious as years past.
You can find links to ALL the popsicles from this year and the previous four years HERE!
Seriously. I wasn't kidding when I said you need to make space in your freezer.
Two years ago, I made these Spicy Tequila Sunrise Popsicles and these Green Smoothie Breakfast Popsicles. And last year, I made these Prosecco Raspberry Popsicles. I figured for this year, it was time to go a little more indulgent.
Please silence your phones and take notice of the emergency exits. Because today's screening of Movie Theater Candy Cheesecake Popsicles is about to start.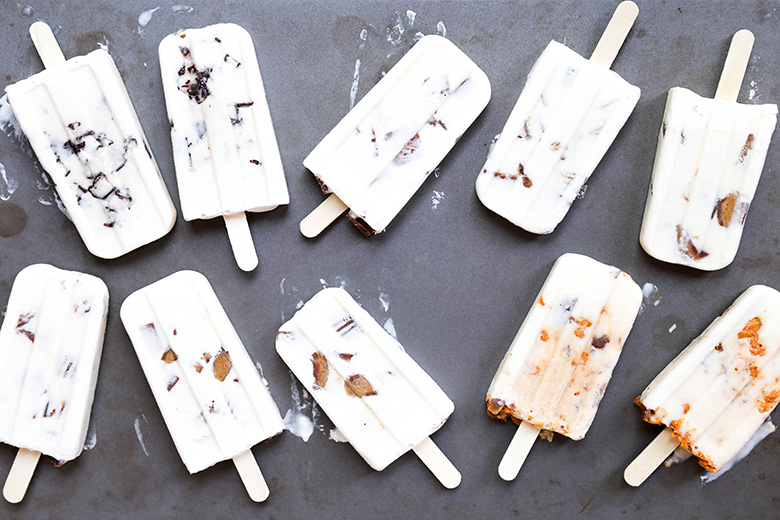 At my core, I'm a huge candy lover. But I don't allow myself to buy it at the grocery store. Because if it's in my house, I'll devour the entire bag/box/bar/whatever at an alarming rate. Instead, I treat myself to all the classic candies that I love when I go out to the movies. It's my time to indulge.
I decided to gather up a few of my favorite movie theater candies and freeze them into smooth, creamy cheesecake popsicles for the ultimate Summer treat. I choose Kit Kats, Reese's Peanut Butter Cups, Butterfingers and York Peppermint Patties, but you could use whatever candy is your favorite (although, I might stay away from candies with a hard outer shell, for fear of cracking a tooth). Just chop them up small and drop them into the cheesecake popsicle base. Easy peasy.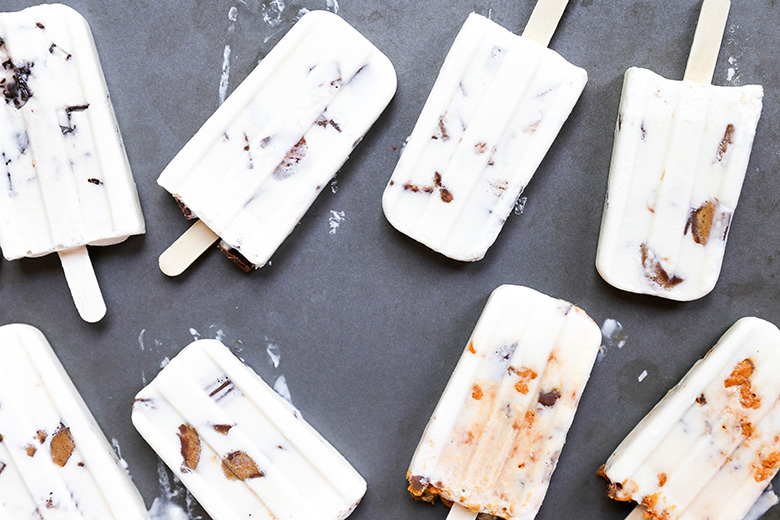 I also used only one type of candy per popsicles, but you could definitely mix and match your candies to take these popsicles even more over the top. Why not, right?
Remember to keep tabs on Billy's Popsicle Week webpage for all the popsicle recipes. You can also follow along on social media with the hashtag #popsicleweek. And most importantly, stay cool!
Cheers,
Liz
Ingredients
8 ounces cream cheese, softened at room temperature
1/4 cup powdered sugar
1 tsp. vanilla extract
1 cup whole milk
Your favorite movie theater candy
Instructions
Beat the cream cheese in a large bowl with your hand mixer until smooth. Add the powdered sugar and vanilla extract and beat until well combined. Then beat in the milk, adding in about one-third at a time, until the mixture is completely smooth. Pour the cheesecake mixture into your popsicle molds, filling them about two-thirds full. Transfer the popsicle molds to your freezer to chill for about 30 minutes. You want the cheesecake base to firm up slightly, so the candy doesn't immediately all sink to the bottom of the molds when you add it.
Chop the candy into pieces. You'll need about 2 tablespoons per popsicle.
Remove the popsicle molds from your freezer. Spoon some of the candy into the tops of each mold, then use a wooden popsicle stick to push the candy down into the molds. Insert one wooden popsicle stick into each mold, then return the molds to your freezer to freeze until completely solid, about 6-8 hours.
Once the popsicles are completely frozen, run a little warm water over the molds to help loosen them from their molds. Remove and enjoy immediately.
https://www.floatingkitchen.net/movie-theater-candy-cheesecake-popsicles/