I'm currently experiencing some post-Labor Day Weekend blues. It's really starting to sink into my brain that Summer is wrapping up. And frankly, I'm not ready for that to happen.
I still have so much ice cream to eat!!!
Luckily, there is still an abundance of late Summer produce to be enjoyed. And that's helping to elevate my mood. I know people are going crazy for pumpkin-everything right now. But here in New England, early September is one of the best times for local produce like tomatoes, eggplant, zucchini, cucumbers, corn and more! So I'm diving headfirst into all of these things.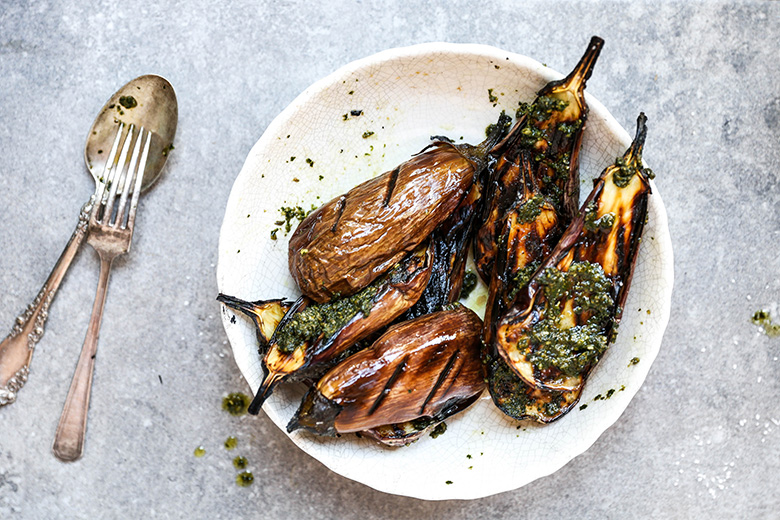 Last week, I found the most precious baby eggplants at the farmer's market and I knew instantly that I wanted them to become the focus of my September Eat Seasonal recipe post. So I grilled them up and served them on top of a creamy bed of goat cheese polenta. And then I finished off the dish with some homemade basil pesto and a handful of sliced plum tomatoes. It's a recipe that totally celebrates Summer. But also has a bit of a "cozy" feel, too. In the past, I've treated polenta as one of those food items that I only make and eat during the cooler months. But now, I'm really digging this version with its Summery spin! And I can see myself using it more frequently in my kitchen throughout the entire year.
The other great thing about this recipe for Grilled Eggplant with Goat Cheese Polenta and Basil Pesto is that – for such a hearty dish – it's relatively fast to prepare. You can have everything done in just about 30 minutes. Which is always a win in my book!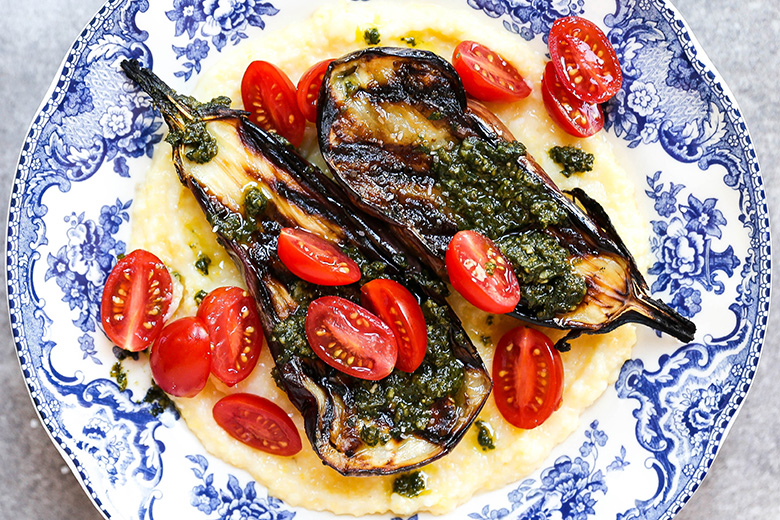 For more September cooking inspiration, check out my friend Becky's monthly produce guide, which is filled with tons of great recipe suggestions and tips. I hope it will help make your transition into Fall a little bit easier. And if you make any of our #eatseasonal recipes, give us a shout out on social media. We would love to hear about it!
Cheers,
Liz
Ingredients
For the Pesto
1 cup firmly packed basil leaves
2 garlic cloves, peeled
2 tablespoons pine nuts, toasted
1/2 tsp. salt
About 1/4 cup extra-virgin olive oil

For the Polenta
4 cups water
1 cup polenta
2 ounces goat cheese
1 tsp. salt
About 1/2 cup milk

For the Eggplant
4 baby eggplant (about 3-5 inches in length)
1 tsp. salt
About 2 tablespoons extra-virgin olive oil

For Serving
Plum or cherry tomatoes, halved
Instructions
To make the pesto, add the basil leaves, garlic, pine nuts and salt to the bowl of your food processor fitted with the blade attachment. Pulse until coarsely chopped. Then with your food processor running, slowly drizzle in the olive oil and process until well combined. Transfer the pesto to a clean container. Cover and refrigerate it until you're ready to use it.
To make the polenta, bring the water to a boil in a heavy bottom saucepan. Slowly whisk in the polenta and turn down the heat to maintain a simmer. Cook the polenta for 15-17 minutes, whisking frequently so it doesn't burn. You may have to reduce the heat further as it cooks to prevent the polenta from splattering and bubbling. Once the polenta has thickened and the water is absorbed, whisk in the goat cheese and the salt. Remove the saucepan from the heat. Then whisk in enough milk to thin it to your desired consistency. Cover to keep warm.
Meanwhile, pre-heat your grill to medium-high.
Slice the baby eggplants in half lengthwise and sprinkle the cut-sides with the salt. Let sit 10-15 minutes at room temperature. Then pat the surfaces dry with a paper towel. Drizzle the eggplant halves with the olive oil, turning to coat them on all sides. Then add them to your pre-heated grill. Cook for about 5-7 minutes per side, until softened and well darkened in places. Remove the eggplant halves from your grill and place them in a large bowl or baking dish. Drizzle with some of the pesto while they are still warm.
To serve, divide the polenta between bowls. Top with the grilled eggplant halves, tomatoes and additional pesto, if desired. Serve immediately.
https://www.floatingkitchen.net/grilled-eggplant-with-goat-cheese-polenta-and-basil-pesto/
September Eat Seasonal Recipes
Small Batch Cherry Tomato Jam by Flavor the Moments
Hazelnut Zucchini Bread by Vintage Mixer
Balsamic Sausage Tortellini Bake by JoyFoodSunshine
Baked Enchilada Style Veggie Burritos by She Likes Food
Peach and Tomato Salsa with Pan Seared Tofu by Letty's Kitchen
SaveSave
SaveSave
SaveSave
SaveSave
SaveSave
SaveSave
I can't believe Labor Day Weekend is THIS weekend. GAH!
Per usual, I'm unprepared. These three-day weekends are always sneaking up on me. I guess when you work from home (and work 7 days a week most weeks), the days all kind of just blur together.
But have no fear! Because I have an easy and delicious recipe to help you celebrate the weekend. And hello, it has BEER in it, so that's totally awesome in and of itself.
At any gathering, I can typically be found hovering over the appetizers, side dishes and desserts (oh and the cocktails, too). I can easily skip all the main dishes and be completely satisfied just grazing over the rest of the food items. If you're a grazer too, then you're definitely going to want to give my Beer-Marinated Cherry Tomatoes a try.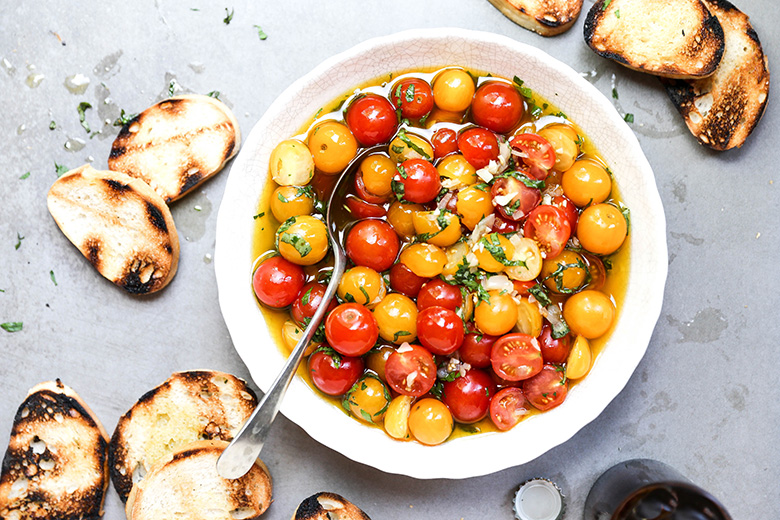 This recipe is a total breeze. Just quickly sautée some shallots and garlic in olive oil. Then stir in a couple pints of cherry tomatoes (I like to leave some whole and halve the rest), beer, vinegar and fresh herbs. And DONE! After letting the all the ingredients marinate together for an hour, you're left with a batch of rich, flavorful tomatoes that you can use to top crunchy grilled bread, toss into green salads or pasta, serve alongside cheese and hummus, etc. The possibilities are endless! Anywhere you might use fresh tomatoes, you can use these Beer-Marinated Cherry Tomatoes!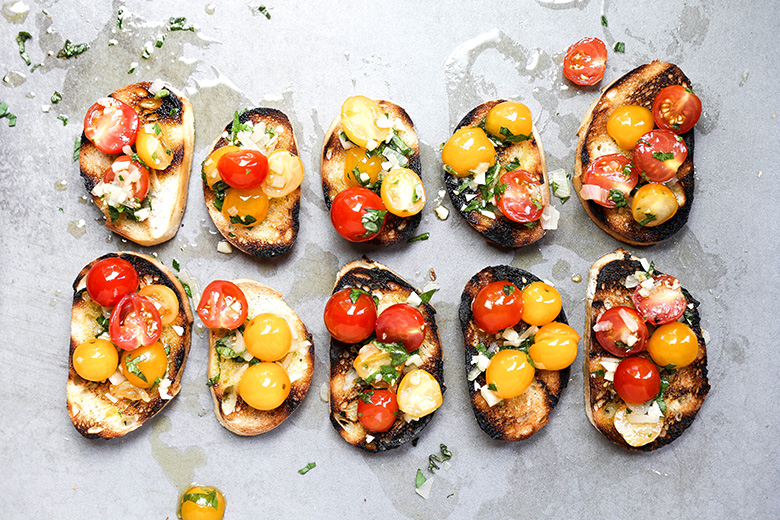 Whenever I incorporate beer or wine into a recipe, I always tell people the best practice is to use something that you ACTUALLY like to drink. It will make your eating experience so much better. I chose Allagash Saison for this recipe. It's relatively light, with both citrus and pepper undertones that I think pair really well with tomatoes. And, honestly, it just kind of reminds me of Summer (which is still is, by the way!). Try it if you can find it. Or use your favorite Summer-style beer. It's all good!
I hope you all have a wonderful and safe Labor Day Weekend. And If you try out this recipe, give me a shout out and let me know. I'd love to hear about it!
Cheers,
Liz
Ingredients
1/2 cup extra-virgin olive oil
1/4 cup minced shallot
2 garlic cloves, peeled and minced
2 pints cherry tomatoes (some halved, some whole)
1/4 cup beer
2 tablespoons red wine vinegar
1/2 tsp. salt
1/4 cup fresh basil, minced
1/4 cup fresh parsley, minced
Instructions
In a medium saucepan, warm the olive oil, shallot and garlic until fragrant, about 3-5 minutes. Remove from the heat.
Carefully add the cherry tomatoes, beer, red wine vinegar and salt to the warm olive oil mixture. Stir to coat the tomatoes in the liquid. Then add the basil and parsley, stirring gently to combine. Cover and let sit at room temperature for about 1 hour. Stir gently before using.
The marinated tomatoes are best when enjoyed the same they are prepared. But they can be covered and stored in your refrigerator for 1-2 days, if necessary.
https://www.floatingkitchen.net/beer-marinated-cherry-tomatoes/
SaveSave
SaveSave
SaveSaveSaveSave
SaveSave
SaveSave