Question: why is Taco Tuesday such a widespread event, but Taco Thursday isn't?
Seriously. Why is this? As far as I can tell, both days should be equally acceptable days to consume tacos. They both start with the letter "T", thus satisfying the important requirement that the food we're eating must start with the same first letter of that of the day it's being consumed. And HELLO, the more days that we get to enjoy tacos, the better. Right?!?!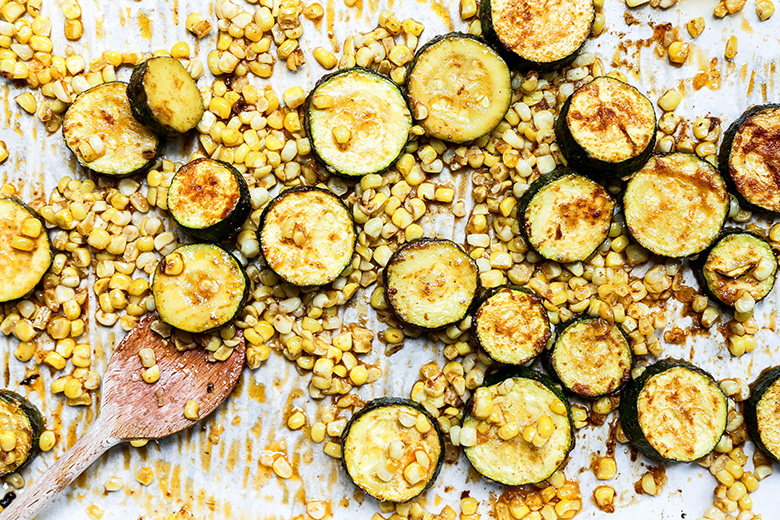 This all seems fairly straightforward to me. So as far as I'm concerned, today is Taco Thursday. And to celebrate, I'm sharing the recipe for these crazy easy Chipotle Zucchini and Corn Tacos.
It's also 30 Minute Thursday, meaning that these babies can be made in just about 30 minutes. Which makes them ideal for a low stress weeknight dinner, even on the busiest of work/school nights.
Oh and did I mention that you only need one baking sheet and one bowl for this recipe? Yeah. That's a pretty sweet bonus, if you ask me.
For more quick and easy recipes, check out the links below!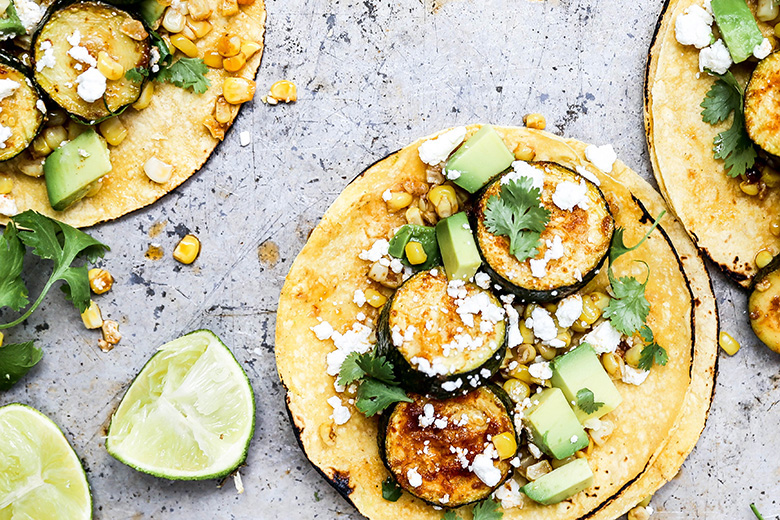 The filling for these tacos is pretty simple (but definitely not short on flavor!). And I narrowed down the toppings to just a few of my favorite things, like avocado, crumbled goat cheese and cilantro. But feel free to get crazier with the toppings if you want. Or maybe add some black beans if you want a more "stick to your ribs" version of this recipe. Whatever you do, just make sure you get out there and celebrate Taco Thursday!
Cheers,
Liz
Ingredients
For the Filling
2 medium zucchini, sliced into rounds
2 1/2 tablespoons extra-virgin olive oil, divided
2 tablespoons adobo sauce (from a can of chipotle peppers in adobo sauce)
1 tsp. salt, divided
1/4 tsp. ground cumin
2 ears fresh corn, husks and silks removed

For Serving
Corn tortillas, warmed or grilled
Diced avocado
Crumbled feta or goat cheese
Fresh cilantro
Lime wedges
Instructions
Pre-heat your oven to 400 degrees. Line a rimmed baking sheet with parchment paper and set it aside.
In a medium bowl, toss together the zucchini slices, 2 tablespoons of the olive oil, the adobo sauce, 1/2 tsp. of the salt and the cumin until the zucchini is well coated. Spread the zucchini slices out into a single layer on the parchment paper-lined baking sheet. Then transfer them to your pre-heated oven to roast for 15 minutes.
Meanwhile, slice the kernels off the corn cobs and add them to the same bowl you used to toss the zucchini. Add the remaining 1/2 tablespoon of olive oil and 1/2 tsp. salt, tossing to combine. After the zucchini has roasted for 15 minutes, carefully remove the baking sheet from the oven and add the corn kernels, tossing to combine and flipping the zucchini over to the second side. Place the baking sheet back in your oven to roast for an additional 10 minutes. Then remove and cover to keep warm.
To assemble the tacos, fill each tortilla with a spoonful of the roasted zucchini and corn. Then top with diced avocado, cheese, cilantro and a squeeze of fresh lime juice. Enjoy immediately.
https://www.floatingkitchen.net/chipotle-zucchini-and-corn-tacos/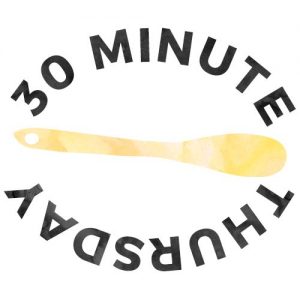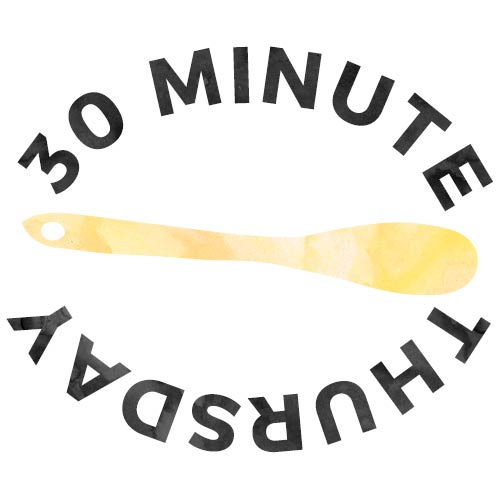 Chicken and Spinach Pesto Quesadillas from Pumpkin 'N Spice
One Pot Baked Ziti from The Recipe Rebel
One Pot Chicken, Broccoli and Rice Casserole from Kristine's Kitchen
One Pot Italian Sausage Pasta from Savory Nothings
Peanut Chicken Stir Fry from Bake.Eat.Repeat.
SaveSave
SaveSave
SaveSave
SaveSave
SaveSaveSaveSave
You guys! I've been eating so much squash lately, that I'm kind of afraid I might start to turn some bizarre shade of orange.
But as my friend Sherrie said to me earlier in the week "some people pay good money to be that color". So I guess that is the upside to my dilemma.
I blame my obscene levels of squash consumption on my Mother. Because I asked her to bring me a couple delicata squash from the farm the other day, and she brought me twelve. So I've been on a steady diet of squash ever since.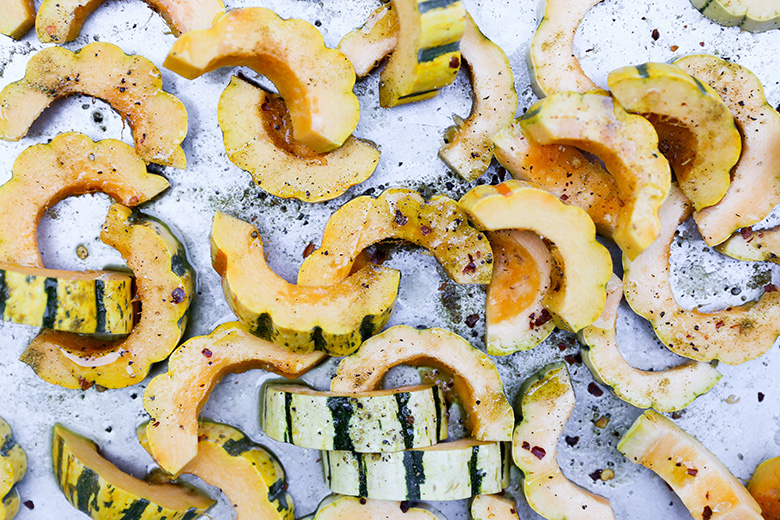 Delicata squash has been a favorite of mine for a while now. It has a mild nutty, sweet flavor. It cooks up relatively quickly (at least compared to some other squashes). And you can eat the skin once it's been cooked. Which is awesome because I'm lazy and I don't like to peel things. So there you go.
I've used roasted delicata squash "half-moons" as a sandwich topping before, and I wanted to re-visit that idea here. But this time, focusing on a purely vegetarian option. So I slathered warmed sandwich-sized pita breads with fresh guacamole. Then topped them with black beans, pumpkin seeds, roasted squash and a few sprigs of fresh cilantro. Then I proceeded to shove three in my face. They were that good.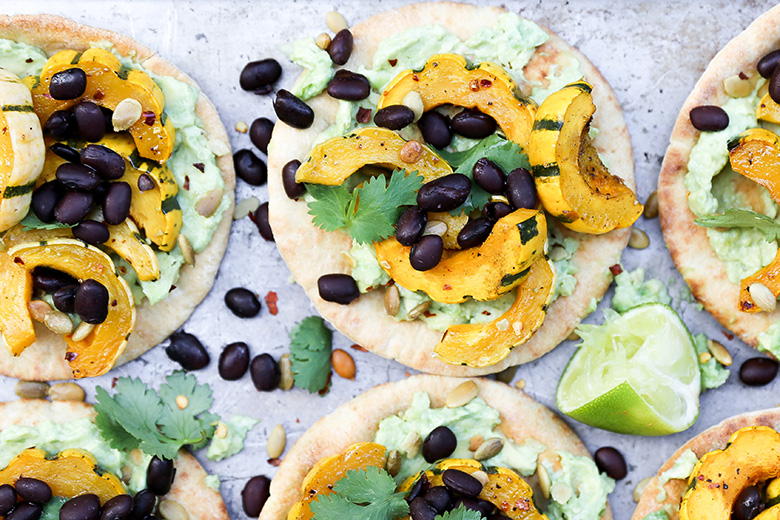 These Roasted Delicata Squash Pita Tostadas with Black Beans and Guacamole come together very quickly, which makes them a great choice for lunch or an easy weeknight dinner. Try them out and then come back here and tell me about how much you loved them!
Oh and do you want to know what my secret ingredient is for making the guacamole so incredibly yummy? It's goat cheese. I simply mix a couple tablespoons of softened goat cheese in with the avocado to give my guacamole a wonderful creamy texture. Here I used a honey-flavored goat cheese from Laura Chenel's that I'm currently obsessed with. But you could certainly used any plain or herbed goat cheese that you love.
If you wanted to make this recipe gluten free, swap out the pita bread for corn tortillas and have yourself a little Fall taco situation. Sounds delightful to me.
Cheers,
Liz
Ingredients
For the Delicata Squash
2 delicata squash
1 tablespoon extra-virgin olive oil
1/2 tsp. salt
1/2 tsp. black pepper
1/4 tsp. cumin
1/4 tsp. red pepper flakes

For the Guacamole
1 avocado
2 tablespoons goat cheese, softened at room temperature
Juice from 1/2 lime
1/4 tsp. salt

For the Tostadas
6 sandwich size pita breads (5- to 6-inches in diameter)
About 1/2 cup black beans, rinsed and drained
About 1/4 cup shelled pumpkin seeds
2 tablespoons fresh cilantro, roughly chopped
Instructions
Pre-heat your oven to 400 degrees.
Trim the ends off the delicate squash and then slice them in half lengthwise. Scoop out and discard the seeds. Then slice the squash into 1/2-inch thick "half-moon" slices. Add the squash to a large rimmed baking sheet and drizzle with the olive oil, tossing gently to coat. Then sprinkle with the salt, black pepper, cumin and red pepper flakes. Transfer the baking sheet to your pre-heated oven and roast the squash for 18-20 minutes, gently stirring once halfway through cooking time. Remove from the oven and cover to keep warm.
Meanwhile, place the pita breads on a second rimmed baking sheet and warm them in your oven for about 10 minutes, or until the edges turn slightly crispy.
To make the guacamole, slice the avocado in half and remove and discard the pit. Scoop out the flesh into a clean bowl. Add the goat cheese, lime juice and salt. Then mash everything together with a fork until well combined.
To assemble the tostadas, spread the guacamole in a thin layer over the warmed pita breads. Top with 4-5 slices of the roasted delicata squash, a heaping tablespoon of black beans, a sprinkling of pumpkin seeds and some fresh cilantro. Serve immediately.
https://www.floatingkitchen.net/roasted-delicata-squash-pita-tostadas-with-black-beans-and-guacamole/