Looks like the time has finally come for me to post a pumpkin recipe!
You guys know I don't subscribe to the full throttle pumpkin-mania that takes over the internet every year starting in August (which is my biggest issue with it). But I'm down to enjoy a pumpkin treat or two come October. So here we are.
I'm most comfortable incorporating pumpkin into dessert recipes. And I especially seem to like pumpkin paired with chocolate (no surprise there!). But I decided this time, I needed to expand my savory repertoire. And I think a hit a homerun with this Everything Bagel Pumpkin Hummus!
This Everything Bagel Pumpkin Hummus is my ideal Fall snack situation. It would be perfect for a game day gathering or a Halloween party. Or really any place where you might be drinking a few beers. It delivers big in the flavor department. And it only takes 5 minutes to make.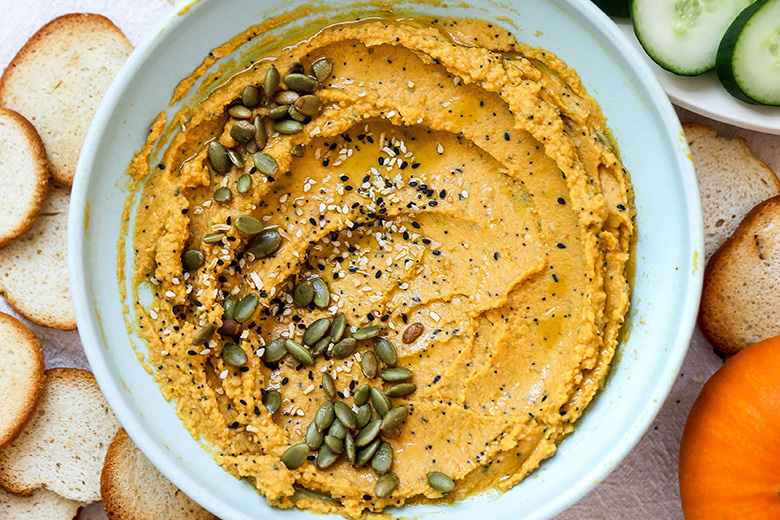 If you've made hummus before, then you know the basic drill. Chickpeas, tahini paste, olive oil, lemon juice and salt goes into your food processor and you whirl it around until smooth. This recipe isn't much of a stretch from that. Except we're adding in some pumpkin purée, toasted sesame oil and everything bagel seasoning blend (which goes in just at the end so it's not completely pulverized). It's all very straightforward. But I do want you to pay extra close attention to the amount of salt. Some everything bagel seasoning blends contain salt and some don't. And some are somewhere in the middle with respect to salt content. So depending on what's in your jar, you might need to adjust the amount of salt you add. Luckily, this is an easy thing to do and simply requires you to give the hummus a quick taste test as you're making it. And if you need to add in more salt at the end, go for it.
My favorite thing to serve alongside this Everything Bagel Pumpkin Hummus is, of course, bagel chips! But any chip, cracker or pretzel is great. And a few fresh vegetables are nice, too. Happy snacking!
Cheers,
Liz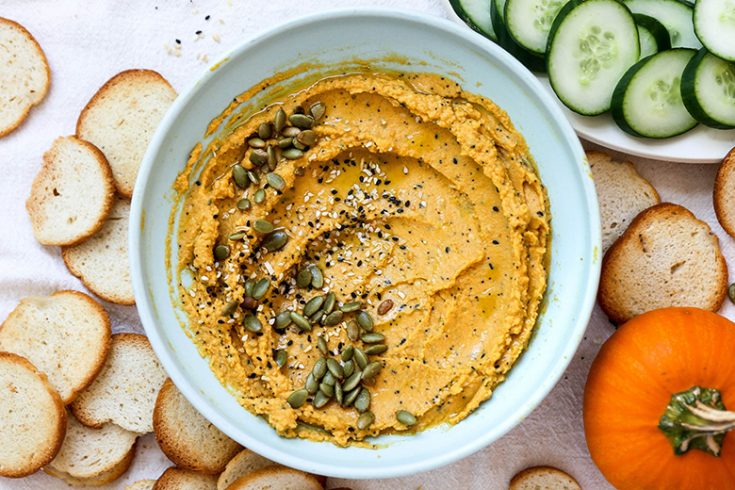 Everything Bagel Pumpkin Hummus
Yield: Makes about 2 cups
Prep Time: 5 minutes
Total Time: 5 minutes
Ingredients
1 (15-ounce) can chickpeas, rinsed and drained
1/2 cup pumpkin purée
2 tablespoons tahini paste
2 tablespoons extra-virgin olive oil, plus more for serving
1 tablespoon fresh squeezed lemon juice
1 tsp. toasted sesame oil
1/4 tsp. salt
2-4 tablespoons water
2 tablespoons everything bagel seasoning blend, plus more for serving
2 tablespoons roasted pepitas
Instructions
In your food processor with the blade attachment, pulse together the chickpeas, pumpkin purée, tahini, olive oil, lemon juice, sesame oil and salt until mostly combined. Stop to scrape down the sides of the bowl. Then with your food processor running, add one tablespoon of the water at a time and process until the hummus is smooth and at your desired consistency. Add the everything bagel seasoning blend and pulse 2-3 more times to combine.
Transfer the hummus to a clean bowl. Drizzle the top with olive oil. Garnish with the pepitas and a few pinches of everything bagel seasoning blend. Serve with your favorite sliced vegetables, bagel chips, etc.
Leftover hummus can be stored in an airtight container in your refrigerator for 3-5 days.