Things have been looking overly orange around here these past couple of weeks. Carrots, squash and deeply hued Fall spices have all taken center stage. Both on the blog and in my real life.
Not that I'm complaining, per se. Because orange is one of my favorite colors. And orange-colored foods are some of my favorite foods. But I think it's about time we had a little break from all the orange. There are so many other colors worth exploring!
In an effort to try and bring a little green back into my life, I've been on a serious leafy green salad kick (look for that recipe coming out next week!). And I'm also attempting to make a dent in an overly ambitious haul of red apples. Which means apple pie, apple crisp and maybe even an apple cocktail or two (or three!) are all going to be on repeat for the foreseeable future.
But for now, we've got apple scones.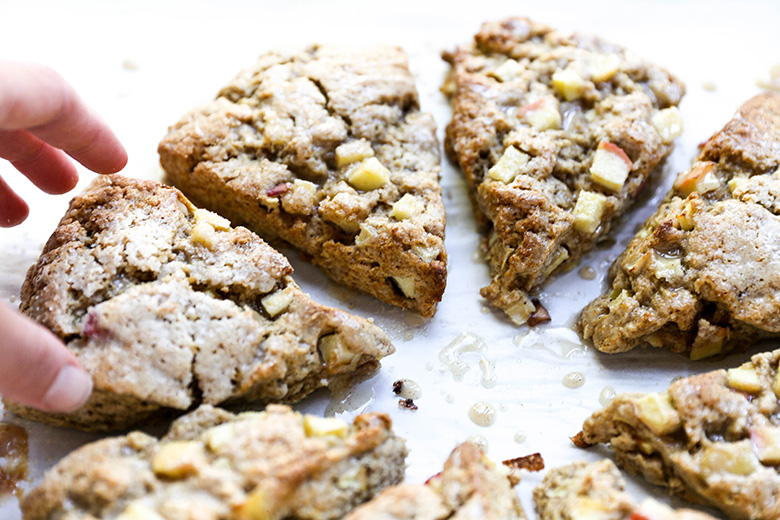 These Chai Spiced Apple Scones with Apple Cider Glaze are my most recent apple creation and they just scream Fall. Loaded with chunks of chopped apples and cozy chai spices (the combination which was inspired by this recipe from Pastry Affair), they are the perfect baked good to enjoy on a cool, crisp Autumn morning. And don't skip the fresh apple cider glaze. Because really, what's a scone without a hefty drizzle of something sticky and sweet on top.
You can use any kind of apple you like. And you don't even need to bother peeling them. Just chop them up relatively small and uniform (around the size of an almond) so they cook up evenly in the scones. Easy peasy. And on the breakfast table in no time!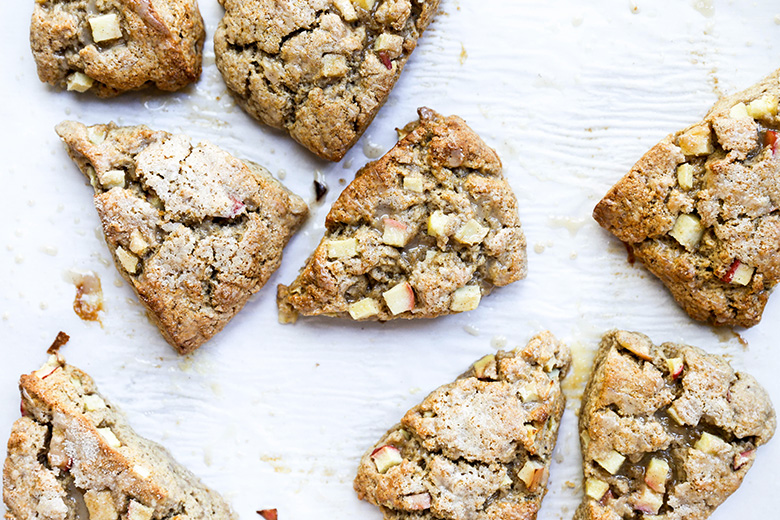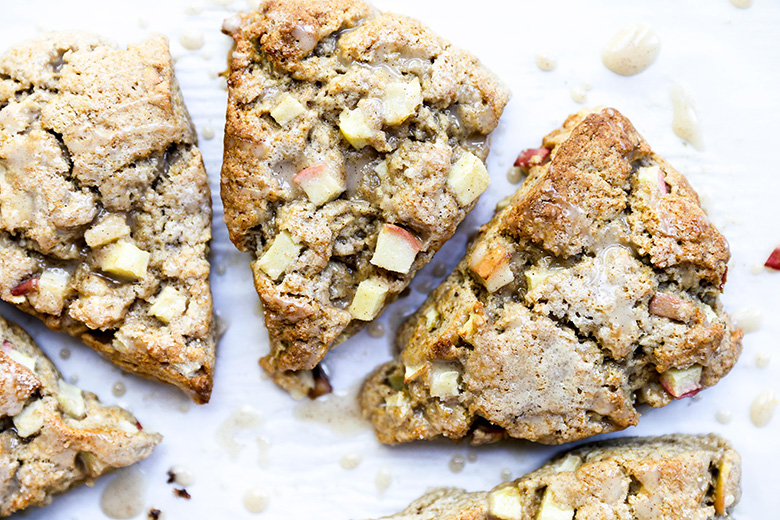 I'm sharing the recipe for these Chai Spiced Apple Scones with Apple Cider Glaze as part of our monthly seasonal eating initiative organized by Becky from Vintage Mixer. Be sure to check out Becky's October Produce Guide for recipe suggestions on everything from pears to pumpkins! And for even more inspiration, click on the links below to see what some of my blogging friends whipped up this month.
Cheers,
Liz
Recipe adapted from my Pear and Ginger Scones with White Chocolate Drizzle
Ingredients
For the Scones
2 cups all-purpose flour
1/2 cup whole wheat flour
1/2 cup plus 1 tablespoon granulated sugar, divided
1 tsp. baking powder
1/2 tsp. baking soda
1/2 tsp. salt
3/4 tsp. ground cinnamon
3/4 tsp. ground ginger
1/4 tsp. ground cloves
1/4 tsp. ground cardamom
1/4 tsp. ground nutmeg
1/8 tsp. ground black pepper
1/2 cup (8 tablespoons) unsalted butter, cubed and chilled
2/3 cups plus 1 tablespoon heavy cream, divided
1 egg
1/4 tsp. vanilla extract
1 1/2 cups chopped apple

For the Apple Cider Glaze
1/2 cup powdered sugar
2 tablespoons apple cider
1/8 tsp. ground cinnamon
Instructions
Pre-heat your oven to 425 degrees. Line a large baking sheet with parchment paper and set it aside.
In the bowl of your food processor with the blade attachment, combine the flours, 1/2 cup of the sugar, baking powder, baking soda, salt and spices. Add the cold butter and pulse until you have a coarse crumb.
In a small bowl, whisk together 2/3 cups of the heavy cream with the egg and vanilla extract. Then add this liquid mixture to your food processor and pulse until the dough has just come together.
Turn the dough out onto a floured work surface and use your hands to fold in the chopped apple, being careful not to overwork the dough. The dough will be slightly wet and sticky. You can lightly flour your hands to help prevent the dough from sticking.
Shape the dough into a round disk, flattening it so it's about 1-inch thick. Then cut the disk into eight wedges. Transfer the wedges to your prepared baking sheet, leaving 1 to 2-inches between them. Then brush the tops of the wedges with the remaining tablespoon of heavy cream and sprinkle with the remaining tablespoon of sugar. Transfer the baking sheet to your pre-heated oven and bake the scones for 15-18 minutes, or until golden brown around the edges. Remove the baking sheet from your oven and allow the scones to rest for 10-15 minutes before transferring them to a wire rack to continue cooling.
To make the glaze, combine the powdered sugar, apple cider and cinnamon in a small bowl until smooth. Then drizzle the glaze over the scones before serving.
These are best when enjoyed on the day of baking. Leftovers can be stored in an airtight container at room temperature for 1 day.
https://www.floatingkitchen.net/chai-spiced-apple-scones-with-apple-cider-glaze/
October Eat Seasonal Recipes
Smoky Pumpkin Black Bean Chili by She Likes Food
Cheddar Chipotle Sweet Potato Soup by Healthy Seasonal Recipes
Apple Cinnamon Scones by Completely Delicious
Instant Pot Red Velvet Beet Soup by Letty's Kitchen
Roasted Delicata Squash, Fig and Persimmon Wild Rice Salad by Flavor the Moments
Apple Cinnamon Baked Oatmeal by JoyFoodSunshine
Spaghetti Squash Shakshuka by Kitchen Confidante
Curried Cauliflower Quinoa and Lentil Salad by Food for My Family
One-Skillet Zucchini Lasagna by Vintage Mixer
Creamy Chicken and Mushroom Stuffed Peppers by Foodie Crush
SaveSave
SaveSave
SaveSave
SaveSave
SaveSave
I'm currently experiencing some post-Labor Day Weekend blues. It's really starting to sink into my brain that Summer is wrapping up. And frankly, I'm not ready for that to happen.
I still have so much ice cream to eat!!!
Luckily, there is still an abundance of late Summer produce to be enjoyed. And that's helping to elevate my mood. I know people are going crazy for pumpkin-everything right now. But here in New England, early September is one of the best times for local produce like tomatoes, eggplant, zucchini, cucumbers, corn and more! So I'm diving headfirst into all of these things.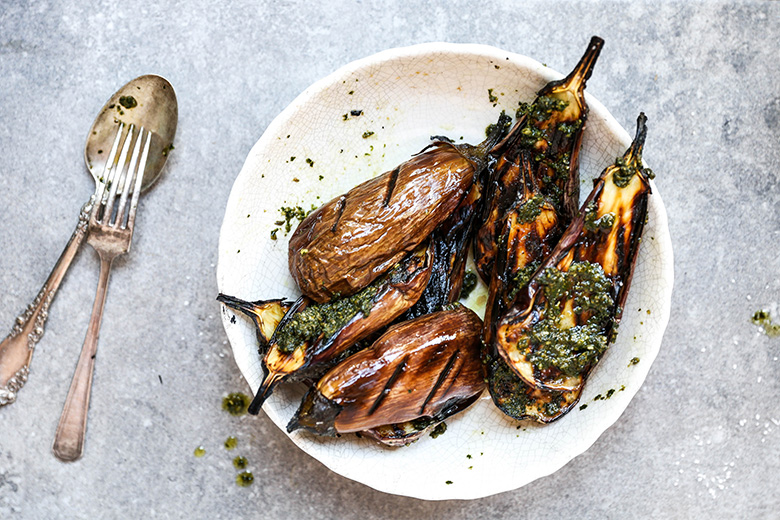 Last week, I found the most precious baby eggplants at the farmer's market and I knew instantly that I wanted them to become the focus of my September Eat Seasonal recipe post. So I grilled them up and served them on top of a creamy bed of goat cheese polenta. And then I finished off the dish with some homemade basil pesto and a handful of sliced plum tomatoes. It's a recipe that totally celebrates Summer. But also has a bit of a "cozy" feel, too. In the past, I've treated polenta as one of those food items that I only make and eat during the cooler months. But now, I'm really digging this version with its Summery spin! And I can see myself using it more frequently in my kitchen throughout the entire year.
The other great thing about this recipe for Grilled Eggplant with Goat Cheese Polenta and Basil Pesto is that – for such a hearty dish – it's relatively fast to prepare. You can have everything done in just about 30 minutes. Which is always a win in my book!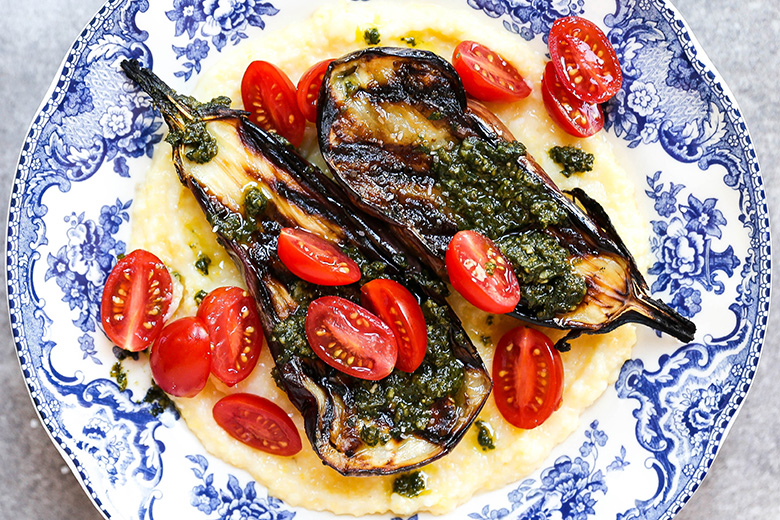 For more September cooking inspiration, check out my friend Becky's monthly produce guide, which is filled with tons of great recipe suggestions and tips. I hope it will help make your transition into Fall a little bit easier. And if you make any of our #eatseasonal recipes, give us a shout out on social media. We would love to hear about it!
Cheers,
Liz
Ingredients
For the Pesto
1 cup firmly packed basil leaves
2 garlic cloves, peeled
2 tablespoons pine nuts, toasted
1/2 tsp. salt
About 1/4 cup extra-virgin olive oil

For the Polenta
4 cups water
1 cup polenta
2 ounces goat cheese
1 tsp. salt
About 1/2 cup milk

For the Eggplant
4 baby eggplant (about 3-5 inches in length)
1 tsp. salt
About 2 tablespoons extra-virgin olive oil

For Serving
Plum or cherry tomatoes, halved
Instructions
To make the pesto, add the basil leaves, garlic, pine nuts and salt to the bowl of your food processor fitted with the blade attachment. Pulse until coarsely chopped. Then with your food processor running, slowly drizzle in the olive oil and process until well combined. Transfer the pesto to a clean container. Cover and refrigerate it until you're ready to use it.
To make the polenta, bring the water to a boil in a heavy bottom saucepan. Slowly whisk in the polenta and turn down the heat to maintain a simmer. Cook the polenta for 15-17 minutes, whisking frequently so it doesn't burn. You may have to reduce the heat further as it cooks to prevent the polenta from splattering and bubbling. Once the polenta has thickened and the water is absorbed, whisk in the goat cheese and the salt. Remove the saucepan from the heat. Then whisk in enough milk to thin it to your desired consistency. Cover to keep warm.
Meanwhile, pre-heat your grill to medium-high.
Slice the baby eggplants in half lengthwise and sprinkle the cut-sides with the salt. Let sit 10-15 minutes at room temperature. Then pat the surfaces dry with a paper towel. Drizzle the eggplant halves with the olive oil, turning to coat them on all sides. Then add them to your pre-heated grill. Cook for about 5-7 minutes per side, until softened and well darkened in places. Remove the eggplant halves from your grill and place them in a large bowl or baking dish. Drizzle with some of the pesto while they are still warm.
To serve, divide the polenta between bowls. Top with the grilled eggplant halves, tomatoes and additional pesto, if desired. Serve immediately.
https://www.floatingkitchen.net/grilled-eggplant-with-goat-cheese-polenta-and-basil-pesto/
September Eat Seasonal Recipes
Small Batch Cherry Tomato Jam by Flavor the Moments
Hazelnut Zucchini Bread by Vintage Mixer
Balsamic Sausage Tortellini Bake by JoyFoodSunshine
Baked Enchilada Style Veggie Burritos by She Likes Food
Peach and Tomato Salsa with Pan Seared Tofu by Letty's Kitchen
SaveSave
SaveSave
SaveSave
SaveSave
SaveSave
SaveSave