I had the idea for these Maple Cranberry and Dark Chocolate Scones on Thanksgiving Day. And of course, I had to attempt to make them RIGHT AWAY. Because over the years, I've learned that if I don't execute an idea almost immediately, it will get lost forever in the milieu that is my brain, never to be seen or heard from again.
So…since I had used up all my fresh cranberries for Thanksgiving, I had to go to the grocery store on the day after Thanksgiving to buy some more. This did not go well. Because there wasn't a fresh cranberry within a 20 mile radius of my home. A fact that I should have anticipated. All the cranberries had all been snatched up for Thanksgiving. So I had no choice but to wait. And try to not lose the idea for these scones until the grocery stores had a chance to re-fill their shelves.
But now, I'm well stocked (cranberries everywhere!) and ready for Christmas baking. I love using cranberries all December long, in everything from savory breads to sweet treats (and don't forget to throw in a few salads in for balance!). They add such a wonderful, festive touch to any recipe!
These Maple Cranberry and Dark Chocolate Scones aren't just any ordinary cranberry scone. Nope. These babies are filled with roasted cranberries.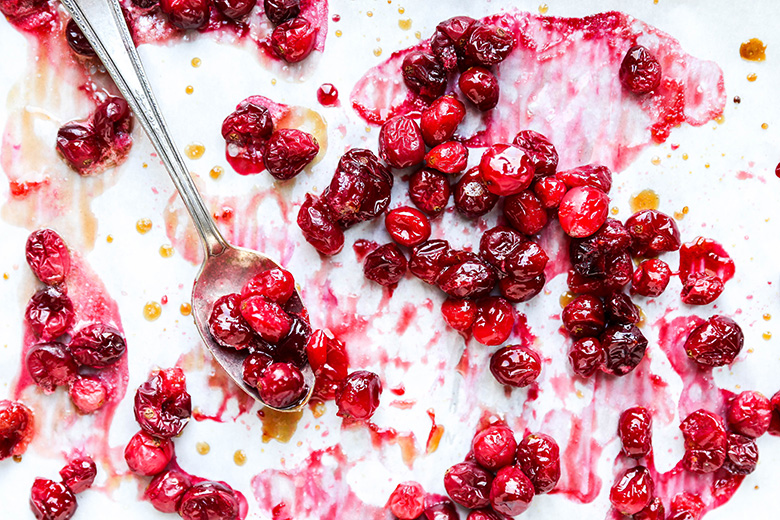 I didn't want to use dried cranberries ('tis the season for fresh!), and I worried that fresh cranberries would be too tart in the final baked good (the base recipe for these scones isn't overly sweet), so I came up with the idea of roasting the fresh cranberries first with maple syrup before folding them into the scone batter. The cranberries get slightly soft and sweet, and end up somewhere between a dried cranberry and a fresh cranberry. It's the perfect middle ground.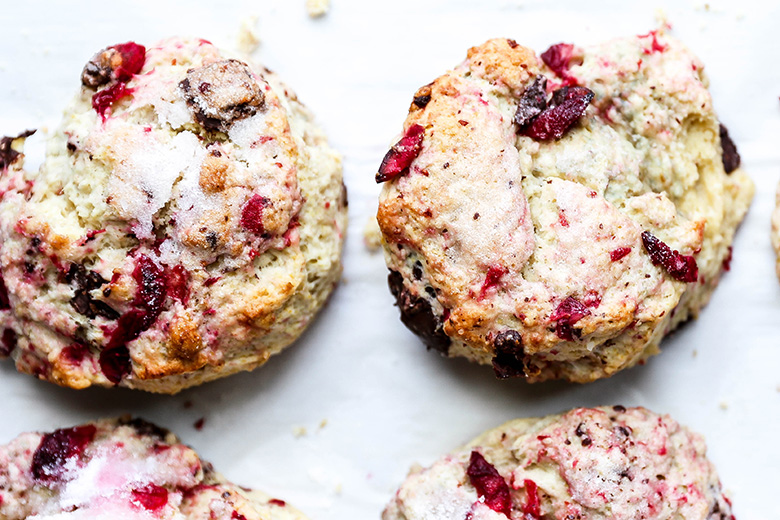 Because I was thinking these scones would be for Christmas morning, I added in big chunks of dark chocolate to make them more decadent. But you could skip the chocolate if you want something more virtuous. I also made them fairly large, using my 2 3/4-inch biscuit cutter. Again, feel free to make them smaller if you don't want to overdo it (or if you have to feed a crowd on Christmas morning).
One thing that's important in this recipe is to let the roasted cranberries cool COMPLETELY before adding them to the scone batter. Also, the batter will be wet (and will probably turn a little bit pink), and your hand will get messy. But that's OK. It will all work out!
Cheers,
Liz
Recipe adapted from Joy the Baker
Ingredients
1 cup fresh cranberries, thawed if frozen
2 tablespoons maple syrup, divided
2 1/2 cups all-purpose flour
1/2 cup quick cooking oats
2 1/2 tsp. baking powder
1/2 tsp. baking soda
3/4 tsp. salt
3/4 cups (12 tablespoons) unsalted butter, cubed and chilled
3/4 cups cold buttermilk
1 egg
1/2 tsp. vanilla extract
1/2 cup chopped dark chocolate
2-3 tablespoons sugar
Instructions
Pre-heat your oven to 400 degrees.
Spread the cranberries out onto a rimmed baking sheet lined with parchment paper. Then drizzle with 1 tablespoon of the maple syrup. Transfer to your pre-heated oven and roast for 10 minutes. Remove and set aside to cool completely.
In the bowl of your food processor with the blade attachment, combine the flour, oats, baking powder, baking soda and salt. Add the cold butter and pulse until you have a coarse crumb.
In a small bowl, whisk together the buttermilk, egg, vanilla extract and the remaining tablespoon of maple syrup. Then add this liquid mixture to your food processor and pulse until the dough has just barely come together. Be careful not to overmix the dough.
Transfer the dough to a large bowl and use a wooden spoon to fold in the roasted cranberries and chopped dark chocolate. Then turn the dough out onto a piece of parchment paper dusted with flour and use your hands to shape the dough into a round disk, flattening it so it's about 1-inch thick. The dough will be slightly wet and tacky. You can flour your hands to help prevent the dough from sticking to your hands.
Using a round biscuit or cookie cutter (I used a 2 3/4-inch biscuit cutter), cut out circles and place them on a large baking sheet lined with parchment paper. Re-shape the dough scrapes and continue cutting out circles until all the dough has been used up. Sprinkle the tops of the circles with sugar, then transfer the baking sheet to your pre-heated oven and bake the scones for 17-18 minutes, or until golden brown around the edges. Remove the baking sheet from your oven and allow the scones to rest for 10 minutes before transferring them to a wire rack to continue cooling.
These are best when enjoyed on the day of baking. Leftovers can be stored in an airtight container at room temperature for 1-2 days and re-warmed slightly before eating.
https://www.floatingkitchen.net/maple-cranberry-and-dark-chocolate-scones/
SaveSave
I like to consider myself to be a bit of a squash connoisseur. Or maybe even a squash whisperer, if you will.
But recently, I realized there was one squash missing from my repertoire: red kuri squash.
I've passed these bright, red-skinned beauties at the market many times. They were certainly enticing enough based on their color, shape and size alone. And I knew from my readings that their flesh was rich and creamy with a mellow sweet and nutty flavor. Yet I would always reach for my more familiar standbys: butternut and delicata squash. But then a few weeks ago, I decided on a whim to toss one into my shopping cart. And now I don't think I'll ever look back. Red kuri squash is taking up a permanent residency in my kitchen!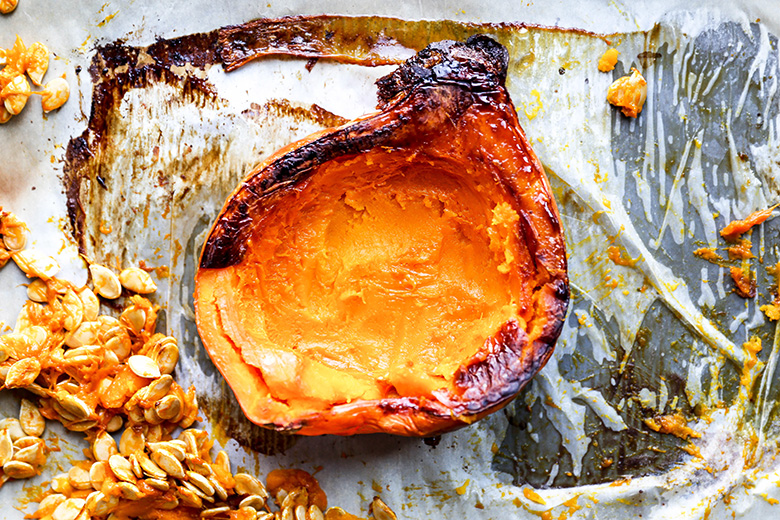 I decided to make a puréed soup, so I took some direction from one of my favorite butternut squash soup recipes and finally landed on this version of Red Kuri Squash and Fennel Soup with Savory Granola.
I started by roasting the red kuri squash, using my friend Traci's instructions for roasting whole pumpkins (which I also did earlier this Fall to make these pumpkin chocolate puddings), then I scrapped out the softened flesh and combined it in a large stockpot with fennel, apple, shallots, garlic and vegetable broth. After puréeing the soup, I added a touch of heavy cream to make it extra smooth and luxurious. But you could certainly skip this ingredient all together. Or try using coconut cream instead, if you prefer.
I dressed this soup up with a few microgreens for extra color. And a nutty, savory granola for major crunch. Because I firmly believe that puréed soups should never be served naked.
Savory granola is something that I've been wanting to play with for a while now, and I'm so glad I finally took the plunge and tried out a couple recipes (today's recipe is adapted from this one I found on Bon Appetit). I'm finding lots of ways to use it, including salads and breakfast bowls. I think once you try it, you'll be hooked, too!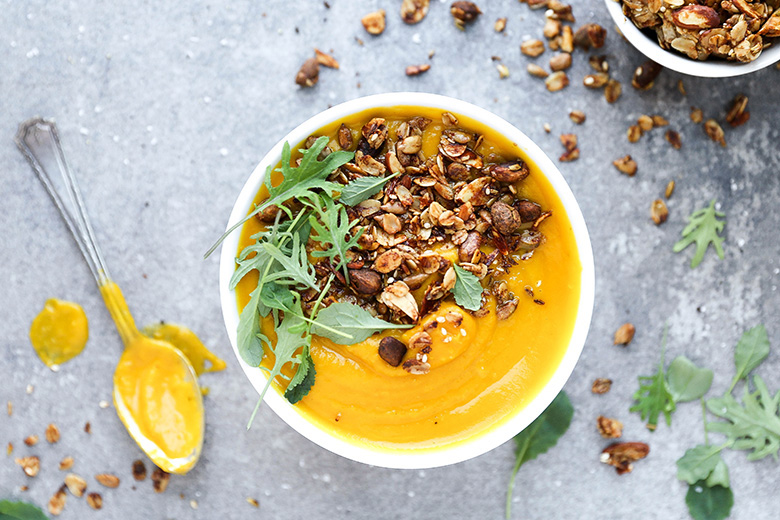 I'm sharing the recipe for this Red Kuri Squash and Fennel Soup with Savory Granola as part of our monthly seasonal eating initiative organized by Becky from Vintage Mixer. Becky has lots of recipe suggestions for December, which you can find here in her December produce guide. And you can also have a peak at the recipes linked up below to see what some of my other blogging friends have created for this month. I hope you find some inspiration for your Holiday gatherings!
Cheers,
Liz
Ingredients
For the Soup
1 medium red kuri squash
3 tablespoons extra-virgin olive oil
1 large fennel bulb, trimmed and chopped
1 red apple, cored and chopped
2 shallots, peeled and chopped
2 garlic cloves, peeled and minced
1 tsp. salt
1 tsp. black pepper
4 cups vegetable broth
1/3 cup heavy cream
Microgreens or fresh herbs for topping, if desired

For the Savory Granola
1 cup old-fashioned oats
1/2 cup shelled pistachios
1/2 cup shelled sunflower seeds
1/2 cup sliced almonds
1 tablespoon sesame seeds
1 tablespoon fennel seeds
1 tsp. salt
1/4 tsp. cayenne pepper
1/4 cup extra-virgin olive oil
1 tablespoon agave nectar
1 egg white
Instructions
Pre-heat your oven to 375 degrees. Line a large rimmed baking sheet with parchment paper. Cut the red kuri squash in half lengthwise. Then place the squash halves cut side-down on your prepared baking sheet. Transfer to your pre-heated oven and roast for 50-60 minutes, or until the squash halves are soft. Remove from the oven and set aside to cool. Once the squash halves are cool enough to handle, flip them over and scrape out and discard the seeds. Then scrape out and save the flesh. The skin of red kuri squash is edible, so don't worry if you get some skin mixed in with the flesh. I had 3 cups of squash flesh. If you have slightly more or less than 3 cups, you may want to adjust the amount of liquid in the recipe so the soup isn't too thick or thin.
Place a large, heavy bottom pot over medium-high heat and warm the olive oil. Then add the chopped fennel, apple and shallots and cook, stirring occasionally, for 10 minutes. Add the minced garlic, salt and black pepper and cook for about 2 minutes more. Then stir in the vegetable broth and cooked squash flesh. Cover the pot and bring the soup to a simmer. Cook, covered, for about 20-25 minutes. The vegetables should be soft.
Remove the pot from the heat and allow the soup to cool slightly. Then purée the soup until completely smooth, using either an immersion blender or a regular blender, and taking care when transferring and blending hot liquids. Return the puréed soup to the pot and stir in the heavy cream. Taste and adjust for salt and black pepper. Re-warm before serving, if necessary.
Meanwhile, make the savory granola. Pre-heat your oven to 350 degrees. In a medium bowl, toss together the oats, nuts, seeds, salt and cayenne pepper. In a separate small bowl, whisk together the olive oil, agave nectar and the egg white. Pour this liquid mixture over the dry ingredients, stirring until well coated. Then spread the granola out onto a rimmed baking sheet and bake in your pre-heated oven for about 25 minutes, or until golden brown, stirring once halfway through cooking time. Remove and set aside to cool completely. The granola can be stored in an airtight container at room temperature for several days.
To serve, ladle the warm soup into bowls. Top with some of the savory granola and a few microgreens or fresh herbs, if desired.
https://www.floatingkitchen.net/red-kuri-squash-and-fennel-soup-with-savory-granola/
December Eat Seasonal Recipes
Beet & Pomegranate Green Smoothie by JoyFoodSunshine
Kale and Brussels Sprout Salad with Lemon Vinaigrette by Flavor the Moments
Mini Fruitcakes by Healthy Seasonal Recipes
Garlic and Herb Twice Baked Baby Potatoes by She Likes Food
Roasted Butternut Squash and Grape Crostini by Vintage Mixer
SaveSave
SaveSave
SaveSave
SaveSave
SaveSaveSaveSave
SaveSave