YOU GUYS! This no-bake cheesecake is the best thing I've put in my mouth in the last 3 months.
And that's saying a lot. Because I'm not even THAT big of a fan of cheesecake. Like, it's OK. But I'm typically underwhelmed by anything that isn't chocolate or ice cream. If I had to make a list of my favorite desserts, cheesecake would be somewhere near the bottom.
It goes something like this:
Ice cream
Chocolate cake
Brownies
Chocolate chip cookies
Cheesecake
Fruit pie
Of course, there are many other desserts to choose from. But you get the idea.
But this Triple Berry No-Bake Cheesecake with Amaretti Crust is making me re-think my list. And I know you're going to fall in love with it, too!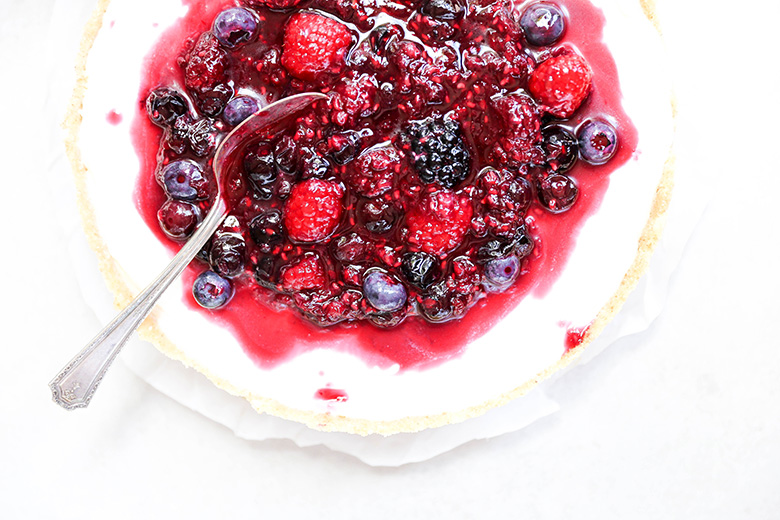 The best thing about this cheesecake is that it's no-bake (obviously, because "no-bake" is in the title of the recipe). Which is an ideal quality these days, as the temperature and humidity continues to rise as we make our way through the month of July. It's been way too hot to bake lately, so I'm trying to lay off my oven as much as possible. I'll save my sweating for the gym.
The cheesecake filling is unbelievably light (unlike traditional baked versions which I find to be very heavy and dense). Just imagine yourself eating the tastiest, fluffiest cloud ever. Because that is EXACTLY what a slice of this heavenly cheesecake is like.
I was inspired by a recipe from Sarah at the The Sugar Hit to use amaretti cookies for the crust instead of graham crackers, which I typically turn to for no-bake crusts. I then decided to carry that almond flavor throughout with a bit of almond extract in the filling and some amaretto in the berry topping. The almond flavor isn't super strong, but it's enough to make you say "hmm…what's different about this cheesecake?". I really enjoyed the change up. And all my friends did, too (I promptly removed this cheesecake from my house and shared it with my crew, for fear of eating it all myself!).
Summer berries are plentiful right now, so I used a mix of my favorites: blackberries, blueberries and raspberries. You could toss in some strawberries, if you have them. Or narrow it down to one or two berries. It's all good! Just please don't use too much sugar in the berry topping. I've seen recipes that call for an equal amount of sugar to berries. And that's just freaking insane. You want to let the flavor of the berries shine through. And not give yourself a massive sugar shock in the process.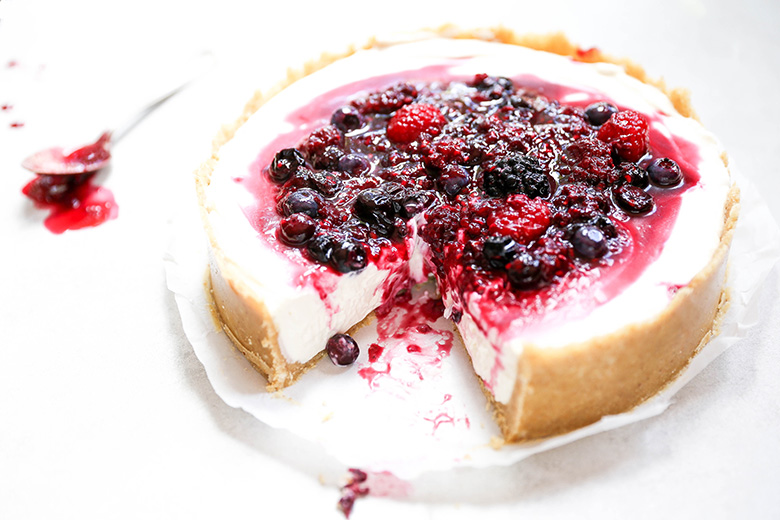 The most important thing about this recipe is not to rush things. You MUST make sure your cream cheese is super soft and you incorporate the powdered sugar slowly, or you'll risk having a lumpy filling. And you MUST give the cheesecake ample time to chill before attempting to slice and serve it. So plan ahead. This is a great make-ahead dessert for a party!
This Triple Berry No-Bake Cheesecake with Amaretti Crust is part of our monthly round-up of seasonal recipes organized by Becky from Vintage Mixer. At the start of each new month, Becky shares a produce guide (click here for July) with tons of recipe suggestions and tips. And a bunch of my blogging friends make new recipes (see the links below) that incorporate those ingredients that are currently at their peak. It's a great way to learn how to take advantage of the bounty of fruits and vegetables that each month offers. I hope you get the chance to check it all out. And let's all #eatseasonal together!
Cheers,
Liz
Recipe adapted from my No-Bake Meyer Lemon Cheesecake with Chocolate Ganache Layer
Triple Berry No-Bake Cheesecake with Amaretti Crust
Ingredients
For the Crust
2 cups finely ground amaretti cookies
6 tablespoons butter, melted
2 tablespoons granulated sugar
1/4 tsp. salt

For the Cheesecake
1 cup heavy whipping cream, cold
16 ounces full fat cream cheese, softened at room temperature
1 cup full fat Greek yogurt
3/4 cups powdered sugar
1 tablespoon cornstarch
1 tsp. vanilla extract
1 tsp. almond extract
1/4 tsp. salt

For the Berry Topping
1 1/2 cups fresh blackberries, divided
1 1/2 cups fresh blueberries, divided
1 1/2 cups fresh raspberries, divided
1/2 cup sugar
2 tablespoons amaretto
Instructions
Cut and fit a round of parchment paper into the bottom of a 9-inch springform pan. Set aside.
In your food processor with the blade attachment, pulse together the amaretti cookie crumbs, melted butter, sugar and salt until the crumbs are moistened and everything is well combined. Dump the crumbs into your prepared springform pan and press them evenly and firmly into the bottom of the pan and approximately three-quarters of the way up the sides of the pan. Place the pan in your refrigerator to chill for 1 hour.
In the bowl of your stand mixer with the whisk attachment, whisk the heavy cream until stiff peaks form. Transfer the whipped cream to a clean bowl and set it aside. In the same mixing bowl (no need to clean it out), whisk the cream cheese until it's smooth and fluffy, about 3 minutes. Then whisk in the yogurt, powdered sugar (adding it in thirds), cornstarch, extracts and salt. With a rubber spatula, fold in the whipped cream. Spoon the cheesecake filling over your chilled crust, smoothing it out so the top is flat and even. Cover your springform pan and return it to your refrigerator to chill for at least 6 hours, or up to overnight.
Add 1 cup of the blackberries, blueberries and raspberries to a medium saucepan along with the sugar. Cook over low-medium heat, stirring frequently, for about 5-7 minutes. While you're stirring, use the back of your spoon to crush the berries so they break down and release their juices. Remove the saucepan from the heat and allow the berry mixture to cool to room temperature. Once cooled, stir in the remaining 1/2 cup of blackberries, blueberries and raspberries along with the amaretto. Cover and refrigerate until you're ready to use.
To serve the cheesecake, first release the outside ring of the springform pan and gently lift it off. Carefully slide the cheesecake off the bottom of the springform pan and onto a plate or serving tray. Top with some of the berry topping. Slice and serve. You can pass any additional berry topping at the table.
Leftovers can be covered and stored in your refrigerator for up to 2 days.
http://www.floatingkitchen.net/triple-berry-no-bake-cheesecake-with-amaretti-crust/
July Eat Seasonal Recipes

Golden Beets with Black Beans and Dried Cherries by Letty's Kitchen
Summer Melon Cous Cous Salad with Avocado, Grapes and Mint by Foodie Crush
Berry Frangipane Brioche Toast by Vintage Mixer
Paleo Double Chocolate Zucchini Banana Bread by JoyFoodSunshine
Kale Salad with Blueberries Cherries and Goat Cheese by Flavor the Moments
Pesto Butter Corn on the Cob by Cookin' Canuck
Gluten-Free Strawberry Shortcakes by Food for My Family
Pickled Beets by Healthy Seasonal Recipes
Sour Cream Panna Cotta with Strawberry Compote by Simple Bites
Blueberry Acai Frozen Yogurt by Kitchen Confidante
Lower Carb Zucchini Noodle Pasta Bake by She Likes Food
Because it's Monday, I think we deserve a slice of homemade pie.
But, ideally, without all the actual work of having to make a pie.
So here I am today, proposing to you that we indulge our sweet tooth with these Cherry-Rhubarb Pie Bars instead. I hope you say "yes".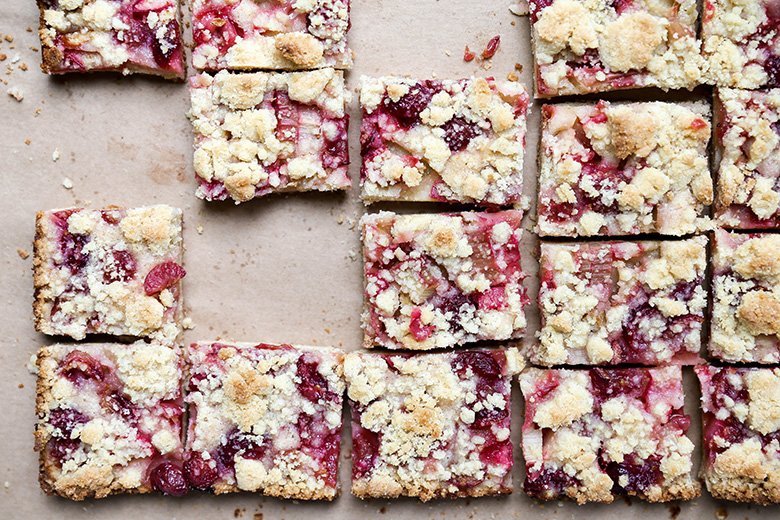 Kind of like a cross between a fruit pie and a shortbread tart, these Cherry-Rhubarb Pie Bars might just be my new favorite Summer dessert (at least until I find my next favorite dessert). Sweet. But not overly so. With a good mix of textures to keep each bite interesting. AND they turned out to be the most perfect shade of pink (#millenialpink). Obviously, I'm feeling all the feels over these babies.
I also can't stress enough how easy these are to prepare. No rolling, chilling or crimping required. And the fact that this recipe feeds a crowd (you get a whole 9 X 13-inch pan), makes these treats ideal for backyard gatherings and poolside parties. Or toss a couple in your picnic basket and get your butt to the beach. You'll be glad you did!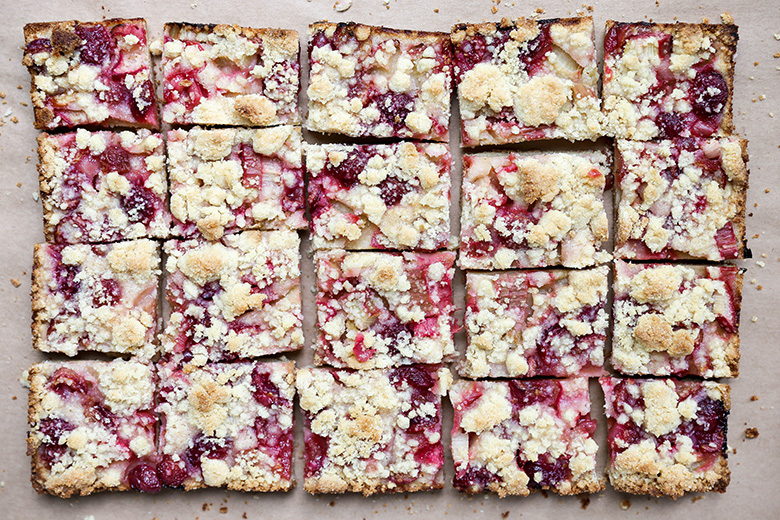 As it turns out, rhubarb and cherries are a pretty good pairing. I've done the classic rhubarb + strawberries many times. And last year I played with rhubarb + raspberries. But this was my first time adding cherries to the equation. I'm not sure why I never thought to do that before. It seems kind of obvious to me now. But there is no sense in lamenting about the past. Instead, I'm excited to move forward and explore this combination in other recipes. And with cherry season on the horizon, now is the perfect time to do just that.
I also tried using pistachio meal for the first time (which I just made myself by finely grinding shelled pistachios in my food processor) instead of almond or hazelnut meal, which I typically reach for when baking. The pistachio meal compliments the rhubarb and cherries nicely. And I encourage you to give it a try. But if you're not feeling it, you can substitute it with something else. These pie bars are very forgiving.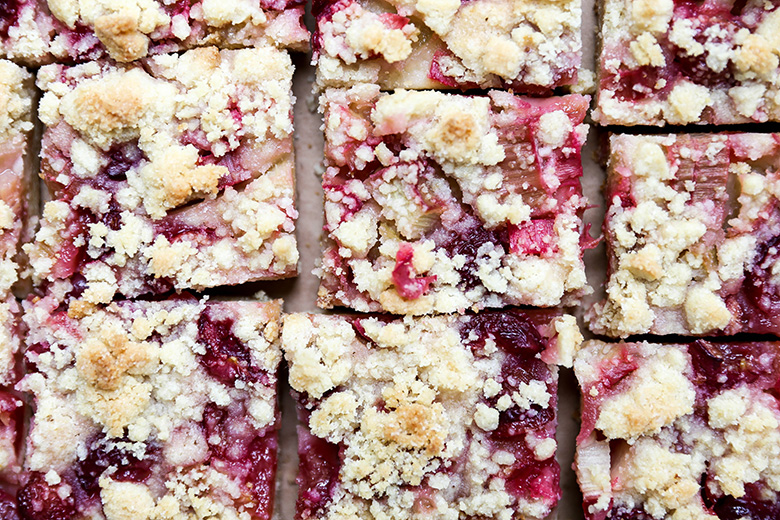 I'm sharing these Cherry-Rhubarb Pie Bars as part of our monthly Eat Seasonal round-up organized by Becky from Vintage Mixer. At the start of each month, myself and some of my blogging friends create new recipes (links below!) highlighting all the wonderful fruits and vegetables that are currently in season. Additionally, Becky posts an extensive list of recipe suggestions over on her monthly seasonal eating guide. I hope you check them all out and find some inspiration for the month of June. As you can see from the image below, we were all in a bit of a "pink" mood!
Cheers,
Liz
Recipe adapted from my Blueberry-Thyme Pie Bars
Ingredients
For the Crust and Topping
2 1/2 cups all-purpose flour
1/2 cup finely ground pistachios
1 cup sugar
1 tsp. baking powder
1/4 tsp. salt
Zest from 1 lemon
1 cup (16 tablespoons) unsalted butter, cubed and chilled
1 egg
2 tsp. vanilla extract

For the Filling
2 cups sliced rhubarb
2 cups cherry halves (stemmed and pitted)
1 tablespoon corn starch
Juice from 1/2 lemon
Instructions
Pre-heat your oven to 375 degrees. Spray a 9 X 13-inch baking pan with non-stick cooking spray. Set aside.
In your food processor with the blade attachment, pulse together the flours, sugar, baking powder, salt and lemon zest. Add the butter, egg and vanilla extract. Pulse until the dough resembles a course meal. Set aside.
In a large bowl, toss together the rhubarb, cherries, corn starch and lemon juice. Set aside.
Transfer about two-thirds of the dough into your prepared baking pan. Using your hands, press it down firmly into an even layer. Then spread the fruit mixture in a single layer over top. Sprinkle the remaining dough over the fruit.
Transfer the baking pan to your pre-heated oven and bake for 40-45 minutes, or until the top is lightly browned. Remove from the oven and set aside to cool completely before slicing and serving.
Leftovers can be stored in an airtight container in your refrigerator for 2-3 days.
http://www.floatingkitchen.net/cherry-rhubarb-pie-bars/
June Eat Seasonal Recipes
Rhubarb & Orange Frangipane Galette by Simple Bites
Roasted Strawberry Yogurt Pops by Completely Delicious
Greek Three Bean Salad by Flavor the Moments
Chunky Citrus Guacamole by Foodie Crush
Strawberry Lime Chopped Salad by Vintage Mixer
Minty Sweet Pea Hummus by She Likes Food
Simply Strawberry Pie by Joy Food Sunshine
French Green Lentil and Quinoa Salad by Letty's Kitchen
Cherry Rolls by Kitchen Confidante
Pimento Cheese Spread w/ Pickled Green Garlic, Radishes and Rhubarb by Food for My Family