This post was originally published here on December 22, 2014. I've since updated the photos and text. Cheers!
I consider myself to be a bourbon kind of girl. More often than not, it's my spirit of choice. And I love it in everything from Summer sips to cozy Fall libations.
But I'm also not one to discriminate. I want to be an equal opportunity maker and drinker of all kinds of cocktails. It just seems like the fair and right thing to do.
I've noticed lately that this blog has been seriously lacking in some good gin-based beverages. So I decided to fix that pesky little problem. And my timing couldn't be any more perfect. Because gin, with it's strong juniper berry taste and aroma, always reminds me of the Winter Holidays.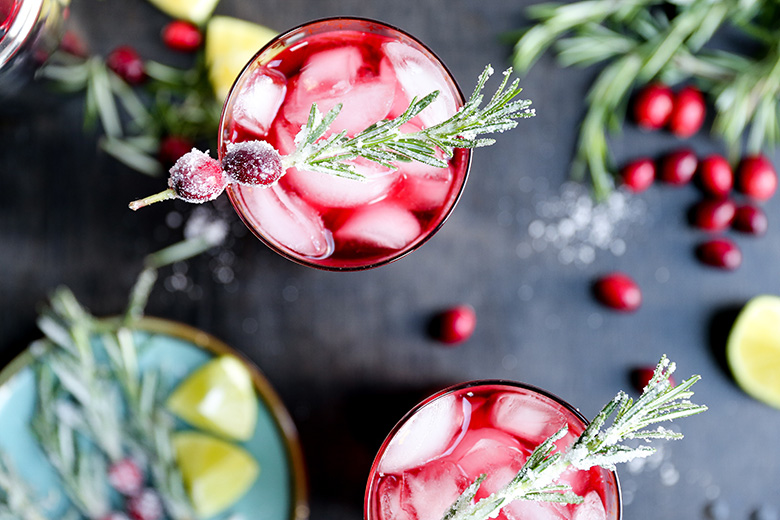 Since we're getting REALLY close to Christmas at this point, I decided to shake up something super festive and easy. I know we've all got a long list of cookies to bake, decorate and eat. So I figured this wasn't the time or place for an overly complicated cocktail with hard-to-find ingredients. Nope. This baby is real simple. And I bet you already have all of the ingredients on hand!
And I even gave it a stupidly cute name: Sparkling Christmas Tree Cocktail.
No actual Christmas trees were harmed in the making of this cocktail.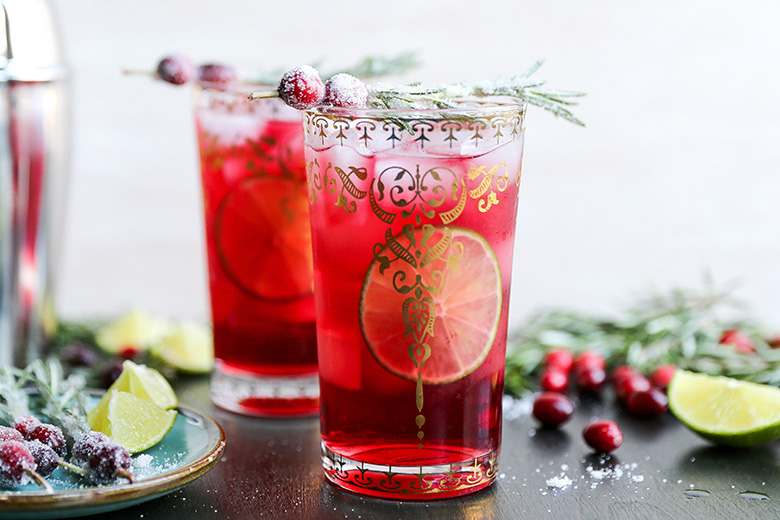 This initial inspiration for this cocktail started with a gin and tonic. I added a slash of cranberry juice for color. Then decided to swap out the tonic for club soda, so I could be more in control of the sweetness.
I had a really fun time making the sparkling "branches" for garnish (and it's kind of how the name of this cocktail evolved). And while technically they aren't really necessary for the actual imbibing of this beverage, I also don't think you should skip out on them either. They are totally cute and make this Sparkling Christmas Tree Cocktail feel super special.
So I think I'm signing off until after the Christmas Holiday. I'll be back with a new recipe in between Christmas and New Year's Eve. And of course, I'll be lurking around Instagram. So come and find me there if you want!
Cheers,
Liz
Sparkling Christmas Tree Cocktail
Ingredients
For the Sparkling Branches
About 1 cup sugar, divided
1/2 cup water
Fresh rosemary sprigs
Fresh cranberries

For the Cocktails
1/2 cup gin
1/2 cup cranberry juice
1 tablespoon fresh squeezed lime juice
1 tablespoon simple syrup
Club soda
Sliced lime for garnish, if desired
Instructions
In a small saucepan over medium-high heat, combine 1/2 cup of the sugar and the water, stirring occasionally, until the sugar is completely dissolved. Remove the saucepan from the heat and let the simple syrup cool slightly.
While the simple syrup is cooling, assemble the sparkling branches. Trim your rosemary sprigs so they are about 1-inch longer than the width of your cocktail glasses. Remove and discard some of the lower leaves, leaving the main stem intact. Using a toothpick, poke a small hole all the way through the cranberries. Then thread two cranberries onto each rosemary stem. You'll want to make at least one sparkling branch for each cocktail.
Pour the cooled simple syrup into a shallow bowl. Place the assembled branches in the simple syrup, turning them to coat. Then working with one branch at a time, remove it from the simple syrup and gently shake off any excess liquid. Hold the branch over your sink or a bowl and sprinkle it lightly with a small amount of the remaining sugar, turning the branch as you sprinkle the sugar so it coats all sides evenly. Place the sparkling branch on plate and set aside. Continue working until all the branches have been coated. Reserve some of the simple syrup for making the cocktails.
To make the cocktails, add the gin, cranberry juice, lime juice and simple syrup to a cocktail shaker filled with ice. Shake vigorously to chill. Then strain into two glasses with fresh ice. Top with club soda, stirring gently to combine. Garnish with a slice of lime and a sparkling branch. Serve immediately.
http://www.floatingkitchen.net/sparkling-christmas-tree-cocktail/
This post was originally published here on December 19, 2013. I've since updated the photos and text. Enjoy!
I spent the majority of this past week testing out new Christmas cookie recipes. And while I'm happy to report that my efforts have resulted in two blog-worthy recipes that I'll be sharing here next week (hooray!), I kind of just want a damn salad at this point. Even I have my limits when it comes to sweets.
This Cranberry Apple Salad is my go-to salad recipe this time of year. It's refreshing, with both tart and sweet flavors to tickle your taste buds. AND it's a all dressed up in vibrant red and green colors, which makes it the perfect addition to your Holiday table. You can layer it on a large platter (laying down the romaine first, then the apple-walnut mixture and finally the cranberries) for a really beautiful presentation if you're having a fancy party. Or simply toss everything together in a big bowl. I don't think you can really go wrong either way.
There is a little bit of advanced preparation required for this recipe. So make sure to read through the whole recipe first and plan to get started on it a couple hours in advance of when you're going to serve it. And while this might be considered by some to be a huge pain in the ass, I, for one, think it's a plus. Because it means you can get the salad course ready to go earlier in the day, then spend those last few precious minutes of "crunch time" right before the meal performing other more pressing tasks.
This was one of the first salads that I really feel in love with. Because believe it or not, there was a time in my life when I hated eating salads (and really any vegetable, if I'm being completely honest with myself). But this Cranberry Apple Salad helped me turn the corner into a bona fide veggie lover. And I know you'll totally dig it too!
Cheers,
Liz
Recipe from Creme De Colorado Cookbook
Ingredients
1 1/2 cups fresh cranberries, thawed if frozen
3 tablespoons sugar
2 tablespoons fresh lime juice
2 tsp. Dijon mustard
1/2 cup extra-virgin olive oil
2 Granny Smith apples, cored and chopped
1 cup walnuts, roughly chopped
1/4 cup sliced scallions, white and light green parts only
2 hearts of romaine lettuce, roughly chopped
Instructions
In your food processor with the blade attachment, pulse the cranberries until they are coarsely chopped. Transfer them to a small bowl and stir in the sugar. Cover and refrigerate the cranberries for at least 2 hours, or up to overnight.
In a medium bowl, combine the lime juice and mustard. Then slowly whisk in the olive oil. Add the apples, walnuts and scallions, tossing to coat everything in the dressing. Cover and refrigerate the apple-walnut mixture for at least 1 hour, or up to overnight.
To serve with a layered presentation, first line a large plate or platter with the chopped romaine lettuce. Then spoon the apple-walnut mixture over the romaine. And finally top with the chopped cranberries. Enjoy!
http://www.floatingkitchen.net/cranberry-apple-salad/