If you've been visiting this blog for a while now, then you know that I really like toppings. My motto: the more toppings, the better.
Part of the reason for this mild obsession with adding ALL THE THINGS to my foods is because I truly feel like certain food items (like puréed soups, for example) just shouldn't be naked. But also, I really like the artistic aspect of it all. Food can be a wonderful canvas to play with different colors and textures. In fact, some of my most creative moments can come when I'm staring down at a smoothie bowl or a slice of avocado toast.
But even I have to admit that sometimes I can get a little out of control with the garnishes. Like, did we really need cilantro on that?
The answer is yes, by the way. We always need cilantro.
So when I first pulled these roasted red cabbage wedges out of the oven, I was tempted to hit them with chopped hazelnuts. Maybe a drizzle of tahini-lemon sauce. And of course, a sprinkling of fresh cilantro. But I resisted. Because these vibrant purple wedges were just too gosh darn beautiful to cover up. And they tasted amazing as well. For once, no extra embellishments were necessary.
I must admit that cabbage was never really a vegetable that I loved. Because I mostly associated it with coleslaw, which is kind of yuck in my humble opinion. But now I'm proud to shout from the rooftops that I'm an official cabbage lover! Seriously, sign me up for more of this stuff. It's incredible. If you ever wanted to know how to eat an entire head of cabbage in one sitting, this is most definitely the way. In fact, I'm so confident that my Roasted Red Cabbage Wedges with Za'atar will convert anyone into a bona fide cabbage lover, that there is a money back guarantee on this recipe. Which is freely available on the internet, so there you go. Sorry.
These Roasted Red Cabbage Wedges with Za'atar would make a gorgeous side dish for any hearty Fall meal. In fact, you might even want to bookmark this recipe for Thanksgiving. Just saying.
Za'atar seasoning is a blend of herbs and spices that is frequently used in Middle Eastern cooking. And it's an incredibly easy way to add a big punch of flavor to any dish. You can find za'atar in most large grocery stores, either with the other spices or in the aisle with the international items.
I've created this recipe as part of our monthly #eatseasonal round-up organized by my friend Becky from Vintage Mixer. October is a fun month in the kitchen, because there are still a few hints of Summer produce lingering. And lots of sturdy Fall fruits and vegetables, too. Check out Becky's October Produce Guide for the low down on everything that's seasonal and delicious this month. And scroll down below the recipe to see what some of my other blogging friends were inspired to create this October!
Cheers,
Liz
Roasted Red Cabbage Wedges with Za'atar
Ingredients
1 head red cabbage
2 tablespoons melted coconut oil
1 1/2 tsp. za'atar
Scant 1/2 tsp. salt
1 tsp. red wine vinegar
Instructions
Pre-heat your oven to 400 degrees.
Remove and discard any outer leaves from the cabbage that are tough or wilted. Then slice the cabbage into 8 equal sized wedges. The core and stem should keep the individual wedges intact.
Arrange the cabbage wedges in a single layer on a large rimmed baking sheet. Drizzle with the coconut oil. Then sprinkle with the za'atar and salt. Transfer the baking sheet to your pre-heated oven and roast the cabbage for 20-25 minutes. The cabbage should be softened and starting to brown in a few spots. Remove from the oven. While the cabbage wedges are still warm, sprinkle them with the red wine vinegar. Serve immediately.
http://www.floatingkitchen.net/roasted-red-cabbage-wedges-with-zaatar/
October Eat Seasonal Recipes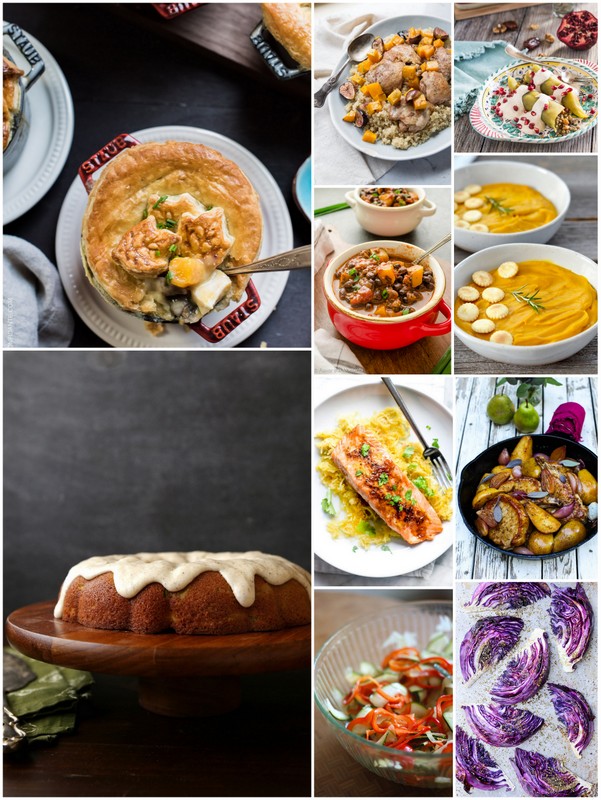 Turkey Pumpkin Pot Pie by Kitchen Confidante
Roasted Chicken with Figs and Butternut Squash by Vintage Mixer
Lentil Chile Rellenos with Creamy Walnut Sauce by Letty's Kitchen
Chorizo, Black Bean, and Kabocha Squash Chili by Flavor the Moments
Roasted Vegetable Soup by Joy Food Sunshine
Spiced Zucchini Pear Cake with Brown Butter Glaze by Completely Delicious
Orange Spiced Salmon with Spaghetti Squash by Foodie Crush
Pork Chops with Roasted Pears, Sage and Shallots by Simple Bites
Marinated Zucchini with Red Peppers and Garlic by Project Domestication
We are just cruising right along through the first week of October. Seriously, how do the days go by so quickly? Ugh.
So what are your thoughts about Halloween? Personally, I find the entire month of October rather terrifying. I'm a big scaredy-cat when it comes to all things associated with ghosts, zombies, clowns, etc. In fact, I can't even stand to watch the previews for Halloween movies, let alone sit through an entire 2 hour horror film. The hairs on the back of my neck are standing up just thinking about it. Eeeek!
Probably the only thing I like about Halloween is all the candy. Just being honest.
Anyways, let's talk about something less scary. Like kale. And mushrooms. And quinoa. And all sorts of other yummy vegetarian things.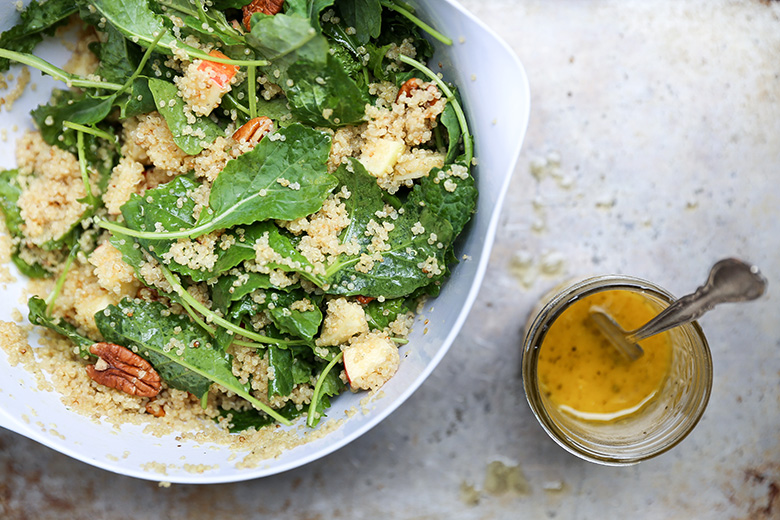 So, I was looking at the recipes that I've been making lately and a common theme emerged: everything seemed rather orange. From squash to sweet potatoes to carrots. It was all similarly hued.
Orange is actually one of my favorite colors. But it still all seemed a bit too much. So I got motivated to make something green (or at least partially green). And hence, the recipe for these Kale and Quinoa Salad Stuffed Portobello Mushrooms with Apples and Pecans was born.
Stuffed mushrooms seem like they would generally be a healthy choice. But often times they are not. That's because they tend to get loaded up with cheese, breadcrumbs and butter. Which are all delicious things, of course. But not always the best for you or your waistline. So I try to keep my stuffed mushrooms on the lighter side by filling them with seasonal salads.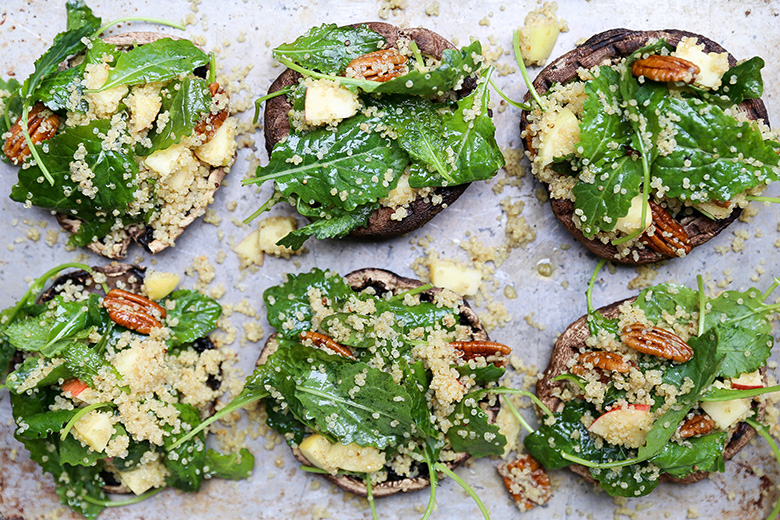 This salad of apples, pecan, baby kale and quinoa is pretty gosh darn good all on it's own. And you could certainly serve it as is. But I think it's even better when paired with these roasted mushrooms. The contrast of flavors and textures is spot on.
I like to buy baby kale leaves, because they are really tender. But if you can't find them, just thinly slice some regular (grown up?) kale leaves into thin ribbons. Easy peasy.
Oh and I almost forgot that it's 30 Minute Thursday! Scroll down below the recipe to find links to some other great dishes that can all be made in 30 minutes or less. There ain't nothing scary about that!
Cheers,
Liz
Kale and Quinoa Salad Stuffed Portobello Mushrooms with Apples and Pecans
Ingredients
For the Stuffed Mushrooms
1 cup water
1/2 cup quinoa
6 Portobello mushrooms
2 tablespoons extra-virgin olive oil
Salt and black pepper
2 cups loosely packed baby kale leaves
1 small red apple, cored and chopped
1/4 cup pecans

For the Dressing
2 tablespoons fresh apple cider
2 tablespoons fresh squeezed lemon juice
2 tablespoons extra-virgin olive oil
1 tsp. Dijon mustard
1 tsp. maple syrup
1/8 tsp. salt
1/8 tsp. black pepper
Instructions
Bring the water to a boil in a saucepan over medium heat. Stir in the quinoa and turn down the heat to maintain a simmer. Cover and cook the quinoa until all the water has been absorbed, about 15 minutes. Remove the saucepan from the heat. Fluff the quinoa with a fork and then cover the saucepan and let the quinoa steam for 5 minutes.
Meanwhile, pre-heat your oven to 425 degrees. Line a large rimmed baking sheet with aluminum foil and then place a baking rack over top. Remove and discard the stems from the Portobello mushrooms. Using a spoon, scrape out and discard the gills. Wipe the mushrooms clean with a damp paper towel. Then brush both sides with the extra-virgin olive oil. Place the mushrooms on the baking rack gill side down. Then season the tops with a pinch of salt and black pepper. Transfer to your pre-heated oven and bake for about 18-20 minutes. The mushrooms should be soft, but still firm enough to hold their shape. Remove from the oven and set aside.
Combine all the ingredients for the dressing in a small bowl. Set aside.
Add the cooked quinoa, kale, chopped apple and pecans to a large bowl. Pour the dressing over top and toss gently until everything is well coated. Flip the mushrooms over so the gill side is facing up. Then fill each mushroom with some of the salad mixture. Serve immediately.
http://www.floatingkitchen.net/kale-and-quinoa-salad-stuffed-portobello-mushrooms-with-apples-and-pecans/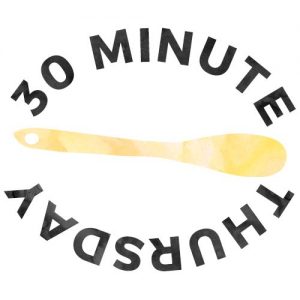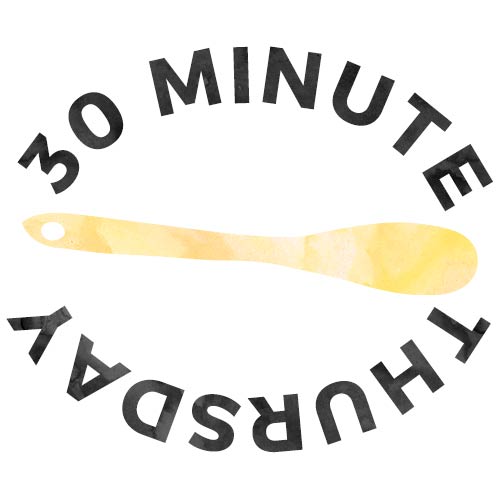 Turkey, Apple and Brie Panini by Pumpkin 'N Spice
5 Ingredient One Pot Pasta with Chicken Sausage by Kristine's Kitchen
Cheeseburger Macaroni: 30 Minute Thursday by My Kitchen Craze
Mediterranean Salmon Sheet Pan Dinner by Sweet Peas & Saffron
One Pot Turkey Mushroom Tortellini by Bake.Eat.Repeat
One Pot Teriyaki Chicken Zoodles by Life Made Sweeter
One-Pot Basil Sausage Caprese Pasta by Whole and Heavenly Oven
One Pot Sun-Dried Tomato Chicken Bacon Pasta by Savory Nothings