I can't believe Labor Day Weekend is THIS weekend. GAH!
Per usual, I'm unprepared. These three-day weekends are always sneaking up on me. I guess when you work from home (and work 7 days a week most weeks), the days all kind of just blur together.
But have no fear! Because I have an easy and delicious recipe to help you celebrate the weekend. And hello, it has BEER in it, so that's totally awesome in and of itself.
At any gathering, I can typically be found hovering over the appetizers, side dishes and desserts (oh and the cocktails, too). I can easily skip all the main dishes and be completely satisfied just grazing over the rest of the food items. If you're a grazer too, then you're definitely going to want to give my Beer-Marinated Cherry Tomatoes a try.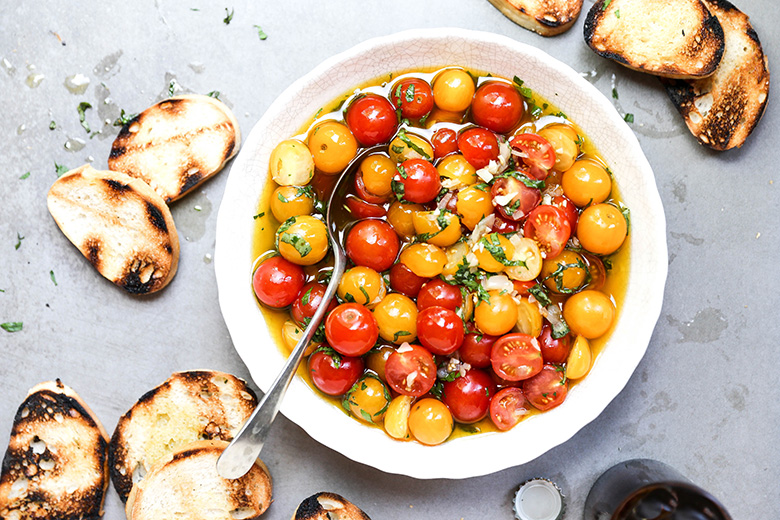 This recipe is a total breeze. Just quickly sautée some shallots and garlic in olive oil. Then stir in a couple pints of cherry tomatoes (I like to leave some whole and halve the rest), beer, vinegar and fresh herbs. And DONE! After letting the all the ingredients marinate together for an hour, you're left with a batch of rich, flavorful tomatoes that you can use to top crunchy grilled bread, toss into green salads or pasta, serve alongside cheese and hummus, etc. The possibilities are endless! Anywhere you might use fresh tomatoes, you can use these Beer-Marinated Cherry Tomatoes!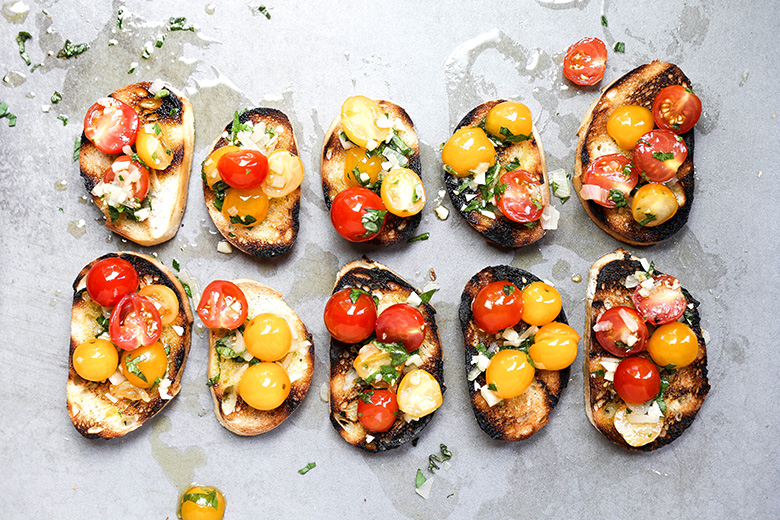 Whenever I incorporate beer or wine into a recipe, I always tell people the best practice is to use something that you ACTUALLY like to drink. It will make your eating experience so much better. I chose Allagash Saison for this recipe. It's relatively light, with both citrus and pepper undertones that I think pair really well with tomatoes. And, honestly, it just kind of reminds me of Summer (which is still is, by the way!). Try it if you can find it. Or use your favorite Summer-style beer. It's all good!
I hope you all have a wonderful and safe Labor Day Weekend. And If you try out this recipe, give me a shout out and let me know. I'd love to hear about it!
Cheers,
Liz
Ingredients
1/2 cup extra-virgin olive oil
1/4 cup minced shallot
2 garlic cloves, peeled and minced
2 pints cherry tomatoes (some halved, some whole)
1/4 cup beer
2 tablespoons red wine vinegar
1/2 tsp. salt
1/4 cup fresh basil, minced
1/4 cup fresh parsley, minced
Instructions
In a medium saucepan, warm the olive oil, shallot and garlic until fragrant, about 3-5 minutes. Remove from the heat.
Carefully add the cherry tomatoes, beer, red wine vinegar and salt to the warm olive oil mixture. Stir to coat the tomatoes in the liquid. Then add the basil and parsley, stirring gently to combine. Cover and let sit at room temperature for about 1 hour. Stir gently before using.
The marinated tomatoes are best when enjoyed the same they are prepared. But they can be covered and stored in your refrigerator for 1-2 days, if necessary.
https://www.floatingkitchen.net/beer-marinated-cherry-tomatoes/
SaveSave
SaveSave
SaveSaveSaveSave
SaveSave
SaveSave
And I'm back! Did you miss me?
I'm going pretend you're all collectively nodding your heads in affirmation.
My trip was totally awesome. And as badly as I want to formulate a better opinion than that, my brain just isn't allowing for me to do so at this very moment. As I sit down to write this post, I've only been home for a single full day. So naturally, I need a little more time to decompress and organize my thoughts (and I'm going to need a lot more time to finish doing my laundry!). But hopefully, I'll be able to share some recommendations and photographs here relatively soon-ish. In the meantime, you can check out the pictures I posted on Instagram. Portugal is a wonderfully beautiful place, with vibrant cities and breathtaking beaches, and I highly recommend adding it to your travel bucket list!
Summer was still very much alive in Portugal. But here in the states, I'm already catching whiffs of back-to-school and pumpkin mania. Ummm…nope! It's still hot as Hades outside. And late Summer produce is at it's peak. So I'm in no rush what-so-ever to start Fall. Which is why I'll be face-planting into this Easy Skillet Peach-Basil Cobbler for the foreseeable future.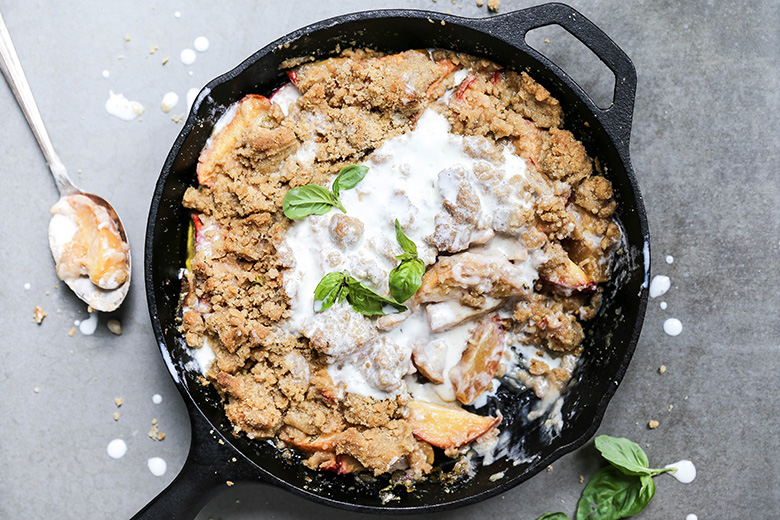 I tested out a couple versions of this cobbler before I left for my vacation, and they were all a big hit. Honestly, I don't think you can go wrong with peach cobbler during peach season. It's an easy target to hit, even if you don't consider yourself to be a "baker", per se.
The basil adds a subtle herby undertone and makes this recipe feel kind of sophisticated and fancy. Even though it's totally not either of those things. This cobbler is 100% rustic. And if you wanted to just dig straight into the skillet (after letting a big scoop of vanilla ice cream get all melty in the middle) and forgo bowls all together, I think no one would fault you for that. That's totally what I did.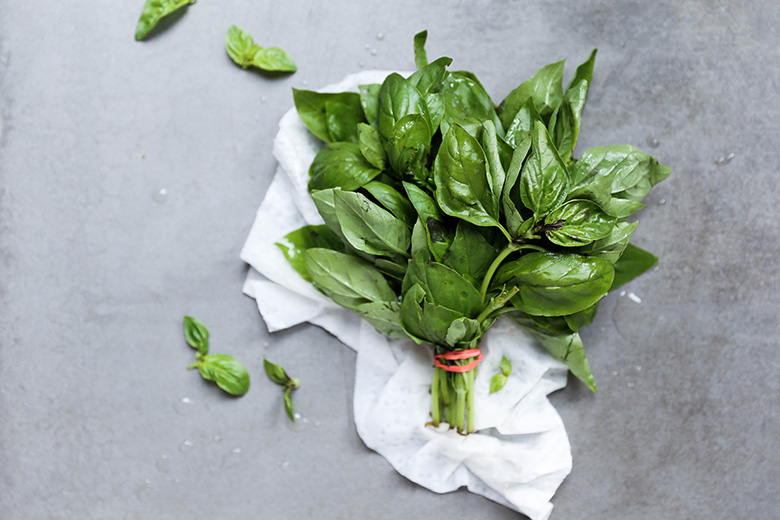 I streamlined the recipe as much as possible to cut down on the number of dishes (only 2 bowls and one skillet!) and ingredients (only 8!) required. Because I wanted as few obstacles as possible standing between us and this Summer dessert. In short: there are no excuses not to make this easy recipe before Summer is over. Go do it!
Cheers,
Liz
Recipe adapted from Bon Appétit
Ingredients
For the Crust
1 cup all-purpose flour
2/3 cups packed brown sugar
1/2 tsp. ground cinnamon
1/2 tsp. salt
1/2 cup (8 tablespoons) unsalted butter, cubed and chilled

For the Filling
2 tablespoons unsalted butter
2 1/2 lbs peaches (about 6-7 large peaches), ripe but firm
1/2 cup packed brown sugar
1/3 cup fresh basil leaves, thinly sliced
2 tablespoons all-purpose flour
2 tablespoons fresh squeezed lemon juice
1/2 tsp. salt
Instructions
Pre-heat your oven to 350 degrees.
To make the crust, whisk together the flour, brown sugar, cinnamon and salt in a large bowl. Add the cubed butter and use your fingers to squeeze/rub the butter into the dry ingredients until clumps form. Place the bowl in your refrigerator while you prepare the remaining ingredients.
Add the remaining 2 tablespoons of butter to a 10-inch cast iron skillet and place it in your oven to melt.
Meanwhile, slice the peaches into wedges, discarding the pits. Add the peach wedges to a large bowl along with the remaining filling ingredients, tossing to coat.
Carefully remove the cast iron skillet from your oven and swirl it gently to coat the sides in the melted butter. Add the peaches, spreading them out evenly (your skillet will be full). Top with the crust mixture.
Bake the cobbler in your pre-heated oven for 25-30 minutes, or until the crust is browned and the filling is bubbling. Remove and set aside to cool.
You can serve the cobbler warm or at room temperature. Serve with vanilla ice cream, whipped cream or Greek yogurt, if desired.
https://www.floatingkitchen.net/easy-skillet-peach-basil-cobbler/