I had the idea for these Maple Cranberry and Dark Chocolate Scones on Thanksgiving Day. And of course, I had to attempt to make them RIGHT AWAY. Because over the years, I've learned that if I don't execute an idea almost immediately, it will get lost forever in the milieu that is my brain, never to be seen or heard from again.
So…since I had used up all my fresh cranberries for Thanksgiving, I had to go to the grocery store on the day after Thanksgiving to buy some more. This did not go well. Because there wasn't a fresh cranberry within a 20 mile radius of my home. A fact that I should have anticipated. All the cranberries had all been snatched up for Thanksgiving. So I had no choice but to wait. And try to not lose the idea for these scones until the grocery stores had a chance to re-fill their shelves.
But now, I'm well stocked (cranberries everywhere!) and ready for Christmas baking. I love using cranberries all December long, in everything from savory breads to sweet treats (and don't forget to throw in a few salads in for balance!). They add such a wonderful, festive touch to any recipe!
These Maple Cranberry and Dark Chocolate Scones aren't just any ordinary cranberry scone. Nope. These babies are filled with roasted cranberries.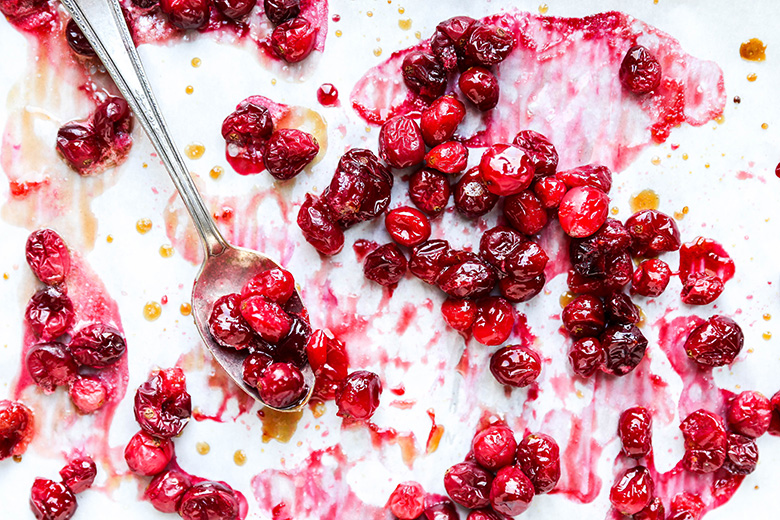 I didn't want to use dried cranberries ('tis the season for fresh!), and I worried that fresh cranberries would be too tart in the final baked good (the base recipe for these scones isn't overly sweet), so I came up with the idea of roasting the fresh cranberries first with maple syrup before folding them into the scone batter. The cranberries get slightly soft and sweet, and end up somewhere between a dried cranberry and a fresh cranberry. It's the perfect middle ground.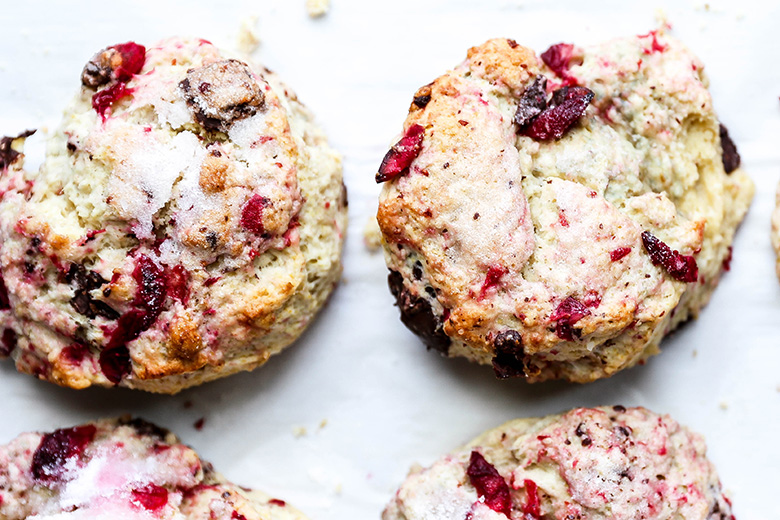 Because I was thinking these scones would be for Christmas morning, I added in big chunks of dark chocolate to make them more decadent. But you could skip the chocolate if you want something more virtuous. I also made them fairly large, using my 2 3/4-inch biscuit cutter. Again, feel free to make them smaller if you don't want to overdo it (or if you have to feed a crowd on Christmas morning).
One thing that's important in this recipe is to let the roasted cranberries cool COMPLETELY before adding them to the scone batter. Also, the batter will be wet (and will probably turn a little bit pink), and your hand will get messy. But that's OK. It will all work out!
Cheers,
Liz
Recipe adapted from Joy the Baker
Ingredients
1 cup fresh cranberries, thawed if frozen
2 tablespoons maple syrup, divided
2 1/2 cups all-purpose flour
1/2 cup quick cooking oats
2 1/2 tsp. baking powder
1/2 tsp. baking soda
3/4 tsp. salt
3/4 cups (12 tablespoons) unsalted butter, cubed and chilled
3/4 cups cold buttermilk
1 egg
1/2 tsp. vanilla extract
1/2 cup chopped dark chocolate
2-3 tablespoons sugar
Instructions
Pre-heat your oven to 400 degrees.
Spread the cranberries out onto a rimmed baking sheet lined with parchment paper. Then drizzle with 1 tablespoon of the maple syrup. Transfer to your pre-heated oven and roast for 10 minutes. Remove and set aside to cool completely.
In the bowl of your food processor with the blade attachment, combine the flour, oats, baking powder, baking soda and salt. Add the cold butter and pulse until you have a coarse crumb.
In a small bowl, whisk together the buttermilk, egg, vanilla extract and the remaining tablespoon of maple syrup. Then add this liquid mixture to your food processor and pulse until the dough has just barely come together. Be careful not to overmix the dough.
Transfer the dough to a large bowl and use a wooden spoon to fold in the roasted cranberries and chopped dark chocolate. Then turn the dough out onto a piece of parchment paper dusted with flour and use your hands to shape the dough into a round disk, flattening it so it's about 1-inch thick. The dough will be slightly wet and tacky. You can flour your hands to help prevent the dough from sticking to your hands.
Using a round biscuit or cookie cutter (I used a 2 3/4-inch biscuit cutter), cut out circles and place them on a large baking sheet lined with parchment paper. Re-shape the dough scrapes and continue cutting out circles until all the dough has been used up. Sprinkle the tops of the circles with sugar, then transfer the baking sheet to your pre-heated oven and bake the scones for 17-18 minutes, or until golden brown around the edges. Remove the baking sheet from your oven and allow the scones to rest for 10 minutes before transferring them to a wire rack to continue cooling.
These are best when enjoyed on the day of baking. Leftovers can be stored in an airtight container at room temperature for 1-2 days and re-warmed slightly before eating.
https://www.floatingkitchen.net/maple-cranberry-and-dark-chocolate-scones/
SaveSave
This post was originally published here on December 19, 2014. I've since updated the photographs and text. Please let me know if you try it out for the Holidays!
I think I've finally recovered enough from my post-Thanksgiving sluggish-ness (i.e. excessive pie and wine) to get started on some Christmas baking endeavors. Are you with me?
I sure hope so. Because today I'm bringing back an old favorite from way back in the day (circa 2014, which is like an eternity in the blog-o-sphere): my Braided Cardamom and Chocolate Hazelnut Bread.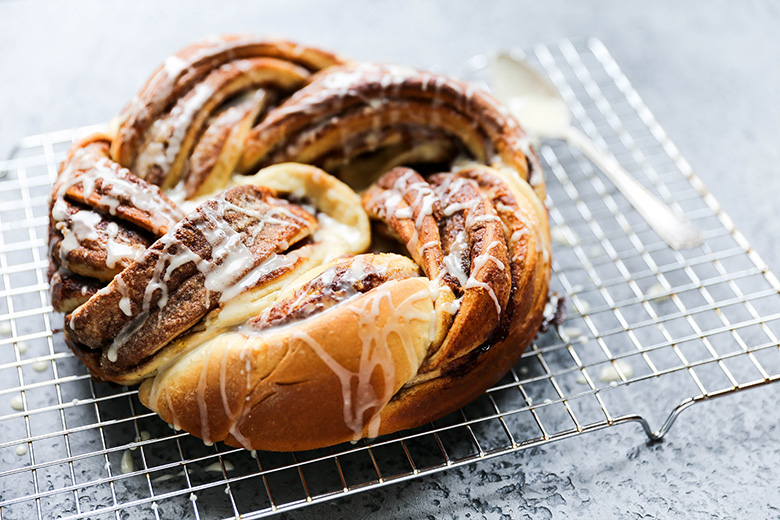 I still remember the first time I ever made this recipe. Because as soon as I pulled it out of the oven, I immediately snapped a photo of the finished product and sent it to my Mom with the caption "Look! I made something pretty!". I was so stupidly proud of how beautiful the bread turned out, that I just had to share that moment with someone. And my Mom was the obvious choice. Because really, who else can we brag to about all our accomplishments, even if they seem silly and insignificant?
In my eyes, however, this Braided Cardamom and Chocolate Hazelnut Bread was a masterpiece of epic proportions. Luckily, my Mom agreed with me.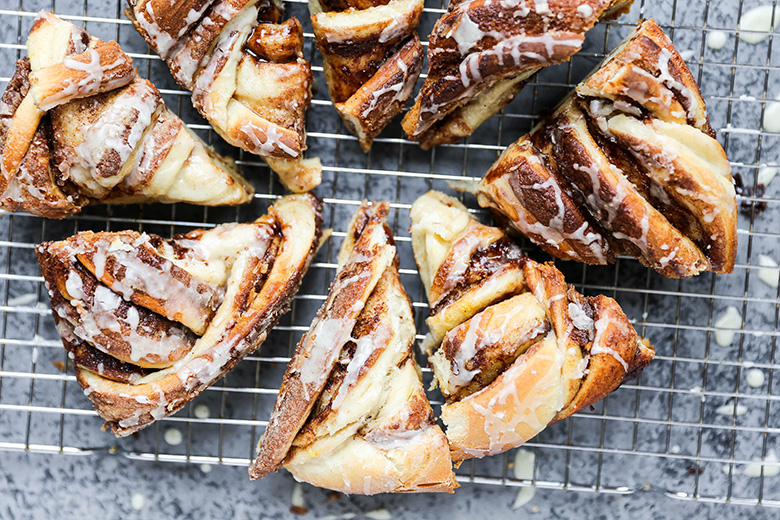 Since that fateful day, I've made several other versions of this sweet, yeasted bread. The base recipe never fails to rise and bake up perfectly. And it's show stopping presentation is one that always has my family and friends ooh-ing and aah-ing. It's perfect for a special occasion, like Christmas brunch. Or for any weekend morning when you have a few hours of extra time on your hands. I love waking up early on a cold Winter morning to start the dough rising while I enjoy my first cup(s) of coffee. Nothing fills my kitchen with warmth and happiness like fresh, homemade baked goods.
Please don't be intimated by the braiding part (steps 10 and 11 in the recipe instructions). It's really not that complicated. And it doesn't have to be perfect, either. The different sized swoops and swirls is what I think makes this bread feel so inviting and homey. It's perfectly imperfect in all the best ways!
Cheers,
Liz
Recipe adapted from my Pecan Sticky Buns
Ingredients
For the Dough
3 - 3 1/4 cups all-purpose flour
1/3 cup sugar
1 tsp. salt
1 tsp. ground cardamom
1 package (2 1/4 tsp.) active dry yeast
1 cup milk
1/4 cup (4 tablespoons) unsalted butter, room temperature
1 egg, lightly beaten

For the Filling
1/2 cup sugar
1 tsp. ground cardamom
3 tablespoons unsalted butter
3 tablespoons chocolate-hazelnut spread (like Nutella)
Finely grated zest from 1 orange

For the Glaze
1/2 cup confectioners sugar
1/4 tsp. ground cardamom
About 2 tablespoons orange juice
Instructions
In the bowl of your stand mixer, whisk together 2 cups of the flour, the sugar, salt, ground cardamom and yeast. Switch to the dough hook attachment.
Warm the milk to 120-130 degrees Fahrenheit. Add the butter and let it soften in the warmed milk. It doesn't have to melt completely, you just want it to be very soft. Then add this mixture along with the beaten egg to the dry ingredients. Beat on medium speed for 1-2 minutes, scraping down the sides of the bowl as necessary. Once the mixture is well combined, start slowly adding in more flour, about 1/4 cup at a time, until the dough is soft, easy to handle and easily leaves the side of the bowl. You'll need anywhere between 1 to 1 1/4 cups flour.
Mix the dough on low-medium speed for about 5 minutes, pulling the dough down off the hook as needed. The dough should be smooth and elastic. Alternatively, you can knead the dough by hand on a lightly floured countertop for about 5 minutes.
Gather up the dough with your hands and shape it into a ball. Transfer it to a lightly oiled bowl, turning the dough to coat it with a thin layer of oil on all sides. Then cover the bowl loosely with a thin kitchen towel and let the dough rise in a warm place for 1 to 1 1/2 hours, or until roughly doubled in size.
Once the dough has risen, gently punch it down to deflate it. Remove it from the bowl and transfer it to a floured countertop. Then shape it with your hands into a rectangle. Next, use a rolling pin to roll the dough out into a 24 X 12-inch rectangle. This will take a little bit of time, because the dough can be fairly elastic and "springy" at first. If it's bouncing back too much, let the dough rest for a few minutes, then try rolling it out again.
Once the dough is rolled out, make the filling. In a small bowl, stir together the sugar and cardamom and set it aside. In a separate microwave safe bowl, microwave the butter and chocolate-hazelnut spread for 20-30 seconds, or until the two are just soft enough to be well combined.
Spread the softened butter/chocolate-hazelnut mixture out in a thin layer evenly over the surface of the dough, leaving about a 1/2-inch boarder around the edges. Then sprinkle the sugar/cardamom mixture evenly over the top. Finally, top with the orange zest.
Beginning at one of the long edges of your rectangle, tightly roll up the dough into a log. Then pinch the edges of the dough together to seal the log as best you can.
Spray a baking sheet and the ring of a 9- to 10-inch springform pan with non-stick cooking spray and set them both aside.
Using a sharp knife, slice the roll lengthwise, creating two equal sized long halves, but leaving one end still attached by about 3/4-inch at the very end. Slightly rotate the halves outwards so the layers are facing upwards. Then starting from the end that is still attached, cross the two halves over each other. Continue doing this until you end up with a single twisted/braided rope. Pinch together the end of the rope.
Gently slide the rope onto your greased baking sheet. Starting with one end, spiral the rope into a closed circle. The circle doesn't have to be tight, because the bread will rise and puff up as it bakes, filling in any small spaces. But it shouldn't have a large hole in the center, either (think about making a shape that resembles a snail shell, not a wreath). Tuck the very end of the rope under the circle so it doesn't stick out.
Place the ring of your springform pan over/around the dough circle to contain it. Then cover loosely with a thin kitchen towel and let the dough rise in a warm place for 30 minutes.
Meanwhile, pre-heat your oven to 350 degrees. Position an oven rack in the middle position.
Remove the kitchen towel from the dough, but leave the springform pan in place. Transfer the baking sheet to your pre-heated oven and bake for about 30 minutes, or until the bread is golden brown and puffed. Then remove the baking sheet from the oven and allow the bread to cool for 10-15 minutes before carefully sliding it off onto a wire rack to continue cooling.
While the bread cools, whisk together all of the ingredients for the glaze. Then drizzle the glaze over the bread before slicing and serving.
This bread is best when it's enjoyed the day it's made. Leftovers can be stored in an airtight container at room temperature for about 2 days, and re-warmed slightly before eating.
https://www.floatingkitchen.net/braided-cardamom-and-chocolate-hazelnut-bread/
SaveSave
SaveSaveSaveSave
SaveSave
SaveSave
SaveSaveSaveSave
SaveSave
SaveSaveSaveSave
SaveSave