Things have been looking overly orange around here these past couple of weeks. Carrots, squash and deeply hued Fall spices have all taken center stage. Both on the blog and in my real life.
Not that I'm complaining, per se. Because orange is one of my favorite colors. And orange-colored foods are some of my favorite foods. But I think it's about time we had a little break from all the orange. There are so many other colors worth exploring!
In an effort to try and bring a little green back into my life, I've been on a serious leafy green salad kick (look for that recipe coming out next week!). And I'm also attempting to make a dent in an overly ambitious haul of red apples. Which means apple pie, apple crisp and maybe even an apple cocktail or two (or three!) are all going to be on repeat for the foreseeable future.
But for now, we've got apple scones.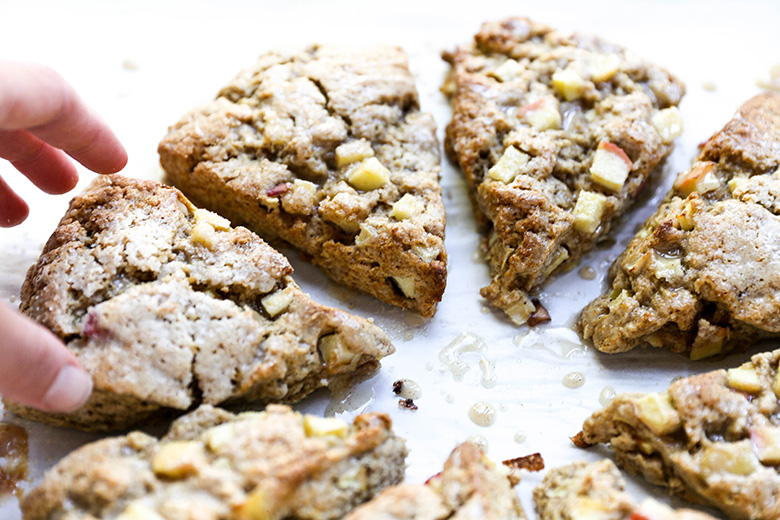 These Chai Spiced Apple Scones with Apple Cider Glaze are my most recent apple creation and they just scream Fall. Loaded with chunks of chopped apples and cozy chai spices (the combination which was inspired by this recipe from Pastry Affair), they are the perfect baked good to enjoy on a cool, crisp Autumn morning. And don't skip the fresh apple cider glaze. Because really, what's a scone without a hefty drizzle of something sticky and sweet on top.
You can use any kind of apple you like. And you don't even need to bother peeling them. Just chop them up relatively small and uniform (around the size of an almond) so they cook up evenly in the scones. Easy peasy. And on the breakfast table in no time!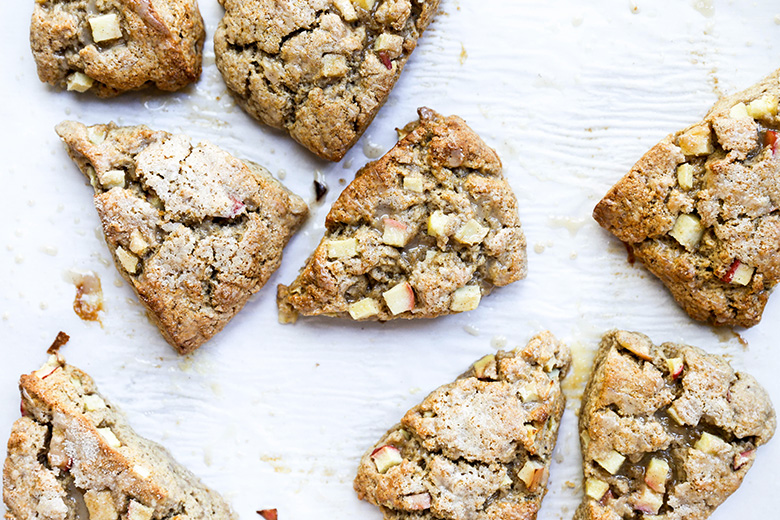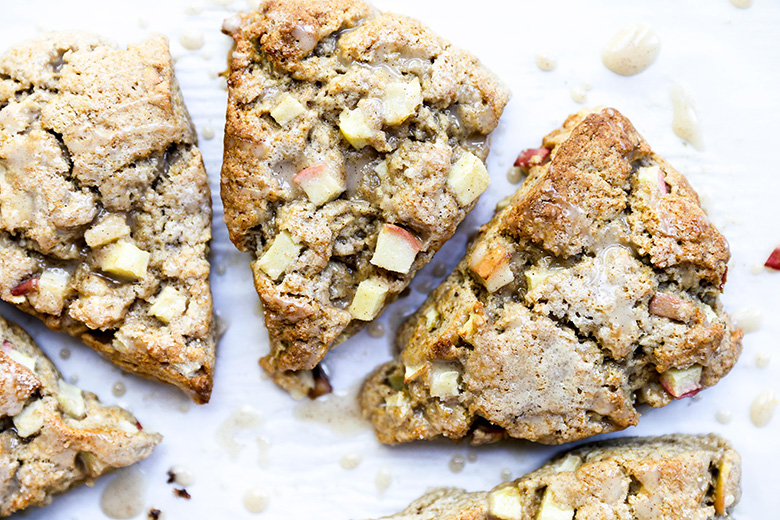 I'm sharing the recipe for these Chai Spiced Apple Scones with Apple Cider Glaze as part of our monthly seasonal eating initiative organized by Becky from Vintage Mixer. Be sure to check out Becky's October Produce Guide for recipe suggestions on everything from pears to pumpkins! And for even more inspiration, click on the links below to see what some of my blogging friends whipped up this month.
Cheers,
Liz
Recipe adapted from my Pear and Ginger Scones with White Chocolate Drizzle
Ingredients
For the Scones
2 cups all-purpose flour
1/2 cup whole wheat flour
1/2 cup plus 1 tablespoon granulated sugar, divided
1 tsp. baking powder
1/2 tsp. baking soda
1/2 tsp. salt
3/4 tsp. ground cinnamon
3/4 tsp. ground ginger
1/4 tsp. ground cloves
1/4 tsp. ground cardamom
1/4 tsp. ground nutmeg
1/8 tsp. ground black pepper
1/2 cup (8 tablespoons) unsalted butter, cubed and chilled
2/3 cups plus 1 tablespoon heavy cream, divided
1 egg
1/4 tsp. vanilla extract
1 1/2 cups chopped apple

For the Apple Cider Glaze
1/2 cup powdered sugar
2 tablespoons apple cider
1/8 tsp. ground cinnamon
Instructions
Pre-heat your oven to 425 degrees. Line a large baking sheet with parchment paper and set it aside.
In the bowl of your food processor with the blade attachment, combine the flours, 1/2 cup of the sugar, baking powder, baking soda, salt and spices. Add the cold butter and pulse until you have a coarse crumb.
In a small bowl, whisk together 2/3 cups of the heavy cream with the egg and vanilla extract. Then add this liquid mixture to your food processor and pulse until the dough has just come together.
Turn the dough out onto a floured work surface and use your hands to fold in the chopped apple, being careful not to overwork the dough. The dough will be slightly wet and sticky. You can lightly flour your hands to help prevent the dough from sticking.
Shape the dough into a round disk, flattening it so it's about 1-inch thick. Then cut the disk into eight wedges. Transfer the wedges to your prepared baking sheet, leaving 1 to 2-inches between them. Then brush the tops of the wedges with the remaining tablespoon of heavy cream and sprinkle with the remaining tablespoon of sugar. Transfer the baking sheet to your pre-heated oven and bake the scones for 15-18 minutes, or until golden brown around the edges. Remove the baking sheet from your oven and allow the scones to rest for 10-15 minutes before transferring them to a wire rack to continue cooling.
To make the glaze, combine the powdered sugar, apple cider and cinnamon in a small bowl until smooth. Then drizzle the glaze over the scones before serving.
These are best when enjoyed on the day of baking. Leftovers can be stored in an airtight container at room temperature for 1 day.
https://www.floatingkitchen.net/chai-spiced-apple-scones-with-apple-cider-glaze/
October Eat Seasonal Recipes
Smoky Pumpkin Black Bean Chili by She Likes Food
Cheddar Chipotle Sweet Potato Soup by Healthy Seasonal Recipes
Apple Cinnamon Scones by Completely Delicious
Instant Pot Red Velvet Beet Soup by Letty's Kitchen
Roasted Delicata Squash, Fig and Persimmon Wild Rice Salad by Flavor the Moments
Apple Cinnamon Baked Oatmeal by JoyFoodSunshine
Spaghetti Squash Shakshuka by Kitchen Confidante
Curried Cauliflower Quinoa and Lentil Salad by Food for My Family
One-Skillet Zucchini Lasagna by Vintage Mixer
Creamy Chicken and Mushroom Stuffed Peppers by Foodie Crush
SaveSave
SaveSave
SaveSave
SaveSave
SaveSave
This post was originally published here on May 29, 2013. I've since updated the photos and text. 
It's my Birthday!
I'm 37 years old today. And apparently, I'm celebrating my most recent successful trip around the sun by re-visiting this recipe for Panzanella Salad with Roasted Garlic. It's a dish that first appeared here on the blog over 4 year ago. And it's one that I still love to make and enjoy all Summer long.
So…is this what 37 looks like? Is my choosing to post a sensible salad recipe on my Birthday, instead of a towering three-tiered cake covered with chocolate frosting and sprinkles, indicative of old age? Or maturity? Or senility?
Honestly, I'm not sure. But whatever the reason, I'm OK with it. Because I'm pleased to report that 37 actually feels pretty gosh darn good.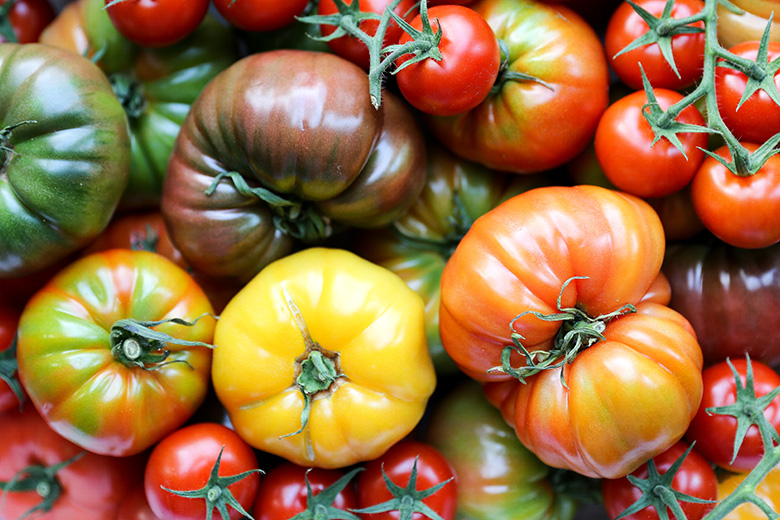 So, let's chat about this salad. It's a recreation of a dish that I enjoyed (i.e. devoured) at a tiny Italian restaurant on Orcas Island several years ago, back when I was living in the state Washington. And while I can't remember everything about that exact dish, their use of whole roasted garlic cloves in the salad is what stood out most in my mind. It's what made their panzanella salad different from those I had eaten in the past. And it's a trick that I've now adopted at home to help take my panzanella salads over the top.
The rest of this salad is composed of your typical Summer staples: juicy tomatoes (get heirlooms if you can!), fresh basil and tender mixed greens. And of course, we can't forget about the toasted bread cubes. I mean, it wouldn't really be a panzanella salad without the bread. I usually buy a loaf of whatever happens to catch my eye at the bakery that week. An Italian Pugliese or French Boule are always sensible choices. But don't be afraid to play with different types of bread. I've learned from past experiments that rye bread can really add an extra punch of flavor. Or try cornbread if you need to make a gluten-free version.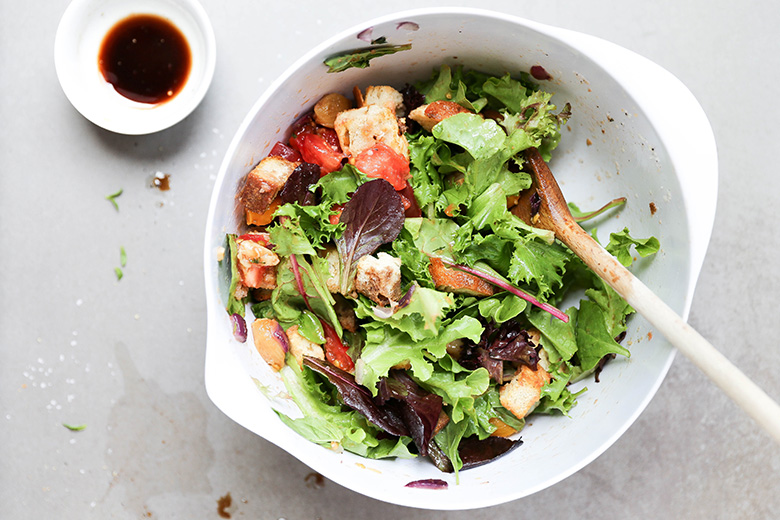 This isn't one of those salads that you can just toss together in a few minutes. It takes time to roast the garlic and prepare the other ingredients. But it's totally worth it for those nights when you have a little bit of extra wiggle room in your schedule. Because the layers of flavors here are seriously on point.
The original version of this recipe included some buffalo mozzarella, but I've since started enjoying it sans cheese. Skipping the mozzarella makes this recipe vegan (just be sure to check the ingredient label on your bread), which means I get to save my "dairy points" for things like ice cream or strawberry shortcake with fancy whipped cream. Because at 37 years of age, I'm learning that life is all about balance.
Cheers,
Liz
Ingredients
For the Salad
2 heads of garlic
About 1/4 cup extra-virgin olive oil, divided
4 cups cubed bread
1/2 red onion, peeled and roughly chopped
1 tsp. fresh thyme leaves
1/2 tsp. salt, divided
1/4 tsp. black pepper
4-5 medium sized tomatoes
2 cups mixed greens
1/4 cup fresh basil leaves, torn

For the Dressing
2 tablespoons extra-virgin olive oil
2 tablespoons balsamic vinegar
Reserved tomato juices
1/4 tsp. salt
1/4 tsp. black pepper
Instructions
Using a sharp knife, remove the top portion of the garlic heads, exposing the individual cloves. Place the garlic heads cut-side up on a piece of aluminum foil. Drizzle each garlic head with 1 teaspoon of olive oil and then fold over the aluminum foil to cover the tops.
Place the garlic heads in your oven, then turn it on to 300 degrees. After 30 minutes, carefully uncover the garlic heads, drizzle the tops with another teaspoon of olive oil and place them back in your oven to roast for an additional 45 minutes. Remove the garlic from the oven and let it cool slightly. Once it's cool enough to handle, carefully remove the individual garlic cloves from their skins and place them in a small bowl. Set aside.
Turn your oven up to 400 degrees. In a large bowl, toss the bread cubes and chopped red onion with the thyme leaves, 1/4 tsp. salt, the black pepper and about 2 tablespoons of the olive oil. Transfer to a large rimmed baking sheet and roast in your pre-heated oven for 15 minutes, stirring once halfway through. The bread should be crisp and lightly golden brown. Remove from the oven and set aside to cool slightly.
Meanwhile, chop the tomatoes into large chunks. Place the chopped tomatoes in a strainer placed over a bowl so you can collect the juices (you will use the juices for the dressing). Sprinkle the chopped tomatoes with 1/4 tsp. salt, tossing gently. Let the tomatoes sit for 5-10 minutes.
To make the dressing, whisk all the ingredients together, including the reserved tomato juices.
To assemble the salad, place the roasted bread cubes and red onion in a large bowl. Add all of the dressing and toss to combine. Then add the roasted garlic cloves, chopped tomatoes, mixed greens and basil leaves. Toss gently to combine. Serve immediately.
https://www.floatingkitchen.net/panzanella/