This post was originally published here on October 27, 2014. I've since updated the images and text, because they needed a bit of a facelift. Enjoy!
I am apparently devoid of all creativity when it comes to pumpkin recipes. My brief history of blogging would suggest that the only thing I can think to do with pumpkin is mix it with cream cheese in some form or another. To make my case, I present you with exhibit A, a recipe for Pumpkin Cream Cheese Muffins. Also exhibit B, a recipe for Pumpkin Pie Cheesecakes. And finally exhibit C, today's recipe for Pumpkin Cheesecake Brownies.
I'll try to branch out a little bit more next time. Sorry I suck at this whole recipe development thing.
I'm totally obsessed with these Pumpkin Cheesecake Brownies. And I know you'll be too. They bake up nice and thick. They are super moist (sorry/not sorry) and fudgy. And they aren't overly sweet. The cream cheese and bourbon help to take the sweetness down a notch, making these squares perfectly balanced. Oh and if you want to add a little salty kick, you can even sprinkle a few pinches of flaky sea salt over the top right when the brownies come out of the oven and are still warm. It's so good!
I also just love the swoops and swirls of the two intermingling layer. It's almost hypnotic to look at them. Kind of like brownie art. And don't they seem like they're all dressed up and ready to go out to a Halloween party?
Speaking of being dressed up, what are you all being for Halloween this year? Tell me! I need suggestions. Because my creativity for Halloween costumes is right up there with my creativity for pumpkin recipes. Virtually non-existent.
Cheers,
Liz
Recipe slightly adapted from The Bojon Gourmet
Pumpkin Cheesecake Brownies
Ingredients
For the Pumpkin Cheesecake Layer
8 ounces (about 1 cup) pumpkin puree (not pumpkin pie filling)
8 ounces cream cheese, softened at room temperature
6 tablespoons sugar
1/2 tsp. ground cinnamon
1/4 tsp. ground nutmeg
1/8 tsp. allspice
1/8 tsp. cloves
1/4 tsp. salt
1 egg
1/2 tsp. vanilla extract

For the Brownie Layer
6 tablespoons unsalted butter
7 ounces semi-sweet or bittersweet chocolate, chopped
2/3 cups sugar
2 eggs
2 tablespoons bourbon
1 tsp. vanilla extract
1/2 cup plus 1 tablespoon all-purpose flour
2 tablespoons unsweetened cocoa powder
1/4 tsp. salt
Instructions
Pre-heat your oven to 350 degrees. Line a 9 X 9-inch baking pan with parchment paper or aluminum foil, leaving a couples inches overhanging on all sides. Lightly spray the parchment paper/foil with non-stick spray and set it aside.
Spread the pumpkin puree out to a 1/4-inch thickness onto a stack of paper towels. Layer a few more paper towels on top of the pumpkin puree and press down gently. Set aside and let the pumpkin drain of excess moisture while you make the rest of the cheesecake batter.
In the bowl of your stand mixer with the paddle attachment, beat the cream cheese until smooth. Add the sugar and beat for 2-3 minutes, scraping down the sides of the bowl once or twice. Beat in all the spices, salt, egg and vanilla extract. Peel the paper towels off the pumpkin puree and scrape the pumpkin puree into your stand mixer. Beat until it's well combined with the cream cheese mixture. Place the pumpkin cheesecake batter in your refrigerator while you make the brownie batter.
In a saucepan over medium heat, melt the butter. Turn the heat down to low and whisk in 4 ounces of the chopped chocolate. Once it's melted, remove the saucepan from the heat. Whisk in the sugar. Then whisk in the eggs, bourbon and vanilla extract. Whisk in the flour, cocoa powder and salt until smooth. Stir in the remaining chopped chocolate.
Pour about 3/4 of the brownie batter into your prepared baking pan, spreading it evenly. Then gently pour all of the pumpkin cheesecake batter evenly over top of the brownie batter. Dollop the remaining brownie batter on top of the pumpkin cheesecake layer. Drag the tip of a knife through the batter to create a swirly pattern.
Transfer the brownies to your pre-heated oven and bake for 40 minutes, rotating the pan once half way through baking. Remove from the oven and set aside to cool. Once the brownies have cooled to room temperature, set them in your refrigerator to chill for about 2 hours.
After they have chilled, lift the brownies out of the pan using the overhanging parchment paper/foil. Cut into squares and enjoy. These brownies can be stored in an airtight container in your refrigerator for 2-3 days.
Notes
1. If you want a salty bite, you can sprinkle the tops of the brownies with a few pinches of flaky sea salt just as they come out of the oven.
http://www.floatingkitchen.net/pumpkin-cheesecake-brownies/
If you're a pumpkin lover, then today is your special day. Because it's the second annual Virtual Pumpkin Party hosted by Sara from Cake Over Steak. Which means that dozens and dozens of brand spanking new savory and sweet pumpkin recipes from some of your favorite food bloggers will be hitting the internet. It's kind of epic.
Me? I've never really been bitten by the pumpkin bug. In fact, I'm sometimes even audibly opposed to the whole idea. Part of this is for social/cultural reasons. I just can't stand the pumpkin mania that descends upon us every August. It's too soon. August is for eating watermelon until your hands and face are sticky. And for enjoying fruity cocktails in the sun until you feel that warm glow both inside and out. August is not meant for pumpkin. So I find myself shunning pumpkin, maybe more harshly than it deserves. Because in my own weird way, it's how I rebel against the early adopters.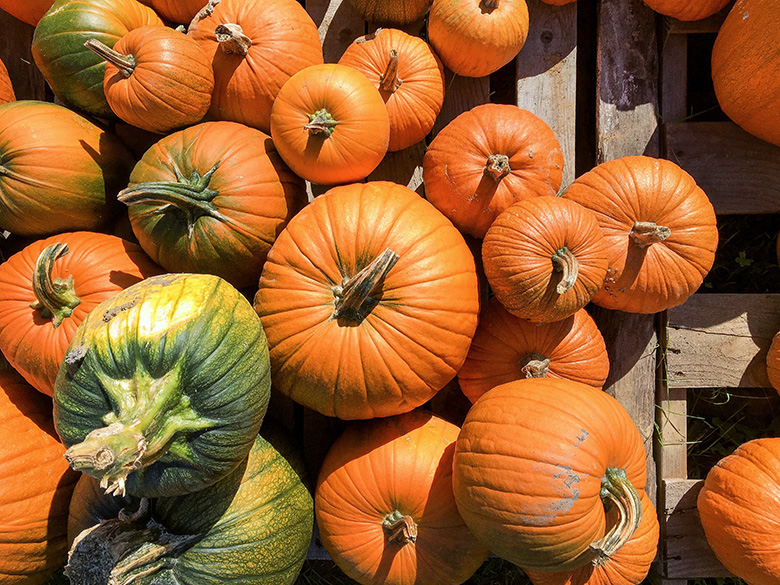 Also, I've come to realize that I'm just not a super huge fan of either the canned stuff or the overpowering flavor that can come from pre-made pumpkin spice mixes. Sure, I've used them in the past with success. And I probably will again in the future. There is no denying their convenience. But maybe going forward, they won't be my main source for pumpkin inspiration.
So to try to learn to love pumpkin (or at least to not so fiercely oppose it), I'm setting my focus on the fresh stuff. Real pumpkins. Grown locally and harvested in season. And you know what? I may be turning over a new leaf.
For last years #virtualpumpkinparty, I crafted this festive Pumpkin Beertail with Tequila and Spiced Rum (have you seen the color of this baby?). So this year, I decided to go the savory route. I picked up some fresh pumpkins from the local farm stand (the ones for cooking will be labeled "sugar pumpkins" or "pie pumpkins") and got to work at creating this easy Chicken and Pumpkin Chili. It's super hearty, filled with big chunks of pumpkin, shredded chicken and both white and black beans. And it's loaded with warming spices like ginger and cumin. Oh and don't skip the corn tortilla chips for serving. They are absolutely necessary, in my humble opinion.
To make my life easier, I used shredded chicken that I removed from one of those grocery store rotisserie chickens. It's one of my favorite kitchen shortcuts, and I have no shame in admitting that. But you can cook your own chicken at home and use that instead, if you prefer.
Dismantling a whole pumpkin can be a bit intimidating. And I'm certainly no expert at this task. I cut mine into wedges, scooped out and discarded the seeds. Then removed the skin with a standard vegetable peeler before dicing the flesh into cubes. If you have a better way of handling things, please let me know! Oh and if you're opposed to pumpkin (or simply can't find any fresh ones), you can substitute in an equal amount of peeled and cubed butternut squash or sweet potato.
To check out all the other bloggers pumpkin recipes, visit Sara's blog HERE for the full list. And here is last years list, if you need even more inspiration!
Cheers,
Liz
Recipe adapted from Gluten Free Goddess
Chicken and Pumpkin Chili
Ingredients
For the Chili
2 tablespoons extra-virgin olive oil
1/2 red onion, peeled and chopped
4 garlic cloves, peeled and minced
1 jalapeño pepper, diced
2 cups peeled and cubed (cut into about 1-inch pieces) fresh pumpkin
2 tsp. ground ginger
2 tsp. dried oregano
1 tsp. ground cumin
1 tsp. ground chili powder
1/2 tsp. ground coriander
1/2 tsp. salt
4 cups chicken broth
2 (15-ounce) cans white beans, rinsed and drained
1 cup black beans, rinsed and drained
3 cups cooked and shredded chicken
1 tablespoon agave nectar
Juice from 1 lime

For Topping
Corn tortilla chips
Fresh cilantro
Instructions
Warm the olive oil in a large heavy-bottom pot over medium-high heat. Add the red onion and cook, stirring frequently, until slightly softened, about 3 minutes. Add the minced garlic and diced jalapeño pepper and cook, stirring frequently, until fragrant, about 1-2 minutes. Add the cubed pumpkin and all the spices, stirring to coat the vegetables in the spices.
Stir in the chicken broth and beans. Cover the pot and bring the chili to a boil. Then turn down the heat to maintain a simmer. Cook the chili, covered, for about 15-20 minutes, or until the pumpkin is tender. Stir in the shredded chicken, agave and lime juice and cook until the chicken is warmed through.
To serve, ladle the chili into bowls. Top with crushed tortilla chips and fresh cilantro, if desired.
Leftovers can be stored in an airtight container in your refrigerator for 2-3 days.
http://www.floatingkitchen.net/chicken-and-pumpkin-chili/