You guys! I've been eating so much squash lately, that I'm kind of afraid I might start to turn some bizarre shade of orange.
But as my friend Sherrie said to me earlier in the week "some people pay good money to be that color". So I guess that is the upside to my dilemma.
I blame my obscene levels of squash consumption on my Mother. Because I asked her to bring me a couple delicata squash from the farm the other day, and she brought me twelve. So I've been on a steady diet of squash ever since.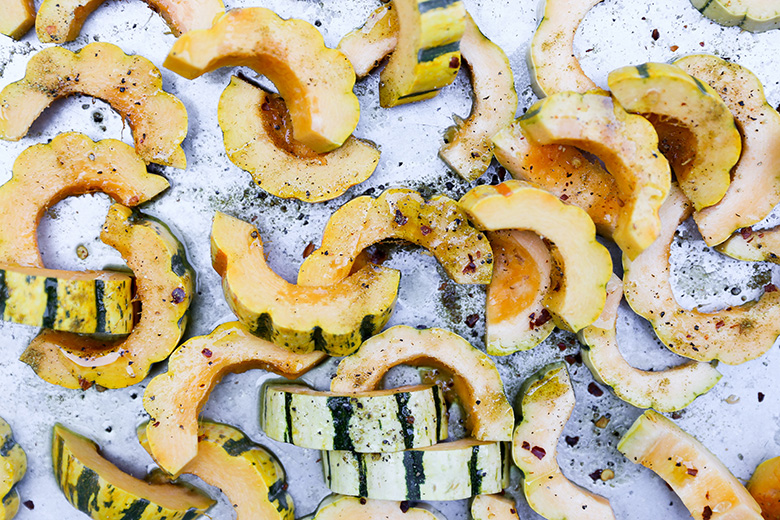 Delicata squash has been a favorite of mine for a while now. It has a mild nutty, sweet flavor. It cooks up relatively quickly (at least compared to some other squashes). And you can eat the skin once it's been cooked. Which is awesome because I'm lazy and I don't like to peel things. So there you go.
I've used roasted delicata squash "half-moons" as a sandwich topping before, and I wanted to re-visit that idea here. But this time, focusing on a purely vegetarian option. So I slathered warmed sandwich-sized pita breads with fresh guacamole. Then topped them with black beans, pumpkin seeds, roasted squash and a few sprigs of fresh cilantro. Then I proceeded to shove three in my face. They were that good.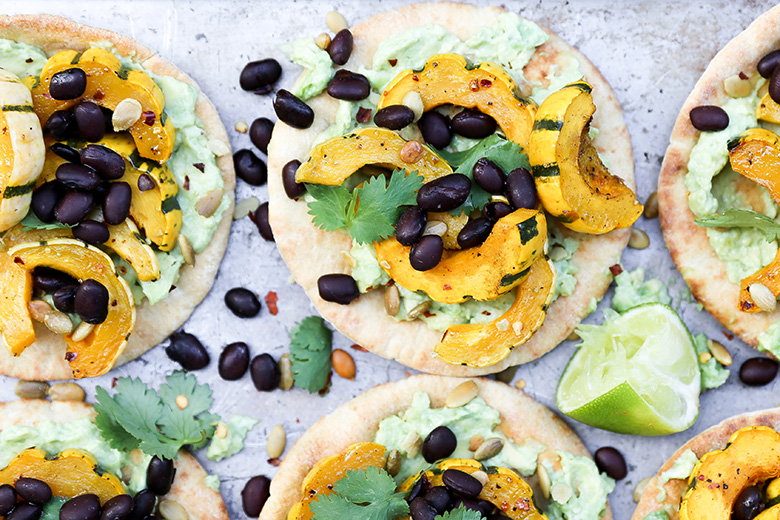 These Roasted Delicata Squash Pita Tostadas with Black Beans and Guacamole come together very quickly, which makes them a great choice for lunch or an easy weeknight dinner. Try them out and then come back here and tell me about how much you loved them!
Oh and do you want to know what my secret ingredient is for making the guacamole so incredibly yummy? It's goat cheese. I simply mix a couple tablespoons of softened goat cheese in with the avocado to give my guacamole a wonderful creamy texture. Here I used a honey-flavored goat cheese from Laura Chenel's that I'm currently obsessed with. But you could certainly used any plain or herbed goat cheese that you love.
If you wanted to make this recipe gluten free, swap out the pita bread for corn tortillas and have yourself a little Fall taco situation. Sounds delightful to me.
Cheers,
Liz
Roasted Delicata Squash Pita Tostadas with Black Beans and Guacamole
Ingredients
For the Delicata Squash
2 delicata squash
1 tablespoon extra-virgin olive oil
1/2 tsp. salt
1/2 tsp. black pepper
1/4 tsp. cumin
1/4 tsp. red pepper flakes

For the Guacamole
1 avocado
2 tablespoons goat cheese, softened at room temperature
Juice from 1/2 lime
1/4 tsp. salt

For the Tostadas
6 sandwich size pita breads (5- to 6-inches in diameter)
About 1/2 cup black beans, rinsed and drained
About 1/4 cup shelled pumpkin seeds
2 tablespoons fresh cilantro, roughly chopped
Instructions
Pre-heat your oven to 400 degrees.
Trim the ends off the delicate squash and then slice them in half lengthwise. Scoop out and discard the seeds. Then slice the squash into 1/2-inch thick "half-moon" slices. Add the squash to a large rimmed baking sheet and drizzle with the olive oil, tossing gently to coat. Then sprinkle with the salt, black pepper, cumin and red pepper flakes. Transfer the baking sheet to your pre-heated oven and roast the squash for 18-20 minutes, gently stirring once halfway through cooking time. Remove from the oven and cover to keep warm.
Meanwhile, place the pita breads on a second rimmed baking sheet and warm them in your oven for about 10 minutes, or until the edges turn slightly crispy.
To make the guacamole, slice the avocado in half and remove and discard the pit. Scoop out the flesh into a clean bowl. Add the goat cheese, lime juice and salt. Then mash everything together with a fork until well combined.
To assemble the tostadas, spread the guacamole in a thin layer over the warmed pita breads. Top with 4-5 slices of the roasted delicata squash, a heaping tablespoon of black beans, a sprinkling of pumpkin seeds and some fresh cilantro. Serve immediately.
http://www.floatingkitchen.net/roasted-delicata-squash-pita-tostadas-with-black-beans-and-guacamole/
I'm back from a little blogging hiatus. And I'm easing into things with this simple and quick Avocado Toast with Spicy Marinated Chickpeas and Zucchini.
Baby steps, right?
Also, I just want to say up-front that I know this recipe seems rather unassuming. But it's not. It completely exceeded all of my expectations. I almost dropped to my knees after I took the first bite. It's that good. So seriously. You HAVE to make this one. Trust your old pal Liz.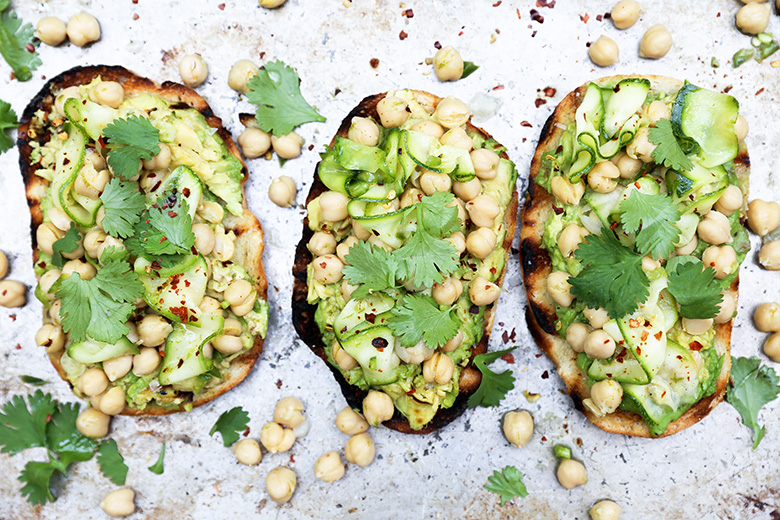 You all know by now that I'm obsessed with avocado toast. And that I'm also on a personal mission to grill ALL THE THINGS. So it was only a matter of time before I combined those two elements together.
For this recipe, I grilled both the avocados and the bread. And oh my gosh, it makes everything taste AH-MAZING! The avocados get so incredibly creamy after just a couple of minutes on the grill. And the light char on the olive oil-brushed bread is absolute perfection.
The marinated chickpea and raw zucchini ribbon topping is very easy to toss together. And it's equally good eaten straight up as it is piled high on top of the warm avocado toast. The juices drip down and soak into the bread slightly (you might want to tackle this avocado toast with a knife and fork), making every single bite super flavorful.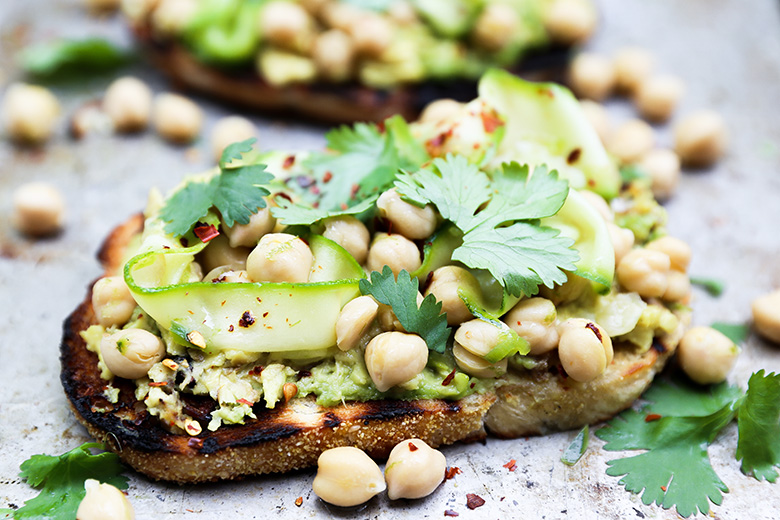 This Avocado Toast with Spicy Marinated Chickpeas and Zucchini is exactly how I like to eat all Summer long. I don't need any complicated, time consuming dinners. Light, fresh and fast is where it's at! Which makes this recipe perfect to share as part of our monthly 30 Minute Thursday series. For more dishes that you can make in 30 minutes or less (hooray!), just check out the links below. You got this!
Cheers,
Liz
Avocado Toast with Spicy Marinated Chickpeas and Zucchini
Ingredients
For the Marinated Chickpeas and Zucchini
2 tablespoons extra-virgin olive oil
1 tablespoon agave nectar
Juice of 2 limes
Zest of 1 lime
1/2 jalapeño, finely diced
1/2 tsp. salt
1 (14 ounce) can chickpeas, rinsed and drained
1 medium zucchini, trimmed

For the Toast
About 1/4 cup extra-virgin olive oil
6 slices of bread
3 avocados, halved and pitted
About 1/4 cup fresh cilantro, roughly chopped
Red pepper flakes
Flakey sea salt
Instructions
Pre-heat your grill to medium-high.
Make the marinated chickpeas and zucchini. In a large bowl, whisk together the olive oil, agave nectar, lime juice, lime zest, diced jalapeño and salt. Add the chickpeas and toss to coat them in the dressing. Using a vegetable peeled, peel the zucchini into ribbons. Then add the ribbons to the bowl and toss gently to combine. The zucchini ribbons will have a tendency to stick together. Use your hands to separate them, making sure they all get coated with some of the dressing. Set aside.
Grill the bread and avocados. Brush both sides of the bread with a thin layer of olive oil. Add the bread to your pre-heated grill and cook until it's slightly crisp and grill marks have started to form, about 1-2 minutes per side. Remove and set aside. Brush the cut side of the avocados with a thin layer of olive oil. Add the avocados to your grill, cut side down, and cook until warm and grill marks have started to form, about 1-2 minutes. Remove and set aside.
Assemble the toasts. Scoop out the avocado flesh and smash it onto the grilled toast, using about 1/2 an avocado per slice of bread. Top with the marinated chickpeas and zucchini. Sprinkle with chopped cilantro, red pepper flakes and a pinch of sea salt. Serve immediately.
http://www.floatingkitchen.net/avocado-toast-with-spicy-marinated-chickpeas-and-zucchini/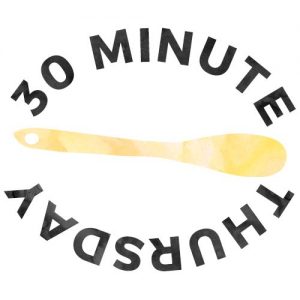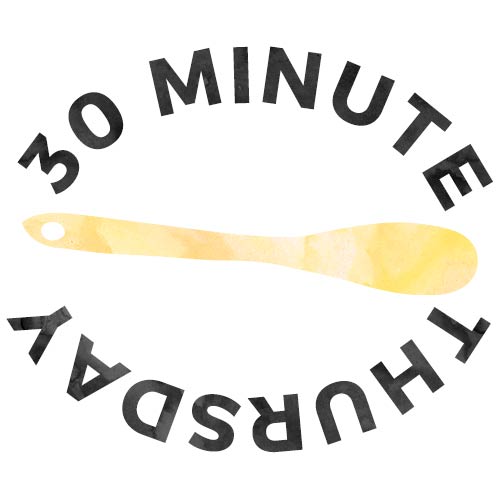 Basil Pesto Pasta with Broccoli and Mushrooms from Pumpkin 'n Spice
Crispy Salmon with Greek Orzo from Bake.Eat.Repeat.
Blackened Grilled Salmon with 'Kickin Corn Pico de Gallo from Whole and Heavenly Oven
Unstuffed Bell Pepper Skillet from Kristine's Kitchen
Grilled Pineapple Teriyaki Chicken Caesar Salad from Life Made Sweeter
Sweet Potato Noodles with Black Beans & Avocado Sauce from Sweet Peas & Saffron
Honey Pineapple Barbecue Chicken Sandwich from Flavor the Moments