This post was originally published here on October 1, 2014. I've since updated the photographs and text to better showcase just how delicious this Fall favorite really is!
This delightfully orange soup doesn't have a single drop of pumpkin in it. And that's totally fine by me.
I know pumpkin-mania is in full swing right now. But I've always been a butternut squash kind of girl. It's my favorite Fall/Winter vegetable. And I'd choose it any day over pumpkin, even preferring squash pie over pumpkin pie.
My preference for butternut squash goes way back. In fact, you might even say it's deeply rooted and steeped in family tradition. As my grandfather's favorite crop to grow on our farm (we even named his Cadillac the "butternut mobile" because he used to drive around with so much butternut squash in the back seats!), butternut squash was a staple in my house growing up. We hardly even gave pumpkin a passing glance.
So FYI – you can expect to see more recipes here using butternut squash than pumpkin. I hope you're cool with that.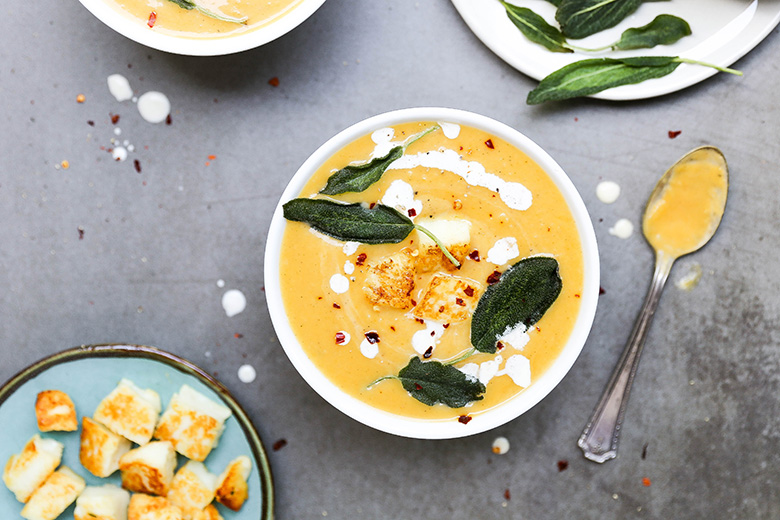 This Butternut Squash and Apple Soup with Fried Sage and Halloumi is one of those blissfully uncomplicated dishes that you'll find yourself repeating over and over again. Just toss all the ingredients for the soup base into a big pot and let it rip. Easy peasy.
The apple provides an additional level of sweetness that pairs exceptionally well with the butternut squash. I just love adding apples to all kinds of dishes this time of year. Both butternut squash and apples can so easily transition between savory and sweet dishes. The possibilities are kind of endless.
I have a rule about puréed soups: they should never be naked. So I fried up some sage leaves (aren't they the prettiest!?!?) and cubed Halloumi cheese to be used as toppings. Halloumi is a fabulous salty, mild cheese that can withstand the heat (it's perfect for grilling, too!), and if you haven't tried it yet, you should change that ASAP.
If you try out this recipe for Butternut Squash and Apple Soup with Fried Sage and Halloumi, let me know! And what other soups are you craving this time of year? I typically make at least one big pot of soup each week, and I'd love to hear about some of your favorites!
Cheers,
Liz
Recipe adapted from Foodess
Butternut Squash and Apple Soup with Fried Sage and Halloumi
Ingredients
For the Soup
2 tablespoons unsalted butter
2 cups chopped yellow onion
4 cups peeled and cubed butternut squash
1 large apple, peeled, cored and chopped
4 cups vegetable stock
1 tablespoon chopped fresh sage leaves
1/4 tsp. black pepper
1/8 tsp. allspice
1/3 cup heavy cream

For the Toppings
3-4 tablespoons extra-virgin olive oil
16-18 fresh sage leaves
8 ounces Halloumi cheese, cut into 1-inch cubes
1-2 tablespoons heavy cream
Instructions
In a large heavy bottom pot, melt the butter over medium heat. Add the chopped onions and cook, stirring frequently, for about 5 minutes. Add the remaining ingredients except for the heavy cream. Bring the soup to a boil. Then turn down the heat to maintain a simmer. Simmer, covered, for about 30-35 minutes or until the butternut squash is very tender. Remove the pot from the heat and set it aside to cool briefly.
Purée the soup using an immersion blender until it's smooth. You can also use a regular blender, making sure to work in batches and being cautious while transferring hot liquids. Return the puréed soup to it's original pot and re-warm it over low heat. Stir in the heavy cream. Taste and add salt and additional black pepper, if desired. Keep the soup warm while you make the toppings.
In a skillet over medium-high heat, warm enough olive oil to coat the bottom of the skillet. It doesn't have to be very deep. Once the oil is hot, add the sage leaves and fry them for about 20 seconds per side, just until they are starting to crisp slightly. Don't allow them to turn dark brown. Place the fried sage leaves on a paper towel-lined plate to drain. Now add the cubed Halloumi cheese to the hot oil, working in batches if necessary. Fry the cheese about 20-30 seconds per side, until golden brown. Place the fried Halloumi cheese on a paper towel-lined plate to drain.
To serve, ladle the warm soup into bowls. Top with a few fried sage leaves, fried Halloumi cheese cubes and a drizzle of heavy cream.
Once cooled, the soup can be stored in an airtight container in your refrigerator for 2-3 days.
http://www.floatingkitchen.net/squash-and-apple-soup-with-fried-sage-and-halloumi/
SaveSave
SaveSave
SaveSave
SaveSave
SaveSave
SaveSave
SaveSave
This post was originally published here on January 26, 2015. I've since updated the photographs and text. Because let's be honest, the photographs weren't that great before!
This is the kind of salad I want to eat every damn day. Forever and ever. Until I'm old and cranky (crankier?) and my teeth are falling out. And then at that point, I'll just toss the entire thing into my blender and turn it into a smoothie bowl.
But seriously, I've been eating this Roasted Vegetable Power Bowl (or some very similar version of it) everyday for lunch for the past couple of weeks. It's one of those salads that doesn't really feel like a salad. It's substantial and hearty. And it won't leave you feeling deprived. In fact, the only reason you'll be left wanting more is because it's so gosh darn delicious. Second helpings are highly encouraged.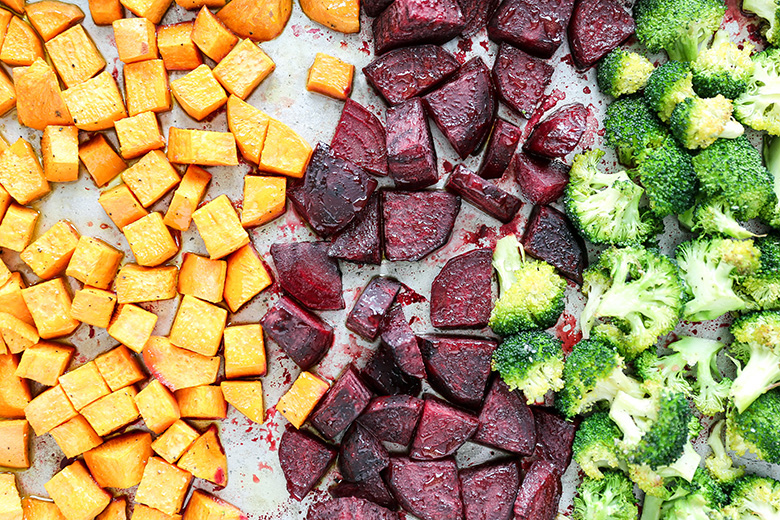 I've written the recipe out below so it makes two servings. But what I actually do in real life is roast up a whole mess of vegetables at the beginning of the week, cook up a big pot of quinoa and make a big jar of the tahini dressing. Then I can assemble one of these bowls at a moments notice anytime throughout the week. Because when hunger strikes, you want to be ready and willing to strike back.
Sometimes I switch out the sweet potatoes for butternut squash. Or substitute cauliflower for the broccoli. You can also use brown rice as a base instead of the quinoa. Oh and a few slices of avocado never hurt anyone. Basically, it's a choose your own adventure kind of situation. You can build these bowl in any which way to suit your tastes preferences (and to accommodate whatever you might have lingering in your crisper drawer!).
I try to keep the vegetables somewhat separated on the baking sheet so the color of the beets doesn't bleed into everything. But it's not really necessary. Unless of course you want to snap a dope photo and Instagram that shit. Then by all means, be a little fussy with those vegetables.
Cheers,
Liz
Roasted Vegetable Power Bowl
Ingredients
For the Salad
1 medium sweet potato, peeled and cut into 1-inch cubes
2 small beets, trimmed, peeled and cut into 1-inch cubes
2 cups broccoli florets
Extra-virgin olive oil
Salt
Black pepper
2 cups mixed greens
1 cup cooked quinoa
1/4 cup almonds
1 tablespoon fresh cilantro

For the Dressing
2 tablespoons extra-virgin olive oil
1 tablespoon fresh squeezed lemon juice
1 tablespoon tahini paste
1 tsp. maple syrup
Instructions
Pre-heat your oven to 400 degrees.
In a medium bowl, toss the cubed sweet potato with 1-2 tsp. of olive oil and a pinch of salt and pepper. Transfer to one side of a large rimmed baking sheet. In the same bowl, now season the cubed beets with olive oil, salt and pepper. Add these to the same rimmed baking sheet, but keep them separate from the sweet potatoes so the color of the beets doesn't bleed into the sweet potatoes. Transfer the baking sheet to your pre-heated over and roast for 10 minutes.
Add the broccoli florets to the same bowl and season with olive oil, salt and pepper in the same manner as you did for the sweet potatoes and beets. After 10 minutes, add the broccoli florets to the baking sheet with the sweet potatoes and beets (keeping them spaced away from the beets) and then return your baking sheet to your oven for another 10 minutes. Remove the vegetables from the oven and set aside.
While the vegetables are roasting, make the dressing. In a small bowl stir together all of the ingredients until smooth. You can add a tablespoon of water to thin the dressing, if you prefer.
To assemble the bowls, divide the lettuce evenly between two bowls. Then top with the roasted vegetables, cooked quinoa, almonds and cilantro, dividing all the ingredients evenly between the two bowls. Drizzle with the dressing. Serve immediately.
http://www.floatingkitchen.net/roasted-vegetable-power-bowl/