I feel like we're all collectively screaming for comfort food right now. The weather is cold, dark and generally kind of shitty. The political landscape in America is bleak, at best. And Valentine's Day, which I've found to be a rather dreaded day for both singles and couples alike, is looming on the horizon.
All of these things are reason enough to dig into some good old fashioned Italian comfort food. Which is why I decided to make us some Baked Chicken Parmesan Meatballs with Creamy Polenta for today. AND I made it all in just about 30 minutes. Because sometimes when you need comfort food, you need it FAST.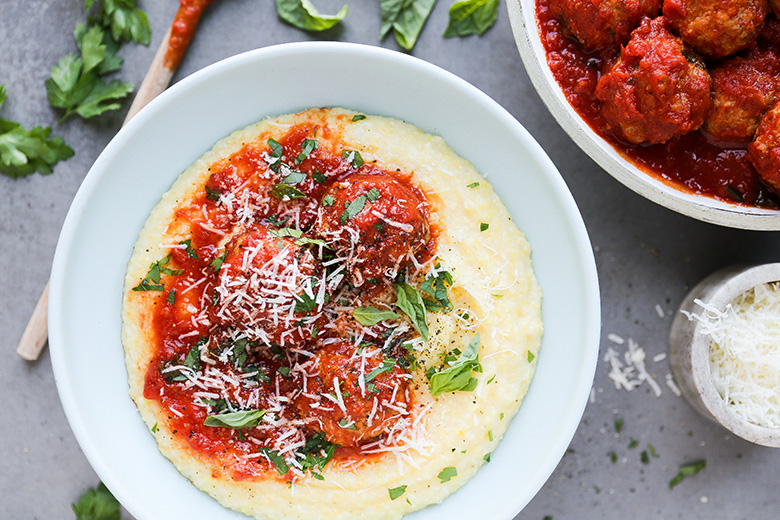 Something you may have noticed over the past year or so on this site is a shift towards almost exclusively plant-based recipes. And while I'm not claiming to be a vegetarian (I still enjoy non-vegetarian recipes on occasion), I'd estimate that about 90% of my meals consumed at home are strictly plant-based.
I don't really have one glaring reason for this shift in my diet. All I can really say is that eating plants makes me feel good. It's as simple as that. So I'm going to continue down that path for now. And throw in a few non-vegetarian recipes every once in a while when a craving hits.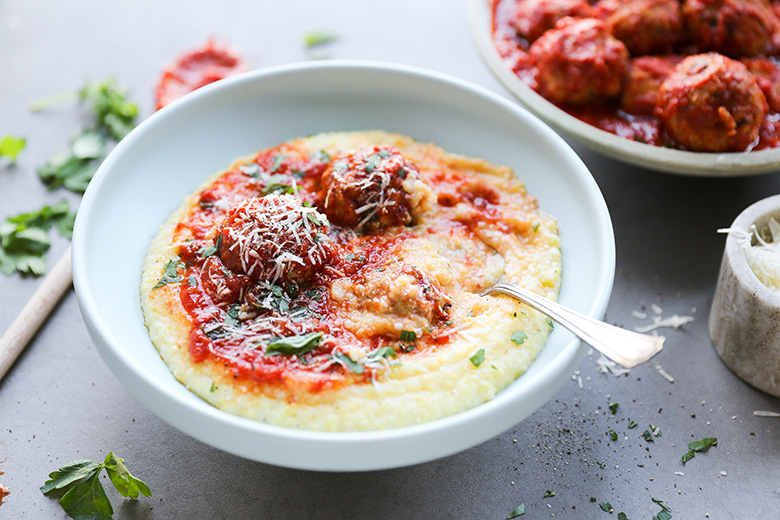 Meatballs are one of the few foods that I remember really liking as a child. I was a picky eater, so most things were off limits at meal times. But meatballs were almost always welcome.
I like to make my meatballs from ground chicken (although you could certainly use ground turkey). And I always bake them in my oven. Which I suppose isn't very traditional. But I appreciate that they are a little bit leaner. And not to mention, less messy and more hands off to prepare. Once you get the meatballs in the oven, you can concentrate your efforts elsewhere in the kitchen – like tackling a batch of this homemade tomato sauce and whisking up the creamiest mascarpone cheese polenta EVER.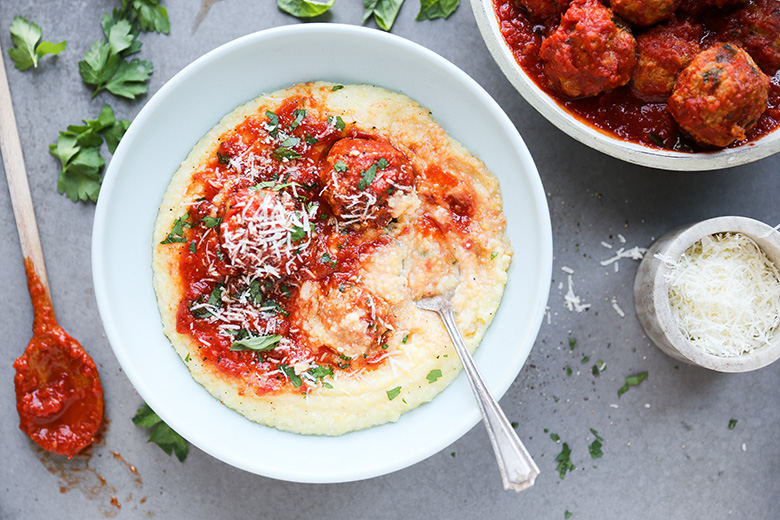 This recipe can undoubtedly be made from start to finish in 30 minutes. I've done it successfully many times. There is very little chopping. And each component requires less than 20 minutes of actual cooking time. BUT I have to be honest and say that there is some coordination/multi-tasking required to get it done within a 30 minute time frame. You'll have to manage the tomato sauce and the polenta at the same time. Which isn't that big of a deal, but it can feel kind of rushed the first time you try it. If all that sounds unpleasant to you, feel free to warm up a big jar of your favorite store-bought tomato sauce on the stovetop in lieu of making your own. That will save you a few minutes.
Polenta is kind of a new-ish ingredient for me. I didn't grow up eating polenta, so it tends to fall off my radar periodically. But I'm trying to incorporate it more into my life. It's a great base for everything from these chicken meatballs to barbecue pulled pork to roasted vegetables. How do you usually use polenta? I'd love to hear some additional suggestions!
Are you craving even more meals that you can prepare in 30 minutes or less? Of course you are! Well, lucky for you it's 30 Minute Thursday. If you scroll down past the recipe below, you'll find links to other quick and easy recipes from some of my blogging friends. Make sure to check them all out!
Cheers,
Liz
Ingredients
For the Meatballs
1 lb ground chicken (you can substitute ground turkey)
1 egg
1/2 cup bread crumbs
1/2 cup grated Parmesan cheese
1/4 cup fresh parsley, roughly chopped
1 tablespoon extra-virgin olive oil
1 tsp. salt
1/2 tsp. black pepper
1/2 tsp. fennel seeds
1/2 tsp. dried oregano
1/8 tsp. ground nutmeg

For the Tomato Sauce
1 tablespoon extra-virgin olive oil
2 garlic cloves, peeled and minced
1/4 tsp. red pepper flakes
1 (28 ounce) can crushed tomatoes
2/3 cups chicken stock
1/4 cup fresh basil, roughly chopped
1/4 tsp. salt
1/4 tsp. black pepper

For the Polenta
4 cups water
1 cup polenta
1/4 cup mascarpone cheese
1 tsp. salt
About 1/2 cup milk

For Serving
Fresh parsley, chopped
Fresh basil, chopped
Parmesan cheese, shredded
Instructions
Pre-heat your oven to 425 degrees. Spray a large rimmed baking sheet with non-stick spray and set aside. To make the meatballs, add all of the ingredients to a large bowl and mix until everything is just combined (your hands are the best tool for this job!). Shape the chicken mixture into balls, using about 2 tablespoons of the mixture for each meatball. You should end up with 16-18 meatballs. Place the meatballs on your prepared baking sheet. Transfer to your pre-heated oven and bake for 15 minutes.
Meanwhile, make the sauce. Heat the olive oil in a large stock pot over medium-high heat. Add the garlic and red pepper flakes and cook, stirring frequently, for 1-2 minutes, or until the garlic is fragrant. Add the crushed tomatoes, chicken stock (use it to rinse out the can of crushed tomatoes), basil, salt and black pepper. Bring to a simmer. Once the meatballs have finished baking, gently add them to the simmering sauce and let them cook in the sauce for an additional 5 minutes. Remove the stock pot from the heat. Cover to keep warm.
Meanwhile, make the polenta. Bring the water in a boil in a heavy bottom saucepan. Slowly whisk in the polenta and turn down the heat to maintain a simmer. Cook the polenta for 15-17 minutes, whisking frequently so it doesn't burn on the bottom and adjusting the heat to prevent it from aggressively splattering and bubbling. Once the polenta has thickened and the liquid is absorbed, remove the saucepan from the heat. Whisk in the mascarpone cheese and the salt. Then whisk in enough milk to thin it to your desired consistency. Cover to keep warm.
To serve, spoon the warm polenta into bowls. Top with the meatballs and some of the sauce. Garnish with fresh herbs and shredded Parmesan cheese, if desired. Serve immediately.
Leftovers can be stored in an airtight container in your refrigerator for 2-3 days.
https://www.floatingkitchen.net/baked-chicken-parmesan-meatballs-with-creamy-polenta/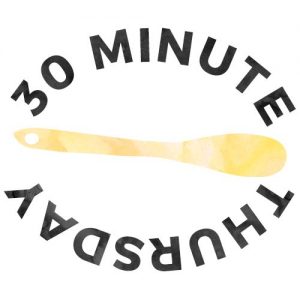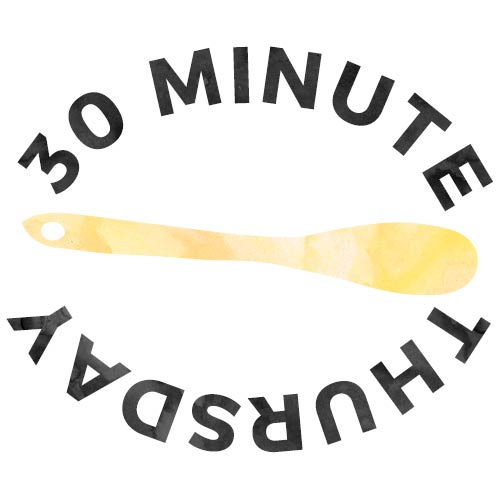 One Pot 30-Minute Pasta e Fagioli from Flavor the Moments
Tuna Casserole from My Kitchen Craze
Easy Chicken Pad Thai from Life Made Sweeter
One Pot Black Bean Fajita Pasta (Make Ahead) from Sweet Peas & Saffron
Italian Chicken Tortellini Skillet from The Recipe Rebel
Lightened Up Baked Chicken Parmesan from Kristine's Kitchen
Healthy Taco Chickpea Lettuce Wraps from She Likes Food
30 Minute Chicken Stew from Bake.Eat.Repeat
Garlic Parmesan Gnocchi with Mushrooms from Pumpkin 'N Spice
Someone mentioned something about pumpkin last week and I nearly cried.
Really? I can't even deal.
July is the heart of Summer. It's the main event. The prime time slot, if you will. It's what I wait for all year long. And I won't have it overshadowed with thoughts of pumpkin.
If you're on board with these sentiments, keep reading. And if not, check back mid-September. I'll probably have something for you then.
In the meantime, let's enjoy copious amounts of fresh Summer produce, grillables, ice cream and a few poolside cocktails.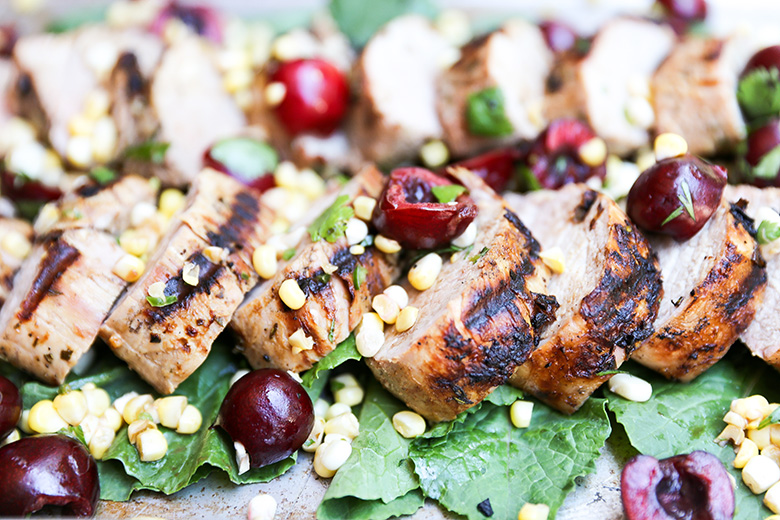 A couple of years ago I stumbled upon a grilling method for pork tenderloin called the "7-6-5 method". And it has seriously changed my life for the better. Because even as a confident and experienced cook, I've had my fair share of poorly executed meat dishes. Especially when it comes to grilling. It's all to easy to end up with a charred exterior and an undercooked interior. But the 7-6-5 method has proved it's worthiness time and time again. And it's turned pork tenderloin into one of my most favorite (and most foolproof!) cuts of meat to grill during the Summer months.
Also, nothing pairs better with so many of my beloved Summer staples than grilled pork tenderloin. It's a versatile canvas for a variety of savory-sweet salsas, chutneys and relishes. In fact, I don't think I've found any combination that doesn't work. Today I've topped mine with a mixture of raw corn, cherries, cilantro and diced jalapeño pepper. Who knows what combination I'll try out next!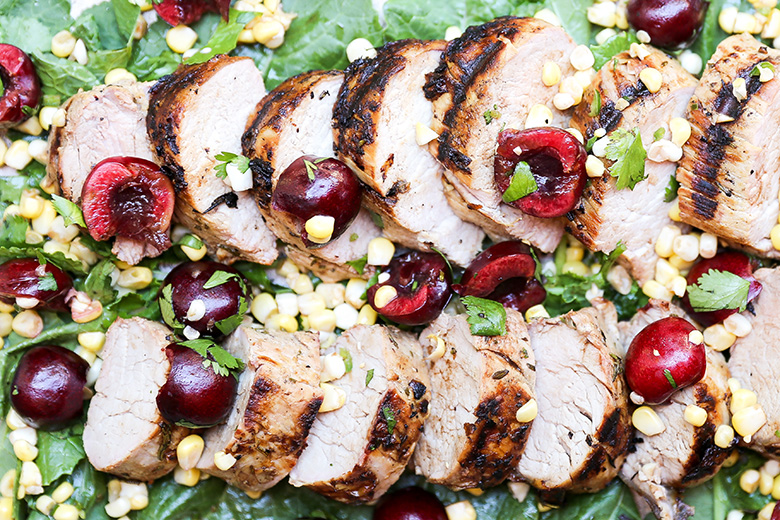 I'm sharing my recipe for this Grilled Pork Tenderloin with Spicy Corn-Cherry Salsa as part of our monthly #eatseaonal round-up organized by Becky from Vintage Mixer. Be sure to have a peak at Becky's July guide for dozens of recipe ideas that take full advantage of this month's fruits and vegetables. And check out the links below for even more seasonal recipes created by some of my talented blogging friends.
And back away from the pumpkin, people. Just back away.
Cheers,
Liz
Ingredients
For the Pork Tenderloin
1/4 cup extra-virgin olive oil
1/4 cup lemon juice
3 garlic cloves, peeled and minced
1 tablespoon fresh thyme leaves, chopped
1 tablespoon fresh rosemary, chopped
1 tsp. salt
1 tsp. black pepper
2 pork tenderloins (about 2.5 lbs total), trimmed of excess fat

For the Cherry-Corn Salsa
2 ears fresh corn, husks and silks removed
1 1/4 cup cherries, stemmed, pitted and halved
1/2 – 1 jalapeño pepper, finely diced
2 tablespoon fresh cilantro leaves, chopped
2 tablespoons lemon juice
1 tablespoon balsamic vinegar
1 tsp. sugar
Instructions
Marinate the pork tenderloin. In a small bowl whisk together the olive oil and the next 6 ingredients. Place both of the pork tenderloins in a large re-sealable plastic bag, Then add the marinade to the bag. Seal the bag, pushing out as much air as possible so the marinade makes good contact with the pork. Transfer to your refrigerator and let the pork tenderloins marinate for at least 1 hour, or up to 4 hours.
Make the salsa. Using a sharp knife, cut the corn kernels from the cob. Add the corn kernels and all the other ingredients for the salsa to a medium bowl, tossing to combine. Cover and refrigerate the until you're ready to use it.
Cook the pork tenderloins. Remove the pork tenderloins from your refrigerator and let them sit at room temperature for a few minutes to take off some of the chill. Pre-heat your grill to high and lightly oil your grill racks. Remove the pork tenderloins from the bag and place them on your grill. Discard the leftover marinade. Grill for 7 minutes with the lid closed. Flip the tenderloins over and grill for 6 minutes on the second side, also with the lid closed. Then turn off your grill without opening the lid and allow the tenderloins to cook for an additional 5 minutes, or until a thermometer inserted into the thickest part of the tenderloin reads 145-150 degrees Fahrenheit.
Remove the pork tenderloins from the grill and transfer them to a plate. Tent with foil and allow the meat to rest for 5-10 minutes. Cut into 1-inch thick slices and arrange on a serving platter. Top with the salsa. Serve immediately.
Leftovers can be stored in an airtight container in your refrigerator for 1-2 days.
https://www.floatingkitchen.net/grilled-pork-tenderloin-with-spicy-corn-cherry-salsa/
July Eat Seasonal Recipes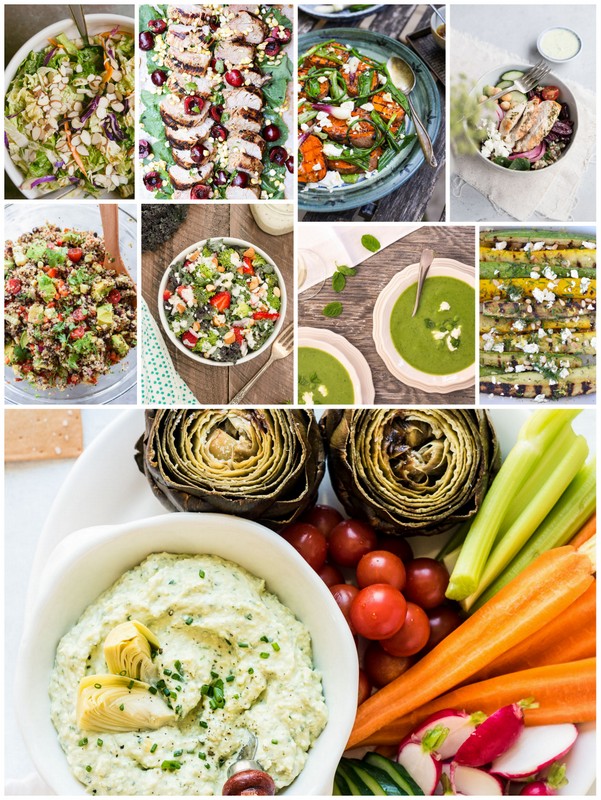 Chinese Napa Cabbage Salad by Food for My Family
Grilled Green Onion & Sweet Potato Salad with Warm Chèvre by Simple Bites
Chicken Gyro Bowls with Summer Veggies by Vintage Mixer
Latin Chipotle Quinoa Salad with Avocado by Foodie Crush
Broccoli Kale Salad with Greek Yogurt Poppyseed Dressing by Flavor the Moments
Peasy Easy Sweet Pea Mint Soup by Letty's Kitchen
Grilled Summer Squash with Feta, Lemon & Fresh Herbs by Mountain Mama Cooks
Artichoke and Avocado Dip by Kitchen Confidante
Grilled Squash, Corn and Kale Salad by Completely Delicious (not pictured)