Happy first official day of Summer!
This past weekend was absolutely gorgeous. I was basically poolside the entire time. Only stopping to mix beertails, grill kebabs and watch a few episodes of Orange Is the New Black (I'm trying really hard not to binge!). Life can be pretty good sometimes.
Now I'm easing back into Monday with a longer than life to-do list and a big pile of laundry. Thankfully there's ice cream to make the transition a little bit sweeter.
So…tahini-flavored ice cream. Are you down? Or does that sound totally weird to you?
Admittedly, I wasn't sure myself initially. I was worried it might be too savory. And that the texture might be a little bit off as well. But I only needed to take one bite of this cool, creamy concoction to be completely sold on the idea. And I'm hoping that my opinion carries a little bit of weight around here, and you'll be willing to give it a try.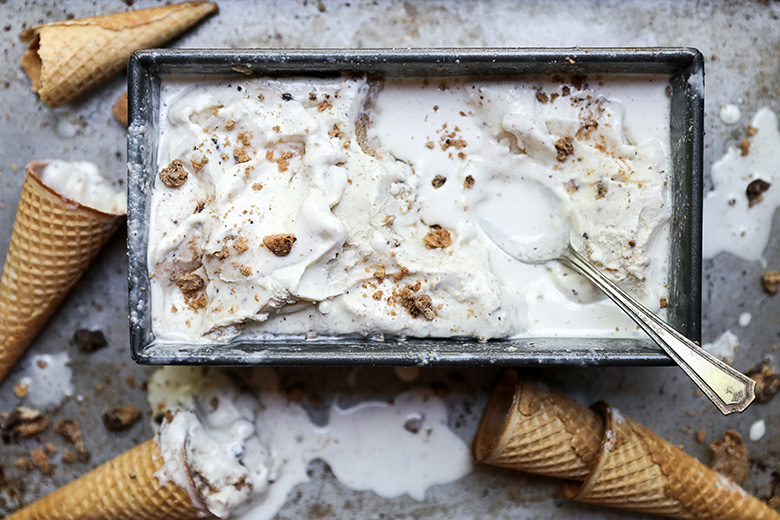 Like a peanut butter-flavored ice cream, this tahini-flavored ice cream does have a bit of a savory, nutty undertone. But it's most definitely still dessert. Especially with a few chunks of chocolate chip cookies weaved into the ice cream base (I used store bought cookies, but you could certainly make your own). It's a fun flavor if you're looking for something unique, but not totally over-the-top weird (I spotted dill pickle ice cream the other day…um NO!)
I'm sharing this Tahini Ice Cream with Chocolate Chip Cookies as part of Ice Cream Week (hooray!), which is being organized by my talented friend Amanda from A Cookie Named Desire. Dozens of bloggers will be sharing ice cream recipes throughout the week, and you can check them all out here on Amanda's site. I hope you made some extra space in your freezer…
Oh and there are prizes, too! One lucky winner will win a bunch of ice cream related goodies, including items from Rodelle, Cuisinart, Zeroll and Tovolo. You can get all the details of the giveaway AND enter to win on Amanda's site. Go do it! And good luck!
Cheers,
Liz
Tahini Ice Cream with Chocolate Chip Cookies
Yield: Makes about 1 quart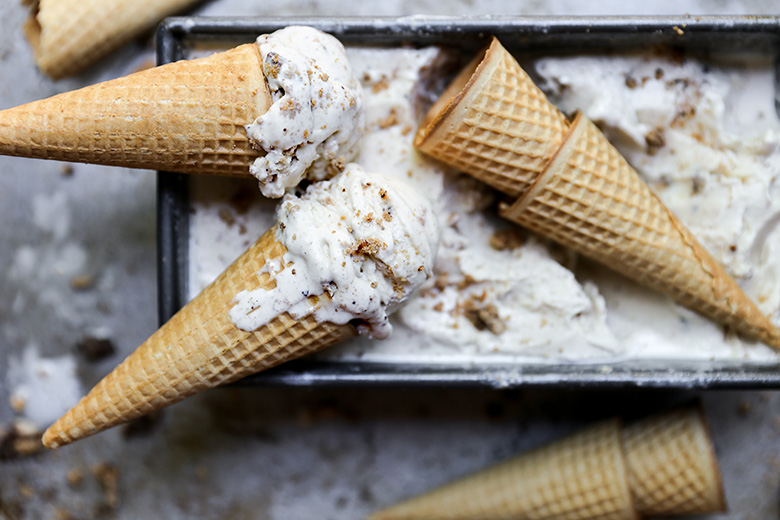 Ingredients
1 1/2 cups whole milk
1 cup heavy cream
4 ounces cream cheese, softened at room temperature
4 ounces tahini
3/4 cups sugar
1 tsp. vanilla extract
1 tablespoon vodka, optional
1 1/2 cups chopped chocolate chip cookies
Instructions
Before starting, make sure the canister of your ice cream maker is frozen. To freeze completely, the canister should be in the freezer for at least 6 hours.
Make the ice cream base. In a heavy bottom saucepan over medium heat, whisk together the milk, heavy cream, cream cheese, tahini (make sure you stir it well before using it) and sugar until well combined and smooth. The mixture will appear lumpy at first, but it will come together after a few minutes of whisking and warming. Do not let the mixture come to a boil. Once smooth, remove from the heat and transfer the ice cream base to a clean bowl. Stir in the vanilla extract. Cover and refrigerate until completely chilled, at least 4 hours or up to 24 hours.
Churn the ice cream. Pour the chilled ice cream base into the canister of your ice cream maker and churn until the mixture is nearly frozen and the consistency of soft serve, about 20 minutes. Add the vodka, if using, and churn for an additional minute. Then add the chopped cookies and churn until they are well distributed.
Transfer the ice cream to a freezer safe container. Cover with plastic wrap, pushing the plastic all the way down to the surface of the ice cream. Freeze until firm, about 3 hours, before scooping and serving. The ice cream can be stored in your freezer for several days.
http://www.floatingkitchen.net/tahini-ice-cream-with-chocolate-chip-cookies/
Posted on February 25, 2016
Hi Friends! Today we're hosting a virtual baby shower to celebrate three awesome ladies and their families: Natalie of Tastes Lovely, Izzy of She Likes Food and Jess of Flying on Jess Fuel.
Hooray! Won't you come and join us for all the fun and festivities?
If you're wondering what a virtual baby shower is, well, it's pretty much exactly what it sounds like. Simply put, it's a way for us bloggers to virtually acknowledge and share our excitement over our friends life changing events. We may live thousands of miles apart from each other, but that doesn't mean that we can't find a way to celebrate in style!
The theme for this triple doozy of a baby shower is bite-sized foods. I don't have a baby, but from what I've heard they are rather small to start off with. So I guess that's how we came up with said theme.
To mark this special occasion, I created these adorable Chocolate and Salted Caramel Swirled Meringues. Meringue cookies have a crisp exterior and a somewhat chewy, marshmallow-like interior. And they are so light and airy, it's easy to gobble up half a dozen without even really realizing you've done so. Not that I know anyone who did that.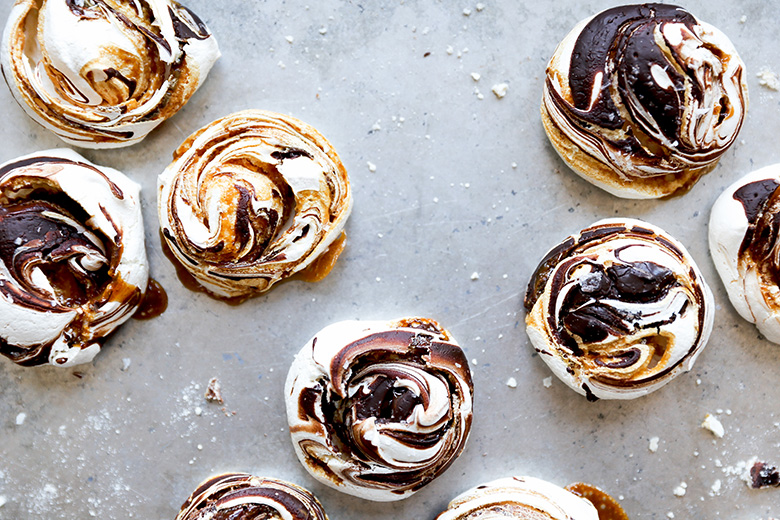 Meringues are very easy to make, requiring only four ingredients for the cookies themselves. And once you get into a rhythm with swirling the chocolate and salted caramel sauced into the meringue, it's easy and fun to make them look very pretty!
I don't have an exact amount of melted chocolate and salted caramel sauce to report. But I'd say you'll need less than 1/4 cup of each. Make sure both the chocolate and the salted caramel sauce are liquidy enough so that they can be swirled easily into the meringue. But you don't want them to be scorching hot either. I kept them in two small microwave-safe bowls, making it easy to quickly re-warm them while I was working, if necessary.
I used this recipe for the salted caramel sauce, replacing the eggnog with heavy cream. But feel free to use your favorite recipe. Or even a good quality store bought caramel sauce will do just fine in a pinch.
And before you go, don't forget to check out what my other blogging friends "brought" to today's party! You'll find all the links if you scroll down past the recipe below.
Cheers,
Liz
Recipe for the meringues adapted from my Chocolate Pavlovas
Chocolate and Salted Caramel Swirled Meringues
Yield: Makes about 3 dozen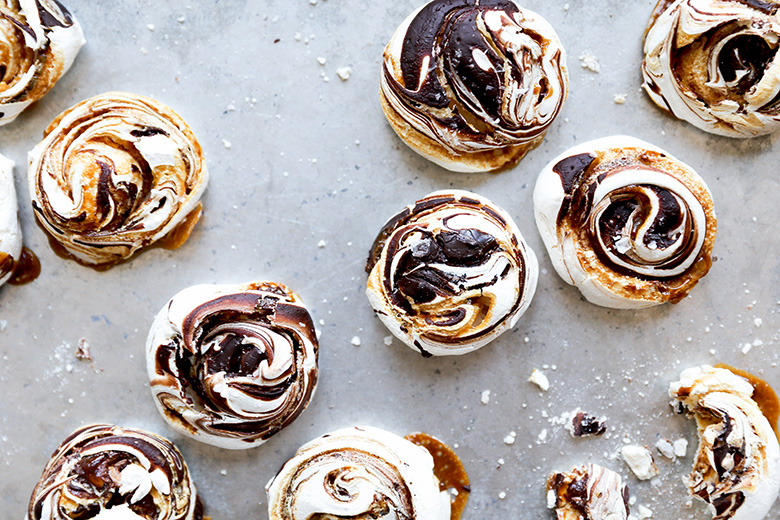 Ingredients
For the Meringues
4 egg whites, at room temperature
1 cup sugar
1/2 tsp. vanilla extract
1/2 tsp. fresh squeezed lemon juice

For Topping
Melted dark chocolate
Salted caramel sauce
Flaky sea salt
Instructions
Pre-heat your oven to 275 degrees. Line two large baking sheets with parchment paper and set aside.
In the bowl of your mixer with the whisk attachment, beat the egg whites on medium speed until small bubbles start to form. Then increase the speed to high and beat until stiff peaks form. Gradually incorporate the sugar, adding about 2 tablespoons at a time. Once all of the sugar has been added, beat on high for about 5 minutes. The meringue should be stiff, glossy and able to hold it's shape on a spoon or whisk, even when turned upside down. Scrap down the sides of the bowl. Add the vanilla extract and lemon juice and beat for 1 minute more.
Scoop the meringue out in rounded spoonfuls onto your prepared baking sheets, leaving about 1-2 inches between each mound. Do not flatten them or worry about their shape at this time.
Make sure your melted chocolate and salted caramel sauce is smooth and liquid, but not hot. Place a small amount of each (I found a dollop somewhere between the size of a pea and an almond worked the best) on top of each meringue. Then use a toothpick to swirl the toppings into the meringue, shaping the meringue as you do this. Don't flatten the meringues out too much, as they will spread some during baking. I found it easiest work with a single row of meringues at a time (adding the toppings and swirling them), before moving on to the next row. As your toothpick gets sticky, toss it out and replace it with a fresh one. Sprinkle the tops of the meringues with a pinch of sea salt.
Transfer the swirled meringues to your pre-heated oven and reduce the temperature to 250 degrees. Bake for about 40 minutes. The outsides should be dry to the touch. Remove the meringues from the oven and allow them to cool completely on their baking sheets. Then gently peel them away from the parchment paper.
The meringues can be served on the day they are made. Or stored in an airtight container at room temperature for 3-4 days. They will loose some of their crispness over time, but they will still be delicious!
http://www.floatingkitchen.net/chocolate-and-salted-caramel-swirled-meringues/
Caprese Cups – Pumpkin 'N Spice
Almost No Bake Pineapple Squares – The Recipe Rebel
Key Lime Cheesecake Bars with Coconut Macadamia Crust – Flavor the Moments
Lemon Macarons – Life Made Sweeter
Lemon Lime Bars – Bake. Eat. Repeat.
Prosciutto-Wrapped Avocado Crostini with Balsamic Glaze – My Sequined Life
Mediterranean Stuffed Mini Peppers – Kristine's Kitchen
Mini Chocolate Bundt Cakes – My Kitchen Craze
Pepper Jack and Bacon Stuffed Cherry Tomatoes – A Latte Food
No Bake Baileys Smores Mousse Cups – With Salt and Wit
Strawberry Shortcake Bread – Maebells
Banana Cream Pie Dessert Nachos – Whole and Heavenly Oven
Lemon Cream Pie Bites – Bakerita
Balsamic Strawberry Wonton Bites – Sweet Peas & Saffron