I feel like everyone around me is being so organized lately. The back-to-school routines have set in. And the carefree, lazy days of Summer are starting to fade away.
But I just can't seem to get my act together. Hence why I haven't managed to get a blog post up here in over a week. I don't know what is wrong with me these past couple of days. Maybe I'm protesting the start of a new season.
I think I say this every year, but it's worth repeating: I actually totally love Fall. In fact, I might even like it as much (if not more!) than Summer. I know it doesn't seem that way, because I'm very vocal in my pumpkin-shaming. But I just want to enjoy Fall when it's ACTUALLY FALL. Does that make sense?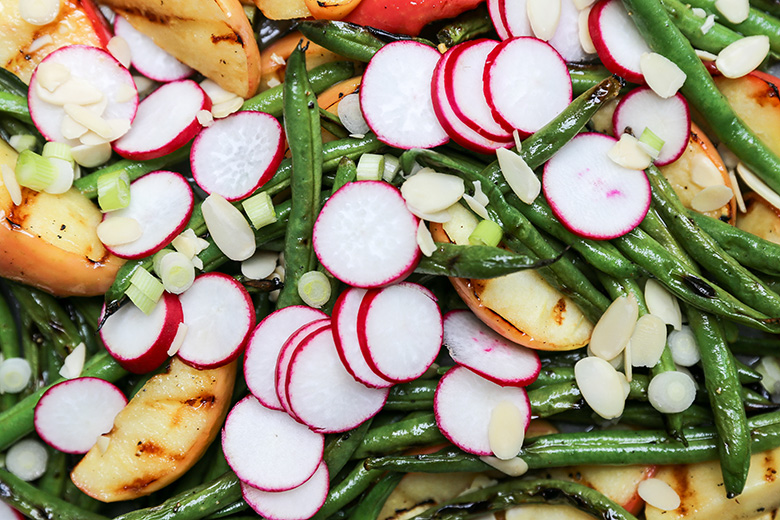 This Grilled Green Bean and Apple Salad is my attempt at sliding one foot into Fall, while still keeping the other foot firmly planted in Summer. It's still very hot and humid here, so my grill is going to continue to be used a lot over these next several weeks. And I find myself still craving light dishes that won't weigh me down. But local apples are popping up everywhere, and I plan to take full advantage of them.
This is a great side dish for Fall, or if you're like me, it can totally swing it as a main dish as well. In fact, I think I should rename this recipe "how to consume an entire pound of green beans in one sitting". Because that is exactly what I did. Everything about this recipe is highly addicting. From the maple syrup-sweetened dressing to the slightly smoky green beans and apples, I guarantee you'll have a hard time stopping yourself from stealing nibbles straight from the pan.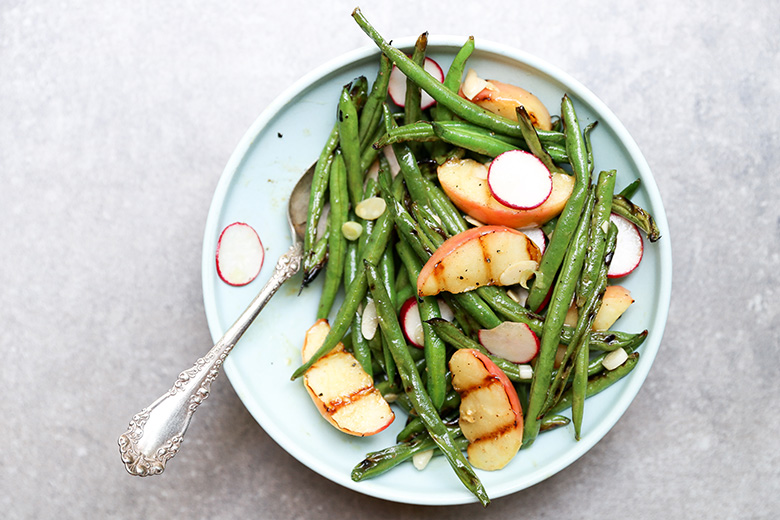 Because I'm some combination of cheap and stubborn, I don't own a grill basket. Which means I toss all my grill-ables straight onto the grates. This totally works. But unless you have some high level of dexterity, you'll probably loose a few green beans through the grates. Not a big deal, in my humble opinion. But if you have a grill basket, this would be a great time to bust it out.
Cheers,
Liz
Grilled Green Bean and Apple Salad
Ingredients
For the Dressing
2 tablespoons extra-virgin olive oil
1 tablespoon red wine vinegar
1 tsp. Dijon mustard
1 tsp. maple syrup
1/8 tsp. salt
1/8 tsp. black pepper

For the Salad
1 lb green beans, trimmed
2 apples, cut into wedges
2 tablespoons extra-virgin olive oil
Juice from 1 lemon
1/4 tsp. salt
1/4 tsp. black pepper
4 radishes, trimmed and thinly sliced
2 scallions, white and light green parts thinly sliced
1/4 cup sliced almonds
Instructions
Whisk together all of the ingredients for the dressing in a small bowl. Set aside.
Pre-heat your grill to medium-high.
In a 9 X 13-inch baking pan, toss together the green beans, apple wedges, olive oil, lemon juice, salt and pepper until everything is well coated. Add the green beans and apple wedges to your grill and cook until they have started to blackened in a few places, about 3-5 minutes. I place everything directly on the grill grates, but if you have a grill basket that would be helpful at preventing the green beans from slipping through the grates! Remove the green beans and apple wedges from the grill and place them back in the baking pan. While they are still warm, drizzle with the dressing. Then add the sliced radishes, scallions and almonds, tossing gently to combine. This dish can be served warm or at room temperature.
Leftovers can be stored in an airtight container in your refrigerator for 1-2 days.
http://www.floatingkitchen.net/grilled-green-bean-and-apple-salad/
The original title for this post was "Sheet Pan Salmon Dinner for Two". But as you can clearly see, this isn't a recipe for salmon.
Why? Well, because sometimes things just don't work out the way you had planned them. But I'm not complaining. Because that failed attempt at a salmon recipe is what eventually lead me down the path to creating this Grilled Romaine Salad with Roasted Chickpeas and Tomatoes. Which, as it turns out, is one of the best things to come off my grill this Summer.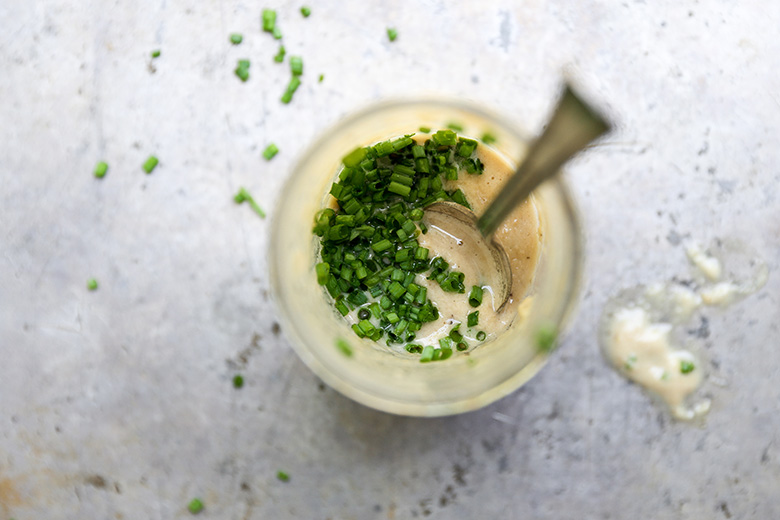 One of my favorite recipes here on Floating Kitchen is a grilled romaine salad recipe from 2015. But it seems to have suffered a fate that many of my recipes do – I forgot about it. And I basically went almost the entire grilling season without making it. Massive fail.
However, Amanda's recent tutorial reminded me of all the deliciousness that grilled romaine has to offer. And that was just the push that I needed to quickly get myself back on the wagon. I've made my original recipe a couple of times since then. And I've been experimenting with new and different versions as well, like the one I'm bringing you today.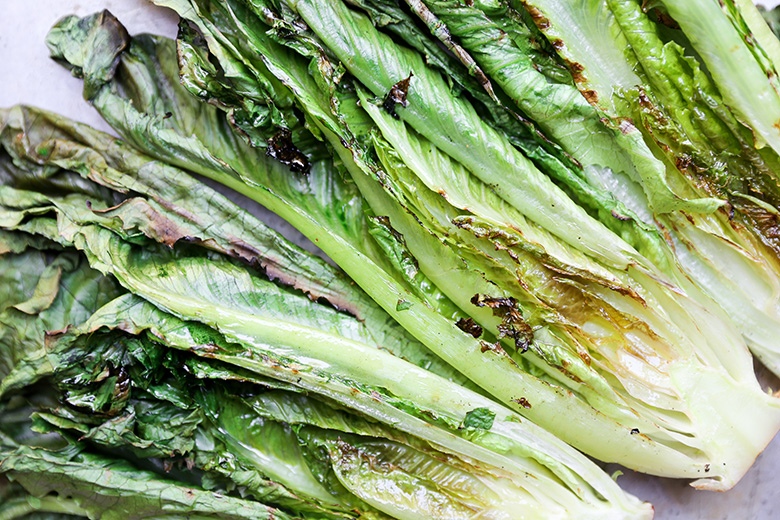 This recipe is pretty straightforward. Once you get your seasoned chickpeas and tomatoes in the oven, you'll spend a few minutes making a homemade vegan tahini-chive dressing and preparing the romaine lettuce. To cook the romaine on the grill, you only need a couple minutes of time. And I find it tastes best when it's served almost immediately after being removed from the grill. So save this step until the very end.
Two romaine halves plus the toppings makes for a hearty enough salad to pass as a main meal. But you can easily serve this as a side dish as well, portioning out a single half per person. This recipe would totally make a great addition to your Labor Day Weekend festivities!
And um…holy crap Labor Day Weekend is THIS WEEKEND! How is that possible?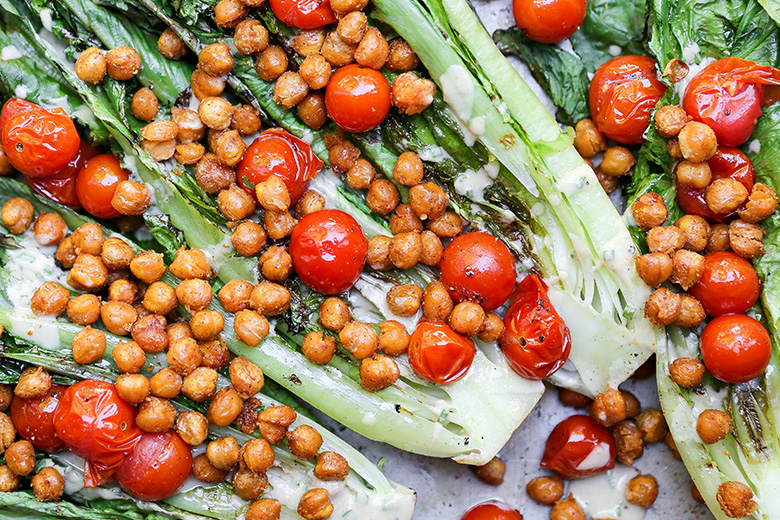 For more quick and easy dishes like my Grilled Romaine Salad with Roasted Chickpeas and Tomatoes, scroll down to the bottom of the post and have a peak at the other #30MinuteThursday recipes created by some of my blogging friends as part of our monthly series!
Cheers,
Liz
Grilled Romaine Salad with Roasted Chickpeas and Tomatoes
Ingredients
For the Chickpeas
1 (16-ounce) can chickpeas, rinsed and drained
1 tablespoon extra-virgin olive oil
1/2 tsp. salt
1/2 tsp. cumin
1/2 tsp. paprika

For the Tomatoes
1 pint cherry or grape tomatoes
1 tablespoon extra-virgin olive oil
1/4 tsp. salt
1/4 tsp. black pepper

For the Dressing
1/4 cup water
2 tablespoons tahini paste
2 tablespoons lemon juice
1 tsp. maple syrup
1 tablespoon fresh chives, minced
1/4 tsp. salt
1/4 tsp. black pepper

For the Romaine
2 heads romaine lettuce, cut in half lengthwise
1 tablespoon extra-virgin olive oil
Instructions
Pre-heat your oven to 400 degrees. Spread the chickpeas out onto a paper towel. Then use a second paper towel to pat the tops dry. Transfer the dried chickpeas to a large rimmed baking sheet. Drizzle with the olive oil, tossing to coat. Then sprinkle evenly with the salt, cumin and paprika. Transfer the baking sheet to your pre-heated oven and roast for 20 minutes, shaking the pan once halfway through the cooking time. Remove the roasted chickpeas from the oven and set aside to cool slightly.
Meanwhile, add the tomatoes to a second baking sheet and toss with the olive oil, salt and pepper. Roast in your pre-heated oven for 10 minutes. Remove from the oven and set aside to cool slightly.
While the chickpeas and tomatoes are roasting, make the dressing. Combine all of the ingredients in a small mason jar. Seal the jar and then shake it well to combine. Set aside.
Pre-heat your grill to high. Drizzle the cut sides of the romaine lettuce with olive oil. Then add the romaine to your grill, cut side down, and grill for about 1-2 minutes, or just until grill marks start to appear. Flip the romaine over and grill for an additional 1-2 minutes on the second side. Remove from the grill and set aside.
Transfer the grilled romaine to serving plates, cut side up. Drizzle with some of the dressing and top with the roasted chickpeas and tomatoes. Serve immediately.
http://www.floatingkitchen.net/grilled-romaine-salad-with-roasted-chickpeas-and-tomatoes/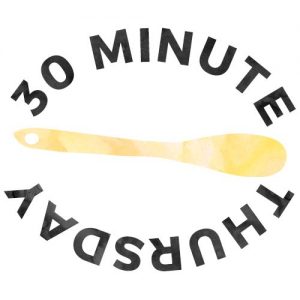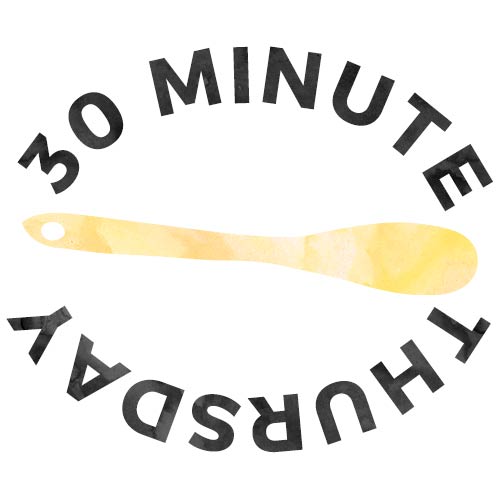 Honey Garlic Salmon Quinoa Bowl from Pumpkin 'N Spice
Maple Ginger Beef from The Recipe Rebel
Pesto Gnocchi with Sausage, Mushrooms, and Asparagus from Flavor the Moments
One Pot Pea and Corn Pasta from Savory Nothings
Baked Pork Chops with a Cinnamon Glaze from Bake.Eat.Repeat.