Do you have a go-to comfort food?
I've been trying to decide on my favorite, but I'm having trouble narrowing it down to a single item. Sometimes I crave a buttery grilled cheese sandwich (made by my mom, of course). Other times I dream about warm chocolate chip cookies straight from the oven. And then there are those days when only a big glass of red wine will do the trick. Real talk.
Foods with noodles also tend to take top billing when I'm in need of a little comforting. I guess there is something strangely appealing about loosing yourself in the act of twirling and slurping up a big bowl of noodles. It's almost hypnotic in a way.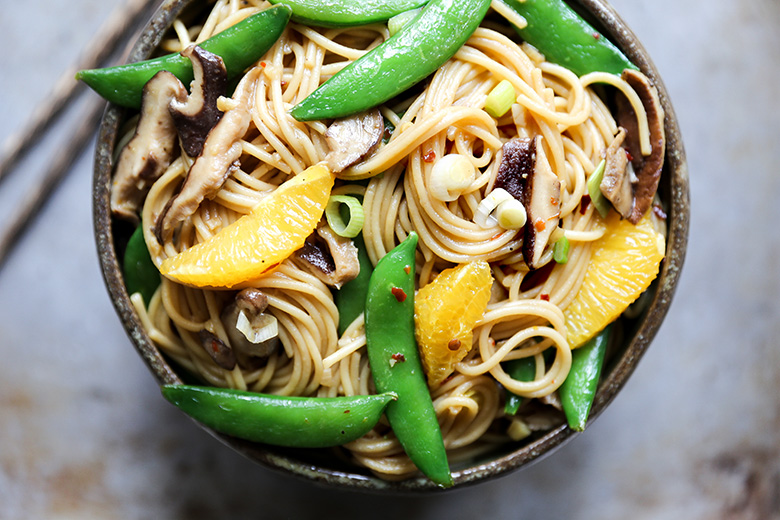 This Vegetable Noodle Stir Fry with Orange has been my dinner of choice for the past few nights. It's comforting, flavorful and so much healthier than typical take-out noodles. And I bet you can have it made and on the table in less time than it would take you to go pick something up or have something delivered. In fact, this recipe comes together SO QUICKLY that I highly recommend having all your ingredients prepped and nearby before you start cooking. You won't have much of a chance to rummage through your cabinets or slice and dice vegetables once you get your skillet heated.
I'm sharing this Vegetable Noodle Stir Fry with Orange as part of our monthly 30 Minute Thursday series. Be sure to scroll down and check out the links below to see what my blogging friend made this month. And skip the take-out!
Cheers,
Liz
Recipe adapted from my Sichuan Green Bean Noodle Stir Fry
Vegetable Noodle Stir Fry with Orange
Ingredients
1/2 lb thin noodles (rice, spaghetti, etc.)
4 tablespoons soy sauce
2 tablespoons sherry (can substitute white wine)
3 tablespoons orange juice
2 tablespoons water
2 tsp. sugar
1 tsp. corn starch
1/2 tsp. red pepper flakes
1/2 tsp. black pepper
1/2 tsp. ground mustard powder
1/2 tsp. orange zest
2 tablespoons vegetable oil
2 tsp. sesame oil
5 ounces shitake mushrooms, sliced
8 ounces sugar snap peas
5 garlic cloves, peeled and minced
1 tablespoon fresh ginger, peeled and minced
3 scallions, white and light green parts thinly sliced
2 medium oranges, segmented
Instructions
Cook the noodles according to the package instructions. Drain and set aside.
Meanwhile, make the sauce. In a small bowl, combine the soy sauce, sherry, orange juice, water, sugar, corn starch, red pepper flakes, black pepper, mustard and orange zest. Set aside.
Heat the vegetable oil and sesame oil in a large non-stick skillet over medium-high heat. Once the oils are hot, add the sliced mushrooms and cook, stirring frequently, for 3 minutes. Add the snap peas and cook for an additional 3 minutes, stirring frequently. Then add the garlic and ginger and cook for 1 minute more.
Stir the sauce to recombine everything. Then pour it over the vegetables in your skillet. Add the cooked noodles and scallions, tossing until everything is well coated and the sauce has thickened slightly. Add the orange segments and toss gently to combine. Remove the skillet from the heat. Transfer the stir fry to serving dishes and enjoy immediately.
Leftovers can be stored in an airtight container in your refrigerator for up to 2 days.
http://www.floatingkitchen.net/vegetable-noodle-stir-fry-with-orange/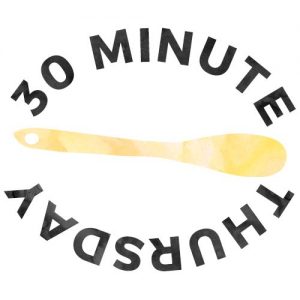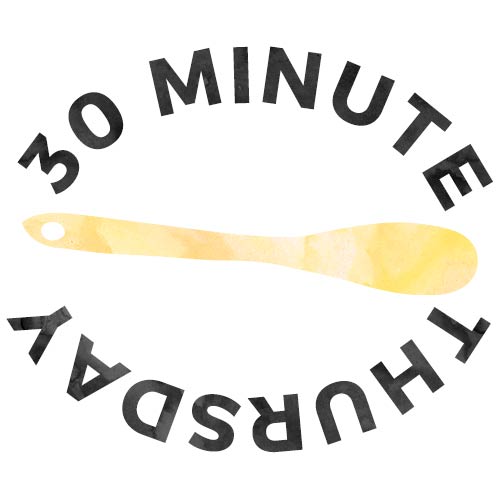 Baked Ham and Cheese Roll-Ups by Pumpkin 'N Spice
30 Minute Tuscan White Bean and Kale Soup by Kristine's Kitchen
One Pot Pizza Gnocchi Pasta by Savory Nothings
30-Minute Cheesy Mexican Rice Skillet by Flavor the Moments
Skinny Cajun Shrimp Alfredo Pasta by Bake. Eat. Repeat.
One Pot BBQ Bacon Cheeseburger Rice by The Recipe Rebel
Kale Pesto Pasta with Tofu by She Likes Food
Garlic Butter Monte Cristo Pull-Apart Sliders by Whole and Heavenly Oven
Shrimp and Vodka Penne Pasta by My Kitchen Craze
Now that we've thoroughly stuffed ourselves with an indulgent Valentine's Day breakfast, let's move right along to dinner. Sorry lunch. You've been skipped.
Since pasta and red wine are key ingredients to any romantic meal, I figured this was the perfect time to finally share this easy recipe. If you can boil water (I know you can!), you can make this Red Wine Spaghetti with Black Pepper Parmesan Crisps. And the color! If this doesn't say Valentine's Day, I don't know what does.
The recipe makes two hearty, main meal-sized portions. So all you need is a salad, a crusty baguette and some extra wine for drinking and you're good to go. We're keeping it simple and we're saving room for dessert. Obviously.
Oh and don't break the bank with the wine. Just choose something you enjoy!
You know what else is great about this meal? Most of the ingredients are pantry staples. And trust me. I would know. Because I was trapped in my house for 5 days this past week as the result of ANOTHER snow storm that hit New England. Five whole days people! Can you imagine that? I had to dig deep into the pantry during those 5 days. It was bad. I ate some weird stuff.
And then when the snow finally cleared and I was able to re-enter society, my car wouldn't start. No joke.
At this point, I was pretty convinced that my food blogging career was about to come to an end. I was out of food and it seemed that I would never be able to drive to the grocery store again. Floating Kitchen was sinking rapidly. My pen was poised to make the final entry in the Captain's Log. I was preparing to abandon ship.
OK. I know that I'm being dramatic. But you'd be too if you had snow drifts that were over your head and a car that was about as useful as a paper weight.
Anyways…
I have no good segue here. All of my sarcasm and humor has apparently been used up for the day. So I'll just end by saying go make this pasta and get ready for an amazing dessert on Friday!
Cheers,
Liz
Recipe adapted from Giada De Laurentiis
Red Wine Spaghetti with Black Pepper Parmesan Crisps
Ingredients
For the Parmesan Crisps
1/2 cup grated or finely shredded Parmesan cheese
1/4 tsp. black pepper

For the Pasta
8 ounces spaghetti
2 tablespoons extra-virgin olive oil
2 tablespoons minced shallot
2 garlic cloves, mined
2 cups red wine (I used a Zinfandel)
2 tablespoons fresh basil
1 tablespoon fresh parsley
1 tsp. fresh thyme leaves
Extra Parmesan cheese for serving, if desired
Instructions
Make the Parmesan crisps. Pre-heat your oven to 350 degrees. In a small bowl, combine the Parmesan cheese and the black pepper. Divide the Parmesan into four small piles on a parchment paper-lined baking sheet, spacing them a couple inches apart from each other. Transfer to your pre-heated oven and bake for 6-7 minutes. Remove and set aside to cool. Once cooled, use a metal spatula to gently release the crisps from the parchment paper.
Meanwhile, make the pasta. Bring a large pot of salted water to a boil. Add the spaghetti and cook for 6 minutes. Drain the spaghetti and set aside. Return the pot to the stove and place it over medium heat. Add the olive oil, garlic and shallot. Cook for about 1 minute, until fragrant. Add the red wine and bring it to a boil. Add the spaghetti back to the pot and cook it in the red wine for 4 minutes, tossing occasionally with tongs during this time. Remove the pot from the heat. There will be a small amount of liquid left. Cover the pot and let the spaghetti sit in the remaining liquid for 3-5 minutes.
While the spaghetti is resting, make the herb garnish. Place the basil, parsley and thyme together in a small pile on a cutting board. Using a knife, mince the herbs until they are very finely chopped.
Serve the pasta. Using tongs, divide the spaghetti evenly between two bowl. Sprinkle with the minced herbs and then garnish each bowl with two of the Parmesan crisps. Enjoy immediately.
http://www.floatingkitchen.net/red-wine-spaghetti-with-black-pepper-parmesan-crisps/