I'm currently experiencing some post-Labor Day Weekend blues. It's really starting to sink into my brain that Summer is wrapping up. And frankly, I'm not ready for that to happen.
I still have so much ice cream to eat!!!
Luckily, there is still an abundance of late Summer produce to be enjoyed. And that's helping to elevate my mood. I know people are going crazy for pumpkin-everything right now. But here in New England, early September is one of the best times for local produce like tomatoes, eggplant, zucchini, cucumbers, corn and more! So I'm diving headfirst into all of these things.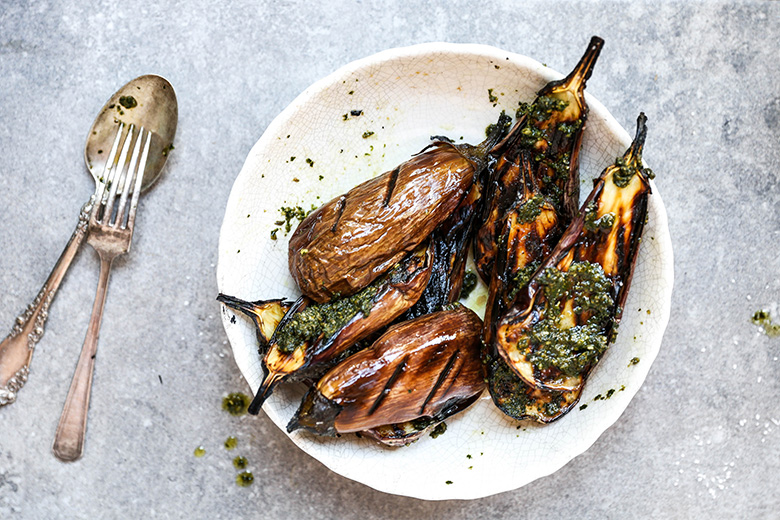 Last week, I found the most precious baby eggplants at the farmer's market and I knew instantly that I wanted them to become the focus of my September Eat Seasonal recipe post. So I grilled them up and served them on top of a creamy bed of goat cheese polenta. And then I finished off the dish with some homemade basil pesto and a handful of sliced plum tomatoes. It's a recipe that totally celebrates Summer. But also has a bit of a "cozy" feel, too. In the past, I've treated polenta as one of those food items that I only make and eat during the cooler months. But now, I'm really digging this version with its Summery spin! And I can see myself using it more frequently in my kitchen throughout the entire year.
The other great thing about this recipe for Grilled Eggplant with Goat Cheese Polenta and Basil Pesto is that – for such a hearty dish – it's relatively fast to prepare. You can have everything done in just about 30 minutes. Which is always a win in my book!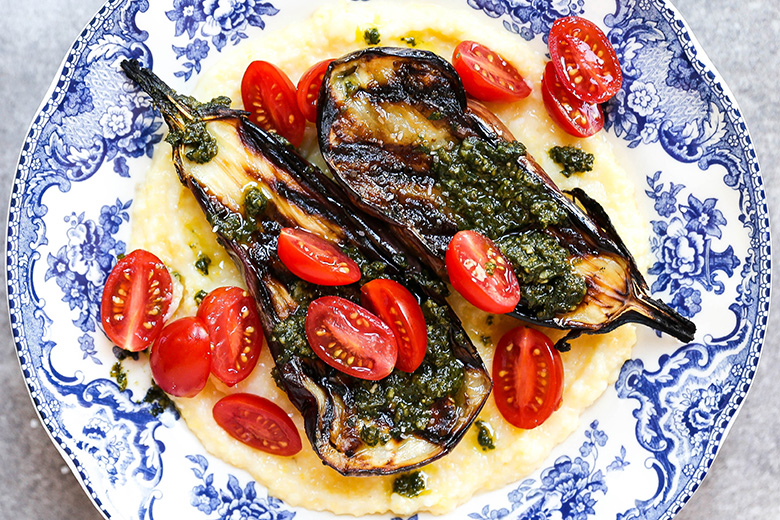 For more September cooking inspiration, check out my friend Becky's monthly produce guide, which is filled with tons of great recipe suggestions and tips. I hope it will help make your transition into Fall a little bit easier. And if you make any of our #eatseasonal recipes, give us a shout out on social media. We would love to hear about it!
Cheers,
Liz
Ingredients
For the Pesto
1 cup firmly packed basil leaves
2 garlic cloves, peeled
2 tablespoons pine nuts, toasted
1/2 tsp. salt
About 1/4 cup extra-virgin olive oil

For the Polenta
4 cups water
1 cup polenta
2 ounces goat cheese
1 tsp. salt
About 1/2 cup milk

For the Eggplant
4 baby eggplant (about 3-5 inches in length)
1 tsp. salt
About 2 tablespoons extra-virgin olive oil

For Serving
Plum or cherry tomatoes, halved
Instructions
To make the pesto, add the basil leaves, garlic, pine nuts and salt to the bowl of your food processor fitted with the blade attachment. Pulse until coarsely chopped. Then with your food processor running, slowly drizzle in the olive oil and process until well combined. Transfer the pesto to a clean container. Cover and refrigerate it until you're ready to use it.
To make the polenta, bring the water to a boil in a heavy bottom saucepan. Slowly whisk in the polenta and turn down the heat to maintain a simmer. Cook the polenta for 15-17 minutes, whisking frequently so it doesn't burn. You may have to reduce the heat further as it cooks to prevent the polenta from splattering and bubbling. Once the polenta has thickened and the water is absorbed, whisk in the goat cheese and the salt. Remove the saucepan from the heat. Then whisk in enough milk to thin it to your desired consistency. Cover to keep warm.
Meanwhile, pre-heat your grill to medium-high.
Slice the baby eggplants in half lengthwise and sprinkle the cut-sides with the salt. Let sit 10-15 minutes at room temperature. Then pat the surfaces dry with a paper towel. Drizzle the eggplant halves with the olive oil, turning to coat them on all sides. Then add them to your pre-heated grill. Cook for about 5-7 minutes per side, until softened and well darkened in places. Remove the eggplant halves from your grill and place them in a large bowl or baking dish. Drizzle with some of the pesto while they are still warm.
To serve, divide the polenta between bowls. Top with the grilled eggplant halves, tomatoes and additional pesto, if desired. Serve immediately.
https://www.floatingkitchen.net/grilled-eggplant-with-goat-cheese-polenta-and-basil-pesto/
September Eat Seasonal Recipes
Small Batch Cherry Tomato Jam by Flavor the Moments
Hazelnut Zucchini Bread by Vintage Mixer
Balsamic Sausage Tortellini Bake by JoyFoodSunshine
Baked Enchilada Style Veggie Burritos by She Likes Food
Peach and Tomato Salsa with Pan Seared Tofu by Letty's Kitchen
SaveSave
SaveSave
SaveSave
SaveSave
SaveSave
SaveSave
This post was originally published here on July 24, 2014. I've updated the photographs and text to better showcase this delicious (and easy!) Summer dinner.
Eeeek! You guys! I'm starting to have anxiety about the end of Summer.
I know, I know. It's only mid-July. But last week my grocery store put out their Halloween candy and that kind of sent me into a feverish downward spiral. I literally just stood in the aisle staring at the rows of pumpkins and ghosts and felt an equal mix of extreme sadness and intense rage.
Cue anxiety attack.
Also, can we seriously talk about Halloween candy at the grocery store in July. WTF is wrong with everyone. Just NO! No, no, no, no, no, no, no…!!!
Ugh.
Anyways. Since eating always improves my mood, I went home and decided to whip up the ultimate Summer dinner: Spicy Grilled Shrimp with Coconut Lime Rice and Peach Salsa.
Fall: stand down. You've been warned.
This recipe has a couple separate parts that you need to prepare. But it's so worth it. And all the steps are super easy. I promise.
The shrimp are spicy and crazy flavorful. And they take only a few minutes to cook up on the grill. And the fresh peach salsa is the perfect blend of savory and sweet notes. It's great not only in this dish, but also on just about anything grilled: chicken, pork, salmon, etc. You can also put it on tacos. Or just scoop it straight onto some tortilla chips. You get the idea. Find a way to get this peach salsa into your body in any way possible.
But the coconut-lime rice might just be my favorite part about this whole recipe. Seriously. Making rice with canned coconut milk instead of water is a total game changer. It feels tropical and luxurious, but still easy. Just like how Summer should feel.
So tell me, how are YOU celebrating Summer these days? Give me some more ideas for my Summer bucket list. Because it's not over yet, and I tend to make the most of it!
Cheers,
Liz
Ingredients
For the Peach Salsa
2 peaches, pitted and diced
1/2 small red onion, diced
1/2 jalapeño pepper, finely diced
1/4 cup cilantro, roughly chopped
1 tsp. sugar
Zest and juice of 1 lime

For the Coconut-Lime Rice
1 (14 ounce) can light coconut milk
1/4 cup water
1/8 tsp. salt
1 tablespoon coconut oil or extra-virgin olive oil
1 cup basmati or jasmine rice
Zest and juice of 1 lime

For the Spicy Shrimp
24 large raw shrimp, peeled and deveined (I like the "tail-on" variety)
4 tablespoons extra-virgin olive oil, divided
Zest and juice of 2 limes
1/2 jalapeño pepper, finely diced
1/4 cup cilantro, roughly chopped
1/2 tsp. salt
Instructions
Combine all of the ingredients for the peach salsa in a small bowl. Cover and refrigerate until you're ready to use it.
In a medium saucepan bring the coconut milk, water, salt and oil to a low boil. Stir in the rice and turn the heat down to low. Cover and simmer for 15 minutes. The coconut milk has a greater tendency to over boil or scorch on the bottom, so keep the heat lower than you typically would for cooking rice in water/broth. After 15 minutes, turn off the heat and keep the lid on your saucepan and let the rice sit for 5-7 minutes. Then remove the lid and fluff the rice with a fork. Gently stir in the lime juice and zest. Cover to keep warm while you prepare the shrimp.
Pre-heat your grill to medium-high. Rinse the shrimp under cold water and then toss them in a bowl with 2 tablespoons of the olive oil. In a separate bowl, combine the remaining olive oil, lime zest and juice, diced jalapeño, cilantro and salt. Place the shrimp on your pre-heated grill and grill for about 2-3 minutes, flipping once during this time. The shrimp are cooked when they turn from translucent to white and their tails curl in slightly. Remove the shrimp from the grill and toss them gently in the lime/jalapeño/cilantro mixture.
To serve, divide the coconut-lime rice between bowls. Top with the grilled shrimp and a spoonful of the peach salsa. Enjoy immediately.
https://www.floatingkitchen.net/spicy-grilled-shrimp-with-coconut-lime-rice-and-peach-salsa/