I've got a serious question for you guys today. Ready?
What set of standards do you apply when trying to decide whether or not a particular cake can be consumed for breakfast?
Is the presence or absence of frosting a consideration? Or what about the name? Baked goods labeled "coffee cake" seems to fall appropriately into the breakfast category. But something called "triple dark chocolate fudge layer cake" is probably firmly rooted in the dessert category.
Oh and what if it has fruit and nuts baked into it? Then it's basically like oatmeal, right? I think my reasoning is pretty solid here.
I know all this cake chatter seems silly. But it's the kind of weird stuff that I think about sometimes.
I've labeled this Rhubarb-Almond Cake "dessert", but I certainly ate it for breakfast on more than one occasion this past week. I highly recommend you try it out for both breakfast and dessert. You know. Just to make sure you have all your bases covered.
The cake itself is sweet, tender and moist. While the rhubarb provides a fabulous little burst of tartness in almost every single bite. This cake comes together in a breeze. And even if you're not much of a cake decorator (I certainly am NOT!), you can impress your friends with this recipe, which has an easy to pull off presentation "wow factor". Just arrange the top layer of rhubarb in a radiating (yet still decidedly rustic) pattern and you're more than good to go.
I'm sharing my Rhubarb-Almond Cake as part of our monthly seasonal eating guide organized by Becky from Vintage Mixer. May has some real stand-outs in the produce department, including peas, which are one of my personal favorites. I'm thinking lots of big, fresh salads are going to be coming out of my kitchen this month!
Check out Becky's #eatseasonal guide for tons of recipes that highlight the fruits and vegetables that are available this months. And be sure to scroll down below to see what the other members of our group made in celebration of May.
Cheers,
Liz
Recipe adapted from this Blackberry and Almond Coffee Cake
Ingredients
1 cup plus 1 tablespoon sugar, divided
1/2 cup (8 tablespoons) unsalted butter, softened at room temperature
2 eggs
1 cup Greek yogurt
1 tablespoon orange zest
3/4 tsp. vanilla extract
1/4 tsp. almond extract
1 1/2 cups all-purpose flour
1/2 cup almond meal
1 tsp. baking powder
1/2 tsp. baking soda
1/2 tsp. ground cardamom
1/4 tsp. salt
About 0.75 lbs rhubarb
1/3 cup sliced almonds
Powdered sugar for serving, if desired
Instructions
Pre-heat your oven to 350 degrees. Line the bottom of a 10-inch springform pan with a round of parchment paper. Then generously coat the parchment paper and the sides of the springform pan with non-stick cooking spray. Set aside.
In the bowl of your stand mixer with the paddle attachment, beat 1 cup of the sugar and the butter on medium speed until light and creamy, about 2-3 minutes. Add the eggs in one at a time, mixing after each addition. Then beat in the yogurt, orange zest and the extracts.
In a medium bowl, combine the flours, baking powder, baking soda, cardamom and salt. Add these dry ingredients to the cake batter, adding in about one-third at a time, mixing on low speed until no more white streaks remain. Set aside.
Trim and discard any leaves and woody ends from the rhubarb. If the rhubarb stalks are wide, slice them in half lengthwise. Then cut the rhubarb stalks into pieces about 1 1/2-inches in length.
Spread about half of the cake batter into an even layer on the bottom of your prepared springform pan. The batter will be thick and a bit tacky. Layer about half of the rhubarb on top, leaving about 1-inch between the pieces and around the edges of the pan. Then spread the remaining cake batter over the rhubarb. Arrange the remaining rhubarb pieces on top. Sprinkle the sliced almonds and the remaining 1 tablespoon of sugar over the surface of the cake.
Transfer the cake to your pre-heated oven and bake for 45-50 minutes, or until a toothpick inserted into the middle comes out clean. Remove the cake form the oven and set it on a wire rack to cool. Once cooled, run a knife around the outer edge of the cake and release the sides of the springform pan. Cut the cake into slices and serve with a dusting of powder sugar, if desired.
The cake can be stored at room temperature in an airtight container for up to 2 days.
http://www.floatingkitchen.net/rhubarb-almond-cake/
May Eat Seasonal Recipes

Kale, Mushroom & Goat Cheese Quesadillas by Cookin' Canuck
Skinny Pineapple Mint Margaritas by Mountain Mama Cooks
Shaved Asparagus Ricotta Flatbread by Flavor the Moments
Roasted Broccoli and Bacon Crustless Quiche by Completely Delicious
Rhubarb-Wine BBQ Sauce by Kitchen Confidante
Lemon Roasted Artichokes by Letty's Kitchen
Rice Bowls with Quick Pickled Ginger Red Cabbage by Food for My Family
Rhubarb Eton Mess with Coconut Whipped Cream by Vintage Mixer
Strawberry Avocado Spinach Salad with Chicken by Foodie Crush
We're coming off a super sunny weekend here in New England. And damn, does it feel freaking good.
This past winter wasn't nearly as soul crushing as last winter was (thank goodness for that!), but my anticipation for Summer is still equally strong. This is the time of year when I start daydreaming wildly about swimming pools, long bike rides and enjoying a daily ice cream cone indulgence. It's all so close. I can just about taste it.
These Pistachio Pavlovas with Papaya Curd and Fresh Raspberries are kind of like an edible burst of sunshine. The flavors are so fresh and tropical. And the presentation is pretty fine too, if I do say so myself. My first thought after making these was that they would be perfect for Mother's Day. I know it's a bit early to be thinking of Mother's Day already. But our Mom's deserve a little advanced planning, don't you think?
This was my first time making a curd that wasn't a lemon curd. I was bit skeptical about whether or not it would work with papaya, but turns out it works just fine! The riper your papaya, the more flavor you're going to get. So make sure you grab a good one! And I'm excited to try out even more fruits now that I know how easily adaptable the recipe is.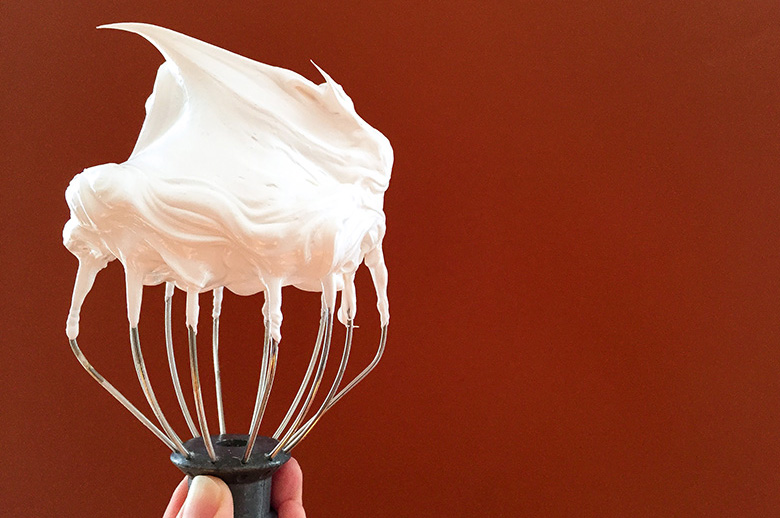 Making the meringue base is pretty easy. And you'll know if you've done it right when you can flip your whisk upside down and the meringue peaks still hold their shape!
Cheers,
Liz
Recipe adapted from my Chocolate Pavlovas with Bourbon Strawberries and Whipped Cream
Pistachio Pavlovas with Papaya Curd and Fresh Raspberries
Ingredients
For the Papaya Curd
About 1/2 cup cubed papaya flesh
Juice and zest from 1 lemon
3/4 cups sugar
2 eggs, separated
1/2 cup (8 tablespoons) unsalted butter, cubed

For the Pavlovas
3 egg whites, at room temperature
1/4 tsp. cream of tartar
Pinch salt
3/4 cups sugar
1 tablespoon cornstarch
1/2 tsp. vanilla extract
1/4 cup shelled pistachios, finely chopped

For Topping
Whipped cream
Fresh raspberries
Pistachios, shelled and roughly chopped
Fresh mint leaves
Instructions
Make the papaya curd. Add the papaya flesh, lemon juice and lemon zest to your blender. Blend on high until smooth. Measure out 1/2 cup of the purée and place it in a medium bowl. You may need to blend more fresh papaya to get 1/2 cup of purée, depending on how ripe/juicy your fruit is. Add the sugar and egg whites to the purée and stir to combine. Set aside.
In a medium heavy-bottom saucepan, gently melt the butter. Once the butter is melted, turn off the heat. Whisk the egg yolks into the warm melted butter. Then whisk in the papaya/sugar/egg white mixture. Turn the heat back on to low and cook the papaya curd, whisking constantly, until it's slightly thickened and coats the back of a spoon, about 4-5 minutes. Remove from the heat. Strain the papaya curd through a fine mesh strainer into a clean bowl. Cover and refrigerate until well chilled, about 3-4 hours. The papaya curd will thicken slightly as it chills.
Meanwhile, make the pavlovas. Pre-heat your oven to 275 degrees. Line two baking sheets with parchment paper and set aside.
In the bowl of your stand mixer with the whisk attachment, beat the egg whites, cream of tartar and salt for about 2-3 minutes, starting with your mixer on low speed and working your way up to medium speed. The bubbles should be very small and uniform.
In a small bowl, mix together the sugar and cornstarch. With your mixer on medium-high speed, gradually add the sugar/cornstarch mixture to the egg whites. Then add the vanilla extract. Continue whisking on high speed until the batter is glossy and stiff peaks form, about 4-5 minutes. The batter should be able to hold it's shape on a spoon or whisk, even when turned upside down. Add the finely chopped pistachios and mix until just incorporated.
Spoon the batter out onto your prepared baking sheets, making 6 rounds and placing them 2-3 inches apart from each other. Using your spoon, create a small indentation in the middle of each mound, being careful not to make the mounds too thin because they will spread out a little bit during baking.
Transfer your baking sheets to your pre-heated oven and reduce the temperature to 250 degrees. Bake for 50 minutes. The pavlovas should be crisp and dry to the touch. Turn your oven off and open the door so it's slightly ajar. Let the pavlovas sit in the warm oven for an additional 10 minutes. Then remove them from the oven and allow them to cool completely on their baking sheets. Once cooled, the pavlovas can be stored in an airtight container at room temperature for 3-4 days. It's normal for them to crack slightly during baking or as a result of being moved around.
Assemble the pavlovas. Top each pavlova with a generous spoonful of the papaya curd. Then top with whipped cream, fresh raspberries, chopped pistachios and a few fresh mint leaves, if desired. Serve immediately.
http://www.floatingkitchen.net/pistachio-pavlovas-with-papaya-curd-and-fresh-raspberries/