This post was originally published here on June 18, 2014. I've since updated the photos and text to showcase just how delicious these avocados really are!
With Memorial Day lurking right around the corner, I figured it was a good time to refresh this old recipe from 2014. Because let's be honest, the previous photographs were pretty cringe-worthy. I certainly wouldn't have been motivated to make these Baked Avocados with Fresh Salsa based on how they looked before. So how could I have expected you guys to want to make them?
So I gave them a little facelift. And now they look all shiny and pretty. I hope you get the urge to run right out and try them. Because I think they are the perfect recipe to help kick off the unofficial start of Summer this Memorial Day weekend!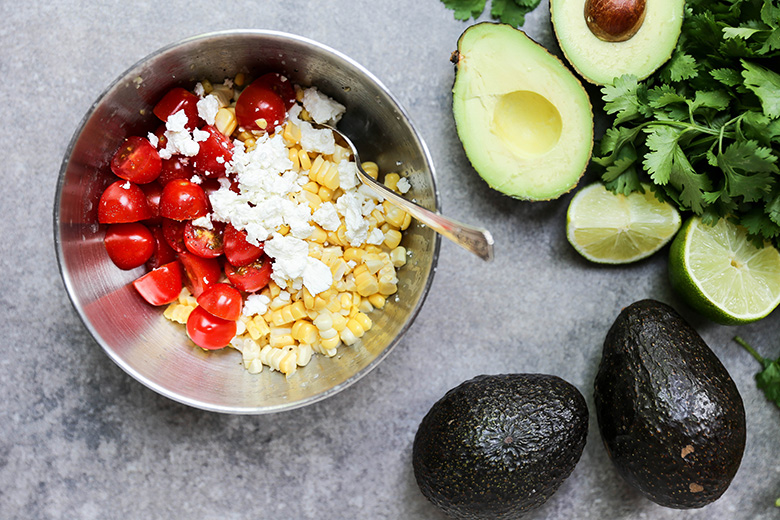 When I first read about the idea of baked avocados (it was this post from Food Faith Fitness), I was skeptical. Wouldn't they get all brown and weird? And who would ever want to eat a warm avocado? The whole concept seemed strange to me. But I was intrigued enough to try it out for myself. And since then, baked avocados have become a staple in my house (along with like every other recipe involving avocados = I'm obsessed).
Baking the avocados causes them to turn extra creamy and soft. And they provide the perfect little vessels for loading up with whatever fresh ingredients you have on hand (in this case, corn, tomatoes, crumbled cheese and cilantro). Any food that you can turn into an edible bowl is a major win in my book. Because boy, do I hate having extra dishes to wash!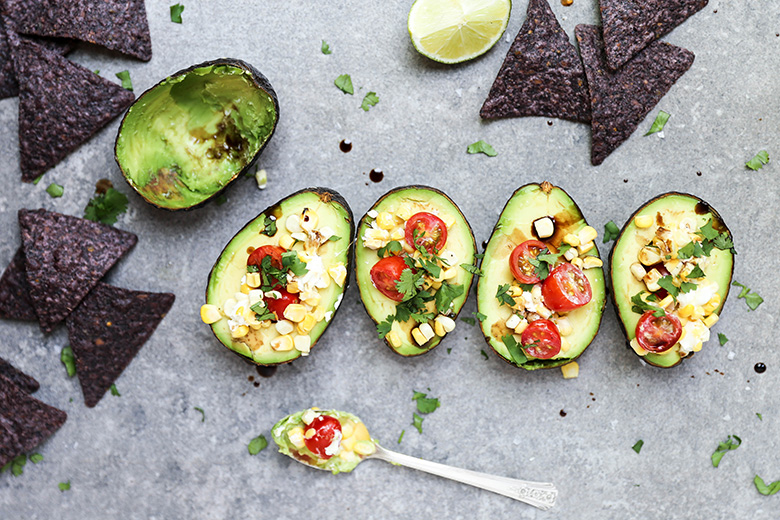 I like to use crumbled Queso Fresco in this recipe (which is what I've called for in the ingredient list below). But for whatever reason, it's an ingredient that I sometimes have a hard time finding in my grocery store. I've substituted crumbled goat cheese or feta cheese in the past, both with great success. So feel free to use whichever of the three cheeses you have/prefer.
These Baked Avocados with Fresh Salsa work as a party appetizer, side dish or mid-afternoon snack. Basically, they are good any time of day. Oh and don't forget to have a bag of tortilla chips nearby. I think you'll want them!
Cheers,
Liz
Baked Avocados with Fresh Salsa
Ingredients
1/2 cup cherry tomatoes, halved
1/2 cup corn kernels
1/2 cup Queso Fresco cheese, crumbled
1/2 tablespoon fresh squeezed lime juice
1/8 tsp. salt, plus more for seasoning the avocados
1/8 tsp. black pepper
4 avocados
1-2 tablespoons fresh cilantro, roughly chopped
1-2 tablespoons balsamic vinegar
Instructions
Pre-heat your oven to 400 degrees.
In a small bowl, combine the cherry tomatoes, corn, cheese, lime juice, salt and pepper. Set aside.
Cut the avocados in half and remove and discard the seeds. Then slice a small area (about the size of a postage stamp) off the back side (the skin side) of each avocado half. This will give them a flat surface to rest on, preventing them from toppling over during cooking. Be careful not to cut too deeply into the avocado.
Place the avocado halves in a baking dish, flesh side up. Sprinkle with a little salt. Then fill the cavities with a heaping spoonful of the salsa. Transfer the baking dish to your pre-heated oven and bake for 8-10 minutes. Remove from the oven. Top with some fresh cilantro and a drizzle of balsamic vinegar. Serve while still warm.
Notes
1. If you can't find Queso Fresco, some crumbled feta or goat cheese would be great.
http://www.floatingkitchen.net/baked-avocados-with-fresh-salsa/
This post was originally published here on January 23, 2014. I've since updated the photos and text. Enjoy!
Great fitting jeans. A copy of The Catcher in the Rye. And a recipe for The Best Blueberry Muffins.
These are all classics that will never go out of style. And they are all things that everyone should have in their collection.
And while it would be awesome if we could all go clothes shopping together to find some booty-licious pants. Or have a book club meeting to discuss teenage rebellion. Neither of those things seems very practical right now (unless you all want to hop on an airplane!). So instead, I'm going to help you out in the blueberry muffin department.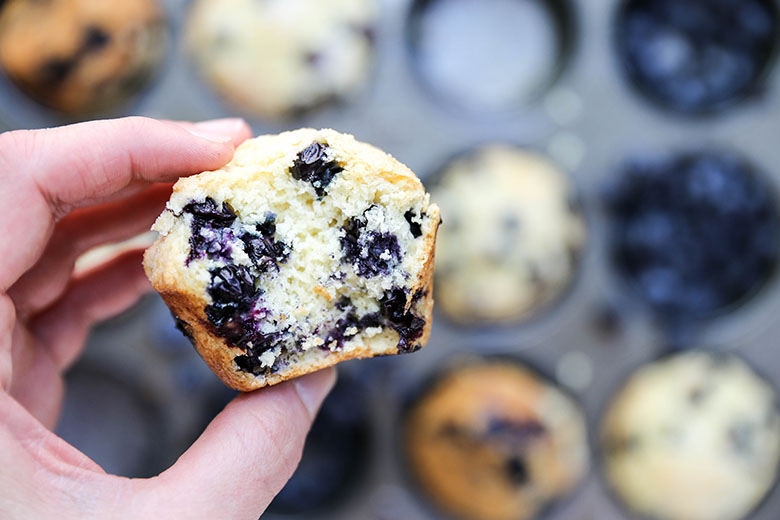 This blueberry muffin recipe is slightly adapted from Gwyneth Paltrow's cookbook, My Father's Daughter. It's a recipe that I've been making for years now (playing with many different mix-ins along the way), so I know it by heart. It's my go-to baked good that I'm constantly whipping up for any special breakfast or brunch gathering. Or just whenever my mood requires a little pick-me-up. Because you certainly don't need a special occasion to make and enjoy these babies. They are wonderful any day of the week. And any month out of the year, too. Classics like blueberry muffins are season-less, in my humble opinion (although being able to use local blueberries during the Summer months is a real treat!).
And you know what's even better? This recipe requires only one mixing bowl and 10 ingredients.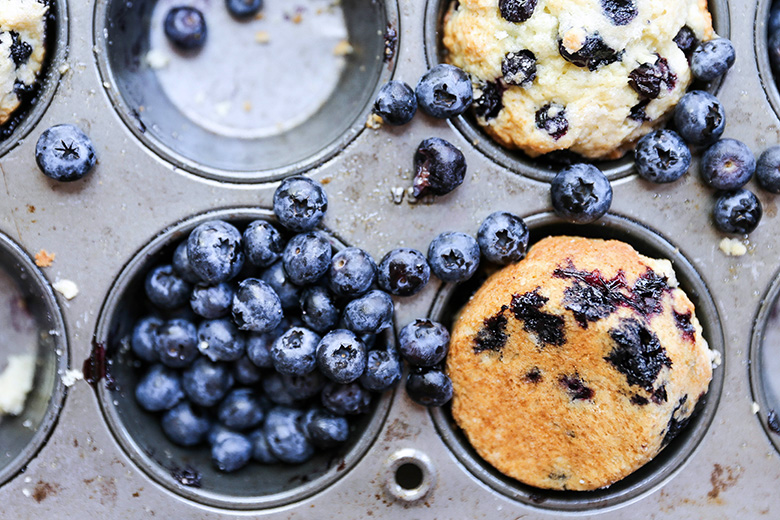 A few notes on the recipe that are worth mentioning up front. First, the batter is extremely thick. Like whoa. Probably way thicker than other muffin recipes you've made in the past. Second, the muffins cups get filled all the way to the brim. But don't worry. They won't spill over. And finally, 2 ½ cups of fresh blueberries will seem like way too many blueberries than will reasonably fit in a muffin without resulting in an exploding blue mess. But just trust me when I say it's all going to be fine. You got this! And I bet these blueberry muffins will soon become a favorite in your house, too!
Cheers,
Liz
The Best Blueberry Muffins
Ingredients
1/2 cup (8 tablespoons) unsalted butter, melted and cooled
2 eggs
1/2 cup whole milk
1 tsp. lemon zest
2 cups all-purpose flour
3/4 cups plus 1 tablespoon sugar
2 tsp. baking powder
1 tsp. salt
1/2 tsp. ground cinnamon
2 1/2 cups fresh blueberries
Instructions
Pre-heat your oven to 375 degrees. Line a standard 12-cup muffin tin with liners or coat with non-stick cooking spray. Set aside.
In your stand mixer with the paddle attachment, beat the butter, eggs, milk and lemon zest on medium speed until well combined, about 2-3 minutes. With the mixer on low speed, slowly add in the flour, 3/4 cups sugar, baking powder, salt and cinnamon, beating until the dry ingredients are just incorporated. Then gently fold in the blueberries using a spatula or wooden spoon.
Scoop the muffin batter into your prepared muffin tin, dividing the batter evenly between the 12 cups. Sprinkle the tops of the muffins with the remaining tablespoon of sugar. Transfer to your pre-heated oven and bake for 25-28 minutes, or until a toothpick inserted into the center comes out clean. Allow the muffins to cool in their tin for 5-10 minutes. Then remove and transfer them to a wire rack to continue cooling.
These blueberry muffins can be stored at room temperature in an airtight container for 2-3 days.
http://www.floatingkitchen.net/the-best-blueberry-muffins/