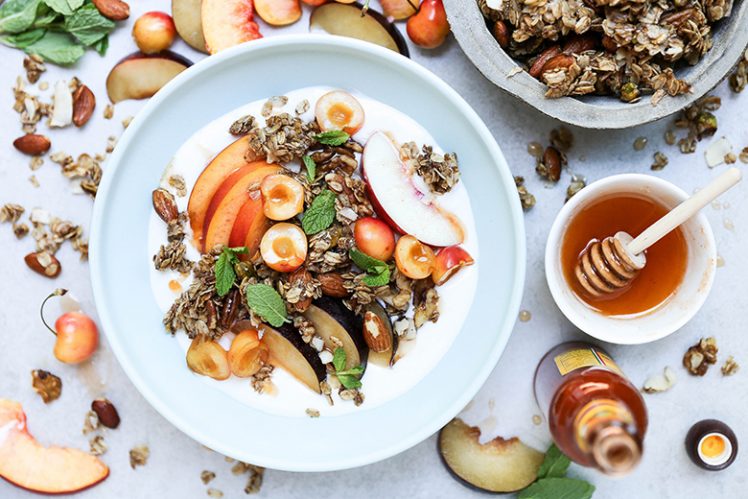 Guess what?
IT'S STILL SUMMER!
So just slooooow down with the pumpkin and (gasp!) peppermint.
Yup, totally saw peppermint products in the grocery store yesterday. Seriously. I died a little inside.
I know I sound like a broken record with this shit. And I'm trying very hard not to be too preachy about it. But can we please all just stop and enjoy Summer while it's still ACTUALLY SUMMER!?!?
OK. Thanks for listening. I'm done now.
In celebration of late Summer, I'm digging into these Summer Stone Fruit and Yogurt Breakfast Bowls with Hot Sauce-Honey and Nutty Granola on the regular. The markets are currently full to the brim with multiple varieties of plums, nectarines, peaches and cherries. And that makes for a very happy Liz. But I know this bounty won't last much longer, so I can't help but buy them all and put them to good use in recipes just like this one. Which might be overkill (you can stick to just one or two varieties of stone fruit!), but I'm like a kid in a candy store when it comes to sweet, juicy fruits.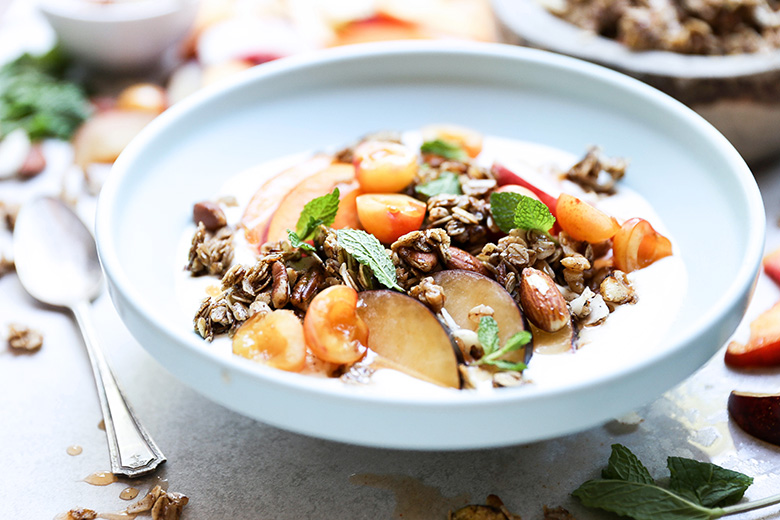 I love making my own granola at home when I have the time. And with stovetop versions, I pretty much ALWAYS have the time. Because they take only about 10 minutes to prepare. And they are easily customizable to whatever ingredients you happen to have on hand. This particular granola recipe was born out of one of my pre-vacation kitchen clean-out sessions. I love nuts. And at any given time, I have at least 8-10 different packages open and laying around. So in an effort to get rid of some of those, I dumped a bunch of nuts into my skillet with old-fashioned oats and a few other ingredients and VOILA – nutty granola was created! I typically buy unsalted nuts, so I've added salt to this recipe. But if you only have salted nuts, you might want to go easy on the additional salt.
But whatever you do, don't go easy on the hot sauce-honey. Seriously, this stuff is so good and it pairs beautifully with the sweet stone fruits and cool, creamy yogurt. Don't fear the heat!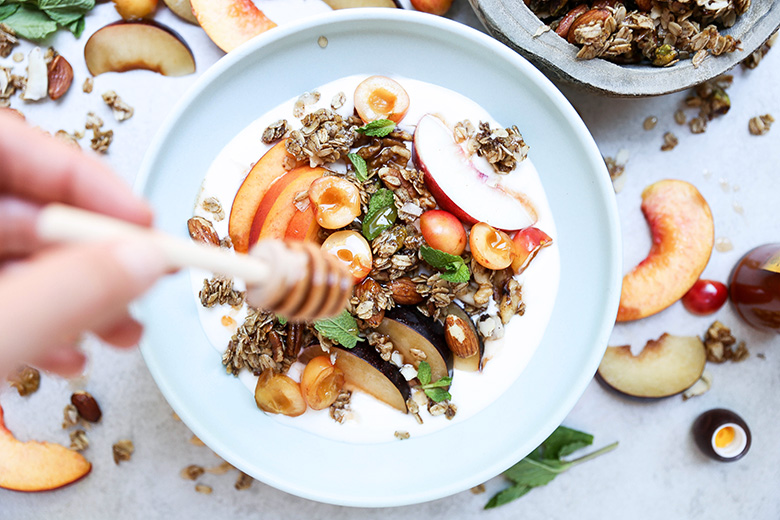 Since the actual breakfast bowls themselves require so few ingredients, I thought I'd give my recommendations on brands. This post isn't sponsored. I'm just sharing what I'm using and loving, in case you want to do the same. For the hot sauce-honey, I used Rigoni di Asiago Italian Mandarin Honey and Cholula Chipotle Hot Sauce (I love the smokiness from the chipotle!). And for yogurt, I used Chobani Honey Whole Milk Greek Yogurt.
If you try out this recipe, please let me know. I'd love to hear about it! And tell me what other ways you're savoring Summer this month!
Cheers,
Liz
Ingredients
For the Nutty Granola
1 1/2 cups old-fashioned oats
1/2 cup walnuts, roughly chopped
1/2 cup pecans, roughly chopped
1/2 cup almonds, roughly chopped
1/4 cup pistachios, roughly chopped
1/2 tsp. ground cinnamon
1/2 tsp. salt
1/4 cup melted coconut oil
1/4 cup raw honey
1/2 cup dried coconut flakes

For the Hot Sauce-Honey
1/4 cup raw honey
1 tsp. hot sauce

For the Breakfast Bowls
Greek yogurt
Stone fruit, pitted and sliced
Fresh mint leaves
Instructions
In a dry non-stick skillet over medium heat, combine the oats, nuts, cinnamon and salt. Cook, stirring constantly, until the mixture is fragrant and toasty, about 4-5 minutes. Add the coconut oil and honey to the skillet, stirring to make sure everything is evenly coated, and cook for about 2 minutes more. Remove the skillet from the heat. Stir in the coconut flakes. Then scrape the granola out onto a parchment paper-line baking sheet to cool. Once fully cooled, the granola can be used or transferred to an airtight container for storage.
Stir together the honey and the hot sauce. Set aside.
To assemble the breakfast bowls, add yogurt and sliced stone fruit to a bowl. Top with some of the granola, a drizzle of hot sauce-honey and a few fresh mint leaves. Enjoy immediately.
https://www.floatingkitchen.net/summer-stone-fruit-and-yogurt-breakfast-bowls-with-hot-sauce-honey-and-nutty-granola/
This post was originally published here on June 18, 2014. I've since updated the photos and text to showcase just how delicious these avocados really are!
With Memorial Day lurking right around the corner, I figured it was a good time to refresh this old recipe from 2014. Because let's be honest, the previous photographs were pretty cringe-worthy. I certainly wouldn't have been motivated to make these Baked Avocados with Fresh Salsa based on how they looked before. So how could I have expected you guys to want to make them?
So I gave them a little facelift. And now they look all shiny and pretty. I hope you get the urge to run right out and try them. Because I think they are the perfect recipe to help kick off the unofficial start of Summer this Memorial Day weekend!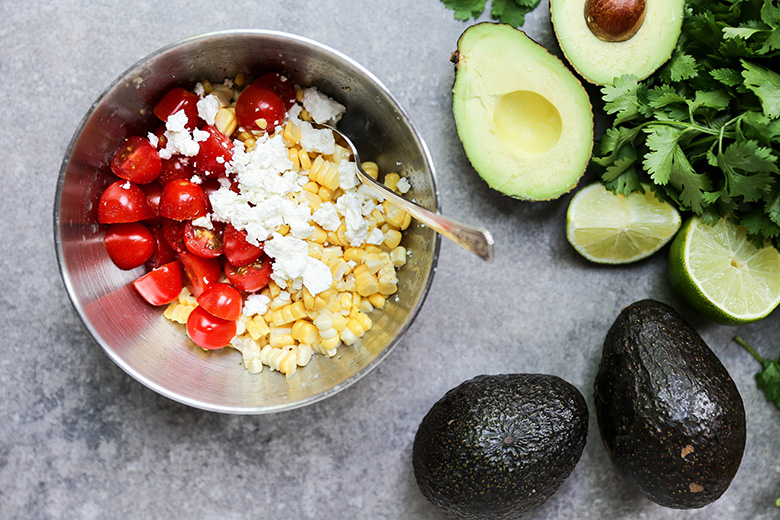 When I first read about the idea of baked avocados (it was this post from Food Faith Fitness), I was skeptical. Wouldn't they get all brown and weird? And who would ever want to eat a warm avocado? The whole concept seemed strange to me. But I was intrigued enough to try it out for myself. And since then, baked avocados have become a staple in my house (along with like every other recipe involving avocados = I'm obsessed).
Baking the avocados causes them to turn extra creamy and soft. And they provide the perfect little vessels for loading up with whatever fresh ingredients you have on hand (in this case, corn, tomatoes, crumbled cheese and cilantro). Any food that you can turn into an edible bowl is a major win in my book. Because boy, do I hate having extra dishes to wash!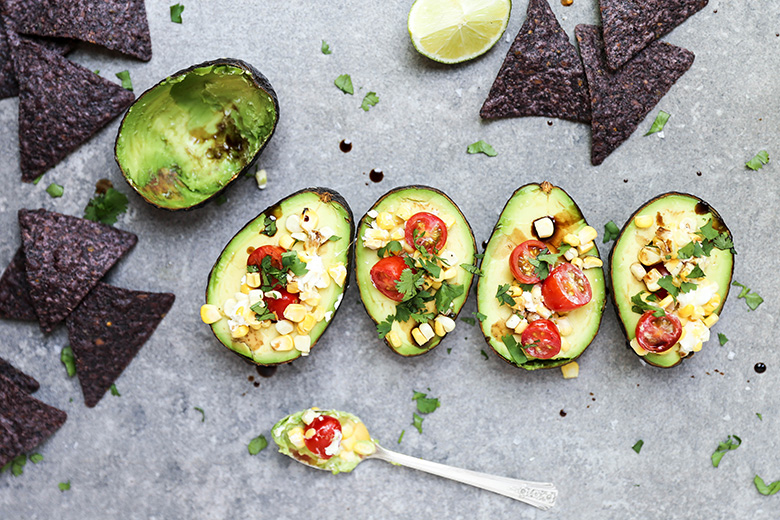 I like to use crumbled Queso Fresco in this recipe (which is what I've called for in the ingredient list below). But for whatever reason, it's an ingredient that I sometimes have a hard time finding in my grocery store. I've substituted crumbled goat cheese or feta cheese in the past, both with great success. So feel free to use whichever of the three cheeses you have/prefer.
These Baked Avocados with Fresh Salsa work as a party appetizer, side dish or mid-afternoon snack. Basically, they are good any time of day. Oh and don't forget to have a bag of tortilla chips nearby. I think you'll want them!
Cheers,
Liz
Ingredients
1/2 cup cherry tomatoes, halved
1/2 cup corn kernels
1/2 cup Queso Fresco cheese, crumbled
1/2 tablespoon fresh squeezed lime juice
1/8 tsp. salt, plus more for seasoning the avocados
1/8 tsp. black pepper
4 avocados
1-2 tablespoons fresh cilantro, roughly chopped
1-2 tablespoons balsamic vinegar
Instructions
Pre-heat your oven to 400 degrees.
In a small bowl, combine the cherry tomatoes, corn, cheese, lime juice, salt and pepper. Set aside.
Cut the avocados in half and remove and discard the seeds. Then slice a small area (about the size of a postage stamp) off the back side (the skin side) of each avocado half. This will give them a flat surface to rest on, preventing them from toppling over during cooking. Be careful not to cut too deeply into the avocado.
Place the avocado halves in a baking dish, flesh side up. Sprinkle with a little salt. Then fill the cavities with a heaping spoonful of the salsa. Transfer the baking dish to your pre-heated oven and bake for 8-10 minutes. Remove from the oven. Top with some fresh cilantro and a drizzle of balsamic vinegar. Serve while still warm.
Notes
1. If you can't find Queso Fresco, some crumbled feta or goat cheese would be great.
https://www.floatingkitchen.net/baked-avocados-with-fresh-salsa/