This post was originally published here on October 31, 2014. I've since updated the photographs and text. I hope you try it out!
I'm cautiously placing a single foot into Fall.
Summer isn't completely dead yet. And I'm still blissfully rocking flip flops and white shorts, totally un-phased by my obvious fashion blunders. But I'd be lying if I didn't admit that I'm detecting a subtle change in the air these days. Fall is most definitely coming. And I'm going be ready for her when she arrives. Complete with snacks.
Yes, snacks. All events (and even non-events) require snacks. And the arrival of Fall is certainly an event (or non-event) worthy of snackage. So to prepare for this occasion, I took everyone's favorite Summer snack (i.e. chips and salsa) and gave it a Fall face-lift by adding in one of my favorite Fall fruits: apples.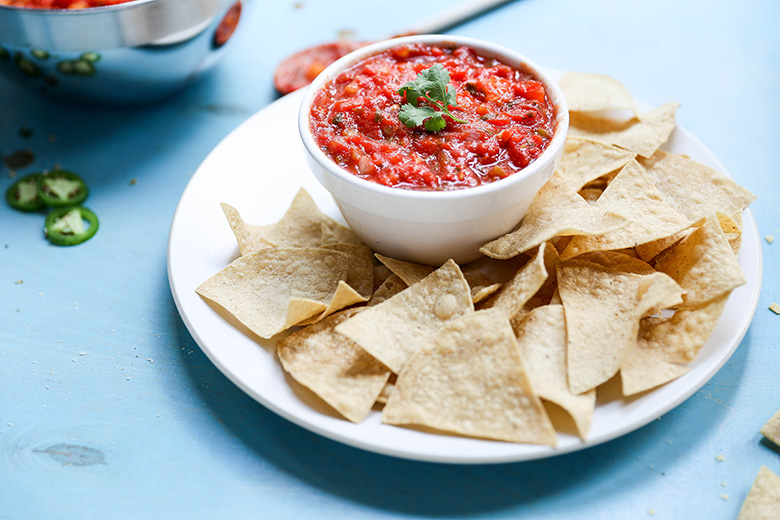 This Spicy Apple-Tomato Salsa has just the right mix of Summer and Fall flavors. And it's got a very nice kick to it as well (but feel free to dial back on the amount of jalapeño peppers for less heat)! It's what I like to call "transition-salsa". And I'm going to be eating it non-stop for the next two months. It's perfect for parties, game day or basically anytime when you're craving chips and salsa (=always).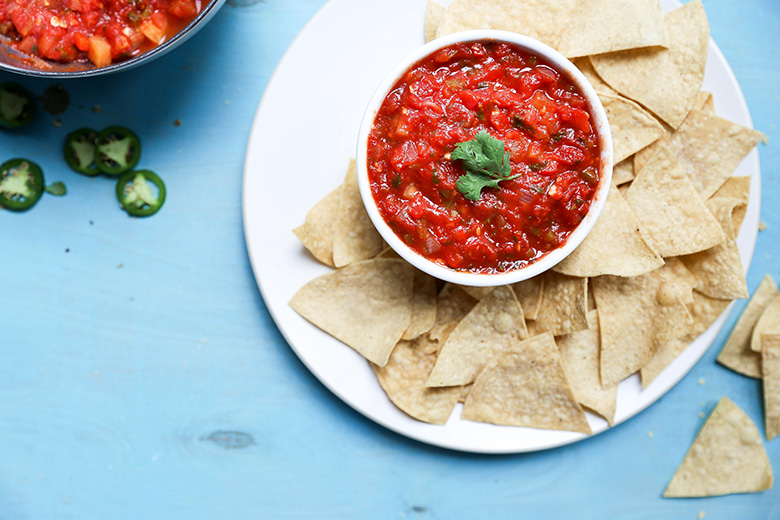 While I'm sitting over here awaiting the arrival of Fall, I've got three blogging friends who are awaiting the arrival of something MUCH bigger in their lives: babies! Ashley from The Recipe Rebel, Denise from Sweet Peas and Saffron and Kristine from Kristine's Kitchen are all expecting little ones soon. And today, we're having a virtual baby shower for them to celebrate. Yahoo!
All three ladies are already seasoned Moms. And I'm excited for them that their families are continuing to grow!
Be sure to check out all the links below to see what dishes everyone "brought" to the baby shower today. I know you'll find some serious inspiration for Fall cooking and baking!
Cheers,
Liz
Ingredients
1 (15-ounce) can petite diced tomatoes
1 (15-ounce) can crushed tomatoes
1 large apple, peeled, cored and diced
1 cup diced yellow onion
1/2 cup diced red pepper
2-3 jalapeño peppers, minced
2 garlic cloves, peeled and minced
2 tablespoons apple cider vinegar
1 tablespoon sugar
1/2 tsp. salt
1/2 cup cilantro, roughly chopped
Instructions
In a medium saucepan, combine all the ingredients except for the cilantro over medium heat. Bring to a simmer and cook, stirring occasionally, for about 8 minutes. Then stir in the cilantro and cook for an additional 2 minutes. Remove the saucepan from the heat. Transfer the salsa to a clean container and allow it to cool to room temperature. Then refrigerate to chill.
Serve with your favorite tortilla chips.
The salsa can be stored in an airtight container in your refrigerator for 3-4 days.
https://www.floatingkitchen.net/spicy-apple-tomato-salsa/
Roasted Butternut Squash Falafel Bites by She Likes Food
Maple Walnut Twice Bake Sweet Potatoes by Savory Nothings
Buttermilk Pumpkin Donuts by A Latte Food
Easy Pumpkin Danish by Pumpkin N' Spice
Mini Pumpkin Cheesecakes by Live Well Bake Often
Pumpkin Pie Crumb Bars by Bakerita
Mini Apple Crisps by Life Made Sweeter
Pumpkin Spice Latte Bread Pudding by Whole and Heavenly Oven
Cinnamon Apple Brie Crostini by Flying on Jess Fuel
Apple Pie Bars by Bake.Eat.Repeat
Honey Apple Butter Greek Yogurt Dip by My Sequined Life
Butternut Squash Hummus with Spiced Pepitas by Flavor the Moments
I can't believe Labor Day Weekend is THIS weekend. GAH!
Per usual, I'm unprepared. These three-day weekends are always sneaking up on me. I guess when you work from home (and work 7 days a week most weeks), the days all kind of just blur together.
But have no fear! Because I have an easy and delicious recipe to help you celebrate the weekend. And hello, it has BEER in it, so that's totally awesome in and of itself.
At any gathering, I can typically be found hovering over the appetizers, side dishes and desserts (oh and the cocktails, too). I can easily skip all the main dishes and be completely satisfied just grazing over the rest of the food items. If you're a grazer too, then you're definitely going to want to give my Beer-Marinated Cherry Tomatoes a try.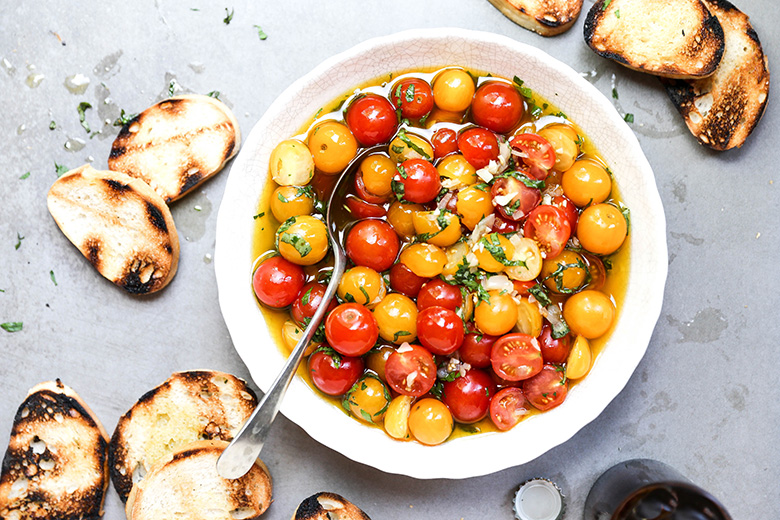 This recipe is a total breeze. Just quickly sautée some shallots and garlic in olive oil. Then stir in a couple pints of cherry tomatoes (I like to leave some whole and halve the rest), beer, vinegar and fresh herbs. And DONE! After letting the all the ingredients marinate together for an hour, you're left with a batch of rich, flavorful tomatoes that you can use to top crunchy grilled bread, toss into green salads or pasta, serve alongside cheese and hummus, etc. The possibilities are endless! Anywhere you might use fresh tomatoes, you can use these Beer-Marinated Cherry Tomatoes!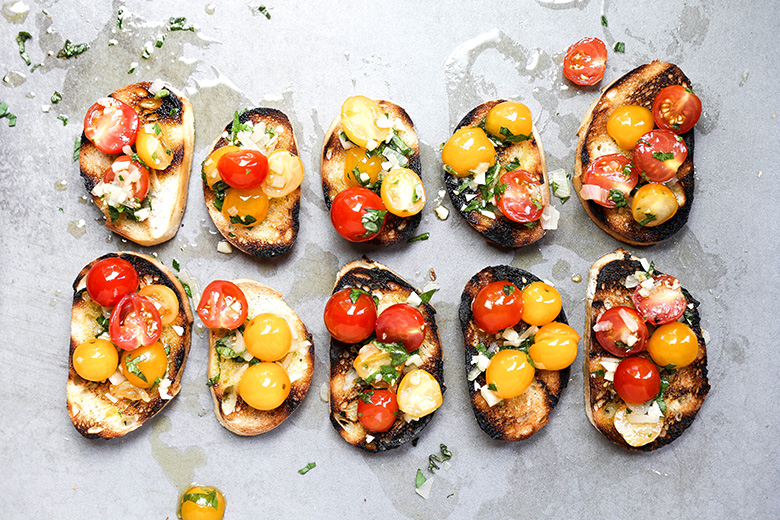 Whenever I incorporate beer or wine into a recipe, I always tell people the best practice is to use something that you ACTUALLY like to drink. It will make your eating experience so much better. I chose Allagash Saison for this recipe. It's relatively light, with both citrus and pepper undertones that I think pair really well with tomatoes. And, honestly, it just kind of reminds me of Summer (which is still is, by the way!). Try it if you can find it. Or use your favorite Summer-style beer. It's all good!
I hope you all have a wonderful and safe Labor Day Weekend. And If you try out this recipe, give me a shout out and let me know. I'd love to hear about it!
Cheers,
Liz
Ingredients
1/2 cup extra-virgin olive oil
1/4 cup minced shallot
2 garlic cloves, peeled and minced
2 pints cherry tomatoes (some halved, some whole)
1/4 cup beer
2 tablespoons red wine vinegar
1/2 tsp. salt
1/4 cup fresh basil, minced
1/4 cup fresh parsley, minced
Instructions
In a medium saucepan, warm the olive oil, shallot and garlic until fragrant, about 3-5 minutes. Remove from the heat.
Carefully add the cherry tomatoes, beer, red wine vinegar and salt to the warm olive oil mixture. Stir to coat the tomatoes in the liquid. Then add the basil and parsley, stirring gently to combine. Cover and let sit at room temperature for about 1 hour. Stir gently before using.
The marinated tomatoes are best when enjoyed the same they are prepared. But they can be covered and stored in your refrigerator for 1-2 days, if necessary.
https://www.floatingkitchen.net/beer-marinated-cherry-tomatoes/
SaveSave
SaveSave
SaveSaveSaveSave
SaveSave
SaveSave