This post was originally published here on January 26, 2015. I've since updated the photographs and text. Because let's be honest, the photographs weren't that great before!
This is the kind of salad I want to eat every damn day. Forever and ever. Until I'm old and cranky (crankier?) and my teeth are falling out. And then at that point, I'll just toss the entire thing into my blender and turn it into a smoothie bowl.
But seriously, I've been eating this Roasted Vegetable Power Bowl (or some very similar version of it) everyday for lunch for the past couple of weeks. It's one of those salads that doesn't really feel like a salad. It's substantial and hearty. And it won't leave you feeling deprived. In fact, the only reason you'll be left wanting more is because it's so gosh darn delicious. Second helpings are highly encouraged.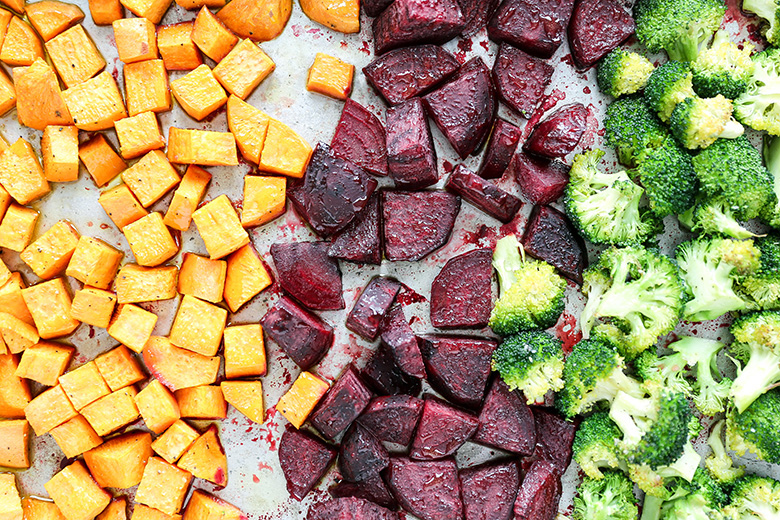 I've written the recipe out below so it makes two servings. But what I actually do in real life is roast up a whole mess of vegetables at the beginning of the week, cook up a big pot of quinoa and make a big jar of the tahini dressing. Then I can assemble one of these bowls at a moments notice anytime throughout the week. Because when hunger strikes, you want to be ready and willing to strike back.
Sometimes I switch out the sweet potatoes for butternut squash. Or substitute cauliflower for the broccoli. You can also use brown rice as a base instead of the quinoa. Oh and a few slices of avocado never hurt anyone. Basically, it's a choose your own adventure kind of situation. You can build these bowl in any which way to suit your tastes preferences (and to accommodate whatever you might have lingering in your crisper drawer!).
I try to keep the vegetables somewhat separated on the baking sheet so the color of the beets doesn't bleed into everything. But it's not really necessary. Unless of course you want to snap a dope photo and Instagram that shit. Then by all means, be a little fussy with those vegetables.
Cheers,
Liz
Ingredients
For the Salad
1 medium sweet potato, peeled and cut into 1-inch cubes
2 small beets, trimmed, peeled and cut into 1-inch cubes
2 cups broccoli florets
Extra-virgin olive oil
Salt
Black pepper
2 cups mixed greens
1 cup cooked quinoa
1/4 cup almonds
1 tablespoon fresh cilantro

For the Dressing
2 tablespoons extra-virgin olive oil
1 tablespoon fresh squeezed lemon juice
1 tablespoon tahini paste
1 tsp. maple syrup
Instructions
Pre-heat your oven to 400 degrees.
In a medium bowl, toss the cubed sweet potato with 1-2 tsp. of olive oil and a pinch of salt and pepper. Transfer to one side of a large rimmed baking sheet. In the same bowl, now season the cubed beets with olive oil, salt and pepper. Add these to the same rimmed baking sheet, but keep them separate from the sweet potatoes so the color of the beets doesn't bleed into the sweet potatoes. Transfer the baking sheet to your pre-heated over and roast for 10 minutes.
Add the broccoli florets to the same bowl and season with olive oil, salt and pepper in the same manner as you did for the sweet potatoes and beets. After 10 minutes, add the broccoli florets to the baking sheet with the sweet potatoes and beets (keeping them spaced away from the beets) and then return your baking sheet to your oven for another 10 minutes. Remove the vegetables from the oven and set aside.
While the vegetables are roasting, make the dressing. In a small bowl stir together all of the ingredients until smooth. You can add a tablespoon of water to thin the dressing, if you prefer.
To assemble the bowls, divide the lettuce evenly between two bowls. Then top with the roasted vegetables, cooked quinoa, almonds and cilantro, dividing all the ingredients evenly between the two bowls. Drizzle with the dressing. Serve immediately.
https://www.floatingkitchen.net/roasted-vegetable-power-bowl/
Hi Friends! I hope you all had a fabulous Christmas! Was Santa good to you? Have you come down off your cookie-induced sugar high yet?
I think I'm still somewhere floating in the sugary clouds. I ate A LOT of cookies. Way too many to count. And even if I had counted, I certainly wouldn't put that number down in writing for the whole world to see.
So I'm popping in real quick today to bring you this Warm Spinach Salad with Roasted Grapes and Sweet Potatoes. It's the perfect recipe if you're feeling the need to hit the "reset" button. And it would also be a great salad to add to your New Year's Eve menu, if you just so happen to be hosting a party (or going to a party!).
The inspiration for this dish came from one of my favorite spinach salad recipes from the archives. I added some roasted sweet potatoes to make it a bit more filling (this could totally pass as a "main meal" type of salad). And I decided to give it a bit of a New Year's Eve twist with the addition of roasted grapes. Did you know that grapes are one of the traditional and/or lucky foods that you're suppose to consume on New Year's Eve? As it goes, at midnight you eat twelve grapes, one to symbolize each of the twelve months in the upcoming year. You're suppose to finish all twelve grapes before the last stroke of midnight, which apparently is a task that's easier said than done. I think I'll give it a try this year!
You want the spinach in this recipe to wilt slightly, so be sure to scrape in the roasted sweet potatoes and grapes (and any olive oil from the pan), while they are still warm.
I hope you all have a fun and safe New Year's Eve. I'll be sipping on these Grapefruit and Sage Champagne Cocktails. If you haven't tried them yet, it's the perfect time to do so!
See you in 2017!
Cheers,
Liz
Ingredients
2 cups red seedless grapes
1 large sweet potato, peeled and sliced into thin triangles
1/4 cup extra-virgin olive oil
1 tablespoon maple syrup
1 tablespoon fresh rosemary, minced
1/2 tsp. salt
8 cups baby spinach
2-4 tablespoons balsamic vinegar
1/2 cup hazelnuts, chopped
1/2 cup crumbled goat cheese
Instructions
Pre-heat your oven to 400 degrees. In a large bowl, toss together the grapes, sweet potatoes, olive oil, maple syrup, rosemary and salt until the grapes and sweet potatoes are evenly coated with the olive oil. Transfer to a large rimmed baking sheet and roast in your pre-heated oven for 20 minutes, stirring once halfway through the cooking time. The sweet potatoes should be soft and the grapes should be slightly wrinkly. Remove from the oven and set aside.
Place the spinach in a very large bowl. Add the warm roasted grapes and sweet potatoes to the spinach, making sure to scrape in any oil left behind on the baking sheet. Toss gently to combine, sprinkling with some balsamic vinegar as you do so. Add the hazelnuts and goat cheese, tossing gently to combine.
Transfer the salad to serving dishes and enjoy while still warm.
https://www.floatingkitchen.net/warm-spinach-salad-with-roasted-grapes-and-sweet-potatoes/