Disclosure: This post is sponsored by Jackson's Honest. Thank you for supporting brands and companies that I love and trust. All opinions are 100% my own.
Football isn't something that I get excited about. I never have. And I probably never will.
So while everyone else is glued to the television, not wanting to miss a single second of game day action or inaction (if you've ever really watched a football game, then you know exactly what I mean by "inaction"), I've got my face buried in a mountain of nachos.
I have my priorities straight. Clearly.
As much as I love the traditional nachos (= cheesetopia) that are typical of most bars in America, I've recently found myself craving something a bit different. Realizing that the nachos of my dreams probably wouldn't be found at my local watering hole, I got to work creating these Sweet and Spicy Thai Chicken Nachos in my own kitchen. They are fresh, colorful and have a wonderful mix of unexpected flavors. And they aren't just all about the cheese. Fresh vegetables and lean chicken play a starring role in these Sweet and Spicy Thai Chicken Nachos. So much so, that I even dare to say that you can actually feel good about enjoying these on game day…or any other day.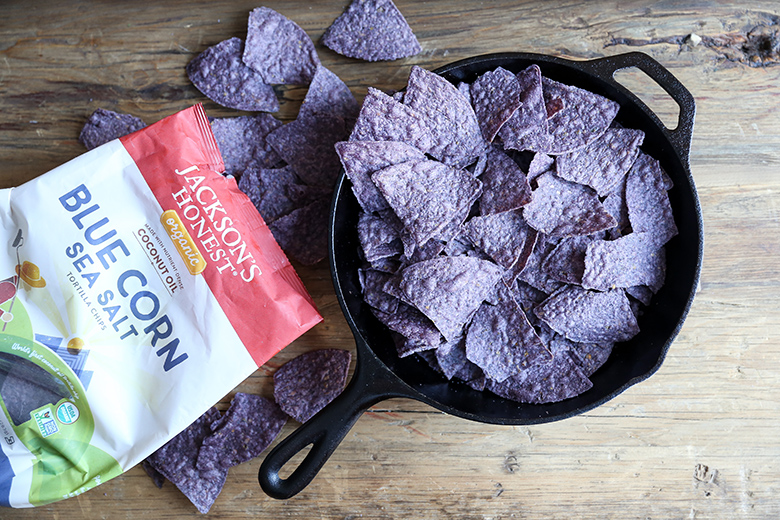 I'm excited to partner with Jackson's Honest today, a company that is wholeheartedly committed to using real, nutrient dense ingredients in the food products they produce. Their potato chips and tortilla chips, which are cooked in organic coconut oil, have a clean and fresh taste that is like no other. Yes, I know. The words "clean" and "fresh" aren't words that are typically used to describe chips. But it's true. I would not lie to you.
I used a bag of Jackson's Honest Blue Corn Tortilla Chips for this recipe. When I flipped over the bag to look at the ingredients I saw this: organic blue corn, organic coconut oil, sea salt. THREE INGREDIENTS PEOPLE! That's pretty amazing.
Speaking of the number three, I have three notes on the recipe that I think are worth mentioning. (1) Because I like my nachos with a little bit of kick, I used two whole serrano peppers. But if you want something more mild, you can replace the serrano peppers with jalapeño peppers, which are less spicy. (2) I used a rotisserie chicken from the grocery store for the cooked, shredded chicken. This is a perfectly acceptable shortcut, in my humble opinion. (3) Pre-shredded bagged cheese is not a shortcut I recommend taking. That stuff just doesn't melt properly. So buy some blocks of cheese and shred your own. It's worth it!
Check out Jackson's Honest store locater to discover where you can buy their potato chips and tortilla chips. I know once you taste them, they'll become a regular part of your snacking and cooking routine!
Cheers,
Liz
Sweet and Spicy Thai Chicken Nachos
Ingredients
1/2 cup peanut butter
3 tablespoons tamari (or soy sauce if you aren't gluten free)
2 tablespoons honey
2 tablespoons rice vinegar
1/2 tsp. red pepper flakes
1/4 tsp. salt
1 lime, divided
2 cups cooked shredded chicken
1 (10 ounce) bag Jackson's Honest Blue Corn Tortilla Chips
2 cups shredded cheese (I used a mix of cheddar and Monterey Jack)
3/4 cups diced red bell pepper
2 serrano peppers, thinly sliced
1 cup chopped red cabbage
2 scallions, white and light green parts thinly sliced
1/4 cup fresh cilantro, roughly chopped
1/4 cup roasted peanuts
Instructions
Pre-heat your oven to 350 degrees.
In a heat safe bowl, microwave the peanut butter for 20-30 seconds to help loosen it. Then stir in the tamari, honey, rice vinegar, red pepper flakes, salt and juice from 1/2 a lime. Combine the peanut sauce with the shredded chicken, tossing until well coated.
Spread about half of the tortilla chips out onto a large rimmed baking sheet or in a cast iron pan. Top with half of the coated chicken, half of the cheese, half of the diced red pepper and half of the sliced serrano peppers. Then add the remaining tortilla chips and repeat the layers with the remaining chicken, cheese, red pepper and serrano peppers.
Transfer the nachos to your pre-heated oven and bake for 10-12 minutes, or until the cheese is melted.
Meanwhile, toss the chopped red cabbage, scallions and cilantro with the juice from the remaining 1/2 a lime.
Remove the nachos from the oven and top with the cabbage mixture and the peanuts. Serve immediately.
http://www.floatingkitchen.net/sweet-and-spicy-thai-chicken-nachos/
Can it be Friday now? Because I'm ready for it to be Friday.
This has pretty much been the longest week ever in the history of weeks. I'm still deep in post-Holiday recovery mode, feverishly trying to untangle the mess that I made of sleep, food, work, exercise and – real talk alert – my bank account. It's a struggle.
Is anybody else feeling this way? Or is it just me?
Thankfully, it's Thursday. And even better: it's 30 Minute Thursday.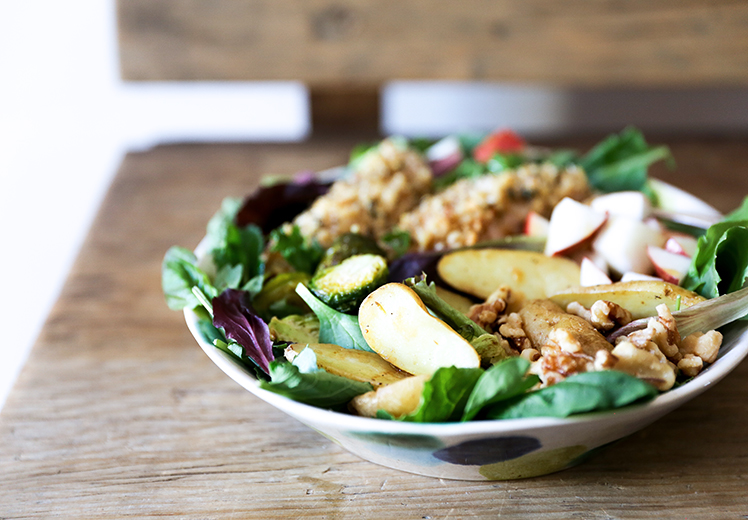 Since I know a lot of people (including myself) are trying to be more mindful about eating healthy these days, I decided to whip up a BIG, satisfying salad for this months installment of 30 Minute Thursday. No wimpy salads here! This Walnut-Crusted Chicken and Roasted Vegetable Salad is FULLY loaded (crunchy! salty! sweet! savory!) and can totally be eaten as a stand alone meal. It's one irresistible bowl of goodness.
Because it's winter and I'm craving warmer foods, I like to pile the chicken and roasted vegetables on top of my salad greens almost as soon as they come of the oven. But if that's not your jam (I know some people don't like mixing warm items in their salads), you can let them cool completely first. No big deal.
I buy chicken tenders (also sometimes labeled chicken strips) because they are already cut to size and cook up faster than full-sized chicken breasts. If you can't find chicken tenders in your grocery store, you can buy chicken breasts and trim them yourself at home.
And make sure to check out the links below to see what my blogging friends are making for #30MinuteThursday this month!
Cheers,
Liz
Walnut-Crusted Chicken and Roasted Vegetable Salad
Ingredients
For the Chicken
1 cup walnuts
1/2 cup panko bread crumbs
1 tablespoon fresh thyme leaves
1 tablespoon lemon zest
1/2 tsp. salt
1/2 tsp. black pepper
1.25 lbs boneless, skinless chicken tenders/strips

For the Salad
2 cups brussels sprouts, trimmed and halved
2 cups fingerling potatoes, cut in half lengthwise
2 tablespoons extra-virgin olive oil
2 tsp. fresh squeezed lemon juice
1 tsp. salt
1 tsp. black pepper
8 cups mixed greens
1 apple, cored and chopped
1/4 cup walnuts, roughly chopped

For the Dressing
1/4 cup extra-virgin olive oil
2 tablespoons fresh squeezed lemon juice
2 tablespoons balsamic vinegar
2 tsp. maple syrup
1/4 tsp. salt
Instructions
Pre-heat your oven to 400 degrees.
Prepare the chicken. In the bowl of your food processor with the blade attachment, pulse together the walnuts, bread crumbs, thyme leaves, lemon zest, salt and black pepper until the mixture resembles course sand. Transfer this mixture to a zip-closure bag. Add the chicken, seal the bag and shake until the chicken is well coated, separating the chicken pieces if they get stuck together. Lay the coated chicken out into a single layer in a 9 X 13 baking dish sprayed with non-stick cooking spray. Set aside.
Prepare the vegetables. In a large bowl, toss together the brussels sprouts, potatoes, olive oil, lemon juice salt and pepper until the vegetables are well coated. Spread the vegetables out onto a large rimmed baking sheet.
Transfer the coated chicken and prepared vegetables to your pre-heated oven to bake. Cook the chicken for approximately 15 minutes, until the juices run clear and the internal temperature measures 165 degrees Fahrenheit. Cook the vegetables for approximately 20 minutes, until the potatoes are easily pierced with a small knife and the brussels sprouts are blackened in a few spots. Once cooked, remove from the oven and set aside.
Meanwhile, make the salad dressing. In a small bowl whisk together all of the ingredients for the dressing. Set aside.
Assemble the salads. Toss the mixed greens with the dressing, using an amount of dressing that suits your taste preferences. Divide the dressed greens between four bowls. Top with the cooked chicken, prepared vegetables, chopped apple and walnuts, dividing the ingredients evenly between the four bowls. Serve immediately.
http://www.floatingkitchen.net/walnut-crusted-chicken-and-roasted-vegetable-salad/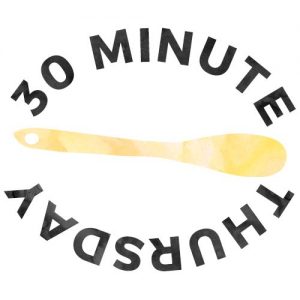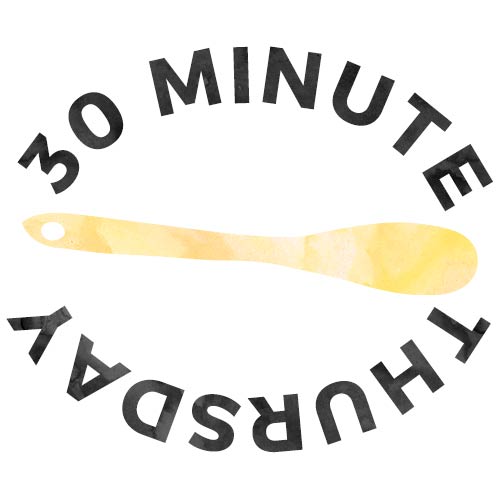 Teriyaki Chicken Stir-fry from Bake.Eat.Repeat.
30-Minute Three Bean Chipotle Quinoa Chili from Flavor the Moments
Cashew Chicken Lettuce Wraps with Orange-Ginger Sauce from Kristine's Kitchen
Skinny Beef and Broccoli from Life Made Sweeter
30 Minute Chicken Stew from The Recipe Rebel
BBQ Chicken Quesadilla from Pumpkin 'N Spice
30 Minute Pineapple Shrimp Fried Rice from Savory Nothings
30 Minute Black Bean Soup with Pico De Gallo from She Likes Food
30-Minute Chicken Basil Pesto Pasta Skillet from Whole and Heavenly Oven