Disclosure: I'm so grateful to have received a copy of Megan Keno's debut cookbook, Cast Iron Gourmet: 77 Amazing Recipes with Less Fuss and Fewer Dishes. I hope you all enjoy this little sneak peak!
In typical New England fashion, we went from Summer to Fall in a matter of 24 hours. One day it was 90 degrees. And then the next day it was a cool, crisp 60 degrees. I proclaimed "I'm freezing!" more than once during that first chilly day. And I even had to resort to pulling on a pair of socks at one point!
Although, I still refuse to turn on the heat in my house. That has to wait.
The abrupt shift in seasons was a bit of a shock to the system. But I'm more than happy to embrace the change. Because with it comes all the cozy, comforting foods that I've been missing out on these past several months.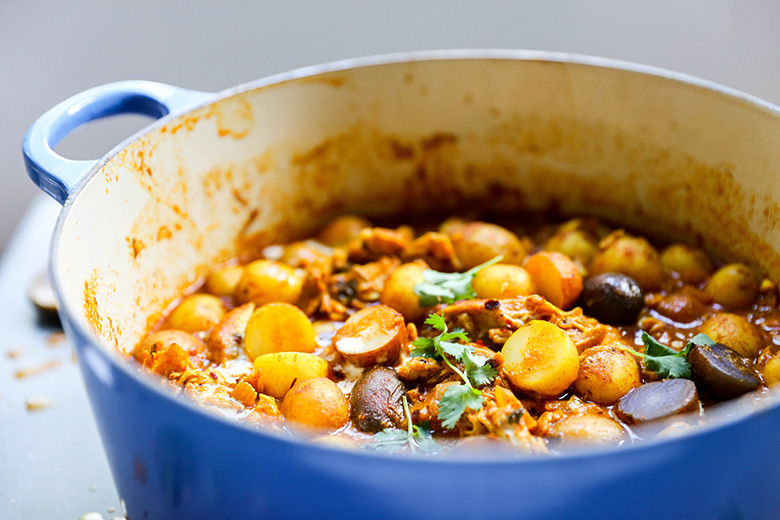 The recipe for this Indian Chicken and Potato Stew with Garam Masala Tomato Sauce is straight from Megan Keno's debut cookbook, Cast Iron Gourmet: 77 Amazing Recipes with Less Fuss and Fewer Dishes. As soon as I spotted the gorgeous photograph for this stew (page 39, in case you want to be in the know!), I knew instantly it would be the first recipe I'd make from Megan's cookbook. So I bided my time until the air stream shifted, and then it was GO GO GO! I pulled out my trusty coated cast iron Dutch oven. And within minutes, my house was filled with the most delicious scents of ginger, garlic, cumin and more. I was in heaven.
This hearty, flavorful stew was exactly what I needed this past weekend to warm my bones. And it's a recipe that you ABSOLUTELY need in your life, too. It's delicious served exactly how Megan instructs. But it would be fabulous over rice, if you needed to stretch it out further to feed to crowd. And the leftovers are out of this world good. It's one of those dishes that gets better with time.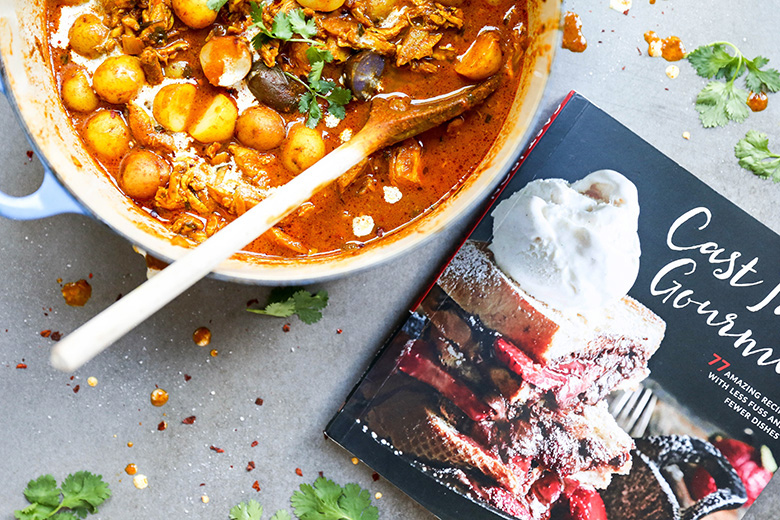 Megan and I have been friends for several years now. We first meet on the internet via our blogs (if you're not following her over at Country Cleaver, go do it now!). But it wasn't until we moved 3000 miles away from each other (go figure!) that we finally had the chance to meet face-to-face at a blogging retreat. In person, Megan is every bit as genuine, selfless and witty as she is on her blog. There are absolutely zero pretenses about Megan, which is something that I really adore about her. Because really, how many people can you say that about? If I'm being completely honest, I wouldn't even describe myself in that way…
Simply put, Megan is a gem. And I'm happy to call her my friend.
And I'm SO happy to have her wonderful cookbook adorning the shelves of my kitchen. Her cookbook, Cast Iron Gourmet: 77 Amazing Recipes with Less Fuss and Fewer Dishes, is a natural extension of her blog, Country Cleaver. It's filled with all the best comfort foods (the women has a chapter in her book called "Artisanal Carbs"!). And it will make you re-think how you use your beloved cast iron. It's a must-have for any home cook. So go buy it now!
But heck, don't just take my word for it. Make this fabulous Indian Chicken and Potato Stew with Garam Masala Tomato Sauce and see for yourself what I'm talking about!
Cheers,
Liz
This recipe has been reprinted with permission from Megan Keno
Ingredients
3 tablespoons vegetable oil
2 lbs boneless, skinless chicken breasts
Salt
Black pepper
1 small yellow onion, peeled and chopped
4 garlic cloves, peeled and minced
2 tablespoons finely grated fresh ginger
2 tablespoons tomato paste
2 tsp. garam masala
2 tsp. ground cumin
2 tsp. ground turmeric
1/4 cup fresh cilantro, finely chopped
3-3 1/2 cups low-sodium chicken broth
1 (8-ounce) can tomato sauce
1/2 cup heavy cream or plain yogurt
1 lb tri-colored baby potatoes, cut in half if large
Instructions
Warm the vegetable oil in a large, heavy bottom pot over medium-high heat. Season the chicken breasts liberally with salt and black pepper. Then place them in the oil to cook until golden brown on all sides, about 8-10 minutes (the chicken will naturally release from the pan once it's browned). Work in batches if necessary. Once all the chicken is browned, transfer it to a clean plate and set it aside.
Lower the temperature on your stove to medium-low. Add the onion, garlic and ginger to the same pot you used to brown the chicken and cook, stirring occasionally, until the onion is very soft and golden brown, about 5-7 minutes. Add the tomato paste, garam masala, cumin, turmeric and cilantro and cook, stirring constantly, for 2-3 minutes. Then stir in 3 cups of the chicken broth, the tomato sauce and the heavy cream/yogurt.
Add the browned chicken breasts back to the pot and adjust the heat to maintain a simmer. Cover the pan, leaving the lid cracked slightly so the stew can vent, and simmer for about 1 hour.
After an hour, remove the chicken and use two forks to shred it into smaller pieces. Return the shredded chicken to the pot and add in the baby potatoes. Continue to simmer the stew for another 45 minutes, or until the potatoes are fork tender. If the stew is getting too thick, you can add in the remaining chicken broth.
Serve the hot stew with a dash of red pepper flakes, chopped fresh cilantro and a drizzle of heavy cream, if desired.
Leftovers can be stored in an airtight container in your refrigerator for 2-3 days.
https://www.floatingkitchen.net/indian-chicken-and-potato-stew-with-garam-masala-tomato-sauce/
SaveSave
SaveSave
SaveSave
SaveSaveSaveSave
I'm super excited about today's recipe. Because PIZZA!!!
It's probably one of my most loved foods. I could eat pizza almost every night and not complain. And I'll take any version you want to throw at me. Deep dish, thin crust, wood-fired, plain or fully loaded. It's all good.
We have something here in coastal New England that we affectionately call "beach pizza". I'm sure others have this too. But it's basically the thinnest crust ever, sauce and cheese. No frills. Served on a paper plate. A bit greasy. And cheap as all get out.
I love it. I crave it. And when I moved back here from the West Coast, it was one of the first things I ate.
This Grilled Balsamic Chicken Salad Pizza with Fresh Strawberry Salsa is WAY fancier than my beloved beach pizza. But it's pizza nonetheless. And I'm obsessed with it.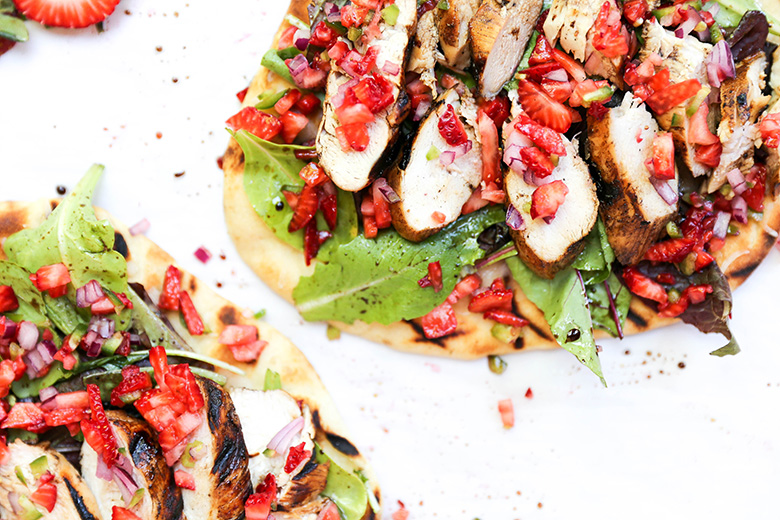 The other thing I'm obsessed with lately is store-bought naan (I typically buy the Stonefire Tandoori Naan). I got hooked on this stuff a couple months ago and there has been no turning back. Because it makes life really easy. I warm it up either in my oven or on my grill. And then I go to town with all the toppings.
Today's version has some marinated grilled chicken breast, mozzarella cheese, mixed salad greens and a sweet and spicy strawberry- jalapeño salsa. It's everything you need for a complete meal all in one neat little package. And it's ready in just about 30 minutes. I guarantee you'll be making this one all Summer long!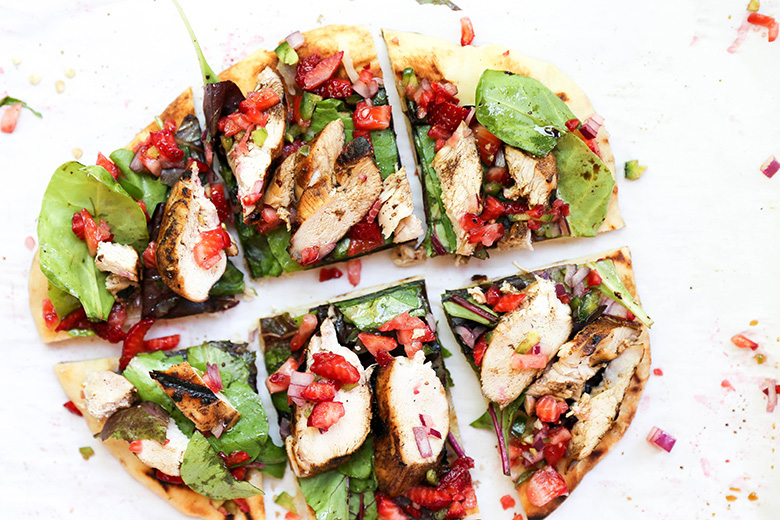 Be sure to look for the thin cut chicken breasts in your grocery store. They cook up much quicker, helping to get this meal on the table FAST!
It's also the first Thursday of the month, which makes today 30 Minute Thursday! Check out the links below to see what some of my blogging friends have cooked up for June. I hope you find some inspiration for your next dinner!
Cheers,
Liz
Ingredients
For the Pizza
2 tablespoons extra-virgin olive oil
2 tablespoons balsamic vinegar
1/4 tsp. salt
1/4 tsp. black pepper
2 thin cut boneless, skinless chicken breasts
3 cups mixed salad greens
2 pieces naan
1 cup shredded mozzarella cheese

For the Salsa
1 cup diced strawberries
1/4 cup diced red onion
1/2 jalapeño pepper, diced
Instructions
In a small bowl, whisk together the olive oil, balsamic vinegar, salt and black pepper. Transfer 3 tablespoons of the dressing to a large zip-closure bag. Then add the chicken breasts to the bag and seal it closed, making sure to push out as much of the air as possible so that the dressing coats the chicken breasts on all sides. Let this sit for 10 minutes at room temperature.
Meanwhile, pre-heat your grill to medium-high.
Toss the mixed greens with the remaining dressing. Set aside.
Combine all the ingredients for the salsa in a small bowl. Set aside.
Remove the chicken breasts from the zip-closure bag and place them directly on your grill, discarding any leftover dressing. Cook the chicken breasts until they are no longer pink on the inside and the juices run clear, about 5-7 minutes per side. Remove and transfer the grilled chicken breasts to a clean plate. Tent with aluminum foil to keep warm. Allow the chicken breasts to rest for 3-5 minutes before slicing them into strips.
Meanwhile, warm the naan on your grill for 1 minute per side. When you flip the naan to the second side, sprinkle the tops with the mozzarella cheese, dividing it evenly between the two pieces of naan. Remove the naan from the grill and place each piece on clean plate with the cheese-side facing up.
Top each piece of naan with half of the dressed salad greens, half of the sliced chicken breasts and a couple spoonfuls of the fresh strawberry salsa. Slice and serve immediately.
https://www.floatingkitchen.net/grilled-balsamic-chicken-salad-pizza-with-fresh-strawberry-salsa/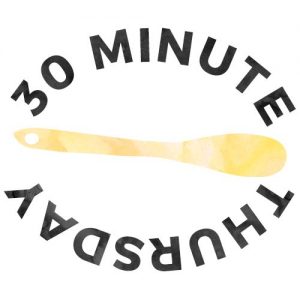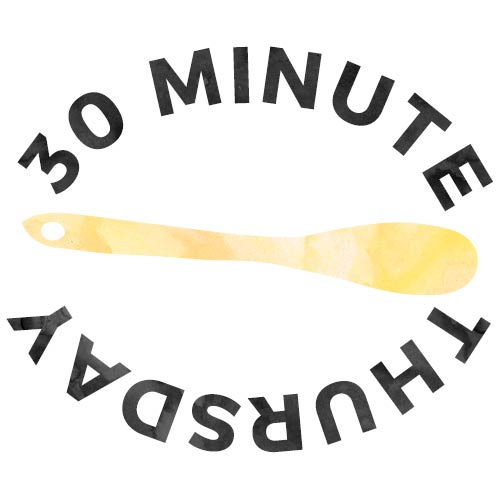 Creamy Sausage and Mushroom Rigatoni by Pumpkin 'N Spice
Chicken Caesar Pasta Salad by Life Made Sweeter
Blackened Fish Taco Bowls with Corn Salsa by Bake Eat Repeat
One Pot Creamy Vegan Caprese Pasta by She Likes Food
Vegetarian Portobello Mushroom Fajitas by Kristine's Kitchen
One Pot BBQ Chicken Pasta by The Recipe Rebel