This post was originally published here on July 24, 2014. I've updated the photographs and text to better showcase this delicious (and easy!) Summer dinner.
Eeeek! You guys! I'm starting to have anxiety about the end of Summer.
I know, I know. It's only mid-July. But last week my grocery store put out their Halloween candy and that kind of sent me into a feverish downward spiral. I literally just stood in the aisle staring at the rows of pumpkins and ghosts and felt an equal mix of extreme sadness and intense rage.
Cue anxiety attack.
Also, can we seriously talk about Halloween candy at the grocery store in July. WTF is wrong with everyone. Just NO! No, no, no, no, no, no, no…!!!
Ugh.
Anyways. Since eating always improves my mood, I went home and decided to whip up the ultimate Summer dinner: Spicy Grilled Shrimp with Coconut Lime Rice and Peach Salsa.
Fall: stand down. You've been warned.
This recipe has a couple separate parts that you need to prepare. But it's so worth it. And all the steps are super easy. I promise.
The shrimp are spicy and crazy flavorful. And they take only a few minutes to cook up on the grill. And the fresh peach salsa is the perfect blend of savory and sweet notes. It's great not only in this dish, but also on just about anything grilled: chicken, pork, salmon, etc. You can also put it on tacos. Or just scoop it straight onto some tortilla chips. You get the idea. Find a way to get this peach salsa into your body in any way possible.
But the coconut-lime rice might just be my favorite part about this whole recipe. Seriously. Making rice with canned coconut milk instead of water is a total game changer. It feels tropical and luxurious, but still easy. Just like how Summer should feel.
So tell me, how are YOU celebrating Summer these days? Give me some more ideas for my Summer bucket list. Because it's not over yet, and I tend to make the most of it!
Cheers,
Liz
Ingredients
For the Peach Salsa
2 peaches, pitted and diced
1/2 small red onion, diced
1/2 jalapeño pepper, finely diced
1/4 cup cilantro, roughly chopped
1 tsp. sugar
Zest and juice of 1 lime

For the Coconut-Lime Rice
1 (14 ounce) can light coconut milk
1/4 cup water
1/8 tsp. salt
1 tablespoon coconut oil or extra-virgin olive oil
1 cup basmati or jasmine rice
Zest and juice of 1 lime

For the Spicy Shrimp
24 large raw shrimp, peeled and deveined (I like the "tail-on" variety)
4 tablespoons extra-virgin olive oil, divided
Zest and juice of 2 limes
1/2 jalapeño pepper, finely diced
1/4 cup cilantro, roughly chopped
1/2 tsp. salt
Instructions
Combine all of the ingredients for the peach salsa in a small bowl. Cover and refrigerate until you're ready to use it.
In a medium saucepan bring the coconut milk, water, salt and oil to a low boil. Stir in the rice and turn the heat down to low. Cover and simmer for 15 minutes. The coconut milk has a greater tendency to over boil or scorch on the bottom, so keep the heat lower than you typically would for cooking rice in water/broth. After 15 minutes, turn off the heat and keep the lid on your saucepan and let the rice sit for 5-7 minutes. Then remove the lid and fluff the rice with a fork. Gently stir in the lime juice and zest. Cover to keep warm while you prepare the shrimp.
Pre-heat your grill to medium-high. Rinse the shrimp under cold water and then toss them in a bowl with 2 tablespoons of the olive oil. In a separate bowl, combine the remaining olive oil, lime zest and juice, diced jalapeño, cilantro and salt. Place the shrimp on your pre-heated grill and grill for about 2-3 minutes, flipping once during this time. The shrimp are cooked when they turn from translucent to white and their tails curl in slightly. Remove the shrimp from the grill and toss them gently in the lime/jalapeño/cilantro mixture.
To serve, divide the coconut-lime rice between bowls. Top with the grilled shrimp and a spoonful of the peach salsa. Enjoy immediately.
https://www.floatingkitchen.net/spicy-grilled-shrimp-with-coconut-lime-rice-and-peach-salsa/
I'm super excited about today's recipe. Because PIZZA!!!
It's probably one of my most loved foods. I could eat pizza almost every night and not complain. And I'll take any version you want to throw at me. Deep dish, thin crust, wood-fired, plain or fully loaded. It's all good.
We have something here in coastal New England that we affectionately call "beach pizza". I'm sure others have this too. But it's basically the thinnest crust ever, sauce and cheese. No frills. Served on a paper plate. A bit greasy. And cheap as all get out.
I love it. I crave it. And when I moved back here from the West Coast, it was one of the first things I ate.
This Grilled Balsamic Chicken Salad Pizza with Fresh Strawberry Salsa is WAY fancier than my beloved beach pizza. But it's pizza nonetheless. And I'm obsessed with it.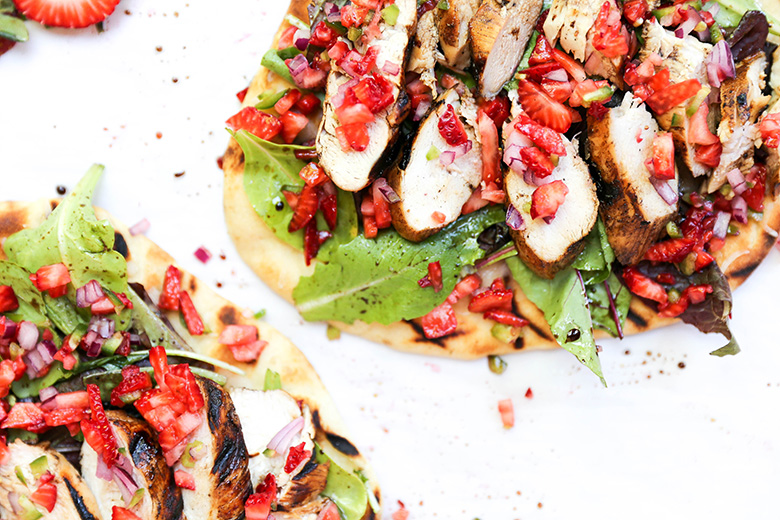 The other thing I'm obsessed with lately is store-bought naan (I typically buy the Stonefire Tandoori Naan). I got hooked on this stuff a couple months ago and there has been no turning back. Because it makes life really easy. I warm it up either in my oven or on my grill. And then I go to town with all the toppings.
Today's version has some marinated grilled chicken breast, mozzarella cheese, mixed salad greens and a sweet and spicy strawberry- jalapeño salsa. It's everything you need for a complete meal all in one neat little package. And it's ready in just about 30 minutes. I guarantee you'll be making this one all Summer long!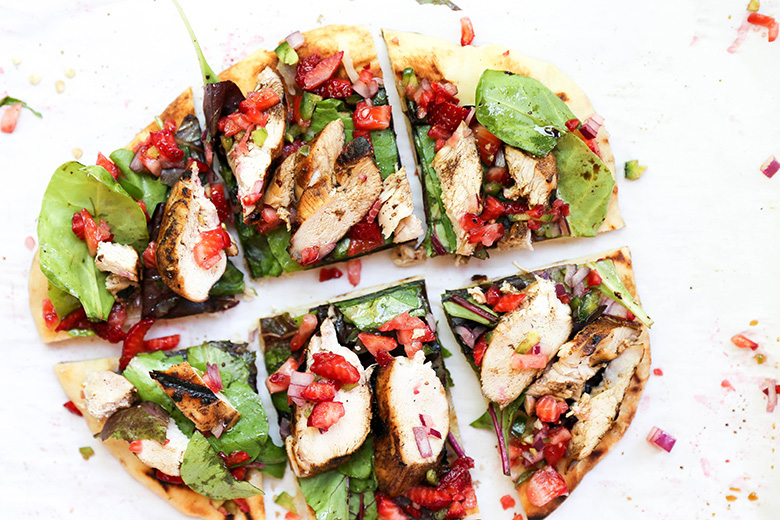 Be sure to look for the thin cut chicken breasts in your grocery store. They cook up much quicker, helping to get this meal on the table FAST!
It's also the first Thursday of the month, which makes today 30 Minute Thursday! Check out the links below to see what some of my blogging friends have cooked up for June. I hope you find some inspiration for your next dinner!
Cheers,
Liz
Ingredients
For the Pizza
2 tablespoons extra-virgin olive oil
2 tablespoons balsamic vinegar
1/4 tsp. salt
1/4 tsp. black pepper
2 thin cut boneless, skinless chicken breasts
3 cups mixed salad greens
2 pieces naan
1 cup shredded mozzarella cheese

For the Salsa
1 cup diced strawberries
1/4 cup diced red onion
1/2 jalapeño pepper, diced
Instructions
In a small bowl, whisk together the olive oil, balsamic vinegar, salt and black pepper. Transfer 3 tablespoons of the dressing to a large zip-closure bag. Then add the chicken breasts to the bag and seal it closed, making sure to push out as much of the air as possible so that the dressing coats the chicken breasts on all sides. Let this sit for 10 minutes at room temperature.
Meanwhile, pre-heat your grill to medium-high.
Toss the mixed greens with the remaining dressing. Set aside.
Combine all the ingredients for the salsa in a small bowl. Set aside.
Remove the chicken breasts from the zip-closure bag and place them directly on your grill, discarding any leftover dressing. Cook the chicken breasts until they are no longer pink on the inside and the juices run clear, about 5-7 minutes per side. Remove and transfer the grilled chicken breasts to a clean plate. Tent with aluminum foil to keep warm. Allow the chicken breasts to rest for 3-5 minutes before slicing them into strips.
Meanwhile, warm the naan on your grill for 1 minute per side. When you flip the naan to the second side, sprinkle the tops with the mozzarella cheese, dividing it evenly between the two pieces of naan. Remove the naan from the grill and place each piece on clean plate with the cheese-side facing up.
Top each piece of naan with half of the dressed salad greens, half of the sliced chicken breasts and a couple spoonfuls of the fresh strawberry salsa. Slice and serve immediately.
https://www.floatingkitchen.net/grilled-balsamic-chicken-salad-pizza-with-fresh-strawberry-salsa/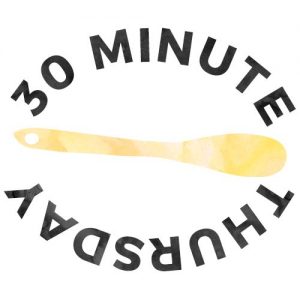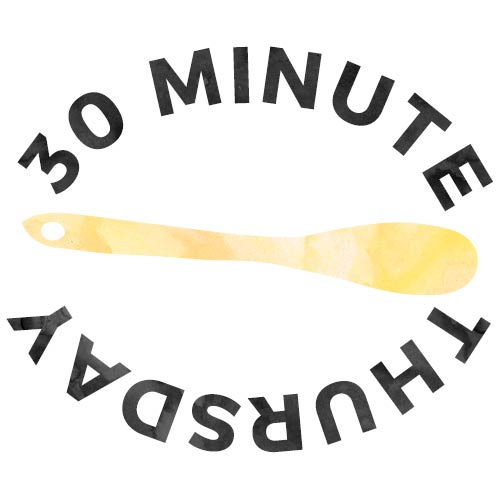 Creamy Sausage and Mushroom Rigatoni by Pumpkin 'N Spice
Chicken Caesar Pasta Salad by Life Made Sweeter
Blackened Fish Taco Bowls with Corn Salsa by Bake Eat Repeat
One Pot Creamy Vegan Caprese Pasta by She Likes Food
Vegetarian Portobello Mushroom Fajitas by Kristine's Kitchen
One Pot BBQ Chicken Pasta by The Recipe Rebel