I can't believe Labor Day Weekend is THIS weekend. GAH!
Per usual, I'm unprepared. These three-day weekends are always sneaking up on me. I guess when you work from home (and work 7 days a week most weeks), the days all kind of just blur together.
But have no fear! Because I have an easy and delicious recipe to help you celebrate the weekend. And hello, it has BEER in it, so that's totally awesome in and of itself.
At any gathering, I can typically be found hovering over the appetizers, side dishes and desserts (oh and the cocktails, too). I can easily skip all the main dishes and be completely satisfied just grazing over the rest of the food items. If you're a grazer too, then you're definitely going to want to give my Beer-Marinated Cherry Tomatoes a try.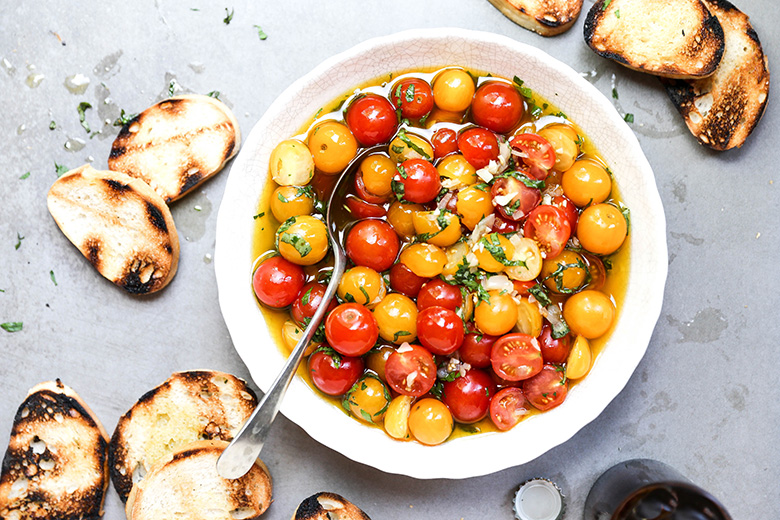 This recipe is a total breeze. Just quickly sautée some shallots and garlic in olive oil. Then stir in a couple pints of cherry tomatoes (I like to leave some whole and halve the rest), beer, vinegar and fresh herbs. And DONE! After letting the all the ingredients marinate together for an hour, you're left with a batch of rich, flavorful tomatoes that you can use to top crunchy grilled bread, toss into green salads or pasta, serve alongside cheese and hummus, etc. The possibilities are endless! Anywhere you might use fresh tomatoes, you can use these Beer-Marinated Cherry Tomatoes!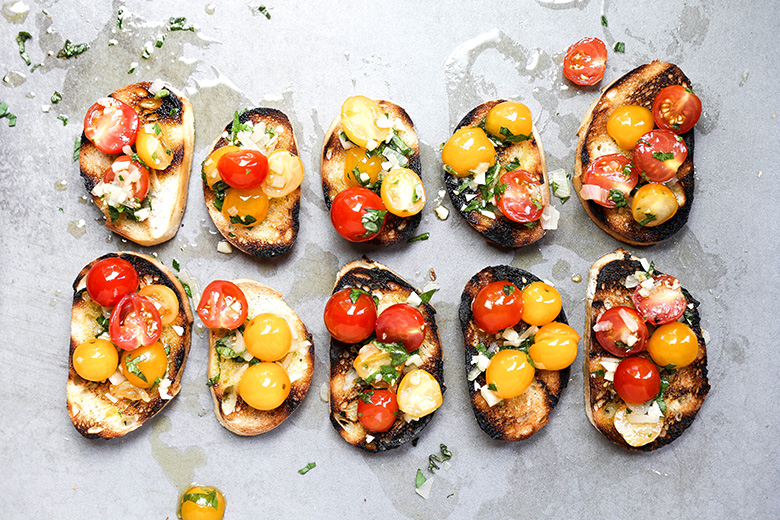 Whenever I incorporate beer or wine into a recipe, I always tell people the best practice is to use something that you ACTUALLY like to drink. It will make your eating experience so much better. I chose Allagash Saison for this recipe. It's relatively light, with both citrus and pepper undertones that I think pair really well with tomatoes. And, honestly, it just kind of reminds me of Summer (which is still is, by the way!). Try it if you can find it. Or use your favorite Summer-style beer. It's all good!
I hope you all have a wonderful and safe Labor Day Weekend. And If you try out this recipe, give me a shout out and let me know. I'd love to hear about it!
Cheers,
Liz
Ingredients
1/2 cup extra-virgin olive oil
1/4 cup minced shallot
2 garlic cloves, peeled and minced
2 pints cherry tomatoes (some halved, some whole)
1/4 cup beer
2 tablespoons red wine vinegar
1/2 tsp. salt
1/4 cup fresh basil, minced
1/4 cup fresh parsley, minced
Instructions
In a medium saucepan, warm the olive oil, shallot and garlic until fragrant, about 3-5 minutes. Remove from the heat.
Carefully add the cherry tomatoes, beer, red wine vinegar and salt to the warm olive oil mixture. Stir to coat the tomatoes in the liquid. Then add the basil and parsley, stirring gently to combine. Cover and let sit at room temperature for about 1 hour. Stir gently before using.
The marinated tomatoes are best when enjoyed the same they are prepared. But they can be covered and stored in your refrigerator for 1-2 days, if necessary.
https://www.floatingkitchen.net/beer-marinated-cherry-tomatoes/
SaveSave
SaveSave
SaveSaveSaveSave
SaveSave
SaveSave
On Sunday, I leave for a 14-day trip to Portugal.
Please know that I tried to write that first sentence for about 10 minutes. But nothing poetic or eloquent ever came from my keyboard. I also didn't want to risk "burying the lead", as they say. So I just put it out there. A simple statement of fact. And I couldn't be more excited.
Portugal is a place that I've never visited. And this trip is for a duration of time I haven't "allowed" myself to take off in years. My only recent vacations have been work-related. And while those can certainly be fun and relaxing in their own way, let's be honest, they aren't true vacations by any measure.
So. Portugal here I come. I'm meeting a girlfriend and we're taking in the whole country. I can't wait to eat the food (obviously), see the beaches, learn about the people and so much more.
My goal is not to work while I'm overseas. But I will be around on Instagram, sharing tidbits here and there when the Wi-Fi allows. I hope you'll follow along. And if anyone has any last minute must-see/must-do/must-eat suggestions, please drop me a line and let me know. I'd love to hear about them!
With my trip fast approaching, my mind has become an exceedingly busy place. I'm consumed with all the usual everyday stuff. Plus, I'm trying really hard not to forget anything essential, like my passport or camera. Lists and sticky notes have become my life.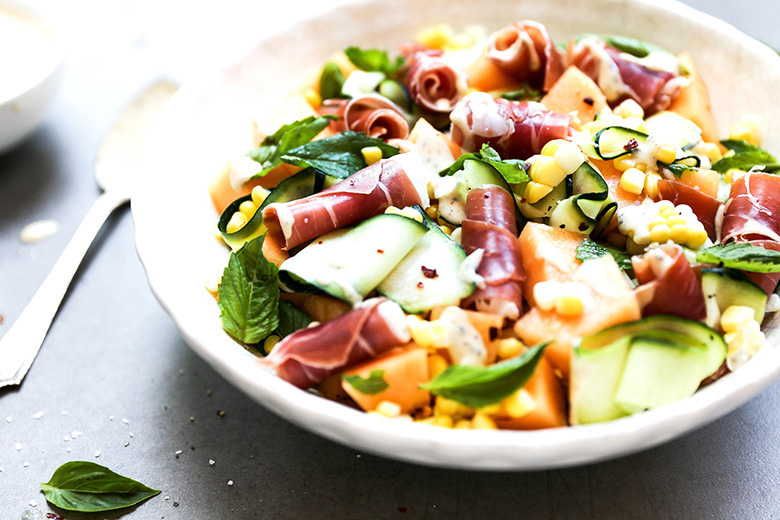 The only other thing taking up real estate in my brain these days is this Corn, Zucchini and Cantaloupe Salad with Prosciutto and Fresh Herbs. It's a recipe that I created a couple of weeks ago, and I can't stop making it, eating it and thinking about it. It's the best of Summer, filled to the brim with wonderful seasonal produce. And it has just enough salty prosciutto to make it feel kind of luxurious. Prosciutto is an item that I don't buy often, as I've given up most pork products over this last year. But I must admit, it tastes mighty fine in this salad. It was certainly worth the splurge.
I've recently become kind of obsessed with this buttermilk dressing from Stonewall Kitchen, and it's what I used in my version of this salad. But any buttermilk or ranch dressing would provide an excellent creamy component. So just use your favorite homemade or store bought version. It's all good!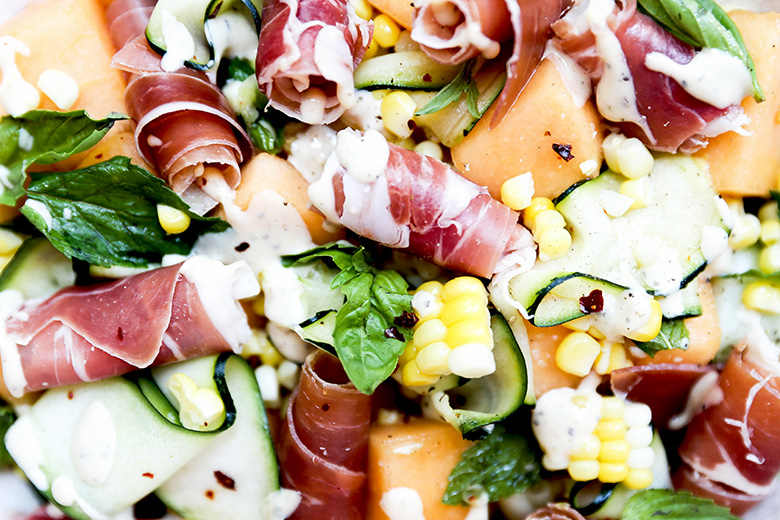 This Corn, Zucchini and Cantaloupe Salad with Prosciutto and Fresh Herbs is a snap to toss together, so I'm sharing it as part of our monthly 30 Minute Thursday recipe round-up (links below for more quick and easy recipes!). I hope you get the chance to give it a try before Summer's over.
OK, friends. I'm out for a couple weeks. Stay cool and safe. I'll be back towards the end of August!
Cheers,
Liz
Ingredients
4 cups cubed cantaloupe
2 ears of cooked corn, kernels sliced off
1 medium zucchini, trimmed and peeled into ribbons
2 tsp. extra-virgin olive oil
1/4 tsp. salt
1/4 tsp. black pepper
1/4 tsp. red pepper flakes
1/4 cup fresh basil leaves, torn
1/4 cup fresh mint leaves, torn
3 ounces prosciutto, cut into strips and rolled
About 2-3 tablespoons buttermilk dressing
Instructions
Add the cantaloupe, corn kernels and zucchini ribbons to a large bowl. Drizzle with the olive oil and sprinkle with the salt, black pepper and red pepper flakes. Toss to combine. Add the basil and mint leaves, tossing gently to combine.
Transfer the salad to a serving bowl or plate. Add the rolled prosciutto. Drizzle with the buttermilk dressing. Serve immediately.
https://www.floatingkitchen.net/corn-zucchini-and-cantaloupe-salad-with-prosciutto-and-fresh-herbs/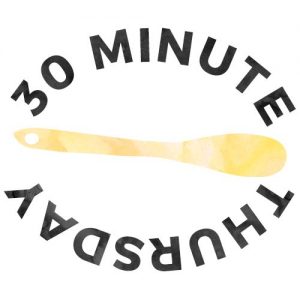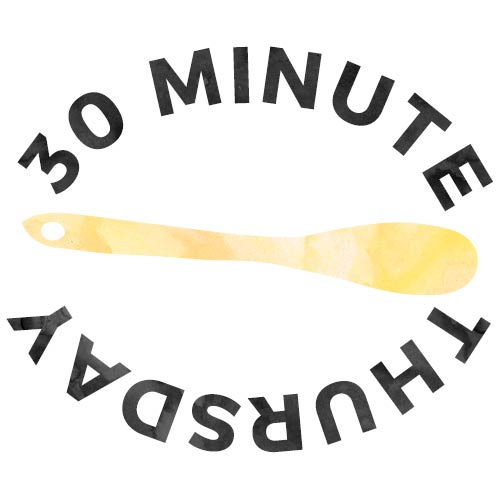 Guacamole Pita Pizzas from She Likes Food
Italian Chicken Salad from Pumpkin N' Spice
Quinoa Corn Chowder from The Recipe Rebel
Teriyaki Salmon Foil Pockets from Life Made Sweeter